General
Money
Entry Requirements
Health & safety
Weather
Embassies
Etiquette
Public Holidays
Attractions
Map
---
Introduction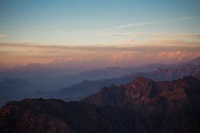 Afghanistan landscape ©Phillip Hickman
Afghanistan should conjure up images of dramatic lush green mountains turning snow-capped in winter, sapphire lakes overflowing into tumbling waterfalls, majestic indigenous wild animals such as the elusive snow leopard, and a wealth of ancient historical and religious sites. Instead, tragically, it evokes images of war-torn cities, dilapidated buildings and a nation grappling to come to terms with a violent political history and uncertain future.
Afghanistan is an unusual choice of travel destination for travellers, but exploring this old and humble land will certainly enrich the lives of those who visit, few and far between as they may currently be. Although some of its famous cultural sites, like the ancient statues of the Bamiyan Valley, have been damaged or destroyed, there are still fascinating places to explore, including the glorious landscapes of the Band-e-Amir National Park and the Panjshir Mountains north of Kabul. The capital city itself boasts some interesting palaces, mosques and markets.
Unfortunately, most governments advise against all travel to Afghanistan as the country is currently considered one of the most dangerous places in the world and is the site of ongoing war and conflict. No part of Afghanistan is considered safe for travel. Those brave enough to visit should be aware that it is prudent to honour the country's predominantly Muslim beliefs and traditions.
Afghanistan is a country rich in not only culture, but also breath-taking landscapes that one day will hopefully entice the visitors it deserves, to the benefit of Afghanistan's people. However, until further notice, it seems most foreign visitors to this country will be aid workers or soldiers.
Languages Spoken
Pashto and Dari are the official languages of Afghanistan, and the most widely spoken.
Duty Free
Local currency can be imported and exported up to an amount of AFN 500. Each person may import a reasonable amount of tobacco and perfume for personal use. Alcohol is prohibited.
Electricity
Electrical current is 220 - 240 volts, 50Hz. Plugs with either two or three round pins are standard.
Entry Requirements
Health
A yellow fever vaccination is required for all travellers arriving from infected areas. Vaccinations are also recommended for hepatitis A, hepatitis B and typhoid. Travellers should be up to date on their vaccinations for polio, MMR (measles, mumps, rubella) and tetanus-diphtheria, and those spending a good deal of time outdoors and at possible risk of animal bites should also consider a vaccination for rabies.
Tap water shouldn't be drunk unless it has first been boiled, filtered or chemically disinfected.
Medical facilities are limited in Afghanistan and medications are often in short supply. Comprehensive travel health insurance is recommended and all essential medications should be taken along.
* For current safety alerts, please visit
Foreign travel advice - GOV.UK
or
Travel.State.Gov
Exchange Rate
Not available.
Embassies of Afghanistan
Foreign Embassies in Afghanistan
Customers
Afghanistan is an Islamic country and visitors should be respectful of Islamic traditions and laws, particularly during the month of Ramadan. Homosexuality is illegal. Travellers should be careful about what they photograph as it is illegal to take pictures of government buildings, military installations and palaces, and the locals don't always appreciate being photographed either. It is illegal to buy or export historical antiquities without a receipt from an authorised dealer and travellers may be asked for proof of purchase when leaving the country.
Public Holidays in Afghanistan
Travel Guide powered by www.wordtravels.com, copyright © Globe Media Ltd. All rights reserved. By its very nature much of the information in this guide is subject to change at short notice and travellers are urged to verify information on which they're relying with the relevant authorities. Globe Media and UNIGLOBE Travel does not accept any responsibility for any loss or inconvenience to any person as a result of information contained above.