General
Money
Entry Requirements
Health & safety
Weather
Embassies
Etiquette
Public Holidays
Attractions
Map
---
Introduction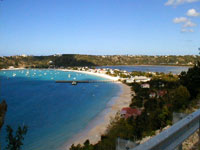 Sandy Ground in Anguilla ©Public Domain
The Caribbean is abuzz with tourists, ports packed with cruise ships, beaches coated with glistening, baking bodies and wharfs beset with souvenir stalls and busy bars. There is one place in this bright holiday region, though, where tranquillity reigns supreme and unspoilt beaches spill down from discreet exclusive resorts to the crystal clear sea. This is the island of Anguilla, situated in the British West Indies about 150 miles (241km) east of Puerto Rico and nine miles (14km) north of St Martin.
Anguilla, a British overseas territory, is a tiny, flat sliver of an island with scrubby vegetation, 16 miles (26km) long and three miles (5km) across at its widest point. The main island is surrounded by a collection of low islets and coral cays, all administered from The Valley, the capital of Anguilla.
This small landmass boasts over 30 amazing beaches that many rate as the best in the world and most certainly in the Caribbean. Each is special in its own way, from Shoal Bay East with its mile of soft sand, to serene Little Harbor and the secluded Captain's Bay, which can only be reached by a narrow gravel track. Some of the most popular beaches include Cove Bay, which offers waterside horseback rides and weekend barbecues with live bands; and Maundays Bay, home to some of Anguilla's premier resort hotels. The beaches, together with a set of stylish villas, resort hotels and delicious cuisine served up in a disproportionately large number of top class restaurants, have made Anguilla a favourite hideaway for celebrities, particularly movie stars, as witnessed by the private jets often parked on the airport runway.
Anguilla is the perfect retreat for an indulgent, exclusive getaway for the discerning traveller, dedicated to the simple pleasures of basking in the sun, taking sunset strolls, sailing on the azure waters and snorkelling in the worldclass coral reefs. It is also a popular venue for weddings and honeymoons, and is fast becoming recognised as a useful tax-free haven.
Communications
The international dialling code for Anguilla is +1 264. The island is well covered by a GSM mobile network. The outgoing code is 011 (eg. 01144 to the UK). An internet service provider is operating on the island with easy access in the resorts and large cities.
Emergencies
911 (General Emergency Helpline)
Languages Spoken
English is the official language in Anguilla.
Duty Free
Goods that may be brought into Anguilla without paying duty are 200 cigarettes or 225g of tobacco and 1.14 litres of spirits.
Electricity
Electrical current in Anguilla is 110 volts, 60Hz with flat blade attachment plugs and flat blades with round grounding pin plugs in use.
Climate Info
The island experiences average temperatures of around 80°F (27°C), with the Trade Winds providing a constant warm breeze. With no high mountains to block the sun's rays and in the absence of the type of vegetation that attracts rain clouds, Anguilla is a sun-worshipper's paradise. The average rainfall per year measures 35 inches (889mm), much of it arriving in short cloud bursts. Hurricane season extends from June to November.
Passport
All visitors require a return or onward ticket, all documents needed for next destination and sufficient funds for the duration of their stay. As part of the Western Hemisphere Travel Initiative (WHTI), all travellers travelling between the United States and Canada, Mexico, Bermuda, and the Caribbean region are required to present a passport or other valid travel document to enter or re-enter the United States. If departing from the USA, a valid passport will be required. Proof of a yellow fever vaccination is required for those arriving from infected areas.
Entry Requirements
US nationals do not require a visa for a maximum stay of three months. A valid passport, USA birth certificate, voter's registration or a government-issued photo ID, such as a driver's license, is required. Passports and other identification documents must be valid on arrival.
UK citizens do not require a visa for a maximum stay of three months. A valid passport is required.
Canadian nationals do not require a visa for a maximum stay of three months. A valid passport, or a government-issued photo ID, such as a driver's license, as well as proof of citizenship, such as a birth certificate, is required.
Australian nationals do not require a visa for a maximum stay of three months. A valid passport is required.
South African nationals require a valid passport and a visa for Anguilla, unless holding a valid visa for the United Kingdom.
Irish nationals do not require a visa for a maximum stay of three months. A valid passport is required.
New Zealand nationals do not require a visa for a maximum stay of three months. A valid passport is required.
Health
Travellers over a year old arriving from infected areas require a yellow fever vaccination certificate. Hepatitis A vaccinations are recommended for all travellers as well as polio and tetanus vaccinations. It is advisable to get a hepatitis B vaccination if travellers will have intimate contact with the locals, especially if staying for over 6 months. Mains water on Anguilla is chlorinated, but bottled water is available and recommended for visitors. All food on the island is safe to eat. There are three private medical clinics and a small hospital, which can deal with minor emergencies, but serious cases are transferred to neighbouring islands or the USA mainland. Adequate medical insurance is therefore strongly advised.
Safety
Visits to Anguilla are trouble-free. The crime rate is low, but it is wise to take sensible precautions with valuables. Hurricanes usually affect the island between June and November.
Emergency Phone Number
911 (General Emergency Helpline)
* For current safety alerts, please visit
Foreign travel advice - GOV.UK
or
Travel.State.Gov
Money
The East Caribbean dollar (XCD) is the official currency of Anguilla, although US dollars are widely accepted, with prices on menus etc. generally quoted in American dollars. The East Caribbean dollar is fixed to the US dollar at US$1 = EC$2.70. There are several ATMs throughout the island and one at the airport. Credit cards are accepted at most establishments.
Exchange Rate
Not available.
Embassies of Anguilla
Foreign Embassies in Anguilla
United States Embassy, Bridgetown, Barbados (also responsible for Anguilla): +1 246 227 4000.
British Government House, The Valley, Anguilla: +264 497 2621.
Canadian High Commission, Bridgetown, Barbados (also responsible for Anguilla): +1 246 429 3550.
Australian High Commission, Port of Spain, Trinidad and Tobago (also responsible for Anguilla): +1 868 822 5450.
Customers
In Anguilla skimpy dress in public is frowned upon and nudity on beaches is not permitted.
Business
Business in Anguilla is centred on tourism and the financial services, as it is a zero-tax environment and an offshore jurisdiction. Due to the balmy climate, lightweight suits or a buttoned up shirt are sufficient for business meetings. Business hours are Monday to Friday from 8am to 4pm.
Tipping
A service charge of 10% is generally added to restaurant and hotel bills in Anguilla, and any tipping over and above this is discretionary.
Public Holidays in Anguilla
Overview
Anguilla is known for its spectacular beaches, sparkling white sand and crystal-clear blue water. This makes watersports and any other aquatic pastimes a popular activity in Anguilla. Operators and hire outlets offer a variety of watersports for visitors to Anguilla. One of the most popular activities is sailing, but windsurfers and kayaks are also available.
Anguilla is renowned as the wreck diving capital of the Caribbean, with a number of shipwrecks in the azure waters around the island waiting to be explored by divers. Also offshore is the Spanish galleon, El Buen Consejo. The wrecks provide a haven and showcase for a variety of coral and marine animals, from angelfish and barracuda to sharks and turtles. The waters around the island are calm without strong currents, and the surrounding reefs feature both hard and soft coral providing a spectacular array of gorgeous colour, ideal for snorkellers and a perfect location for beginner scuba divers.
Sport fishing is also serious business on Anguilla. A number of charter companies offer whole or half-day fishing expeditions for prizes such as dorado, sailfish, marlin, barracuda and grouper.
On land, there are plenty of things to see and do in Anguilla. The island is well-supplied with walking trails, from Windward Point in the north, along the rocky coastline, to the rain forest walk at Katouche. Anguilla is also a bird watcher's paradise, with more than 100 species of bird life to seek out. The island's salt ponds attract dozens of varieties from herons to sandpipers.
Map of Anguilla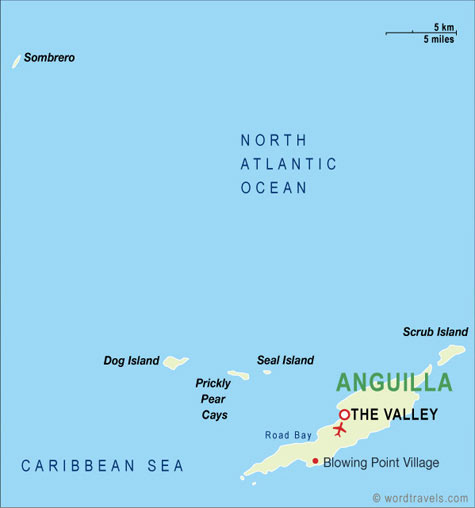 Travel Guide powered by www.wordtravels.com, copyright © Globe Media Ltd. All rights reserved. By its very nature much of the information in this guide is subject to change at short notice and travellers are urged to verify information on which they're relying with the relevant authorities. Globe Media and UNIGLOBE Travel does not accept any responsibility for any loss or inconvenience to any person as a result of information contained above.