General
Money
Entry Requirements
Health & safety
Weather
Embassies
Etiquette
Public Holidays
Attractions
Map
---
Introduction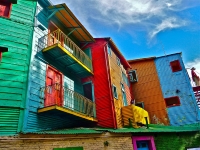 La Boca, Buenos Aires ©Marissa Strniste
Argentina is a country of immense beauty and proportions. Its geographic diversity spans the most breathtaking terrain from Antarctica, through the wild, glacier-filled mountains of Patagonia and massive open plains of La Pampas to the deserts and tropical jungles in the north.
The country can be enjoyed for its natural wonders alone, but no visit here could be called complete without a glimpse of its soul, the capital city. Elegant Buenos Aires is home to 40 percent of the population, and is a buzzing metropolis with a rich, passionate and tortured history that is integral to its character. It is Europe and South America contained in one geographical location, with elements of the unknown around each corner. It is familiar and strange at the same time, but at its very core, wonderfully welcoming.
Along the avenues of the fashionable districts, sophisticated diners observe passers-by while they sip strong coffee or enjoy smooth . The constant smell of meat grilling from every corner and sidewalk reveals the Argentine passion for . Neither glamour nor passion is in short supply in this cosmopolitan hub where Porteños are equally versed in football, politics and fashion.
There are disparities between the rich and poor, with many people living in near-slum conditions in the outskirts of Buenos Aires. Since 1992, the economy has teetered near collapse due to corruption and government mismanagement, prompting regular and sometimes violent demonstrations. However, it is business-as-usual as far as tourism is concerned; in fact, the resultant devaluation of the peso has made the country much more affordable for travellers.
Communications
The international access code for Argentina is +54. Mobile phones work on the GSM network, and therefore some USA and Canadian SIM cards will not work in Argentina. Mobile roaming charges can be very expensive, so a good option is to buy an Argentine SIM on arrival. Internet cafes are widely available and many hotels also offer internet access.
Emergencies
Emergencies: 101 (general), 107 (ambulance)
Languages Spoken
Spanish is the official language of Argentina but English is generally understood in the tourist areas.
Duty Free
Travellers to Argentina over the age of 18 years can bring in the following items to the value of US$300 without incurring customs duty: two litres of alcohol, 400 cigarettes or 50 cigars, and 5kg of food items. Restrictions apply to fresh foodstuffs such as meat and dairy products. Prohibited items include explosives, flammable items, narcotics and pornographic material. Firearms and ammunition for sporting purposes are allowed if accompanied by a license/certificate.
Electricity
Electrical current in Argentina is 220 volts, 50Hz. Most hotels and offices use the three-pin flat plug, however most older buildings use the two-pin round plug.
Climate Info
Argentina's elongated geography ensures that the country has a diverse climate. The north is subtropical with rain throughout the year and is best visited between May and September when the heat and humidity is less oppressive. The south has a sub-arctic climate and is best visited in the summer (December to February). The central area is temperate, but can be hot and humid during summer and cool in winter.
Passport
Valid passports are required for travel to Argentina. Visas are not generally required for stays of less than three months. Visas are valid for several entries within the period of validity stated in the visa. It is recommended that all visitors have sufficient funds, as well as onward or return tickets and documents required for next destination. It is highly recommended that passports have at least six months validity remaining after your intended date of departure from your travel destination. Immigration officials often apply different rules to those stated by travel agents and official sources.
Entry Requirements
US nationals require a passport for travel to Argentina, but no tourist or business visa is required for stays of up to 90 days.
UK nationals require a valid passport, but no visa is required for a stay of up to 90 days for British Citizens, British Overseas Territories Citizens and British Overseas Citizens; and 30 days for British Nationals (Overseas).
Canadians require a valid passport, but no visa is required for a stay of up to 90 days. However, Canadian citizens are required to pay a reciprocity fee in advance online. The receipt from this online payment must be produced upon arrival. The fee is liable to change at any time.
Australians require a valid passport, but no visa is required for stays of up to 90 days.
South African nationals must hold a valid passport, but no visa is required for a maximum stay of up to 90 days.
Irish nationals require a valid passport, but no visa is required for a stay of up to 90 days.
New Zealand nationals require a valid passport, but no visa is required for stays of up to 90 days.
Health
There is a low risk of yellow fever, cholera and malaria in some northern provinces, so it is wise to seek your doctor's advice when travelling to these areas. However, it is recommended that all visitors to regions bordering Brazil and Paraguay, including Iguazu Falls, be inoculated against yellow fever. Outbreaks of dengue fever are on the increase, and visitors are advised to avoid getting mosquito bites as there is no effective treatment for it.
A hepatitis A vaccination is recommended before travel to Argentina as well as a typhoid vaccination for those who might eat or drink outside major restaurants and hotels. Water is safe to drink in major towns and cities. Medical facilities are good in the major cities. Treatment is expensive, however, and medical insurance is advised. Asthma, sinus and bronchial ailments can be aggravated by pollution in Buenos Aires. Those with specific conditions should bring a sufficient quantity of medical supplies and medication for the trip.
Safety
Although the political and economic crisis is over, there are still periodic outbreaks of social unrest and demonstrations. Visitors are advised to avoid such public gatherings and to keep abreast of news to know whether any political disturbances are expected. However, there is no specific threat to foreigners and travellers should not be discouraged from travelling throughout the country. Be alert for bag-snatchers, pickpockets and con men, particularly in crowded areas in Buenos Aires, on public transport and in popular tourist haunts, such as San Telmo.
Emergency Phone Number
Emergencies: 101 (general), 107 (ambulance)
* For current safety alerts, please visit
Foreign travel advice - GOV.UK
or
Travel.State.Gov
Money
The unit of currency is the Argentinean Peso (ARS). Currency can be exchanged at banks and cambios (bureaux de change) but it is easier to use ATMs, available in most towns, which reflect the current exchange rate. Major credit and debit cards are generally accepted, and US Dollars can be used in many tourist establishments.
Exchange Rate
Not available.
Embassies of Argentina
Embassy of Argentina, Washington DC, United States: +1 202 238 6400.
Embassy of Argentina, London, United Kingdom: +44 207 318 1300.
Embassy of Argentina, Ottawa, Canada: +1 613 236 2351.
Embassy of Argentina, Canberra, Australia: +61 2 6273 9111.
Embassy of Argentina, Pretoria, South Africa: +27 (0)12 430 3524/7.
Embassy of Argentina, Dublin, Ireland: +353 (0)1 269 1546.
Embassy of Argentina, Wellington, New Zealand: +64 (0)4 472 8330.
Foreign Embassies in Argentina
United States Embassy, Buenos Aires: +54 (0)11 5777 4533.
British Embassy, Buenos Aires: +54 (0)11 4808 2200.
Canadian Embassy, Buenos Aires: +54 (0)11 4808 1000.
Australian Embassy, Buenos Aires: +54 (0)11 4779 3500.
Embassy of South Africa, Buenos Aires: +54 (0)11 4317 2900.
Embassy of Ireland, Buenos Aires: +54 (0)11 5787 0801.
New Zealand Embassy, Buenos Aires: +54 11 5070 0700.
Customers
Argentineans are warm and unreserved people. Both men and women greet each other by kissing on the cheek, and will often touch each other when speaking and maintain little physical distance between speakers.
Business
Business people dress well in Argentina and visitors are expected to wear a smart suit. Handshaking is normal. Argentineans are great conversationalists and are interested and knowledgeable about world events, politics and sporting. Meetings usually begin with small talk. Use titles when addressing people: Señor (Mr), Señora (Mrs) and Señorita (Miss) followed by their surname.
Business culture in Argentina can be bureaucratic and as with most South American countries negotiation and decision making can take a long time and is best done face to face. Make sure you see the right people, as only those in high positions are likely to be able to make a final decision. Business hours are 9am to 5pm in Buenos Aires, with an hour for lunch. Outside the capital, it is normal to take a siesta between 1pm and 4pm. Many business people are away on holiday during January and February.
Tipping
A 10 percent tip is expected at restaurants in Argentina. Porters expect some small change per bag.
Public Holidays in Argentina
| | | |
| --- | --- | --- |
| | 2017 | 2018 |
| New Years Day | 1 Jan | 1 Jan |
| Truth and Justice Day | 24 Mar | 24 Mar |
| Good Friday | 14 Apr | 30 Mar |
| Day of the Veterans and the Fallen in the Malvinas War | 2 Apr | 2 Apr |
| Labour Day | 1 May | 1 May |
| Day of the First National Government | 25 May | 25 May |
| National Flag Day | 20 Jun | 20 Jun |
| Independence Day | 9 Jul | 9 Jul |
| San Martín Day | 21 Aug | 20 Aug |
| Day of Respect for Cultural Diversity | 9 Oct | 8 Oct |
| Immaculate Conception Day | 8 Dec | 8 Dec |
| Christmas Day | 25 Dec | 25 Dec |
| Day of National Sovereignty | 27 Nov | 26 Nov |
| Carnival | 27 Feb | 12 Feb |
Overview
From the colourful and bustling barrios of Buenos Aires to the breathtaking Andes Mountain Range in north, Argentina has no shortage of sightseeing opportunities. Boasting a plethora of different habitats and environments to explore, it would take visitors a good few months to see everything this South American gem has to offer.
The northern regions of the country offer an exciting blend of colonial heritage, natural beauty and an indigenous flavour, while the spectacular Iguazu Falls, surrounded by the lush forest of the Iguazu National Park, are a must see. Enjoy a day of wine tasting in Mendoza, or head west towards the Chilean border and marvel at the Andes Mountain Range. The curious mix of desert, snow-capped mountains, sandy beaches and majestic glaciers in the Patagonia region is extraordinary, and the world's southern-most city, Ushuaia, nestled on the Tierra del Fuego archipelago, is a departure point for those keen on a trip to Antarctica and also offers some of the best brown trout fishing in the world.
The sights and sounds of Buenos Aires are a major draw for many. Stroll along the tree-lined parks and boulevards, visit Evita Peron's grave at La Recoleta Cemetery, explore La Boca, the city's most popular barrio, and take in the Latin American flair by enjoying a romantic night of tango.
Buses are the most cost effective way to navigate this impressive country and domestic flights are available at affordable prices. The best time of year to visit Argentina is during the autumn months from March to June when the weather is a little cooler.
With so much to see and so little time, it's best you get packing and head off to Argentina for the adventure of a lifetime!
Map of Argentina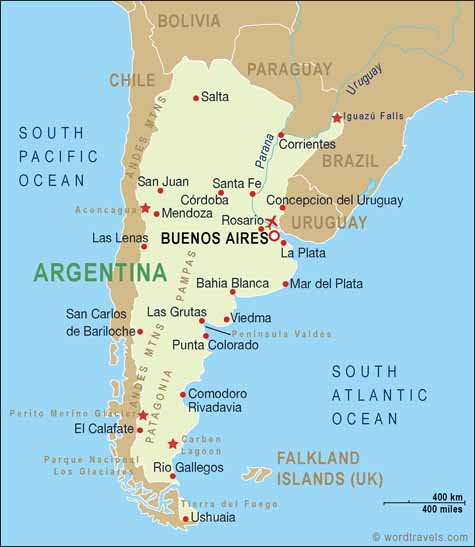 Travel Guide powered by www.wordtravels.com, copyright © Globe Media Ltd. All rights reserved. By its very nature much of the information in this guide is subject to change at short notice and travellers are urged to verify information on which they're relying with the relevant authorities. Globe Media and UNIGLOBE Travel does not accept any responsibility for any loss or inconvenience to any person as a result of information contained above.