General
Money
Entry Requirements
Health & safety
Weather
Embassies
Etiquette
Public Holidays
Attractions
Map
---
Introduction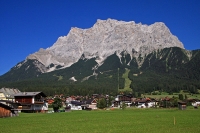 Austrian village Ehrwald ©Octagon
Landlocked in the heart of Europe, Austria runs from the Alps in the west down to Vienna and the Danube in the east. For six centuries it was the heart of the mighty Hapsburg Empire, which at its peak included what is now Poland, Hungary and the Czech Republic along with much of Romania, Bulgaria and the Balkans. The country's imperial inheritance is particularly striking in the grand buildings and cultural institutions of the Baroque-flavoured capital, Vienna, resplendent with palaces and captivating churches, cosy coffeehouses and inns, and grand ballrooms where Strauss waltzes still draw dancers onto the floor.
Another of the great classical composers spawned by Austria was Mozart, born in Salzburg, a beautiful historic city where stunning Baroque churches rise up against the backdrop of the Austrian Alps. The Alps stretch west to Switzerland and in winter skiers come from all continents to carve the slopes and experience the charm of the alpine villages and their welcoming inhabitants.
The appeal of Austria may lie in its preservation of a romantic classical past, but this does not mean modern Austria has stood back from development. Behind the stunning scenery and antique architecture a vibrant industrial and commercial society goes about its business in the cities and towns. Austrians work hard, but they also know how to play hard. Austrian hospitality and cuisine are legendary. From a cruise on the magnificent Danube River to a cycle tour through the Alpine meadows, or a breathtaking day's sightseeing in busy Vienna, visitors to Austria find it impossible to fit in a dull moment.
Communications
The international access code for Austria is +43. Public telephone boxes can be used for direct dial calls within the country and overseas. Austria's mobile phone coverage is good, and internet cafes are widely available.
Emergencies
Emergencies: 112
Languages Spoken
The official language in Austria is German.
Duty Free
Travellers from non-EU countries over 17 years are allowed to bring in the following items without paying customs duty: 200 cigarettes, or 100 cigarillos, or 50 cigars, or 250g of smoking tobacco, or a proportional mix of these products; 2 litres wine, or 1 litre of spirits with alcohol content more than 22 percent, or 2 litres of alcohol volume less than 22 percent; 60ml perfume and 250ml eau de toilette; and other goods to a total value of €175. Restricted items include pornographic material and fresh foodstuffs such as meat and dairy products. Travellers must have a European Firearms Pass if travelling with firearms.
Electricity
Electrical current is 230 volts, 50Hz. European two-pin plugs are standard.
Climate Info
Austria enjoys a temperate Central European climate with four distinct seasons. Summers, between June and August, are hot with cool nights. In Vienna and other low-lying cities temperatures during the day can get uncomfortably hot over July and August. Winters are cold, below freezing in January and February. The ski season in the Alps runs from December to April but the mountains are also popular with hikers and climbers over the summer when the weather is usually warm and bright.
Passport
The borderless region known as the Schengen area includes the following countries: Austria, Belgium, Czech Republic, Denmark, Estonia, Finland, France, Germany, Greece, Hungary, Iceland, Italy, Latvia, Lithuania, Luxembourg, Malta, The Netherlands, Norway, Poland, Portugal, Slovakia, Slovenia, Spain, and Sweden. All these countries issue a standard Schengen visa that has a multiple entry option that allows the holder to travel freely within the borders of all. For most nationalities, passports are required to be valid for three months beyond period of travel. We always recommend that passports be valid for six months from the departure date.
Entry Requirements
US passport holders require a passport valid for three months beyond period of intended stay, but a visa is not needed for a stay of up to 90 days.
A visa is not required for passports endorsed 'British Citizen', 'British Subject' (containing a Certificate of Entitlement to the Right of Abode issued by the United Kingdom), and 'British Overseas Territories Citizen' issued by Gibraltar. No visa is required for stays of up to 90 days in a half-year period for holders of passports with any other endorsement. Holders of identity cards issued by Gibraltar authories, and endorsed 'Validated for EU travel purposes under the authority of the United Kingdom', do not require a visa to visit Austria.
Canadians require a passport valid for three months beyond intended period of stay, but no visa is needed for a stay of up to 90 days.
Australians require a passport valid for three months beyond period of intended stay, but no visa is needed for a stay of up to 90 days.
South African nationals require a passport valid for three months beyond period of intended stay and a Schengen visa for travel to Austria.
Irish nationals require a passport but no visa is needed for travel to Austria.
New Zealanders require a passport valid for three months beyond period of intended stay, but a visa is not needed for a stay of up to 90 days.
Health
No vaccinations are necessary for business visits or general tourism in Austria. There is, however, a risk of tick-borne encephalitis for long-term visitors who expect to be visiting rural or forested areas in spring or summer. These travellers should consider vaccination and ensure they take precautions against tick infestation. Water and food are safe. Medical facilities are excellent. Medical insurance is advised unless from the UK - citizens of EU countries can get free emergency medical treatment at public hospitals in Austria on production of a European Health Insurance Card (EHIC).
Safety
Travel to Austria is generally trouble-free; however, visitors are advised to take sensible safety precautions, particularly in larger cities.
Emergency Phone Number
Emergencies: 112
* For current safety alerts, please visit
Foreign travel advice - GOV.UK
or
Travel.State.Gov
Money
The unit of currency is the Euro (EUR). Currency can be exchanged at banks and bureaux de change available in all towns, but it may be easier to use the ATMs. Banks are closed on Saturdays and Sundays, but bureaux de change at airports and major city rail terminals are open seven days a week. Most credit and debit cards are widely accepted though some small hotels and restaurants may only accept cash.
Exchange Rate
Not available.
Embassies of Austria
Austrian Embassy, Washington DC, United States: +1 202 895 6700.
Austrian Embassy, London, United Kingdom: +44 (0)20 7344 3250.
Austrian Embassy, Ottawa, Canada: +1 613 789 1444.
Austrian Embassy, Canberra, Australia: +61 (0)2 6295 1533.
Austrian Embassy, Pretoria, South Africa: +27 (0)12 452 9155.
Austrian Embassy, Dublin, Ireland: +353 (0)1 269 4577.
Consulate of Austria, Wellington, New Zealand: +64 (0)4 384 1402.
Foreign Embassies in Austria
United States Embassy, Vienna: +43 (0)1 313 397 535.
British Embassy, Vienna: +43 (0)1 716 130.
Canadian Embassy, Vienna: +43 (0)1 531 383 000.
Australian Embassy, Vienna: +43 (0)1 506 740.
South African Embassy, Vienna: +43 (0)1 320 6493.
Embassy of Ireland, Vienna: +43 (0)1 715 4246.
New Zealand Consulate-General, Vienna: +43 (0)1 505 3021.
Customers
It is compulsory that vehicles are driven with their lights on throughout the year. Smoking is not allowed in many public places.
Business
Business protocol is very important in Austria and business is formal, structured and conservative, more so than many other Western European countries. All correspondence, such as faxes and emails, should be formal. Dress is conservative, yet elegant; Austrians take great pride in their appearance and a good quality, well-fitting suit for men and women should be worn to make a good first impression. Austrians are also very title-conscious: always use last names with a preceding title such as Herr (Mr), Frau (Mrs) or Fräulein (Miss), along with their professional or academic title where applicable (e.g. Herr Professor Kaufmann). It is vital to arrive punctually for meetings and to be thoroughly prepared, as meetings are brief and to the point. Be prepared to engage in preliminary small talk, including a knowledge of current affairs, before getting down to business. English is widely spoken in business, but printed literature should be in German if possible. Offices open at 8am and close promptly at 5pm Monday to Friday.
Tipping
A 10-15 percent service charge is normally added to hotel and restaurant bills in Austria, but it is customary to leave another five percent if satisfied with the service. It is common to give the money to the waiter rather than leave it on the table, but leaving small change for other service personnel is fine. Taxi drivers expect a 10 percent tip.
Public Holidays in Austria
| | | |
| --- | --- | --- |
| | 2017 | 2018 |
| New Years Day | 1 Jan | 1 Jan |
| Epiphany | 6 Jan | 6 Jan |
| Easter Monday | 17 Apr | 2 Apr |
| Labour Day | 1 May | 1 May |
| Ascension Day | 25 May | 10 May |
| Whit Monday | 5 Jun | 21 May |
| Corpus Christi | 15 Jun | 31 May |
| Assumption of the Virgin Mary | 15 Aug | 15 Aug |
| National Day | 26 Oct | 26 Oct |
| All Saints Day | 1 Nov | 1 Nov |
| Immaculate Conception | 8 Dec | 8 Dec |
| Christmas Day | 25 Dec | 25 Dec |
| Boxing Day | 26 Dec | 26 Dec |
Overview
Austria is perfect for sightseeing, with an assortment of wonderful tourist attractions. Just the mention of this scenic, multicultural country brings to mind images of skiing in the Alps, exploring Vienna's impressive Baroque architecture and sampling the warm, rich cuisine of the alpine villages and their friendly inhabitants.
Austria is the birthplace of many famous figures, including Wolfgang Amadeus Mozart and Sigmund Freud, not to mention Arnold Schwarzenegger. Austria is also home to Swarovski crystals, Lipizzaner stallions and the 11th-century Hohensalzburg Fortress, as well as one of the largest youth parties in Europe, the Danube Island Festival.
Austria is a year-round destination, with snowy winters perfect for mountaineering, skiing and snowboarding, and mild summers ideal for sightseeing. The many sights and attractions are made accessible by the national railway system, the U-Bahn, extensive motorways and various ports and harbours. With all these magnificent highlights so easily within grasp, taking a trip to this beautiful country in the warm heart of Europe is guaranteed to be a fulfilling, memorable experience for anyone.
Map of Austria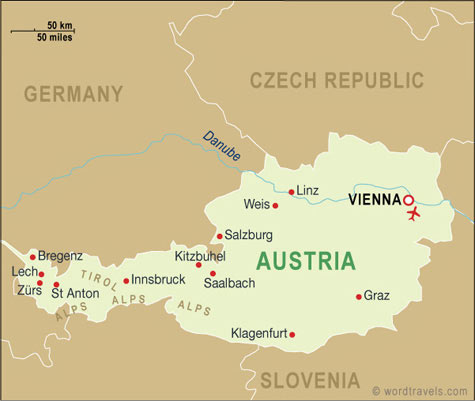 Travel Guide powered by www.wordtravels.com, copyright © Globe Media Ltd. All rights reserved. By its very nature much of the information in this guide is subject to change at short notice and travellers are urged to verify information on which they're relying with the relevant authorities. Globe Media and UNIGLOBE Travel does not accept any responsibility for any loss or inconvenience to any person as a result of information contained above.