General
Money
Entry Requirements
Health & safety
Weather
Embassies
Etiquette
Public Holidays
Attractions
Map
---
Introduction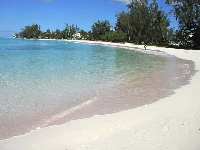 Beach near Bridgetown ©ulybug
Barbados, known as the 'pearl of the Caribbean', is the eastern-most Caribbean island, and is actually an enormous and ancient coral reef that was formed approximately one million years ago. It has been dubbed 'the real fantasy island', an appellation that points to its exotic resorts and glorious beaches. Enjoying 340 days of sunshine a year, numerous well-developed amenities, a throbbing nightlife and friendly inhabitants, it is one of the most popular holiday destinations in the Caribbean.
Barbados islanders, calling themselves 'Bajans', are West Indian by descent, although largely shaped by English customs and culture. These influences pervade much of the island, most evident in the Anglican stone churches (the island is divided into numerous parishes) and in the many cricket games played on the village greens. The 'Little England' legacy dates back to colonial days when the sugar industry reigned supreme. Barbados gained self-government in 1966, and now tourism, rather than sugar, is the mainstay of the local economy.
The island is a pear-shaped, 20-mile (32km) stretch of soft coral, which is permeated by water and over time has formed fascinating underground caverns. The coral reefs enveloping most of the island entice tourists to its picturesque shores for activities like snorkelling, scuba diving, and watersports.
Communications
The international access code for Barbados is +1, in common with the US, Canada and most of the Caribbean, followed by 246. The outgoing code is 011 followed by the relevant country code (e.g. 01144 for the United Kingdom), no outgoing code is needed to call the US. Mobile phones operate on a GSM network. Cell phones can be rented through a number of companies. Internet cafes are widely available.
Emergencies
211 (Police); 511 (Ambulance); 311 (Fire)
Languages Spoken
English is the official language in Barbados.
Duty Free
Travellers to Barbados do not have to pay duty on 1 litre of alcohol. Restricted items include most fresh produce and articles such as drugs, pornography and weapons are strictly prohibited. As of 2010, Barbados was legally declared as a no smoking zone. Those found smoking in public areas will be prosecuted and the import of any form of tobacco is restricted.
Electricity
Electric current in Barbados is 110 volts, 50Hz.
Climate Info
The weather is mostly sunny and fair in tropical Barbados, with an average of high daytime temperatures of 75°F to 85°F (24°C to 29°C). These hot conditions are tempered by the prevailing cool northeast tradewinds. The dry season occurs from January to June and the hurricane season extends from June to October. Hurricanes, however, usually miss Barbados. Instead the island experiences some spectacular tropical rainstorms. These are usually short and heavy spells that dry up quickly.
Passport
Tourists don't usually require a visa for stays of up to six months but they do require a return or onward ticket, proof of sufficient funds, and documents for onward travel. Passports must be valid for the period of intended stay. However, we recommend that passports always be valid for six months after departure from destination.
Entry Requirements
US nationals require a valid passport. No visa is required for stays of up to six months.
British nationals require a valid passport. No visa is required for stays of up to six months.
Canadian nationals require a valid passport, but no visa for stays up to six months.
Australian nationals require a valid passport, but no visa for stays of up to six months.
South African nationals require a valid passport. No visa is required for stays of up to six months.
Irish nationals require a valid passport, but no visa for stays of up to six months.
New Zealand nationals require a valid passport, but no visa for stays of up to six months.
Health
There are no mandatory requirements regarding vaccinations for visitors to Barbados, however a yellow fever vaccination certificate is required from travellers over one year of age coming from infected areas, and Hepatitis A vaccinations are recommended for those aged over two years. There has been an increase in the outbreaks of dengue fever and mosquito repellent is strongly recommended. Medical care is good but very expensive and serious cases are usually transferred overseas (usually to the USA). Health insurance is therefore strongly recommended.
Safety
There are no extremist groups or areas of instability in Barbados. Some drug-related organized crime exists, but does not generally affect tourists. There has been a small increase in the incidence of tourists being robbed, and visitors are warned to be especially vigilant on the beaches at night. There has been an increase in attacks and rapes against foreigners and visitors should be alert at all times. Tropical storms and hurricanes may occur between June and November.
Emergency Phone Number
211 (Police); 511 (Ambulance); 311 (Fire)
* For current safety alerts, please visit
Foreign travel advice - GOV.UK
or
Travel.State.Gov
Money
The Barbados Dollar (BBD) is fixed to the US Dollar at a rate of Bd$1.98 to US$1 and does not fluctuate. Its rate is relative to other currencies fluctuations based on the particular currency's relation to the US Dollar. US Dollars are also widely accepted on the island, and well-known international credit cards and travellers cheques (best carried in US dollars to avoid additional charges) are accepted in most stores and restaurants. Banks and ATMs are freely available and cash withdrawals can be made.
Exchange Rate
Not available.
Embassies of Barbados
Embassy of Barbados, Washington DC, United States: +1 202 939 9200.
Barbados High Commission, London, United Kingdom: +44 (246) 431 2200.
High Commission of Barbados, Ottawa, Canada: +1 613 236 9517.
Consulate of Barbados, Auckland, New Zealand: +64 09 473 5949.
Foreign Embassies in Barbados
Embassy of the United States of America, Bridgetown: +1 246 227 4000.
British High Commission, Bridgetown: +1 246 430 7800.
Canadian High Commission, Bridgetown: +1 246 629 3550.
Australian High Commission, Port of Spain, Trinidad and Tobago (also responsible for Barbados): +1 868 822 5450.
South African High Commission, Kingston, Jamaica (also responsible for Barbados): + 1 876 620 4840.
Mission of Ireland to the UN, New York, United States (also responsible for Barbados): +1 212 421 6934.
New Zealand High Commission, Ottawa, Canada (also responsible for Barbados): +1 613 238 5991.
Customers
It is an offence to dress in camouflage clothing in Barbados as it is reserved for the military. Topless bathing is frowned upon and nudism is illegal.
Business
Bridgetown is generally the centre of business in Barbados. Business protocol is fairly formal, including greetings (use Mr or Ms) and dress, which is smart. Handshaking between both men and women is expected and business cards are handed out on introduction. Punctuality is expected at meetings. Business hours are generally 8am to 5pm Monday to Friday. Banks and post offices close at 3pm.
Tipping
Tipping in Barbados is not necessary if a service charge has already been included in the bill, otherwise it is generally about 10-15%. Tipping is normal in bars.
Public Holidays in Barbados
| | | |
| --- | --- | --- |
| | 2017 | 2018 |
| New Years Day | 1 Jan | 1 Jan |
| Errol Barrow Day | 21 Jan | 21 Jan |
| Good Friday | 14 Apr | 30 Mar |
| Easter Monday | 17 Apr | 2 Apr |
| National Heroes Day | 28 Apr | 28 Apr |
| May Day | 1 May | 1 May |
| Whit Monday | 5 Jun | 21 May |
| Emancipation Day | 1 Aug | 1 Aug |
| Kadooment Day | 7 Aug | 6 Aug |
| Independence Day | 30 Nov | 30 Nov |
| Christmas Day | 25 Dec | 25 Dec |
| Boxing Day | 26 Dec | 26 Dec |
Overview
Barbados has a lot to offer visitors in the way of beach life and sightseeing, making this a superb holiday destination for anyone. When not lazing on the beach, a visit to Harrison's Cave could prove rewarding and the Jacobean Mansions are also worth seeing. The little fishing village of Bathsheba is favoured by surfers and photographers alike, while Graeme Hall Swamp has even more to offer in the way of unusual sights. Tropical Barbados boasts sunny and fair weather, and the friendly locals also make this an irresistible option for that perfect coastal vacation.
Map of Barbados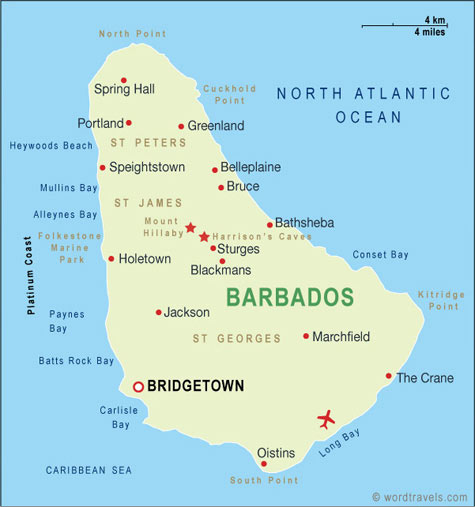 Travel Guide powered by www.wordtravels.com, copyright © Globe Media Ltd. All rights reserved. By its very nature much of the information in this guide is subject to change at short notice and travellers are urged to verify information on which they're relying with the relevant authorities. Globe Media and UNIGLOBE Travel does not accept any responsibility for any loss or inconvenience to any person as a result of information contained above.