General
Money
Entry Requirements
Health & safety
Weather
Embassies
Etiquette
Public Holidays
Attractions
Map
---
Introduction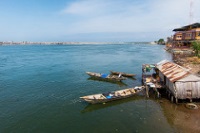 Benin was once one of the most powerful empires in Africa, although today the country enjoys a low profile marked by peace, and poverty. It's a country rich in history and culture located on the northern coast of the Gulf of Guinea in West Africa, bordered by Niger, Togo, Nigeria, Burkina Faso and the Atlantic Ocean. Benin ranks as one of the world's poorest nations, but is also one of the more stable countries to visit in Africa.
Benin played a major role in the slave trade in the 17th and 18th centuries and reminders of this era can be found in the countless monuments paying tribute to those deported to the West Indies and Brazil. It is in many aspects a very French country due to its colonial heritage. Cotonou has its own Boul' Mich ( and it is not uncommon to see Beninois locals walking around, a baguette tucked under one arm and a French newspaper clutched under the other.
There is a network of lagoons and swamps found along the coastline, which are navigable throughout all seasons, connecting rivers and big lakes, like Lake Aheme and Benin's longest river, the Oueme. The beaches along the coast of Benin, at Ouidah and Grand Popo, are also a major draw for tourists, but visitors should be aware of the occasionally strong rip tides at sea and which consequently limits water sport activities.
Benin was once the home of the ancient and powerful Dahomey Kingdom, and the ruined palaces and temples of this proud and intriguing culture can still be seen in Abomey. The museum in Abomey takes visitors on an eerie journey back in time through the history of the three ancient Abomey kingdoms. The museum used to be the grand palace of one of the kingdoms and a spine-chilling throne made of human skulls sits on display. The historic sites in Ouidah are also worth visiting, including the Portuguese fort and a colonial temple known as the Temple of the Sacred Python.
The northwest region is ruled by the Atakora Mountains, which tower as high as 3,000 feet (914 metres) and offer wonderful hiking opportunities. The two main tourist attractions are the national parks: Pendjari National Park and 'W' National Park, which feature a range of wildlife from hippos and crocodiles to the elusive cheetah.
It may not be the first country that springs to mind when thinking of a trip to West Africa, but Benin, the birthplace of voodoo, is as fascinating as it may be challenging, and is well worth exploring despite the general lack of tourist infrastructure.
Communications
The telephone system in Benin is characterised by ageing, deteriorating equipment, and telecommunications growth is in the mobile phone market, while landline use is limited. Several mobile phone operators compete in Benin. Only a very small percentage of the population has internet access, but there are numerous internet cafes in the major cities. The international dialing code for Benin is +229.
Emergencies
117 (Police); 118 (Fire)
Languages Spoken
More than 50 languages are spoken in Benin, but French is the official language.
Duty Free
Travellers to Benin 15 years and older may bring with them 200 Cigarettes, 100 cigarillos, 25 cigars or 250g of tobacco. 500mL of eau de toilette and 250mL of perfume is granted allowance, as well as one bottle of wine and one bottle of spirits.
Electricity
Electrical outlets in Benin usually supply electricity at between 220 and 240 volts, 50Hz. European two-pin plugs with round pins are standard.
Climate Info
Benin has a tropical, or equatorial climate, and is hot and humid year-round, with temperatures and humidity particularly high along the coast. In Cotonou the average maximum temperature is 87°F (31°C) and the average minimum temperature is 75°F (24°C). Rainfall varies in Benin: there are two rainy seasons in the south, from April to mid-July, and from mid-September to late October; and a rainy season in the north from June to early October. During the rainy season smaller roads in Benin often become impassable and national parks tend to close during the wet season for this reason. The Harmattan wind blows in from the Sahara Desert between December and March, during the dry season, bringing heat and dust; but the hottest time of year is between February and April.
The best time to visit Benin is between November and February, when travellers may have to contend with the hot Harmattan winds, but miss the rain and the worst of the heat.
Passport
Although the official guidelines state that passports must be valid for the period of stay in Benin, it is recommended that travellers have six months left before expiry as some immigration officials enforce their own standards. Visas are required for most nationalities.
Entry Requirements
A valid passport and visa are required.
A valid passport and visa are required.
A valid passport and visa are required.
A valid passport and visa are required.
A valid passport is required, but no visa for a stay of up to 90 days.
A valid passport and visa are required.
A valid passport and visa are required.
Health
All travellers over one year of age require a yellow fever vaccination to enter Benin, and proof thereof should be readily available at the airport. Malaria is a problem all over the country and some form of prophylaxis is recommended for all travellers in all areas. Vaccinations are recommended for hepatitis A, hepatitis B and typhoid, and a meningococcus vaccination is recommended during the dry season, between November and June. It is generally advised that travellers are up to date on vaccinations for polio, MMR (measles, mumps, rubella) and tetanus-diphtheria. Those travellers who will be spending extended periods outdoors and may be at risk of animal bites should consider a rabies vaccination. Cholera outbreaks do occur in Benin, but vaccinations are usually only recommended for high-risk individuals like health professionals and relief workers who may be visiting remote areas where cholera epidemics are occurring.
Travellers should not drink tap water unless it has been boiled, filtered or chemically disinfected, and should avoid ice in beverages. All meals should be eaten while still hot, and uncooked fruit and vegetables avoided.
Medical facilities in Benin are limited and many medicines are unavailable. Travellers should ensure that they have comprehensive travel insurance, including provision for medical evacuation, and should bring along all required prescription medications, in their original packaging, and accompanied by a signed and dated letter from a doctor detailing what the medication is and why it is needed.
Safety
Travel in Benin is usually trouble free, but crime is a problem and tourists should be cautious and vigilant at all times as incidents of mugging, assault and car-jacking are fairly common, especially in Cotonou and near the Nigerian border. Most crime targetting foreigners is petty and opportunistic and tourists should watch out for bag-snatchers and pickpockets, especially at Dantokpa market in Cotonou, and in other tourist areas. The Cotonou coastline is also dangerous, with numerous robberies occurring on the beaches; visitors shouldn't walk alone on the beach at any time of day. The ocean currents are extremely strong along the Benin coast and drownings occur annually. There is a high rate of credit card fraud and robberies at ATMs so foreigners need to be vigilant when withdrawing money. Tourists are also frequently targetted by scam artists.
The political situation in Benin is stable but visitors should avoid any street protests and political gatherings that do occur. There is an underlying threat of terrorism in the region, but Benin is generally safe and peaceful.
Emergency Phone Number
117 (Police); 118 (Fire)
* For current safety alerts, please visit
Foreign travel advice - GOV.UK
or
Travel.State.Gov
Money
The West African CFA Franc (XOF) is the official currency of Benin. It is technically divided into 100 smaller units called centimes, but no centime denominations have been issued. Benin is largely a cash economy and credit cards are not widely accepted, but major banks in Cotonou will give cash advances against Visa credit cards and most major foreign currencies can be exchanged in the city. The best banks for changing money are Financial Bank, Bank of Africa, BTCI and Ecobank, which also often have ATMs.
Exchange Rate
Not available.
Embassies of Benin
Foreign Embassies in Benin
Customers
Visitors should be careful not to take pictures of military zones, airports or government offices. Homosexuality is not tolerated in Benin and sexual relations between members of the same sex are illegal. Benin is largely patriarchal and although women are technically equal to men legally, visitors should not be surprised to find that women are generally subordinate socially and economically.
Business
Benin is poor in natural resources, and the stability of its economy is largely dependent on trade with its neighbour, Nigeria. French is the language of business is Benin and being able to speak it is essential, unless you have a translator. Punctuality is considered important and lightweight suits are the norm when doing business. Office hours are generally 8am to 12.30pm and 3pm to 6.30pm Monday to Friday.
Tipping
Tipping is appreciated all over Benin. Restaurants don't generally add service charges to bills and a 10 percent tip is appropriate for waitrons. Fares are usually rounded up for taxi drivers, and small tips for hotel staff are appreciated.
Public Holidays in Benin
| | | |
| --- | --- | --- |
| | 2017 | 2018 |
| New Years Day | 1 Jan | 1 Jan |
| Traditional Day - Vodoun Festival | 10 Jan | 10 Jan |
| Easter Monday | 17 Apr | 2 Apr |
| Labour Day | 1 May | 1 May |
| Ascension Day | 25 May | 10 May |
| Whit Monday | 5 Jun | 21 May |
| Eid al-Fitr (End of Ramadan) | 26 Jun | 15 Jun |
| Independence Day | 1 Aug | 1 Aug |
| Assumption Day | 15 Aug | 15 Aug |
| Tabaski (Feast of the Sacrifice) | 2 Sep | 22 Aug |
| All Saints Day | 1 Nov | 1 Nov |
| Christmas Day | 25 Dec | 25 Dec |
| Birth of the Prophet | 30 Nov | 21 Nov |
Travel Guide powered by www.wordtravels.com, copyright © Globe Media Ltd. All rights reserved. By its very nature much of the information in this guide is subject to change at short notice and travellers are urged to verify information on which they're relying with the relevant authorities. Globe Media and UNIGLOBE Travel does not accept any responsibility for any loss or inconvenience to any person as a result of information contained above.