General
Money
Entry Requirements
Health & safety
Weather
Embassies
Etiquette
Public Holidays
Attractions
Map
---
Introduction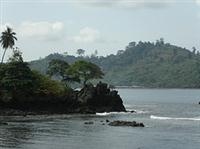 Limbe ©Hans Kylberg
The beautiful country of Cameroon is situated on the Gulf of Guinea, on the west coast of Africa, sandwiched between Nigeria to the north and Equatorial Guinea to the south. Cameroon is often proudly called 'Africa in Miniature' or 'Africa in One Country' due to the incredible variety of its natural landscapes, which include tropical rainforests, beaches, mountains, and deserts.
The area was a German protectorate until after World War I, when it was divided between the British and the French, with the French receiving the larger share and Britain controlling the northernmost strip along the Nigerian border. French Cameroon achieved independence in 1960, and the largely Christian southern third of British Cameroon voted to join the Republic of Cameroon the following year. The northern two-thirds of British Cameroon, mainly Muslim, eventually joined Nigeria. In recent years Cameroon has performed well economically and today the country enjoys more political and social stability than most African countries, but many people still live in dire poverty and the country is run by an authoritarian president.
Tourism in Cameroon is limited but has been steadily increasing as people discover the charm and remarkable diversity of the country. Cameroon's relative stability and above average infrastructure make it a good choice for those tourists keen to travel off the beaten track in Africa. Moreover, visitors are attracted by the friendliness and hospitality of the locals as well as the rich cultural traditions. The national parks and reserves in Cameroon lay claim to some of the richest flora and fauna in Africa. Southwest Cameroon is a mountainous region dominated by the highest mountain in West Africa, and Africa's highest active volcano, Mount Cameroon, which sits on the edge of the Gulf of Guinea and is a popular mountaineering destination. On the coast there are lovely beaches around Limbé and at Kribi, while the north of the country boasts Cameroon's most famous national park, Waza National Park, with its huge numbers of elephant, giraffe, lion, antelope, and birdlife. Yaoundé, the capital city, is situated on seven hills and has modern hotels, shops and markets. However, Douala is the biggest city and Cameroon's economic capital, positioned on the Wouri River a few miles from the coast.
Cameroon is a great destination for adventurous travellers keen to experience a still relatively undiscovered African paradise which has a wealth of natural attractions to offer. As the name 'Africa in One Country' promises, a holiday in Cameroon is rewarding in its variety.
Communications
The international dialling code for Cameroon is +237. The outgoing code is 00 followed by the relevant country code (e.g. 0027 for South Africa). City codes are not required. International phone calls can be made from CAMTEL offices. A GSM 900 network provides cellphone coverage mainly in Yaoundé, Malabo and the southwest of the country. Internet cafes are available in the main towns.
Emergencies
Police: 112
Languages Spoken
French and English are the official languages, although French is more commonly spoken and is the language of business. There are also numerous other African dialects.
Duty Free
Travellers to Cameroon do not have to pay duty on 400 cigarettes or 50 cigars or 5 packs tobacco; 1 bottle of alcohol; and 5 bottles perfume. Entry to the country with sporting guns requires a licence.
Electricity
Electrical current is 220 volts, 50Hz. Round two-pin attachment plugs are in use.
Climate Info
The climate in Cameroon varies according to the region. In the south, the dry season runs from November to February; there is a short rainy season from March to June and the big rains come between August and September. The average temperature in the south of Cameroon is 79°F (26°C). The climate on the coast of Cameroon is tropical and extremely wet; coastal areas sometimes receive rain in excess of 30ft (9m). On the other extreme, the north of Cameroon is very dry with a rainy season which technically lasts from May to the end of September but which brings little rain; drought is a way of life in the far north. Both the semi-arid north and the tropical coastal belt can get very hot and the coast tends to be humid.
The best time to visit Cameroon is the dry months between November and February. At this time of year it can be hot and windy but it is the best time to view wildlife and to hit the beautiful beaches. Note that during the wet season many of the roads become very difficult to negotiate due to mud and flooding, which is why most of the national parks close during the wet season.
Passport
All travellers require confirmed onward or return tickets and all necessary documents for next destination, as well as proof of sufficient funds for their stay. Visas on arrival can only be issued to those holding a prior approval from Le Delegue General de L'Immigration. All other visas must be acquired before travel to Cameroon. We recommend that passports be valid for six months after intended period of travel.
Entry Requirements
US nationals require a valid passport and a visa to enter Cameroon.
UK nationals require a valid passport and a visa to enter Cameroon.
Canadians require a valid passport and a visa to enter Cameroon.
Australians require a valid passport and a visa to enter Cameroon.
South Africans require a valid passport and a visa to enter Cameroon.
Irish nationals require a valid passport and a visa to enter Cameroon.
New Zealand nationals require a valid passport and a visa to enter Cameroon.
Health
A yellow fever vaccination certificate is required for all travellers older than one year of age to Cameroon. There is a risk of malaria throughout the country and prophylaxis is recommended for all travellers. Vaccinations are recommended for hepatitus A, typhoid, polio (booster), and hepatitis B. A meningococcus vaccination may also be recommended for those travelling to Cameroon during the dry season, which runs from November to June. Cholera outbreaks do occur in Cameroon, particularly between the months of December and June. Travellers should drink only boiled or bottled water. Medical facilities are very limited with frequent shortages of medication and outdated equipment; visitors should ensure they have comprehensive medical insurance, which includes emergency air evacuation. Doctors and hospitals generally expect immediate cash payment. If you require prescription medication while travelling it is best to bring it with you into Cameroon; make sure you have all the relevant documents from your doctor to get the medication through customs.
Safety
Occurrences of banditry and mugging are serious problems throughout the country, and car hijacking and robbery along roads has resulted in several deaths. Many foreign governments advise against travel to the areas bordering the Central African Republic and Chad, as well as to the area bordering Nigeria in the region of the Bakassi Peninsula. If travelling in the north it is advisable to do so in a convoy and to limit travel to daylight hours. Incidents of robbery, often armed, are common in towns and cities and visitors should be vigilant in public places. Armed attacks have occurred at restaurants and hotels where foreigners are known to stay and eat, and travellers are advised to avoid carrying valuables or wearing jewellery in public, and to keep cash on person to a minimum. Petty theft is also common on public transport and travellers should try and avoid travelling alone in taxis, especially at night. The safety and reliability of internal flights in Cameroon cannot be vouched for. Women should be wary and dress conservatively as Cameroon, while generally friendly, is strongly patriarchal and violence towards women is not unheard of.
Emergency Phone Number
Police: 112
* For current safety alerts, please visit
Foreign travel advice - GOV.UK
or
Travel.State.Gov
Money
The official currency is the Central Africa CFA Franc (XAF), which is divided into 100 centimes. Cash is fairly easy to exchange, and Euros are by far the easiest currency to change for CFA francs. Credit cards have limited acceptance in Cameroon and ATMs are few and far between.
Exchange Rate
Not available.
Embassies of Cameroon
Cameroon Embassy, Washington DC, United States: +1 202 265 8790.
Cameroon Embassy, London, United Kingdom: +44 20 7727 0771.
Cameroon High Commission, Ottawa, Canada: +1 613 236 1522 ext. 221
Cameroon Consulate, Sydney, Australia: +61 2 9989 8414.
Cameroon High Commission, Pretoria, South Africa: +27 12 460 0341.
Cameroon Consulate, Dublin, Ireland: +353 1 821 3722.
Foreign Embassies in Cameroon
United States Embassy, Yaoundé: +237 2220 1500.
British High Commission, Yaoundé: +237 222 22 07 96.
Canadian High Commission, Yaoundé (also responsible for Australia): +237 222 50 39 00.
South African High Commission, Yaoundé: +237 2220 0440.
Customers
Law requires that everyone carry identification at all times. It is forbidden to take photographs of ports, airports, government buildings, and military sites. Homosexuality is illegal.
Business
Cameroon is ranked higher than most Central African countries for ease of doing business and the comparatively good infrastructure is a big help in this regard. For meetings, lightweight suits are appropriate and handshakes are a common method of greeting for men and women. Greetings often take time and it is important to enquire about health and family and exchange business cards. Office hours are generally 7.30am until 6pm, Monday to Friday, with a one to two hour lunch break. Most businesses are also open on Saturdays between 8am and 1pm.
Tipping
If service charges are not included a tip of about 10 percent is customary.
Public Holidays in Cameroon
Overview
Cameroon has a lot to offer tourists and the country has comparatively good infrastructure, making getting around easier than it is in much of West and Central Africa. The country is also considered comparatively safe for travellers, but the serious unrest in neighbouring Nigeria has led travel authorities to advise against travel to the extreme north of Cameroon and areas along the Nigerian border. Unfortunately, many of Cameroon's best tourist attractions are in the north, including the Waza National Park with its wealth of wildlife, and the scenic splendour of the Mandara Mountains, a great favourite with hikers. Tourists intent on exploring the north of Cameroon will therefore have to take every possible safety precaution.
The cities of Yaounde and Douala are still popular with visitors and each offers a string of sightseeing opportunities and some good restaurants and hotels. The coastal getaway of Limbe is probably the most popular destination with foreigners in Cameroon and apart from the lovely beaches the town has an old-world colonial atmosphere which enchants visitors. Cameroon deserves the affectionate adage of 'Africa in One Country' and is one of the gems of the African tourism scene, with beaches, mountains, wildlife, and rolling savanna enough to delight almost anybody.
Map of Cameroon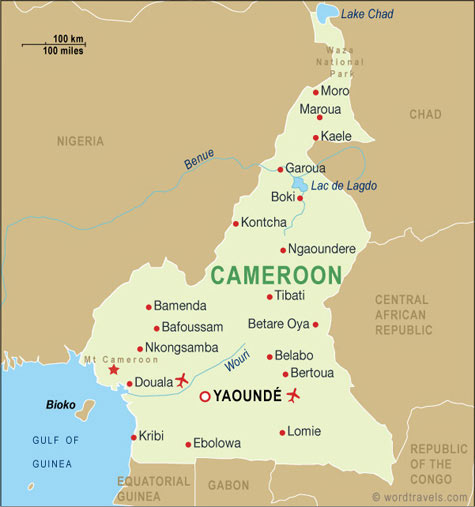 Travel Guide powered by www.wordtravels.com, copyright © Globe Media Ltd. All rights reserved. By its very nature much of the information in this guide is subject to change at short notice and travellers are urged to verify information on which they're relying with the relevant authorities. Globe Media and UNIGLOBE Travel does not accept any responsibility for any loss or inconvenience to any person as a result of information contained above.