General
Money
Entry Requirements
Health & safety
Weather
Embassies
Etiquette
Public Holidays
Attractions
Map
---
Introduction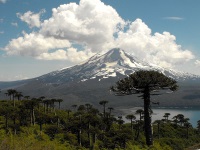 Chile ©lautaroj
A Chilean legend maintains that after God had created the wonders of the world he had many pieces leftover. He had raging rivers, sprawling glaciers, valleys and soaring mountains, snow-capped volcanoes, sparkling lakes, beautiful forests and deserts, icy fjords and sandy beaches. Rather than let all this beauty go to waste, he put them all together in a remote part of the world, and so Chile was born.
A long narrow strip making up the western part of South America's tail, Chile is 2,610 miles (4,200km) in length and at most 115 miles (180km) wide. Travellers are drawn to this country because of its multitude of natural attractions, from the stark northern deserts to the beautiful Lake District, and the dramatic mountains and fjords of Patagonia in the south. Chile is home to some superb National Parks, including the famous and mysterious Easter Island, and numerous activities for outdoor enthusiasts. Unlike much of South America, Chile's natural splendour is made accessible by great infrastructure and the outdoor adventure can be pleasantly interrupted by time in impressive urban hubs which make it clear that this is a country thriving economically and culturally.
Chile's European colonial heritage is evident throughout the country, and Chile's urban population is increasingly cosmopolitan, so that many travellers are surprised by how familiar and modern Chile feels in comparison to neighbouring South American countries which still boast strongly indigenous lifestyles. Indigenous culture does still thrive in parts of Chile, however, and the more traditional enclaves juxtapose interestingly with the palpable European influence. The people are resilient, cordial and hospitable, from the fashionable capital city of Santiago to the isolated island of Chiloé.
Besides natural beauty and an interesting blend of cultures, Chile offers the visitor excellent wines and seafood, unique handicrafts and shopping, and a variety of characteristic architecture, making it a beautiful and memorable place to visit.
Communications
The international access code for Chile is +56. The outgoing code is 00 followed by the relevant country code (e.g. 0044 for the United Kingdom). The area code for Santiago is (0)2. A number of telephone companies offer different rates for national and international calls, depending on the time of day. Public phones are widely available and international call centres are available in most shopping malls. Mobile phone companies have roaming agreements with most international cell phone companies; otherwise mobile phones can easily be rented. A GSM 1900 network is in operation. Internet cafes are widespread, particularly in the big cities.
Emergencies
133 (Police); 131 (Medical)
Languages Spoken
The official language is Spanish.
Duty Free
Travellers entering Chile do not need to pay customs duty on 400 cigarettes, 50 cigars (large or small) and 500g tobacco; 2.5 litres of alcohol; and perfume for personal use. Meat products, flowers, fruit and vegetables may only be imported if permission is given by the Department of Agriculture.
Electricity
Electrical current is 220 volts, 50Hz. Round two-pin plugs and round three-pin plugs are used.
Climate Info
The territory of Chile extends from the tropics down almost to Antarctica, and from sea level up to breath-taking altitudes, therefore the country has a wide variety of climate zones. In the north there is hardly any rainfall and conditions are very hot and arid. The climate in central Chile is Mediterranean, with cool, wet winters between April and September. Average annual rainfall increases, and temperatures decrease, as one moves further south. In Santiago average temperatures vary between 68ºF (20ºC) in January, the height of summer, and 46ºF (8ºC) in July, midwinter. In the extreme south the weather is cold and wet most of the year, with snow covering the mountains and the sky cloudy. Because the weather in Chile varies so much there is no ideal time to visit the country as a whole; depending on your desired area and activities the best time to visit Chile will change. However, in every season the country has something to offer which makes it a year-round travel destination.
Passport
Passengers must hold a Tourist Card (issued free of charge on arrival for 90 days) and sufficient funds to cover intended period of stay. A return or onward ticket is not required if holding a credit card or sufficient funds to purchase a ticket. We always recommend that passports be valid for six months after intended period of travel. Extension of stay possible for additional 90 days for visa exempt visitors.
Entry Requirements
No visa is required by US nationals for visits of up to 90 days. A passport valid on arrival is required for travel to Chile.
UK nationals do not require a visa for visits of up to 90 days. A passport valid on arrival is required.
No visa is required by Canadians for visits of up to 90 days. A passport valid on arrival is required for travel to Chile.
No visa is required by Australians for visits of up to 90 days. A passport valid on arrival is required. Visa exemptions also include passengers with an APEC Business Travel Card valid for travel to China.
South African nationals must hold a passport valid on arrival. A visa is not required for stays of up to 90 days.
Irish nationals must hold a passport valid on arrival, but a visa is not required for a stay of up to 90 days.
New Zealand nationals must hold a passport valid on arrival. A visa is not required for a stay of up to 90 days.
Health
There are no vaccination requirements for entry to Chile, but vaccination for hepatitis A is recommended and a typhoid vaccine may be recommended for long-term travellers who plan to visit rural areas and eat outside of hotels and restaurants. Water is generally safe in the cities, but should be treated in the rural areas; bottled water is widely available for drinking. Santiago is severely polluted and this could cause respiratory problems or eye irritations, particularly between May and August. Travellers visiting the Andes Mountains should be aware of altitude sickness, and ascend slowly to allow the body to adjust. Healthcare in urban areas is generally good, but hospitals and clinics are expensive and usually require payment in cash. Comprehensive travel health insurance is recommended.
Safety
Chile is a politically stable country with few safety threats to travellers. Incidences of pick-pocketing and mugging are on the increase in big cities and travellers should take care of their belongings, especially around tourist areas and bus stations, and avoid walking alone late at night. Tourists should be particularly cautious in the Lake District as theft is on the increase, and muggings are becoming more common in popular walking areas such as Cerro San Cristobal, Cerro Santa Lucia and Cerro Manquehue. There has been an increase in reports regarding people receiving spiked drinks at nightclubs and bars, particularly in Santiago. Avoid any involvement in political protests and demonstrations, which take place from time to time. Chile has a landmine problem, mainly restricted to border areas adjacent to Peru and Bolivia. These areas are seldom visited by most travellers so landmines shouldn't be a problem but visitors are advised to stick to marked roads, obey all signs and seek the advice of local authorities if travelling to the border areas of regions I, II or XII.
Emergency Phone Number
133 (Police); 131 (Medical)
* For current safety alerts, please visit
Foreign travel advice - GOV.UK
or
Travel.State.Gov
Money
The local currency is the Chilean Peso (CLP), which is divided into 100 centavos. Visa, MasterCard, Diners Club and to a lesser extent, American Express, are accepted in most large shops and hotels. ATMs are widely available.
Exchange Rate
Not available.
Embassies of Chile
Embassy of Chile, Washington DC, United States: +1 202 785 1746.
Embassy of Chile, London, United Kingdom: +44 (0)20 7222 2361.
Embassy of Chile, Ottawa, Canada: +1 613 235 9940.
Embassy of Chile, Canberra, Australia: +61 (0)2 6286 2430.
Embassy of Chile, Pretoria, South Africa: +27 (0)12 460 8090.
Embassy of Chile, Dublin, Ireland: +353 (0)1 667 5094.
Embassy of Chile, Wellington, New Zealand: +64 (0)4 471 6270.
Foreign Embassies in Chile
United States Embassy, Santiago: +56 (0)2 330 3000
British Embassy, Santiago: +56 (0)2 370 4100.
Canadian Embassy, Santiago: +56 (0)2 652 3800.
Australian Embassy, Santiago: +56 (0)2 550 3500.
South African Embassy, Santiago: +56 (0)2 8200 300.
Embassy of Ireland, Buenos Aires (also responsible for Chile): +54 11 5787 0801.
New Zealand Embassy, Santiago: +56 (0)2 616 3000.
Customers
Bargaining is unusual in street markets or stores in Chile - if there is a price on goods it is seldom negotiable. Although Chile is largely conservative in outlook, homosexuality is legal and is increasingly widely accepted socially. Punishment for the possession and consumption of drugs is strict in Chile.
Business
Chilean business culture tends to be formal, and this includes dress, which should also be conservative. In business, Chileans should be addressed by their titles and surnames, unless otherwise stated. Businesses are often family-run. Third party introductions are indispensable when arranging a meeting, and developing a personal relationship is key. Chileans often stand very close when conversing and it is impolite to pull away. Visitors are also expected to re-confirm appointments before arriving at a meeting. Foreigners should be on time for meetings, but it is not unusual for the host to be 15-30 minutes late. On introduction, a firm handshake and exchange of business cards is usual - cards should be printed in both English and Spanish and care should be taken to pay attention to the card before putting it away carefully. Business hours are generally 9am to 5pm Monday to Friday, often with a siesta over lunch.
Tipping
Tips of about 10 percent are expected in restaurants. It is not customary to tip taxi drivers but it is usual to round up the fare if they help with luggage. In general tipping small amounts is customary for most services.
Public Holidays in Chile
| | | |
| --- | --- | --- |
| | 2017 | 2018 |
| Our Lady of Mount Carmel | 16 Jul | 16 Jul |
| New Years Day | 1 Jan | 1 Jan |
| Good Friday | 14 Apr | 30 Mar |
| Holy Saturday | 15 Apr | 31 Mar |
| Labour Day | 1 May | 1 May |
| Navy Day | 21 May | 21 May |
| Feast of St Peter and St Paul | 26 Jun | 2 Jul |
| Assumption of the Virgin Mary | 15 Aug | 15 Aug |
| Independence Day | 18 Sep | 18 Sep |
| Army Day | 19 Sep | 19 Sep |
| Dia de la Raza (Columbus Day) | 9 Oct | 15 Oct |
| All Saints Day | 1 Nov | 1 Nov |
| Immaculate Conception | 8 Dec | 8 Dec |
| Christmas Day | 25 Dec | 25 Dec |
| Reformation Day | 27 Oct | 2 Nov |
Overview
The list of attractions in Chile is as long as the country itself. The best of these lie in the country's vast wilderness areas, although Santiago, the capital city, also has an impressive sightseeing offering, and the nearby city of Valparaiso is increasingly drawing global attention with its street art and bohemian atmosphere.
In Chilean Patagonia both Parque Nacional Laguna San Rafael and Parque Nacional Torres del Paine are among the most impressive scenic sites in the world, encompassing mountains, ice fields, glaciers and lagoons, all of which can be explored on extensive and well-maintained hiking trails.
Interesting towns like Castro, Puerto Montt and Pucon provide springboards into The Lake District and Parque Nacional Chiloe, where the rivers, lakes and volcanoes promise a playground for adventure sports enthusiasts and the age-old Chilean folklore enchants the more cultural-minded.
Chile continues to amaze with weird and wonderful landscapes and natural features like the El Tatio Gyesers and The Valley of the Moon in the northern Reserva Nacional Los Flamencos.
Those willing to make a trip into yet more remote country can hop across to the mysterious Easter Island, where the giant stone Moai stare out to sea, guarding the ancient secrets of one of the most isolated places on earth.
Chile is truly one of the most diverse countries in the world and it is best to pick a region or two to explore to avoid travelling long distances - popular regions like Chilean Patagonia, the Lake District and the Atacama Desert can all easily occupy an entire holiday. Travellers should also note that Chile covers a number of different climate zones and there is no one best season to visit - trips should be scheduled according to the desired destination.
Map of Chile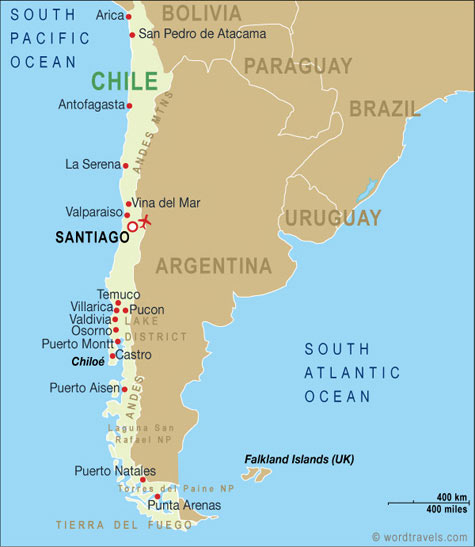 Travel Guide powered by www.wordtravels.com, copyright © Globe Media Ltd. All rights reserved. By its very nature much of the information in this guide is subject to change at short notice and travellers are urged to verify information on which they're relying with the relevant authorities. Globe Media and UNIGLOBE Travel does not accept any responsibility for any loss or inconvenience to any person as a result of information contained above.