General
Money
Entry Requirements
Health & safety
Weather
Embassies
Etiquette
Public Holidays
Attractions
Map
---
Introduction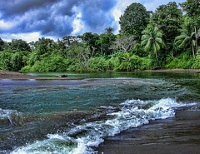 Rio Aguajitas ©Trish Hartmann
Known for its spectacular natural beauty and biodiversity, 15 different ecosystems exist in Costa Rica. All contain dramatic changes in landscapes, climate and nature while magnificent beaches stretch for miles along an unspoilt coastline. High on the mountains, cool and pristine cloud forests are alive with mysterious sounds and below splendid tropical rain forests are packed with life.
The country is famous for its progressive approach to conservation. Indeed, it is the prime eco-tourism destination in Central America due to its wealth of protected areas. Over 25 percent of the country consists of these regions, spread between 75 different national parks, wildlife refuges and biological reserves.
In such a small geographical area, it is surprising how much there is to see and do. A holiday in Costa Rica offers activities to suit all travellers and any mood, from action to relaxation. These include surfing, snorkelling and sunbathing, horse riding, hiking and wildlife-spotting, deep sea fishing or river cruises. One can also simply enjoy a soak in the hot springs.
Travellers are also drawn to the country because of the endearing Tico hospitality. Costa Ricans are known for their gregariousness and delightful ability to pamper guests. Whether pointing out the right direction or cooking a typical authentic meal, they will be full of smiles and warmth. All this, together with easy accessibility and an efficient infrastructure, makes Costa Rica the jewel of Central America and an unforgettable vacation destination.
Communications
The international access code for Costa Rica is +506. The outgoing code is 00 followed by the relevant country code (e.g. 0044 for the United Kingdom). City codes are not required. Costa Rica has one of the most advanced telecommunications systems in Latin America. The cheapest way to phone internationally is a direct call using a phone card. Mobile phone operators use GSM 1800 networks. Internet cafes are available in the main towns.
Emergencies
911 (General Emergency Helpline)
Languages Spoken
Spanish is the official language, but English is widely spoken.
Duty Free
Travellers to Costa Rica over 18 years do not have to pay duty on 3 litres of alcohol; 500g of tobacco or 400 cigarettes or 50 cigars. Perfume for personal use is allowed provided it is a reasonable quantity.
Electricity
Electrical current is 120 volts, 60Hz. Flat two-pin plugs and three-pin (two flat blades with round grounding pin) plugs are in use.
Climate Info
Costa Rica has a typically tropical climate which means that the seasons are not distinct: little difference occurs in temperature throughout the year. There is a lot of rainfall, particularly from May to November, and it can rain at any time of the year. However, December to April gets significantly less rain.
Temperatures along the coast are hotter, averaging 89ºF (32ºC), although they are tempered down by welcome sea breezes. The highland areas are warm during the day and can be quite cool at night. The sun shines year round in Costa Rica and there is no real winter which makes it a year-round holiday destination. The coolest months of the year are November, December and January and the hottest months of the year are March, April and May, but there is not a big difference ultimately. Peak tourist season in Costa Rica is from November to April, but the weather is good all year round, so for those looking to avoid the crowds, it is better to visit out of season.
Passport
All foreign passengers to Costa Rica must have return/onward tickets and the necessary travel documentation for their next destination, and proof of sufficient funds to cover their stay in the country. Extensions of stay for those who are visa-exempt can be arranged on arrival. Note that a yellow fever vaccination certificate is required, if arriving in Costa Rica within six days of leaving or transiting through any yellow fever risk areas. It is highly recommended that your passport has at least six months validity remaining after your intended date of departure from your travel destination. Immigration officials often apply different rules to those stated by travel agents and official sources.
Entry Requirements
US citizens must have a passport that is valid upon their arrival in Costa Rica. No visa is required for stays of up to 90 days.
British citizens must have a passport that is valid upon their arrival in Costa Rica. Those carrying British passports with endorsements other than British Citizen must have passports valid for six months from date of arrival. A visa is not required for stays of up to 90 days, provided the passport is for an endorsed British Citizen or British Overseas Territories Citizen. A British National (Overseas) does not require a visa for a stay of up to 30 days.
Canadian citizens must have a passport that is valid upon their arrival in Costa Rica. No visa is required for stays of up to 90 days.
Australian citizens must have a passport that is valid upon their arrival in Costa Rica. No visa is required for stays of up to 90 days.
South African citizens must have a passport that is valid upon their arrival in Costa Rica. No visa is required for stays of up to 90 days.
Irish citizens must have a passport that is valid upon their arrival in Costa Rica. No visa is required for stays of up to 90 days.
New Zealand citizens must have a passport that is valid upon their arrival in Costa Rica. No visa is required for stays of up to 90 days.
Health
There are no vaccination requirements for Costa Rica. As a precaution, vaccinations for hepatitis A, hepatitis B and typhoid are recommended for travel to Costa Rica. There is a year-round risk of malaria in some regions of Costa Rica and advice should be taken on which areas are currently risky places to visit. You should also check out what precautions and medication you must take to protect against the disease. Water in cities is generally safe but it is advisable to buy bottled water, especially outside the main towns where there is a risk of contamination. Dengue fever is one of a number of diseases carried by insects that also occur in this region, especially during the rainy season; protection against insect bites is the best prevention. Medical services are reliable in cities and the standard of hygiene and treatment is very high.
Safety
There is no history of terrorism in Costa Rica, however there are incidents of violent crime, occasionally targeting tourists. There has been an increase in attacks on tourists leaving the airport in hired cars in San Jose. Belongings should be watched carefully at all times and in all places, particularly in bus stations and on public transport. Theft of, and from, cars is common. Do not wear jewellery or carry large amounts of cash and avoid moneychangers on the street. Strikes, protests and blockades have recently taken place without warning and further demonstrations could disrupt travel on main roads, particularly those connecting San Jose with the coast.
Emergency Phone Number
911 (General Emergency Helpline)
* For current safety alerts, please visit
Foreign travel advice - GOV.UK
or
Travel.State.Gov
Money
The Costa Rican Colón (CRC) is divided into 100 céntimos and is the official currency, although US Dollars are also widely accepted. US Dollars can be exchanged in banks and many hotels, but currency other than US Dollars is difficult to exchange. Using black market exchange options is risky as these unofficial outlets have been known to pass on counterfeit bills printed in Colombia. Banks close anywhere from 3pm to 4pm. Major credit cards are widely accepted, although American Express and Diners Club might be more limited. ATMs are available in major towns throughout the country, but it is advisable to always have some local cash handy.
Exchange Rate
Not available.
Embassies of Costa Rica
Embassy of Costa Rica, Washington DC, United States: +1 202 499 2991.
Embassy of Costa Rica, London, United Kingdom: +44 (0)20 7706 8844.
Embassy of Costa Rica, Ottawa, Canada: +1 613 562 2855.
Honorary Consulate of Costa Rica, Johannesburg, South Africa: +27 (0)11 486 4716.
Foreign Embassies in Costa Rica
United States Embassy, San Jose: +506 2519 2000.
British Embassy, San Jose: +506 2258 2025.
Canadian Embassy, San Jose (also responsible for Australia): +506 2242 4400.
South African Consulate-General, San Jose: (+506) 222 1470
Customers
Costa Ricans are conservative when it comes to family values, and roles between male and female are expected to be traditional. 'Machismo' is a key characteristic of Costa Rica culture, although women are quickly becoming more empowered in Tico society. The population is largely middle-class, Catholic and ethnically homogenous.
Business
Costa Rica has a formal business environment, where men and women wear conservative suits, appointments are made and meetings begin on time. Business projects can be slow, however, as Costa Ricans are conservative in their approach to new ideas and keen to avoid risk. Spanish is the main language, but most business people speak English.
However, it is polite to have business cards as well as other promotional material printed in both English and Spanish. A lot of women have high profile jobs, although the business world, like the society in general, is still male dominated. Visiting businesswomen will be treated with respect once their ability and authority is clearly established. Hours of business are generally 8am to 4pm Monday to Friday with a two-hour lunch break from 12pm.
Tipping
Hotels add a 10 percent service charge plus a three percent tourist tax to their bills by law. In tourist and upmarket restaurants, a tip of 10 percent is usual. However, some establishments already include a 17 percent sales and service tax in the bill. Taxi drivers are not normally tipped but you can use discretion if it's been a long trip or there was intense traffic. People will often round off the fare to the nearest Costa Rican colón or US Dollar. Tour guides, on the other hand, are normally tipped. In general, if service has been particularly good, staff appreciate a five to 10 percent tip.
Public Holidays in Costa Rica
| | | |
| --- | --- | --- |
| | 2017 | 2018 |
| New Years Day | 1 Jan | 1 Jan |
| Juan Santamarias Day | 11 Apr | 11 Apr |
| Good Friday | 14 Apr | 30 Mar |
| Labour Day | 1 May | 1 May |
| Guanacaste Day | 25 Jul | 25 Jul |
| Feast of the Virgin of Los Angeles | 2 Aug | 2 Aug |
| Assumption | 15 Aug | 15 Aug |
| Independence Day | 15 Sep | 15 Sep |
| Cultural Day | 12 Oct | 12 Oct |
| Christmas Day | 25 Dec | 25 Dec |
| Holy Thursday | 13 Apr | 29 Mar |
Overview
Although a small country, there are a wealth of attractions in Costa Rica and only the most jaded of travellers could fail to be excited by the plenitude of exciting things to see and do. A whopping 25 percent of Costa Rica is taken up by 75 different national parks, wildlife refuges and biological reserves, making it a paradise for eco-tourism. Adventurous visitors are spoiled for choice with activities like surfing, kayaking, hiking, fishing, white water rafting, canyoning, climbing and zip-line tours available all over this diverse country. For those inclined to relax, Costa Rica boasts truly beautiful beaches and these alone could fill a holiday with sun-tanning, swimming and snorkelling.
The northwest region of Costa Rica is famous for two particularly spectacular national parks: the Arenal Volcano National Park, with the seemingly perpetually active Volcan Arenal at its heart; and the world renowned Monteverde Cloud Forest Biological Reserve, a unique and awe-inspiring wilderness area that enchants visitors with its mystical atmosphere. Fortuna is a good base from which to explore the region and a visit to the Monteverde community, spread in the hills of the cloud forest, is a fascinating excursion.
The Pacific coast is well developed for tourism and is scattered with picturesque villages and great beaches. Jacó is a beach resort town perfect for surfing, sunning and partying in the midst of this wonderful coastline. Puntarenas, the largest town in the region, a popular stop for cruises, is also a good base for exploring the area. The Manuel Antonio National Park is the most celebrated reserve of the region and here you will find a captivating variety of wildlife, as well as the chance to enjoy numerous adventure activities.
The Caribbean coast of Costa Rica is becoming increasingly popular; it has a more relaxed atmosphere and is less developed for tourism, but it is a beach haven and the local communities are charming, friendly and happy to share their yummy cuisine and vibey music. Puerto Limon is a bit rundown, but it receives regular cruise passengers and acts as a doorway into the stunning coastal areas and pristine rainforests of Caribbean Costa Rica. Puerto Viejo de Talamanca is a popular tourist destination nestled on the coast. The best parks in this area are the Cahuita National Park, which protects a wondrous coral reef and is a treat for divers and snorkellers, and the Tortuguero National Park, in the north, a famous breeding ground for sea turtles.
And in the middle of this natural wonderland of a country sits the capital, San Jose, which is a lively and modern city with good shopping, restaurants and nightlife. It has some architecturally beautiful colonial areas and a few great museums. From this urban centre you can find no end of things to see and do in Costa Rica.
Map of Costa Rica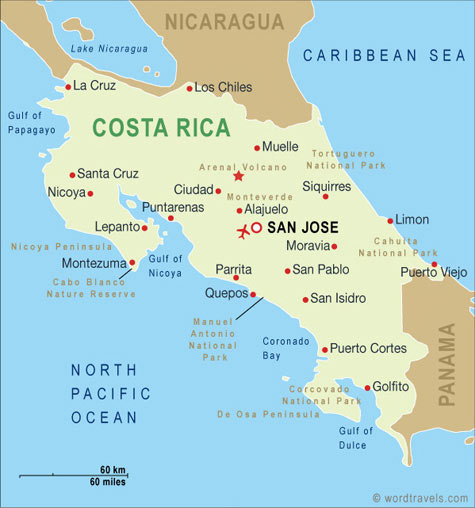 Travel Guide powered by www.wordtravels.com, copyright © Globe Media Ltd. All rights reserved. By its very nature much of the information in this guide is subject to change at short notice and travellers are urged to verify information on which they're relying with the relevant authorities. Globe Media and UNIGLOBE Travel does not accept any responsibility for any loss or inconvenience to any person as a result of information contained above.