General
Money
Entry Requirements
Health & safety
Weather
Embassies
Etiquette
Public Holidays
Attractions
Map
---
Introduction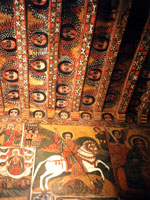 First-time visitors to Ethiopia are generally amazed by the stunning natural beauty of a country that is also incredibly rich in culture and history. The striking diversity of landscapes, ancient traditions and people leaves a lasting impression to challenge the misleading stereotype of a land stricken by years of drought and famine. Ethiopia boasts of being the only uncolonised country in Africa, having defeated and expelled the Italians after a mere five years of occupation. Ethiopia has emerged into the present day as a fiercely independent and proud country, and one in which Islam and Christianity coexist in relative harmony.
Brimming with contrasts and extremes, Ethiopia beckons visitors to explore from the tops of its highlands, where mountains soar over 14,100 feet (4,300 metres), to the depths of the Danakil Depression situated below sea level. Discovering Abyssinian culture and traditions that date back over 3,000 years is incredibly exciting and it is possible to experience ancient Islamic folklore, as well as the fascinating rituals and sacred ceremonies of the Ethiopian Orthodox Church. Ethiopia is described as the Cradle of Humanity, home to the oldest human remains in the world, while at the same time its capital, Addis Ababa, meaning 'New Flower' in Amharic, is home to the more modern problems of urban migration, where homeless people roam the streets in search of food, money and a better life. Despite the undeniable poverty, however, travellers will find that the vast majority of Ethiopians are polite, friendly and hugely industrious - the urban streets may be littered with refuse but they are also full of smiles.
The north of Ethiopia is the most attractive region for visitors both from an historical and a natural point of view. The Historic Route winds through the medieval wonders of the country, including the ancient cities of Gondar and Axum and the breath-taking Lalibela churches, hewn into rock. The north also boasts the lofty Simien Mountains National Park, encompassing the fourth highest peak on the continent, and providing fantastic hiking opportunities and a variety of wildlife. Bahar Dar, situated on Lake Tana, is popular as a base from which to explore the intriguing monasteries built on the many islands scattered about the lake, as well as the Blue Nile Falls, or 'Smoke of Fire', which are arguably the most impressive falls in North Africa.
The south of Ethiopia, on the other hand, is the heartland of some of the surviving tribal cultures, with villagers living much as they have for centuries. There are fewer awe-inspiring ancient sites but the game reserves and tribal enclaves draw adventurous travellers.
Ethiopia is set among a contrasting environment of natural beauty and the signs of poverty, where lakes, mountains and wildlife reserves compete for attention with the poor and hungry. Ethiopia is used to being overlooked as a tourist destination, but the country's unique attractions are slowly taking pride of place in northeast Africa, and today the oldest independent nation on the continent welcomes visitors to experience her mosaic of ethnicity, a long and proud history, and an abundance of stunning scenery.
Communications
The international dialling code for Ethiopia is +251. The outgoing code is 00 followed by the relevant country code (e.g. 0027 for South Africa). The area code for Addis Ababa is (0)1. Telephone, fax and postal facilities are available in most main towns. International Direct Dialling is available. There are internet cafes in Addis Ababa and internet services may be available in upmarket hotels in other areas. A GSM 900 network is provided, but coverage is limited to Addis Ababa and a few other parts of the country.
Emergencies
911 (General Emergency Helpline, Addis Ababa only). Emergency numbers vary in other regions and should be looked up prior to arrival.
Languages Spoken
Amharic is the official language, although over 80 local languages are also spoken. English and Arabic are widely spoken as well as some French and Italian.
Duty Free
Travellers to Ethiopia over the age of 18 years do not have to pay customs duty on 100 cigarettes or 50 cigars or 227g of tobacco; 1 litre of alcoholic beverages; 2 bottles or 500ml of perfume; and gifts to the value of Br10.
Electricity
Electrical current is 220 volts, 50Hz. Two-pin plugs are used. Even in Addis Ababa, electricity supply is irregular and blackouts are common.
Climate Info
Ethiopia is in the tropical zone lying between the equator and the Tropic of Cancer. There are three different climate zones in Ethiopia and weather varies substantially depending on altitude. The lowlands are generally hot and humid, with cooler temperatures in the Ethiopian Highlands. Although the low-lying areas are tropical in climate due to the proximity to the equator, the mountainous regions can get chilly and the climate is more alpine. The average annual temperature in the highlands is about 61°F (16°C), while the lowlands average about 82°F (28°C). In Addis Ababa, which ranges from 7,218 feet to 8,530 feet (2,200m to 2,600m), the maximum average temperature is 79°F (26°C) and minimum 39°F (4°C). May is the hottest month and August is the coolest.
There are two rainy seasons in Ethiopia: a short, mild one between February and April, and a more intense rainy season from mid-June to mid-September. Although travel is easily possible during the spring rainy season it is generally avoided during the far wetter summer period as road travel can become difficult. Visitors should be aware that Ethiopia can get rain year-round and that rainfall, like everything else, is dependent on region.
The best time to visit Ethiopia is in the dry season between mid-October and March, but be sure to check out the climate for the particular region you want to explore before making a decision.
Passport
Foreign visitors to Ethiopia may obtain a tourist visa on arrival, if arriving at the international airports in Addis Ababa or Dire Dawa. The fee is USD 50. Work visas are also obtainable, but requirements should be confirmed in advance. A yellow fever vaccination ceritificate is required to enter Ethiopia, if arriving within six days of leaving or transiting through an infected area. NOTE: It is highly recommended that your passport has at least six months validity remaining after your intended date of departure from your travel destination. Immigration officials often apply different rules to those stated by travel agents and official sources.
Entry Requirements
Canadian citizens must have a passport that is valid upon arrival in Ethiopia. A visa is required, and can be obtained on arrival in the country for those travelling as tourists and arriving at one of the main airports.
Australian citizens must have a passport that is valid upon arrival in Ethiopia. A visa is required, and can be obtained on arrival in the country for those travelling as tourists and arriving at one of the main airports.
Irish citizens must have a passport that is valid upon arrival in Ethiopia. A visa is required, and can be obtained on arrival in the country for those travelling as tourists and arriving at one of the main airports.
Health
Travellers to Ethiopia are recommended to have hepatitis A, hepatitis B, yellow fever, meningococcus and cholera vaccinations. Malaria is prevalent in the lowlands (below 6,562 feet/2,000m) and altitude sickness may affect travellers to the highland areas, including Addis Ababa. Bilharzia is present in many of the lakes in Ethiopia and travellers are advised to drink boiled or bottled water, as waterborne diseases are prevalent. A rabies vaccination is recommended for anyone who will be spending a lot of time in wilderness areas or around animals, and a polio booster is recommended for adults who had the vaccine as children.
Medical facilities are poor outside of Addis Ababa, while in the capital hospitals are available but medical supplies are erratic; visitors should bring their own regular medications with them and arrange comprehensive medical insurance before travel.
Safety
The vast majority of trips to Ethiopia are trouble free, but safety precautions are recommended. Visitors are cautioned to avoid all public demonstrations and large crowds, particularly in Addis Ababa, and to keep a low profile in public places. Valuables should not be displayed.
Most of Ethiopia can be explored in relative safety, but there are travel warnings in place for some areas and travellers are advised to check travel warnings on reputable government websites before planning their itineraries. Caution should generally be exercised in all border areas and the British FCO advises against all travel to within six miles (10km) of the borders with Eritrea, Sudan, South Sudan and Kenya, though there are a few exceptions to this rule made for prime tourist hotspots and main roads. Travel warnings are also in place for parts of the Somali region, parts of the Danakil desert, parts of the Gambella region and the town of Jijiga. Overland travel to Sudan or Kenya is dangerous due to armed bandits, and should only be attempted in a convoy. There is a high threat from local terrorism in the country, and although it is not directed at foreigners, visitors need to be cautious in public places.
Flooding often affects Ethiopia between June and September each year, with flash floods sometimes killing hundreds of people in low-lying areas.
Emergency Phone Number
911 (General Emergency Helpline, Addis Ababa only). Emergency numbers vary in other regions and should be looked up prior to arrival.
* For current safety alerts, please visit
Foreign travel advice - GOV.UK
or
Travel.State.Gov
Money
The official currency is the Ethiopian Birr (ETB), which is divided into 100 cents. Foreign currency can be exchanged at banks and authorised hotels. Credit cards have limited usage outside of Addis Ababa, and even in the capital they are only accepted by major establishments. Visitors should carry hard currency with them, preferably in US dollars. ATMs are sparse, but banks are usually open every day except Sundays from 8am to 11am and 1pm till 4pm.
Exchange Rate
Not available.
Embassies of Ethiopia
Embassy of Ethiopia, Washington DC, United States: +1 202 364 1200.
Embassy of Ethiopia, London, United Kingdom: +44 (0)20 7838 3897.
Embassy of Ethiopia, Ottawa, Canada: +1 613 565 6637.
Embassy of Ethiopia, Canberra, Australia: +61 (0)2 6295 9984.
Embassy of Ethiopia, Pretoria, South Africa: +27 (0)12 346 3542.
Embassy of Ethiopia, Dublin, Ireland: +353 (0)1 678 7062.
Foreign Embassies in Ethiopia
United States Embassy, Addis Ababa: +251 (0)1 130 6000.
British Embassy, Addis Ababa: +251 11 617 0100.
Canadian Embassy, Addis Ababa (also responsible for Australia): +251 (0)11 317 0000.
South African Embassy, Addis Ababa: +251 11 371 1002.
Irish Embassy, Addis Ababa: +251 (0)1 518 0500.
Customers
The Ethiopian Highlands are mainly Orthodox Christian and restaurants do not serve meat dishes on Wednesdays, Fridays and during Lent. Ethiopia follows the Julian calendar, which consists of 13 months (12 months of 30 days, and a thirteenth month of five or six days). Homosexuality is illegal. Shoes should be removed before entering mosques and churches. Photographs should not be taken of military buildings and airports, and permission should be asked before photographing religious festivals and people.
Business
Etiquette is very important in Ethiopia, both socially and in business. Formal attire is expected of men and women. Greetings are very important and the shaking of hands is the norm for first meetings. Ethiopians like to establish good relations with one another and personal relationships are the cornerstone of business. English is understood by most businessmen in Addis Ababa, as well as some French and Italian. Ethiopians respect their elders and visitors should show the same courtesy. Business hours are generally 8:30am to 5:30pm Monday to Friday, with an hour taken at lunch, but may vary from business to business.
Tipping
Tourist hotels and restaurants usually add a 10 percent service charge to the bill. Otherwise tipping is fairly common, but only small amounts are customary. Tourists should note that locals may well expect a tip for being photographed.
Public Holidays in Ethiopia
| | | |
| --- | --- | --- |
| | 2017 | 2018 |
| Ethiopian Christmas Day | 7 Jan | 7 Jan |
| Ethiopian Epiphany | 19 Jan | 19 Jan |
| Adwa Victory Day | 2 Mar | 2 Mar |
| Ethiopian Good Friday | 14 Apr | 6 Apr |
| Ethiopian Easter Sunday | 16 Apr | 8 Apr |
| Labour Day | 1 May | 1 May |
| Patriots Victory Day | 5 May | 5 May |
| Derg Downfall Day | 28 May | 28 May |
| Eid-al-Fitr | 26 Jun | 15 Jun |
| Ethiopian New Year | 11 Sep | 11 Sep |
| Eid al-Adha | 2 Sep | 22 Aug |
| The Prophets Birthday | 1 Dec | 21 Nov |
Overview
This ancient and beautiful country has a lot to offer tourists and there is plenty to see and do in Ethiopia, although getting to attractions is not always easy and visitors may sometimes find sightseeing challenging. However, many of the attractions in Ethiopia are incredibly impressive and rewarding for travellers and it is worth negotiating the chaos to seek them out.
Ethiopia is a fascinating country and most tourists travel to Addis Ababa, the colourful capital, to start their exploration. It is worth spending at least a day of your holiday in Addis Ababa to experience the vibe of this enormous African city. The city has some lively markets and worthy attractions, including the Ethiopian National Museum, resting place of 'Lucy', the famous early hominid fossil.
Northern Ethiopia holds the greatest attraction for visitors as one of the country's richest regions for culture, history and natural splendour. The Historic Route has some breath-taking assets and constitutes a fairly well-beaten trail on which travellers can feel safe. The medieval city of Gondar, with more castles, palaces and churches than any other city in Africa, is wondrous. The ancient capital of the Queen of Sheba and Ethiopia's holiest city, Axum, where the original Ark of the Covenant containing the Ten Commandments is said to rest, is also extremely interesting. The ancient city of Harar, fourth holiest city in the world for Islam, boasts 82 mosques within its fortified walls. Ethiopia's top attraction, however, is undoubtedly the 13th-century rock-hewn churches of Lalibela, among the most incredible man-made structures in the world, revered and renowned among Ethiopians and foreigners alike and the venue for some of the most famous religious festivals in Ethiopia. Having taken at least 24 years to complete, the astounding rock churches are believed to have been created with the help of angels.
Map of Ethiopia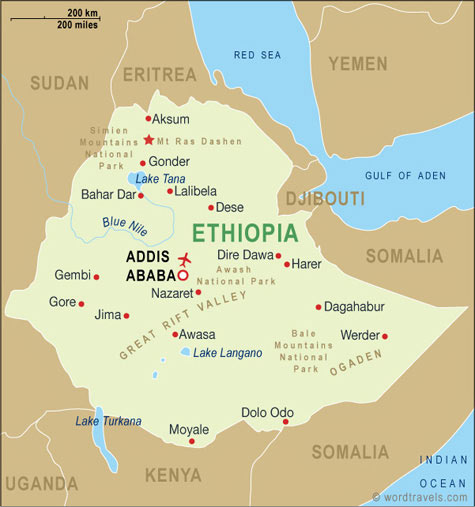 Travel Guide powered by www.wordtravels.com, copyright © Globe Media Ltd. All rights reserved. By its very nature much of the information in this guide is subject to change at short notice and travellers are urged to verify information on which they're relying with the relevant authorities. Globe Media and UNIGLOBE Travel does not accept any responsibility for any loss or inconvenience to any person as a result of information contained above.