General
Money
Entry Requirements
Health & safety
Weather
Embassies
Etiquette
Public Holidays
Attractions
Map
---
Introduction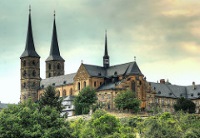 Michaelsberg Abbey ©Thomas Depenbusch
Situated in the heart of Europe, and bordering nine other countries, Germany is an established and rewarding destination on any tour of the subcontinent. Its land is wide and varied, with turreted castles nestled below snow-capped mountains, lush river valleys, dark and mysterious forests, and bustling medieval villages. This is the land of fairy tales, where farmland minstrels headed to Bremen to become musicians, where Sleeping Beauty was woken and Little Red Riding Hood ventured into the woods.
Despite the beauty and romantic associations of the German countryside, most first-time visitors head straight for one of the country's famous cities. Germany's big cities each have something unique to offer the visitor. Each year millions of litres of beer are consumed in Munich during the city's Oktoberfest, where locals and visitors discover true German revelry and (a word the locals use to describe a comfortable, sociable environment). Berlin promises an abundance of attractions for sightseeing, from the iconic Brandenburg Gate to the path of the old Berlin Wall, and the capital's vibrant nightlife is still evocative of its height in the 1920s and 30s, as characterised by the songs of Marlene Dietrich, the theatre of Brecht and the Film Cabaret. Frankfurt is Germany's financial powerhouse, promising business opportunities and great shopping and dining experiences. Hamburg offers a picturesque urban experience, full of canals, parks and gardens.
Discover the country that gave us Beethoven and Bauhaus, Goethe and Glühwein, Lager and Lederhosen - Germany seldom disappoints!
Communications
The international access code for Germany is +49. Telephone numbers in Germany can range from four to nine digits. There are surcharges on international calls made from hotels; it is often cheaper to use public telephone boxes in post offices, which use phone cards, or to purchase a local SIM card. The local mobile phone operators use GSM networks and have roaming agreements with most international operators. Internet cafes are available in the main towns.
Emergencies
110 (Police); 112 (Ambulance/Fire)
Languages Spoken
German is the official language. English is also widely spoken and understood.
Duty Free
Passengers arriving from non-EU countries, over the age of 17, can enter Germany without paying duty on 200 cigarettes or 100 cigarillos or 50 cigars or 250g smoking tobacco, or a proportional mix of these products; 4 litres of wine and 16 litres of beer and 1 litre of spirits over 22% volume or 2 litres of spirits under 22% volume; and other goods to the value of €430 for travellers arriving by air or sea, and €300 for travellers arriving by land.
Electricity
230 volts, 50Hz. European-style two-pin plugs are standard.
Climate Info
Germany has very changeable weather and although extremes in temperature are rare visitors should be aware that weather changes fast and there can be rain at any time of year. The seasons are also slightly unpredictable in that weather is not the same from year to year. There is also a variation in climate according to region in Germany: the coastal regions have a temperate climate with warm summers and mild, cloudy winters; inland, the climate is more continental with warmer summers and colder winters; the alpine and upland regions have cooler weather and more rain.
In spring (March to May), the weather is at its most unpredictable and can be rainy or sunny and possibly windy, but it is a pretty time of year to visit Germany regardless of the weather. Summer (June to August), is warm and frequently sunny but it is also the season with the most rainfall and humidity. Autumn (September to November), usually begins very pleasant but becomes grey and misty later in the season. Winter (December to February), is cold and temperatures can drop well below freezing at night; snow usually falls in December, January and February.
The best time to visit Germany really depends on what you are planning to see and do in the country: each season has its own advantages and charms. The peak tourist season is summer, when things are a bit more expensive and crowded.
Passport
The borderless region known as the Schengen Area includes the following countries: Austria, Belgium, Czech Republic, Denmark, Estonia, Finland, France, Germany, Greece, Hungary, Iceland, Italy, Latvia, Lithuania, Luxembourg, Malta, The Netherlands, Norway, Poland, Portugal, Slovakia, Slovenia, Spain, Sweden and Switzerland. All these countries issue a standard Schengen visa that has a multiple entry option, and which allows the holder to travel freely within the borders of all the aforementioned countries. Additionally, non-EEA members require proof of (i) onward or return tickets, (ii) the necessary travel documentation for their next destination, and (iii) sufficient funds to support themselves while in Germany. Note that citizens of Australia, Canada, Israel, Japan, New Zealand, Switzerland, and the USA are exempt from the requirement to hold onward tickets. NOTE: It is highly recommended that your passport has at least six months validity remaining after your intended date of departure from your travel destination. Immigration officials often apply different rules to those stated by travel agents and official sources.
Entry Requirements
US citizens must have a passport that is valid for three months after the period of intended stay in Germany. A visa is not required for stays of up to 90 days.
Holders of identity cards issued by Gibraltar authories, and endorsed 'Validated for EU travel purposes under the authority of the United Kingdom', do not require a visa to visit Germany.
Canadian citizens must have a passport that is valid for three months beyond the period of intended stay in Germany. A visa is not required for stays of up to 90 days.
Australian citizens must have a passport that is valid for three months beyond the period of intended stay in Germany. A visa is not required for stays of up to 90 days.
South African citizens must have a passport that is valid for three months beyond the intended period of stay, and a valid Schengen visa, to enter Germany. Note that Temporary passports will not be recognised.
Irish citizens must have a passport that is valid for the period of intended stay in Germany. A visa is not required.
New Zealand citizens must have a passport that is valid for three months beyond the period of intended stay in Germany. A visa is not required for stays of up to 90 days.
Health
There are no serious health risks for visitors to Germany and no vaccinations are required. The German health service is excellent. There is a reciprocal health agreement with the UK and most EU countries, whose citizens are entitled to free medical and dental treatment on presentation of a European Health Insurance Card (EHIC). Nationals of other countries should take out medical insurance.
Safety
A visit to Germany should be trouble free, but take normal precautions to avoid mugging, bag-snatching and pick-pocketing, especially at airports, railway stations and markets in the large cities.
Emergency Phone Number
110 (Police); 112 (Ambulance/Fire)
* For current safety alerts, please visit
Foreign travel advice - GOV.UK
or
Travel.State.Gov
Money
The unit of currency is the Euro (EUR), divided into 100 cents. ATMs and exchange bureaux are widely available. The major credit cards are becoming more widely accepted in large shops, hotels and restaurants, although Germans themselves prefer to carry cash. The quickest and most convenient way to change money is to obtain cash from one of the ATM machines that are ubiquitous features on all German streets. Banks are closed on weekends, but exchange bureaux at airports and main railway stations are open daily.
Exchange Rate
Not available.
Embassies of Germany
German Embassy, Washington DC, United States: +1 202 298 4000.
German Embassy, London, United Kingdom: +44 (0)20 7824 1300.
German Embassy, Ottawa, Canada: +1 613 232 1101.
German Embassy, Canberra, Australia: +61 (0)2 6270 1911.
German Embassy, Pretoria, South Africa: +27 (0)12 427 8900.
German Embassy, Dublin, Ireland: +353 (0)1 269 3011.
German Embassy, Wellington, New Zealand: +64 (0)4 473 6063.
Foreign Embassies in Germany
United States Embassy, Berlin: +49 (0)30 83050.
British Embassy, Berlin: +49 (0)30 20 457-0.
Canadian Embassy, Berlin: +49 (0)30 203 120.
Australian Embassy, Berlin: +49 (0)30 880 0880.
South African Embassy, Berlin: +49 (0)30 220 730.
Irish Embassy, Berlin: +49 (0)30 220 720.
New Zealand Embassy, Berlin: +49 (0)30 206 210.
Customers
Visitors are not required to carry their passports with them at all times in Germany, but carrying some form of identification is advised. Smoking in public places such as bars and restaurants is illegal.
Business
In Germany, business is conducted in a very formal manner. A conservative, formal dress code is the norm. Punctuality is vital at all meetings and it is considered rude to be late. Germans love titles: men are referred to as 'Herr' and women as 'Frau', followed by their last names, until otherwise specified. Meetings are often purely business and may not occur over lunches, which are generally more social. Shaking hands at the beginning and end of the meeting is common. The exchange of business cards is also common but there is no accompanying ritual. Decisions are often made behind closed doors. Business hours are generally 9am to 6pm Monday to Friday, with an hour taken over lunch.
Tipping
German law stipulates that all prices, menus and bills include both tax and a service charge, so tipping is not necessary in restaurants. Cleaning staff, hairdressers, taxi drivers etc. appreciate small tips.
Public Holidays in Germany
| | | |
| --- | --- | --- |
| | 2017 | 2018 |
| New Years Day | 1 Jan | 1 Jan |
| Good Friday | 14 Apr | 30 Mar |
| Easter Monday | 17 Apr | 2 Apr |
| Labour Day | 1 May | 1 May |
| Ascension Day | 25 May | 10 May |
| Whit Monday | 5 Jun | 21 May |
| Day of German Unity | 3 Oct | 3 Oct |
| All Saints Day | 1 Nov | 1 Nov |
| Christmas Day | 25 Dec | 25 Dec |
| St Stephens Day | 26 Dec | 26 Dec |
Overview
Germany remains one of the world's top sightseeing destinations by virtue of its unique and important historical attractions, charming medieval buildings, varied and beautiful landscape, and legendary cultural events. The country has played a leading role in world history and many of its attractions, varying from the celebrated to the infamous, are connected to this colourful legacy.
The major cities, such as Berlin, Munich and Frankfurt, are attractions unto themselves, each jam-packed with historical treasures and sites of interest. Dachau and Checkpoint Charlie point to more troubled periods, while the magnificent Rhineland and Garmisch-Partenkirchen region offer enough natural splendour to please even the most demanding outdoor enthusiasts. Munich is home to one of the world's biggest parties, the legendary Oktoberfest, while the Romantic Road between Berlin and Frankfurt is a self-drive tourist classic that never fails to delight with its perfectly preserved old towns and villages.
Germany is certainly a year-round destination, although be warned that the European winters (December to February) can get very cold. The best way to travel around the country is by train as the network is comprehensive, very reliable and safe, and decent value for money. Another good option is to rent a car and drive between attractions as fast as you like on the Autobahn.
Map of Germany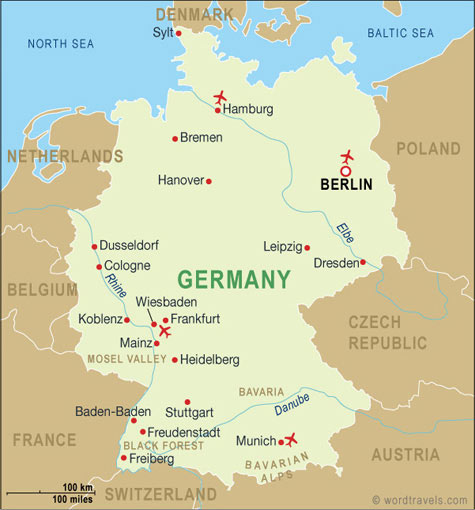 Travel Guide powered by www.wordtravels.com, copyright © Globe Media Ltd. All rights reserved. By its very nature much of the information in this guide is subject to change at short notice and travellers are urged to verify information on which they're relying with the relevant authorities. Globe Media and UNIGLOBE Travel does not accept any responsibility for any loss or inconvenience to any person as a result of information contained above.