General
Money
Entry Requirements
Health & safety
Weather
Embassies
Etiquette
Public Holidays
Attractions
Map
---
Introduction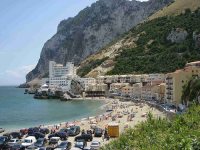 Catalan Bay ©David Stanley
The impervious Rock of Gibraltar is situated at the southern tip of Spain, standing guard over the strait of Gibraltar which divides Europe and Africa. This strategic position has made Gibraltar the site of many battles over the centuries, yet despite this it has stood firm over the centuries resulting in the well-known English idiom 'as solid as the Rock of Gibraltar'.
Gibraltar has its legendary beginnings in Greek mythology as one of the Pillars of Hercules, pushed away from Mount Acho in Morocco by the fabled strength of Hercules to mark the end of the Mediterranean and the comforting limits of the world as the ancient Greeks knew it. The Rock was ceded to England in 1713 at the conclusion of the Wars of the Spanish Succession (along with Minorca and much of what is now Canada), and remains a British Overseas Territory to this day despite many Spanish attempts to regain it, most famously during the Great Siege (1779-83). Gibraltar has been an irritant in Anglo-Spanish relations ever since.
Situated on a narrow promontory linked to the end of the Iberian Peninsula by a slender sandy neck, the British colony of Gibraltar is dominated by the impressive limestone monolith, and covers an area of roughly two square miles (6 sq km). The town and its harbour take up the thin coastal strip to the west overlooking the Strait of Gibraltar and the Atlantic Ocean, while the steeper eastern side is made up of sheer cliffs dropping to little beaches on the Mediterranean Sea. The limestone cliffs are peppered with natural caves, such as the dramatic St Michael's grotto, as well as a maze of tunnels which were excavated as a defence system in the 18th century and are now open to tourists.
The upper parts of the sloping 1,400-foot (426m) rock have been made into a nature reserve to protect the Rock's natural environment and Gibraltar's most famous residents, the Barbary Apes. These sociable characters are the only wild primates in Europe and have lived on The Rock for hundreds of years, charming tourists with their delightful antics and curious natures. Legend has it that when the apes leave, Gibraltar will cease to be British.
Today Gibraltar remains a popular holiday and business travel destination, and gateway to southern Spain. Gibraltar has an intriguing culture and fascinating history along with the bonus of a tax-free environment. This British Overseas Territory is full of surprises, from its unusual sand and limestone landscape, to its resident dolphins and a botanical garden to equal the finest in the world.
Communications
The international dialling code for Gibraltar is +350. The 9567 access code used when calling Gibraltar from Spain was discontinued in 2007. The outgoing code is 00 followed by the relevant country code (e.g. 0044 for the UK). City codes are not required. The local mobile phone operator uses the GSM 900 network and has roaming agreements with all major international operators. Internet access is widely available.
Emergencies
Emergencies: 999.
Languages Spoken
English is used for official purposes and in schools, but Spanish is also widely spoken.
Duty Free
Travellers to Gibraltar over 17 years do not have to pay duty on 200 cigarettes, 100 cigarillos, 50 cigars or 200g smoking tobacco; one litre spirits or liquers, or two litres of wine and two litres of sparkling or fortified wine; and 50g perfume.
Electricity
Electrical current is 220 - 240 volts, 50Hz. Plugs most commonly in use are the round two-pin type or the rectangular three-pin plug typical of Europe and the UK respectively.
Climate Info
The climate is typically Mediterranean with mild winters and warm dry summers, although May to September can get very hot and humid. There is no real rainy season, but most rain falls in the winter months (November to February) when the average temperature is 59°F (15°C). In summer (June to August) the temperature hovers around 86°F (30°C).
Passport
Visitors requiring a visa to enter Spain should be aware that by crossing into Gibraltar they have officially left Spain, and will require a new visa to cross back over the border. Visitors with a multiple entry visa for the UK, and those with indefinite leave to stay in the UK, do not require a separate visa for Gibraltar. Visa-exempt visitors will be issued an entry permit to cover the period of stay, for short stays. Travellers entering Gibraltar from the UK or Spain should note that these countries may require a longer period of passport validity than Gibraltar does. NOTE: It is highly recommended that your passport has at least six months validity remaining after your intended date of departure from your travel destination. Immigration officials often apply different rules to those stated by travel agents and official sources.
Entry Requirements
US citizens must have a passport that is valid for the duration of their intended stay in Gibraltar. No visa is required.
British citizens must have a passport valid for the duration of their stay in Gibraltar. No visa is required.
Canadian citizens must have a passport that is valid for the duration of their stay in Gibraltar. No visa is required.
Australian nationals require a passport valid for the duration of intended stay in Gibraltar. No visa is required.
South African citizens must have a passport that is valid for the duration of their stay in Gibraltar. A visa is required, except for holders of a multiple-entry UK visa. Those travelling with a visa issued by the Republic of Ireland under the British Irish Visa Scheme are also exempt from attaining a visa, granted this document is valid for a period of six months and during the time of intended travel to Gibraltar, and that Ireland (Rep.) has been travelled to prior to arrival in Gibraltar.
Irish citizens must have a passport that is valid for the duration of their intended stay in Gibraltar. No visa is required.
New Zealand citizens must have a passport that is valid for the duration of their intended stay in Gibraltar. No visa is required.
Health
No vaccinations are required for travel to Gibraltar. Tap water is chlorinated, but it is advisable to start with bottled water. British nationals are entitled to free emergency treatment upon presenting proof of residency in the UK. EU citizens can receive treatment on presentation of a European Health Insurance Card (EHIC). Health insurance should cover the cost of a transfer to the UK if required.
Safety
Travel to Gibraltar is generally trouble-free. There is a risk of international terrorism and visitors should be vigilant to ensure safety in public places and tourist sites. There are very few incidences of street crime or violence. Authorities on both sides of the Spanish/Gibraltar border often delay vehicles and it is usually better to leave one's car in Spain and walk to and from Gibraltar to avoid lengthy queues. There is no 'ticket' necessary to enter Gibraltar from Spain and visitors should be aware of tricksters trying to sell any such thing at the border.
Emergency Phone Number
Emergencies: 999.
* For current safety alerts, please visit
Foreign travel advice - GOV.UK
or
Travel.State.Gov
Money
The official currency is the Gibraltar Pound (GIP), which is divided into 100 new pence. UK notes and coins are also accepted and have the same value, but Gibraltar Pounds are not accepted in the UK and any unspent Gibraltar Pounds should be changed before leaving. Euros are also widely accepted, and foreign currency can be exchanged at any one of the numerous banks or exchange bureaux in town. ATMs dispense both GIP and Euros. All major credit cards are widely accepted.
Exchange Rate
Not available.
Embassies of Gibraltar
British Embassy, Washington DC, United States (also responsible for Gibraltar): +1 (202) 588 6500.
British High Commission, Ottawa, Canada (also responsible for Gibraltar): +1 613 237 1530.
British High Commission, Canberra, Australia (also responsible for Gibraltar): +61 (0)2 6270 6666.
British High Commission, Pretoria, South Africa (also responsible for Gibraltar): +27 (0)12 421 7500.
British Embassy, Dublin, Ireland (also responsible for Gibraltar): +353 (0)1 205 3700.
British High Commission, Wellington, New Zealand (also responsible for Gibraltar): +64 (0)4 924 2888.
Foreign Embassies in Gibraltar
United States Embassy, London, United Kingdom (also responsible for Gibraltar): +44 (0)20 7499 9000.
Canadian High Commission, London, United Kingdom (also responsible for Gibraltar): +44 (0)20 7004 6000.
Australian High Commission, London, United Kingdom (also responsible for Gibraltar): +44 (0)20 7379 4334.
South African High Commission, London, United Kingdom (also responsible for Gibraltar): +44 (0)20 7451 7299.
Irish Embassy, London, United Kingdom (also responsible for Gibraltar): +44 (0)20 7235 2171.
New Zealand High Commission, London, United Kingdom (also responsible for Gibraltar): +44 (0)20 7930 8422.
Customers
Gibraltar is a multi-ethnic and multi-religious society, generally tolerant of all sorts of social and religious customs. Public drunkenness is severely frowned upon.
Business
Gibraltar is a British Overseas Territory and business is conducted in a similar fashion to in the UK. Depending on individual sectors, a formal dress code is advisable by default, as the island has a strong military culture. A firm handshake is the norm for both men and women and although business cards are exchanged there is no ritual surrounding it. Punctuality is expected. General business hours are 8:30am to 5:30pm, Monday to Friday.
Tipping
A service charge is generally included in restaurant bills, but it is usual to leave an extra 10 percent tip for good service.
Public Holidays in Gibraltar
Overview
The main attraction for most visitors to Gibraltar, the northern face of the Rock of Gibraltar has been set aside as a nature reserve that will delight botanists and bird watchers. The most famous inhabitants of the Upper Rock are of course the cheeky Barbary Macaque apes, mischievous primates who delight in stealing bags, cameras and other items from tourists. The macaques are most concentrated around the Apes Den, and visitors are warned not to take food into the area and to be careful with their belongings.
There are several points of interest in the Upper Rock Reserve, including the impressive rock formations in St Michaels Cave, the Jews Gate, and military Siege Tunnels left over from World War II. There are many hiking and walking paths throughout the reserve of varying difficulty.
Visitors to the Upper Rock get to the reserve by cable car, which offers stunning views along the way, extending from Spain to the north to Africa to the south. Visitors should note that there are separate entrance fees for various sites on the Rock of Gibraltar, including the Apes Den, St Michaels Cave, and the Siege Tunnels.
Other popular attractions in Gibraltar include Europa Point, the southern tip of the peninsula, which boasts a number of historic buildings including a 19th-century lighthouse and a restored 19th-century fort; The Moorish Castle, perched high above Gibraltar's Old Town and built between the 8th and 14th centuries; and the surprisingly magnificent Gibraltar Botanic Gardens, which offer some peace away from the crowds and all the military history.
Map of Gibraltar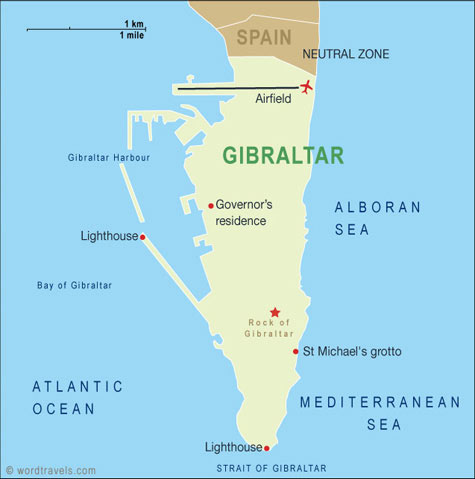 Travel Guide powered by www.wordtravels.com, copyright © Globe Media Ltd. All rights reserved. By its very nature much of the information in this guide is subject to change at short notice and travellers are urged to verify information on which they're relying with the relevant authorities. Globe Media and UNIGLOBE Travel does not accept any responsibility for any loss or inconvenience to any person as a result of information contained above.