General
Money
Entry Requirements
Health & safety
Weather
Embassies
Etiquette
Public Holidays
Attractions
Map
---
Introduction

Budapest ©Moyan Brenn
Hungary's location in the centre of Europe, along with its hospitable attitude, makes it one of the best places from which to embark on an Eastern European journey. It is both typically European and distinctly Hungarian, incorporating a mixture of historical and present-day pleasures. The country proudly upholds its traditions, culture and arts, but is attentive to what is new and fashionable in the wider world.
A small landlocked country sharing its borders with seven neighbouring countries, travellers to Hungary should note that it was originally inhabited by the Magyars, an equestrian nomadic tribe. They were eventually converted to Christianity and in the year 1000 their Prince Stephen was crowned the nation's first ruler. Since then Hungary has seen numerous dynastic changes, from Turkish occupation to the era of Communism, and today quaint little towns, cities and ruins in the countryside attest to this turbulent history with a rich mosaic of architectural styles and fortified hilltop castles. The Hungarian people, neither Slavic nor Germanic, are formal, reserved and intensely proud of their ancient nation and its cosmopolitan capital, Budapest.
Most visitors choose to arrive in Budapest which is situated on a lovely stretch of the Danube, a river that gives the city a good deal of its romance and beauty. It is a city of culture and of astounding beauty and grace, and visitors are generally enchanted by it. Outside of the capital the plains, rolling hills and rivers, lakes and vineyards hold much to amuse the visitor. The Baroque town of Eger, with its fine wines, attracts many, and there are a surfeit of charming and historic riverside villages along the Danube Bend, not to mention commanding fortresses, castles and palaces. The resort-lined Lake Balaton and the thermal spas and volcanically heated lake at Hévíz are just some of the country's many highlights awaiting discovery.
Communications
The international access code for Hungary is +36. The outgoing code is 00 followed by the relevant country code (e.g. 0044 for the United Kingdom). The area code for Budapest is 1. There are often high surcharges on calls made from hotels; it is cheaper to use public telephone boxes or calling cards. Local directory assistance is available by dialling 198, and international directory assistance is 199; callers may have to hold for a few moments, but English-speaking operators are available. The local mobile phone operators use GSM networks and have roaming agreements with most international operators. Internet cafes are available in larger towns.
Emergencies
112 (General)
Languages Spoken
Hungarian (Magyar) is the official language, but German is widely spoken, especially in the areas close to the Austrian border. English is spoken in tourist areas and most hotels.
Duty Free
There are no restrictions on the import or export of local currency. For travellers to Hungary arriving from other EU countries there is no limit on the amount or value of the items that can be imported for personal use. Travellers arriving by air from countries outside of the EU, over the age of 17, can import the following duty-free: 200 cigarettes or 50 cigars or 250g of tobacco; 4 litres of wine, 16 litres of beer, and either 1 litre of spirits containing more than 22% alcohol or 2 litres of alcoholic beverages containing less than 22% alcohol; and other goods up to a value of €430.
Electricity
Electrical current is 230 volts, 50Hz. European-style two-pin plugs are standard.
Climate Info
Hungary has a continental climate with distinct seasons, and a great variation between winter and summer conditions. During winter (December to February) the weather is bitterly cold with snow blanketing the ground for weeks and the mighty Danube River freezing over. Most people would say that the best time to visit Hungary is over the summer period (June to August), when the weather is warmer and the attractions are all open. The weather in spring and autumn can be very pleasant too, but temperatures do drop to around 20°F (9°C). Over winter temperatures approach freezing. Some rain can be expected throughout the year and rainfall is largely dependent on region as there are variations in weather in Hungary according to location. The west of Hungary, including Budapest, starts warming up after a cold winter in April, which is spring time - although this is also a rainy period. The weather in this part of Hungary is hot and humid throughout the summer months, which are the most popular time to visit. Eastern and central Hungary experience hot and dry summers and cold and wet winters; the wind is often strong on the plains and adds to the chill factor. In the south of Hungary there is a slightly warmer climate and the summers are long and hot while the winters are shorter and less severe, with temperatures that seldom drop below freezing. In the south the rainy season is summer.
Passport
The borderless region known as the Schengen Area includes the following countries: Austria, Belgium, Czech Republic, Denmark, Estonia, Finland, France, Germany, Greece, Hungary, Iceland, Italy, Latvia, Lithuania, Luxembourg, Malta, The Netherlands, Norway, Poland, Portugal, Slovakia, Slovenia, Spain, Sweden and Switzerland. All these countries issue a standard Schengen visa that has a multiple entry option, and which allows the holder to travel freely within the borders of all the aforementioned countries. All visitors to Hungary, other than EEA members, should ensure that their passports are valid for at least six months beyond the expiry date of their visa. Foreign passengers must be in possession of a return/onward ticket (or sufficient funds to buy one), and the necessary travel documentation for their next destination. Additionally, visitors must hold the equivalent of HUF 1,000 per day of stay, in hard currency, although the following documents are also accepted: a major credit card, a letter of invitation, proof of accommodation (reserved and paid for), or a document authorising the visitor to withdraw cash from a bank in Hungary. NOTE: It is highly recommended that your passport has at least six months validity remaining after your intended date of departure from your travel destination. Immigration officials often apply different rules to those stated by travel agents and official sources.
Entry Requirements
US citizens must have a passport that is valid for three months beyond the period of intended stay in Hungary. No visa is required for stays of up to 90 days.
A visa is not required for British passports endorsed 'British Citizen' or 'British Subject' (containing a Certificate of Entitlement to the Right of Abode issued by the United Kingdom), nor for holders of identity cards issued by Gibraltar authorities, and endorsed 'Validated for EU travel purposes under the authority of the United Kingdom'. No visa is required for stays of up to 90 days for holders of British passports with other endorsements.
Canadian citizens must have a passport that is valid for three months beyond the period of intended stay in Hungary. No visa is required for stays of up to 90 days.
Australian citizens must have a passport that is valid for three months beyond the period of intended stay in Hungary. No visa is required for stays of up to 90 days.
South African citizens must have a passport that is valid for three months beyond the period of intended stay, and a valid Schengen visa, to enter Hungary. Passports issued more than 10 years prior to the arrival date will not be accepted.
Irish citizens must have a passport that is valid upon their arrival in Hungary. No visa is required.
New Zealand citizens must have a passport that is valid for the period of intended stay in Hungary. No visa is required for stays of up to 90 days.
Health
No vaccinations are required for travel to Hungary and standards of public health are good, but vaccinations for hepatitis A and hepatitis B are recommended for all travellers. Tap water is safe to drink and food poisoning is not considered a high risk, although visitors are recommended to vaccinate against typhoid if they are spending a lot of time in rural areas and planning to eat outside of hotels and restaurants. Travellers intending on visiting forested, grassy, lakeside or rural areas in spring and summer should also consider a tick-borne encephalitis vaccine but this is usually only necessary for those staying long term.
A reciprocal health agreement with countries in the EU provides nationals with free emergency health care on presentation of a European Health Insurance Card (EHIC). All big towns have pharmacies, but anyone requiring specific medication should bring a supply with them as most medicines are of Eastern European origin and may be unfamiliar. Make sure that if you are travelling with prescribed medications you bring along a letter from your doctor stating your condition and the prescribed medication to smooth your way through customs. Comprehensive health insurance is recommended.
Safety
Most visits to Hungary are trouble-free, but normal precautions against petty crime should be taken. Pick pocketing and bag snatching is a risk on crowded public transport and other places frequented by tourists. Minimise your chance of being targetted by making use of hotel safes to store valuables and not displaying conspicuous wealth. It is also always a good idea to carry copies of important documents like your passport. Some bars, clubs and restaurants in Budapest charge outrageous prices by means of scams that target foreigners in particular. Be cautious of invitations off the street to dine in certain establishments or of recommendations by taxi drivers who are often in on the scam. Some taxi drivers can also overcharge or take passengers on a circuitous route. Any political demonstrations should be avoided, as they have led to violence in the past.
Emergency Phone Number
112 (General)
* For current safety alerts, please visit
Foreign travel advice - GOV.UK
or
Travel.State.Gov
Money
Although Hungary is part of the EU it does not use the Euro; the official currency is the Hungarian Forint (HUF). It is divided into 100 filler. Most international credit cards are accepted, and these can be used to withdraw cash from banks and ATMs, and to pay bills in hotels, restaurants and most shops. Banks usually open between 8am and 3pm on weekdays and some are open on Saturdays. ATMs and currency exchange machines are available in towns and cities throughout the country. It is advisable to retain exchange receipts for proof of legal currency exchange.
Exchange Rate
Not available.
Embassies of Hungary
Hungarian Embassy, Washington DC, United States: +1 202 362 6730.
Hungarian Embassy, London, United Kingdom: +44 (0)20 7201 3440.
Hungarian Embassy, Ottawa, Canada: +1 613 230-2717.
Hungarian Embassy, Canberra, Australia: +61 (0)2 6282 3226.
Hungarian Embassy, Pretoria, South Africa: +27 (0)12 430 3030.
Hungarian Embassy, Dublin, Ireland: +353 (0)1 661 2902.
Hungarian Consulate-General, Wellington, New Zealand: +64 (0)4 260 3175.
Foreign Embassies in Hungary
United States Embassy, Budapest: +36 1 475 4400.
British Embassy, Budapest: +36 1 266 2888.
Canadian Embassy, Budapest: +36 1 392 3360.
Australian Embassy, Budapest: +36 1 457 9777.
South African Embassy, Budapest: +36 1 392 0999.
Irish Embassy, Budapest: +36 1 301 4960.
Closest New Zealand Embassy is in Germany: +49 (0)30 206 210
Customers
Hungarians are generally open and friendly people who will readily strike up conversation. Men and women greet each other by shaking hands and close friends kiss each other lightly on each cheek. Older men may bow to women and kiss them on the hand.
Business
A handshake is the standard form of greeting when doing business in Hungary and in mixed company it is usually women who initiate. Conservative suits and ties are standard business dress and business people should be addressed by their title and surname. Business cards are often exchanged; Hungarians usually list their surnames first. It is useful to have a local representative when doing business in Hungary, somebody who can set up meetings and act as an interpreter. It is important to invest time in building relationships; socialising is a key element of this and face-to-face meetings are vital. Punctuality is important on all occasions, and cancelling a meeting at the last minute may be detrimental to a business relationship. Due to the communist legacy there is often an aversion to risk and plenty of red tape and therefore negotiations can be slow-moving and patience is required. Although business in Hungary remains male-orientated, being female is not a disadvantage to doing business. Business hours are usually from 8am to 4pm Monday to Friday.
Tipping
Taxi drivers and waiters expect a tip of 10 to 15 percent in Hungary. Waiters should be handed the cash, rather than have it left on the table. Most people in the service industry expect to be tipped about 10 to 15 percent.
Public Holidays in Hungary
| | | |
| --- | --- | --- |
| | 2017 | 2018 |
| Easter Sunday | 16 Apr | 1 Apr |
| New Years Day | 1 Jan | 1 Jan |
| Anniversary of the 1848 Revolution | 15 Mar | 15 Mar |
| Easter Monday | 17 Apr | 2 Apr |
| Labour Day | 1 May | 1 May |
| Whit Monday | 5 Jun | 21 May |
| 1956 Revolution Memorial Day | 23 Oct | 23 Oct |
| All Saints Day | 1 Nov | 1 Nov |
| Christmas Day | 25 Dec | 25 Dec |
| Boxing Day | 26 Dec | 26 Dec |
| Hungary National Day | 20 Aug | 20 Aug |
Overview
Hungary is one of Europe's most fascinating countries and offers a wealth of sightseeing attractions.
Explore Budapest, one of the world's most beautiful cities: marvel at the architecture, enjoy the renowned operatic and music events, and experience the romance of the Danube River and Budapest's famed spa baths. Budapest has many celebrated tourist attractions and is a useful transport hub for exploring the rest of the country. Visit Hévíz and soak in the world's second largest thermal lake, Gyógytó. Visit Momento Park, one of the world's most bizarre attractions, where hundreds of giant statues were banished at the end of the Communist era. Take a trip to Szentendre for a spot of shopping, and visit the old university town of Keszthely to enjoy the quaint streets lined with trees, trendy cafés and busy markets.
The best season to visit Hungary is in the summer, between April and September, when the days are long and the weather warm. Most towns and cities in Hungary have reliable and affordable public transport but the best way to see the country is to hire a car and experience it all for yourself as it is not difficult to drive and navigate in the country.
Map of Hungary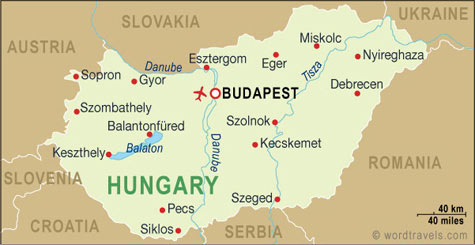 Travel Guide powered by www.wordtravels.com, copyright © Globe Media Ltd. All rights reserved. By its very nature much of the information in this guide is subject to change at short notice and travellers are urged to verify information on which they're relying with the relevant authorities. Globe Media and UNIGLOBE Travel does not accept any responsibility for any loss or inconvenience to any person as a result of information contained above.