General
Money
Entry Requirements
Health & safety
Weather
Embassies
Etiquette
Public Holidays
Attractions
Map
---
Introduction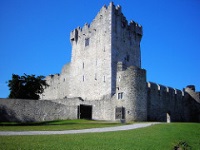 Ross Castle ©Jim Linwood
The lure of Ireland lies in its landscapes and its people, and it is through involvement with both that visitors get to experience the soul of this ancient land of saints and scholars.
Ireland's hills are a walker's paradise, not only because of the extensive network of trails, but because by being on foot one gets to appreciate the lakes and rivers, the coastal views and ever-changing sky-scapes that are so much part of the Irish landscape. Watersports such as angling, sailing and surfing are popular too, and many visitors come for the golf, but the real passion of the Irish is horses - there is a potential Derby winner in every valley and a packed betting shop in every high street.
The Irish weather is not the most predictable in the world, but then much of the beauty of the Irish landscape is due to its climate and there has to be a price tag on being nicknamed the 'Emerald Isle'. Poor weather has had positive influences on the Irish way of life. Music and song plays an integral part in day-to-day routine and visitors are able to experience this in the many pubs so characteristic of the social landscape of Ireland. Irish music is captivating - arguably some of the best in the world - and Irish pubs are a highlight of a journey through the country.
Over the years, Ireland has survived invasions, famine and civil war, but has recently come into its own, benefiting from peace in the North, support from the EU, and a new vitality which has caused the country to be dubbed the 'Celtic Tiger'. There has never been a better time to visit.
Communications
The international access code for Ireland is +353 (remember to omit the first zero of the local area code when dialing). City/area codes are in use, e.g. 1 for Dublin. When making outgoing calls, dial 00 followed by the relevant country code (e.g. 0044 for the United Kingdom). The local mobile phone operators use GSM networks and have roaming agreements with most international operators. Internet cafes are available in the main tourist areas.
Emergencies
112/ 999 (General)
Languages Spoken
English is the principal language, although a minority of people speak Irish (Gaelic).
Duty Free
Travellers over 17 years old arriving from non-EU countries do not have to pay duty on most products. Regulations allow 200 cigarettes, 100 cigarillos, 50 cigars, 250g tobacco; one litre of spirits with more than 22% alcohol volume, two litres of dessert wine, port of sherry with a maximum 22% alcohol content; and four litres of wine or 16 litres of beer. Other duty free products include perfume up to 50g or 250ml eau de toilette; and other goods for personal consumption to the value of €175 per adult or €90 for children under 15 years.
All of these products are allowed on a fractional basis, so a proportional mix of each category is permitted. Prohibited items include meat and dairy products or raw vegetables.
Electricity
Electrical current is 230 volts, 50Hz. UK-style three-pin and round three-pin plugs are in use.
Climate Info
Ireland is notorious for experiencing cold, damp weather for much of the time. This is due to its temperate climate, but is compensated for by its delightful green countryside. It is, however, possible to enjoy some warm, sunny and dry days during the pleasant summer months between May and September, and those who travel to Ireland in winter will find that the weather is far less severe than in the UK. Summer (May to September) is the warmest and driest season and is the best time to visit Ireland, though attractions can get crowded in July and August. Winter is characterised by short, wet, foggy days and long nights, but the temperature rarely gets below freezing due to the tempering Gulf Stream winds that buffet the west coast of Ireland. Some attractions are only open in summer but many tourists visit Ireland in the off-season when accommodation is cheaper; just be prepared for a lot of mist and rain. Spring and autumn can also be very pleasant times to visit. The southeast is the driest region of Ireland, enjoying more sunny days than the rest of the country. It seldom snows in Ireland.
Passport
All foreign passengers to Ireland must be able to show proof of sufficient funds to cover their stay in the country. Additionally, passengers should hold return/onward tickets, and the necessary travel documentation for their next destination, as immigration officers might demand that they demonstrate proof of their intention to leave Ireland. If the traveller's passport bears a British inadmissable stamp, unless the immigration officer is convinced that they will NOT travel on to the United Kingdom, entry may be refused to Ireland. Note that all visitors need to contact the Garda National Immigration Bureau (GNIB), if their stay in Ireland exceeds their visa-free period, or their stay is longer than the period for which their visa is valid. NOTE: It is highly recommended that your passport has at least six months validity remaining after your intended date of departure from your travel destination. Immigration officials often apply different rules to those stated by travel agents and official sources.
Entry Requirements
US citizens must have a passport that is valid for the period of intended stay in Ireland. No visa required.
British citizens must have a passport that is valid upon their arrival in Ireland. Passport exemptions apply to holders of proof of nationality issued to nationals of Ireland and British subjects, for travel between Ireland and Great Britain and Northern Ireland only. No visa is required for holders of British passports endorsed British Citizen, British National (Overseas) or British Overseas Territories Citizen.
Canadian citizens must have a passport that is valid for the period of intended stay in Ireland. No visa is required.
Australian citizens must have a passport that is valid for the period of intended stay in Ireland. No visa is required.
South African citizens must have a passport that is valid for the period of intended stay in Ireland. No visa is required.
New Zealand citizens must have a passport that is valid for the period of intended stay in Ireland. No visa is required.
Health
There are no special health requirements for visitors to Ireland. Health insurance is advisable unless you are from the UK or other EU countries, most of which have reciprocal agreements with Ireland. A European Health Insurance Card (EHIC) should be obtained before departing for travel to Ireland. Medical facilities are good and medicines are widely available; payment for treatment is usually required in cash. If you require specific medication, it is always advised that you bring it with you on your travels: make sure you transport all medications in their original containers, clearly labeled; and that you carry a signed, dated letter from your doctor describing all medical conditions and listing all prescribed medications, including generic names.
Safety
Most visitors to Ireland enjoy a fairly high level of personal safety. Ireland has a very low level of violent crime, but there is a high incidence of petty theft in tourist areas and foreigners are targeted by pick-pockets. Travellers should take sensible precautions against petty theft, including duplicating important documents, carrying valuables in separate bags/pockets, and leaving valuables in hotel safes whenever possible. Terrorism is no more a threat in Ireland than in other Western countries and safety in the country has improved significantly with peace in Northern Ireland. Those travelling into Northern Ireland should note that the safety alerts for that country are completely seperate and can be found in the United Kingdom travel guide.
Emergency Phone Number
112/ 999 (General)
* For current safety alerts, please visit
Foreign travel advice - GOV.UK
or
Travel.State.Gov
Money
The unit of currency is the Euro (EUR). Currency can be exchanged at banks and bureaux de change, and ATMs are widely available. Credit and debit cards are widely accepted.
Exchange Rate
Not available.
Embassies of Ireland
Irish Embassy, Washington DC, United States: +1 202 462 3939.
Irish Embassy, London, United Kingdom: +44 (0)20 7235 2171.
Irish Embassy, Ottawa, Canada: +1 613 233 6281.
Irish Embassy, Canberra, Australia: +61 (0)2 6214 0000.
Irish Embassy, Pretoria, South Africa: +27 (0)12 452 1000.
Consulate-General of Ireland, Auckland, New Zealand: +64 (0)9 977 2252.
Foreign Embassies in Ireland
United States Embassy, Dublin: +353 (0)1 668 8777.
British Embassy, Dublin: +353 (0)1 205 3700.
Canadian Embassy, Dublin: +353 (0)1 234 4000.
Australian Embassy, Dublin: +353 (0)1 664 5300.
South African Embassy, Dublin: +353 (0)1 661 5553.
New Zealand High Commission, London, United Kingdom (also responsible for Ireland): +44 (0)20 7930 8422.
Customers
Smoking in pubs, cafes and restaurants is illegal. Visitors should refrain from forcing discussions of political and religious differences, and show respect if the topics are brought up.
Business
The Irish are very sociable and although the usual elements of business etiquette apply (punctuality, formal wear, a courteous manner), expect good conversation and a rather relaxed air. Handshakes are customary on introduction, and take the lead from the host with regards to using first names or surnames. Business hours are usually from 9am to 5.30pm Monday to Friday, with a lunch break from 1pm to 2pm.
Tipping
A 10 percent tip will be welcomed in restaurants and cafes, and occasionally a service charge will be added to the bill. Tipping is not usual in bars and pubs, or for other services.
Public Holidays in Ireland
| | | |
| --- | --- | --- |
| | 2017 | 2018 |
| New Years Day | 1 Jan | 1 Jan |
| May Bank Holiday | 1 May | 7 May |
| St Patricks Day | 17 Mar | 17 Mar |
| Easter Monday | 17 Apr | 2 Apr |
| October Holiday | 30 Oct | 29 Oct |
| June Bank Holiday | 5 Jun | 4 Jun |
| August Holiday | 7 Aug | 6 Aug |
| Christmas Day | 25 Dec | 25 Dec |
| St Stephen's Day | 26 Dec | 26 Dec |
Overview
Ireland is truly one of the great sightseeing destinations. The local people are wholeheartedly welcoming and genuinely entertaining socially; there is an abundance of beautiful natural landscapes; there are historical and cultural attractions aplenty; and the Guinness really tastes better here at the source. The country also has a wider significance for many American visitors, whose ancestors came from these shores in great numbers.
Although there are must-see attractions like Blarney Castle, Trinity College and the soaring Cliffs of Moher, the real magic of Ireland lies in the unexpected encounters with the local people and unplanned evenings in country pubs where impromptu gigs can set your soul alight. Ireland is full of music and good cheer and no amount of rain can dampen local spirits.
Winter is not the best time to visit as it is cold and rainy, so plan your trip for the summer months between April and September when Ireland is at its best. The ideal way to get around is by rented car (although petrol prices are among the highest in the world), and by bicycle, which you can use to explore the photogenic country lanes. The roads are good in Ireland and driving yourself around is not unduly stressful.
Map of Ireland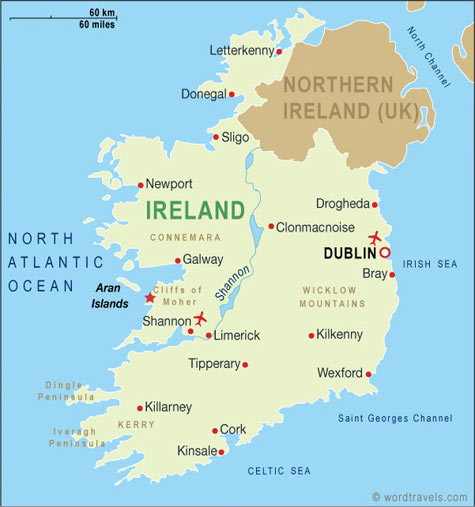 Travel Guide powered by www.wordtravels.com, copyright © Globe Media Ltd. All rights reserved. By its very nature much of the information in this guide is subject to change at short notice and travellers are urged to verify information on which they're relying with the relevant authorities. Globe Media and UNIGLOBE Travel does not accept any responsibility for any loss or inconvenience to any person as a result of information contained above.