General
Money
Entry Requirements
Health & safety
Weather
Embassies
Etiquette
Public Holidays
Attractions
Map
---
Introduction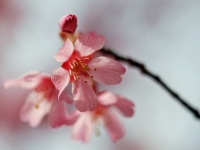 Cherry Blossom ©naitokz
It is only comparatively recently that Japan came out of the shell of its isolation, but the country of pink cherry blossoms and genteel geisha girls has made up for lost time. There are few people in the western world who have not driven a Japanese car, eaten sushi or played on a Nintendo or Sony game console.
The nation of Japan consists of an island archipelago stretching from northeast to southwest off the coast of mainland China, Russia and Korea, separated from its Asian neighbours by the Sea of Japan. Between 1639 and 1859 Japan elected to cut itself off from trade or traffic with the rest of the world, except for some marginal contact through the southern Kyushu island ports. Since opening up its doors once more, about 150 years ago, the densely populated islands have developed in leaps and bounds and much of the country is now covered by sprawling neon-lit cities and the world's most sophisticated public transport networks.
Modern it may be, but Japan still retains plenty of its mystical oriental charm. From the intricacies of etiquette demanded in social situations, to the minimalist décor behind rice paper screens, Japanese culture is alive and well and cannot be ignored, which makes a visit to Japan a fascinating experience.
The modern metropolises are dotted with numerous ancient shrines and temples; the countryside is riddled with hundreds of volcanoes and hot springs overlooking pastoral paddy fields; parks are festooned with rigidly raked white gravel Zen gardens or coated with layers of lilac and cherry blossom.
Japan's islands are mountainous in the interior - 75 percent of the country's landmass is made up of mountains - and most of the people are tightly packed within the limitations of the coastal plains, particularly on the main island of Honshu. Tokyo, the capital and largest city, situated on Honshu's east coast, has a population of 12 million. Despite this seething mass of humanity Japan is well ordered. Everything runs on time, and crime levels are almost non-existent. It is still possible to find beautiful vistas and wide empty spaces in the countryside, and when you are forced to mingle with the urban throngs you will find the Japanese to be charming, courteous and friendly to foreign faces.
Communications
The international access code for Japan is +81. The outgoing code depends on what network is used to dial out on (e.g. 001 for KDD) followed by the relevant country code (e.g. 0011 for the United States). City/area codes are in use, e.g. (0)3 for Tokyo and (0)82 for Hiroshima. Local calls can be made from any public phone, but only some allow international calls. Telephone cards are sold at kiosks and from vending machines. The local mobile phone operators use technology that is not always compatible with international networks, but 3G has roaming agreements with most international networks, and local handsets can be hired from the airport and various other locations. Internet cafes are widely available. Wifi is freely available in most hotels and larger restaurants.
Emergencies
110 (Police); 119 (Ambulance/Fire)
Languages Spoken
Japanese is the official language. Most Japanese people will have studied English at school, but few can speak it well or understand exactly what is said to them in English.
Duty Free
Travellers to Japan over 20 years do not have to pay duty on 3 bottles of alcoholic beverages; 200 cigarettes or 50 cigars or 250g tobacco; perfume up to 56ml; and gifts and souvenirs to the value of ¥200,000. Prohibited items include all types of firearms and ammunition, narcotics, pornography, meat products, counterfeit money, all plants and vegetables with soil, fresh fruit, vegetables and plants or parts thereof.
Electricity
Electrical current is 100 volts, 60Hz in the west (Osaka, Kyoto, Nagoya, Hiroshima); 100 volts, 50Hz in eastern Japan (Tokyo, Sapporo, Yokohoma). Flat two- and three-pin plugs are used.
Climate Info
The weather throughout the four main islands that make up Japan is generally temperate, with four distinct seasons. The climate varies according to island and terrain so visitors should be sure to check the weather for the region they are visiting. The weather can get very hot during the summer months - June, July and August - which can also be humid. In the south winters are cool but sunny, but as one moves further north temperatures drop and snow falls. The island of Hokkaido in the far north of Japan is bitterly cold in the winter, with snow guaranteed. The rainy season runs from June to early August and August, September and October are typhoon season in Japan.
The best time to visit Japan varies depending on desired activities and regions, but April is a wonderful month to visit as the cherry blossoms are usually adorning the trees making it the prettiest time of year in the country. September, October and November - the autumn months - are also a pleasant time to visit, although it is typhoon season. Japan is popular year-round as a travel destination because it attracts winter sports enthusiasts in the cold months and sightseers the rest of the year, but spring and autumn are the most comfortable weather-wise.
Passport
All foreign passengers to Japan must hold proof of sufficient funds to cover their expenses while in the country, return/onward tickets, and the necessary travel documentation for their next destination. NOTE: It is highly recommended that your passport has at least six months validity remaining after your intended date of departure from your travel destination. Immigration officials often apply different rules to those stated by travel agents and official sources.
Entry Requirements
US citizens must have a passport that is valid upon their arrival in Japan. No visa is required for stays of up to 90 days.
British citizens must have a passport that is valid upon their arrival in Japan. No visa is required for stays of up to 90 days (extension possible), for British passport holders endorsed British Citizen or British National (Overseas). British nationals with other endorsements should confirm requirements with their nearest embassy.
Canadian citizens must have a passport that is valid upon their arrival in Japan. No visa is required for stays of up to 90 days.
Australian citizens must have a passport that is valid upon their arrival in Japan. No visa is required for stays of up to 90 days. Note that visa exemptions apply to holders of an APEC Business Travel Card, provided the back of the card states that it is valid for travel to Japan.
South African citizens must have a passport that is valid upon their arrival, and require a visa to enter Japan.
Irish citizens must have a passport that is valid upon their arrival in Japan. No visa is required for stays of up to 90 days (extensions are possible).
New Zealand citizens must have a passport that is valid upon their arrival in Japan. Passport exemptions apply to holders of a temporary or emergency passport who are New Zealand nationals. No visa is required for stays of up to 90 days. Note that visa exemptions apply to holders of an APEC Business Travel Card, provided the back of the card states that it is valid for travel to Japan. In such cases, a 'visit pass' will be issued on arrival.
Health
No vaccination certificates are required for entry to Japan. Long-term travellers, staying for more than a month in rural areas, should consider getting a Japanese encephalitis vaccination if they are travelling between the months of June and September. Medical facilities are very good in Japan, but medical assistance can be very expensive and visitors have to pay the whole cost upfront. Travellers should ensure that they have adequate medical insurance before travelling. Vicks inhalers and other common medications used for allergies and sinus problems are banned under the strictly enforced anti-stimulant drugs law, and visitors are advised to check with the Japanese embassy if in doubt. It is always best to take prescribed medications with you when you travel, in the original packaging and with a signed and dated letter from your doctor detailing what the medication is and why you need it.
Safety
The vast majority of visits to Japan are trouble-free. It is generally a very safe country with low levels of common crime and is stable, highly developed and modern. Travellers should, however, still be vigilant about personal safety and belongings.
Typhoons are common, particularly from August to October, and travellers should take note of storm warnings along the coastal regions if travelling during this period. Japan is in a major earthquake zone, and earthquakes of varying sizes occur very frequently.
Emergency Phone Number
110 (Police); 119 (Ambulance/Fire)
* For current safety alerts, please visit
Foreign travel advice - GOV.UK
or
Travel.State.Gov
Money
The currency is the Japanese Yen (JPY). Major credit cards are accepted in the larger hotels and stores, but most Japanese operate with cash. Money can be exchanged in banks, post offices and currency exchange bureaux. Banks are usually open Monday to Friday 9am to 3pm. The best foreign currency to take to exchange are US dollars. ATMs are common but do not accept all credit and debit cards; only the international ATMs in post offices, airports and some major stores will accept foreign cards.
Exchange Rate
Not available.
Embassies of Japan
Japanese Embassy, Washington DC, United States: +1 202 238 6700.
Japanese Embassy, London, United Kingdom: +44 (0)20 7465 6500.
Japanese Embassy, Ottawa, Canada: +1 613 241 8541.
Japanese Embassy, Canberra, Australia: +61 (0)2 6273 3244.
Japanese Embassy, Pretoria, South Africa: +27 (0)12 452 1500.
Japanese Embassy, Dublin, Ireland: +353 (0)1 202 8300.
Japanese Embassy, Wellington, New Zealand: +64 (0)4 473 1540.
Foreign Embassies in Japan
United States Embassy, Tokyo: +81 (0)3 3224 5000.
British Embassy, Tokyo: +81 (0)3 5211 1100.
Canadian Embassy, Tokyo: +81 (0)3 5412 6200.
Australian Embassy, Tokyo: +81 (0)3 5232 4111.
South African Embassy, Tokyo: +81 (0)3 3265 3366.
Irish Embassy, Tokyo: +81 (0)3 3263 0695.
New Zealand Embassy, Tokyo: +81 (0)3 3467 2271.
Customers
The Japanese are formal and reserved and visitors are expected to behave politely. Their system of etiquette is one of the most complex in the world, with a strict code of conduct for almost every situation. It is important to avoid causing 'loss of face' by insulting or criticising someone in front of others. Bowing is the customary greeting.
Business
Business in Japan can be highly formal and greetings are usually rather ritualistic due to the hierarchical society; a third party introduction is useful. Central to doing business in Japan is the notion of 'Kaizen', which represents the drive for constant improvement. Japanese business culture is very formal in dress code and conduct.
Always greet in order of seniority, first by bowing and then offering a handshake. A polite bow is customary; the more senior the person, the deeper the bow. Expect silence in meetings and don't be surprised if a business associate goes silent and closes his eyes in a meeting - it indicates reflection. As with many Asian countries, it is important to avoid being too direct, while still illustrating sincerity and honesty. When deflecting difficult or embarrassing questions, vague forms of expression are key.
Relationship building is central to business culture in Japan. Meetings often include excessive small talk as a means of building rapport. Calm, introverted and humble personality types garner respect. However, sober attitudes are suspended during social activities; evening drinks with business associates is an important part of solidifying business relationships in Japan, and whatever happens during the evening drinks, is never repeated or spoken about during business hours.
Business cards are exchanged often, using both hands. It can be useful to have cards printed with both English and Japanese, and one should present the card with the Japanese side facing the recipient. English translators are vital when conducting business in Japan as Japanese tends to be the language of business. Office hours start at 8am and finish at 6pm throughout the week. Business wear is formal and gifts, although not expected, are appreciated. Small items branded with your company's logo are generally well received.
Tipping
Tips and bargaining are not expected in Japan; in fact, tipping is usually considered almost rude and shouldn't be attempted.
Public Holidays in Japan
| | | |
| --- | --- | --- |
| | 2017 | 2018 |
| New Years Day | 1 Jan | 1 Jan |
| Coming of Age Day | 9 Jan | 8 Jan |
| National Foundation Day | 11 Feb | 11 Feb |
| Spring Equinox | 20 Mar | 20 Mar |
| Shôwa Day | 29 Apr | 29 Apr |
| Constitution Day | 3 May | 3 May |
| Childrens Day | 5 May | 5 May |
| Marine Day | 17 Jul | 16 Jul |
| Respect for the Aged Day | 18 Sep | 17 Sep |
| Sports Day | 9 Oct | 8 Oct |
| Culture Day | 3 Nov | 3 Nov |
| Labour Thanksgiving Day | 23 Nov | 23 Nov |
| Emperors Birthday | 23 Dec | 23 Dec |
| Greenery Day | 4 May | 4 May |
| Autumnal Equinox Day | 22 Sep | 22 Sep |
Overview
The fascinating land of pink cherry blossoms, sushi and Manga comics, Japan is a cultural explosion of historic attractions, neon-lit cities and exquisite mountainous landscapes. Thankfully this mystical country retains plenty of its ancient charm resulting in an 'East meets West' experience of a lifetime for visitors.
Head to the capital of Tokyo for a spot of shopping, sample authentic Japanese sushi and maybe even enjoy a little karaoke. Although famous for its glitz and neon glam this ultra impressive modern metropolis also has ancient shrines and temples round just about every corner, making the sightseeing a wonderful combination of old and new.
Head south to the city of Hiroshima, the country's most famous tourist attraction, where thousands of visitors make a pilgrimage to Hiroshima's Peace Memorial Park, taking in the museums and lively city that has emerged triumphantly from the horror of the atomic bomb dropped during World War II. Hiroshima is a must for anybody interested in modern history and is a deeply moving place to visit.
Once you have had enough of Japan's cities, visit the countryside and marvel at the picturesque volcanoes, take a dip in the hot springs and explore the mountainous interior of the islands. Japan is a beautiful country and even in the cities the parks are punctuated with cherry blossom trees and mathematically correct Zen gardens which never cease to amaze foreigners.
Map of Japan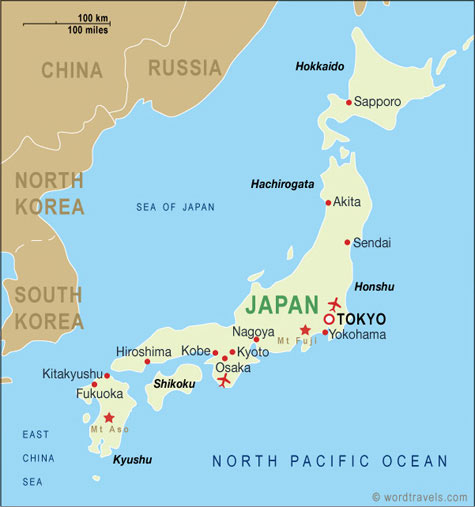 Travel Guide powered by www.wordtravels.com, copyright © Globe Media Ltd. All rights reserved. By its very nature much of the information in this guide is subject to change at short notice and travellers are urged to verify information on which they're relying with the relevant authorities. Globe Media and UNIGLOBE Travel does not accept any responsibility for any loss or inconvenience to any person as a result of information contained above.