General
Money
Entry Requirements
Health & safety
Weather
Embassies
Etiquette
Public Holidays
Attractions
Map
---
Introduction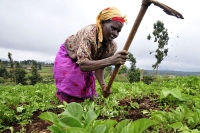 A farmer at work in Kenya's Mount Kenya region ©Neil Palmer
Kenya is the 'Land of the Lion King' and sits at the centre of the African safari experience, with an outstanding variety of wild animals and Big Five viewing opportunities. Although safaris are its greatest attraction, it is a country of great diversity with much more to offer than splendid wildlife. Essentially it is a place for outdoor living - the coast offers beaches and water-based activities, the mountains present a challenge to hikers and climbers, and the rolling savannahs are a game-viewers paradise.
The country sits astride the equator and offers fabulous scenery and a variety of tribal cultures. From its central location, the sacred peaks of Mt Kenya reign over a landscape primarily covered by grasslands and thorn trees, much of it enclosed within its many parks and reserves. To the west the spectacular Great Rift Valley is sprinkled with lakes teeming with a variety of birdlife, whose shores and surrounds are traversed by agricultural farmlands. To the east lies the promise of an idyllic beach holiday with the requisite white palm-fringed beaches and pristine coral reefs. Inhabiting the highlands and Rift Valley are two of the most well known of the numerous tribal cultures, the Kikuyu farmers and the tall, red-clad Masai cattle herders. The coast is home to ancient Swahili civilisations and old port towns that are rich in a history of exotic spice trading and fighting.
Kenya has a sophisticated tourism infrastructure, with two major cities controlling the majority of the tourism trade. Nairobi, the capital, is the safari and hiking hub, situated in the cool Central Highlands, while on the east coast the hot and humid trading port of Mombasa functions as the gateway to the resorts and pristine beaches of the area. Sadly the heavy influence of tourism has meant excessive prices for safaris, souvenirs and most activities of interest to foreigners, as well as the constant hassle by touts, guides and sellers to part with as much money as they can dupe the guilty traveller into spending.
Safety has been a concern for tourism in the last few years. Kenya has in the past experienced a spate of terrorist attacks, particularly in Nairobi, Mombasa and coastal regions, and many governments have issued travel warnings for the country. Warnings do not, however, include Kenya's safari destinations in the national parks, reserves and wildlife conservancies and these are safe for tourists. Travellers are advised to inform themselves on the situation though and to avoid areas identified as dangerous by official government sources.
Yet despite these unfortunate incidents, a trip to Kenya is usually trouble free and the people are very friendly and interesting. Ultimately, the combination of wildlife, beaches and mountains make Kenya the perfect safari destination and excellent option for an African safari holiday.
Communications
The international access code for Kenya is +254. Area codes are in use. Hotels usually add a hefty surcharge to their telephone bills; it is less expensive to either call from one of the international phone services, which are available in larger towns, or buy a pre-paid calling card for use in public telephone booths. All major urban areas are covered by the mobile network; the local mobile phone operators use GSM networks that have roaming agreements with most international mobile phone operators. Internet cafes are widely available in most towns and tourist areas.
Emergencies
999 (General Emergencies)
Languages Spoken
English is the official language but Swahili is the national language, with 42 ethnic languages spoken.
Duty Free
Travellers to Kenya over 16 years do not have to pay duty on 250g tobacco products; 1 bottle of alcohol; and 500ml perfume. Prohibited items include fruit, imitation firearms, and children's toys pistols. No plants may be brought into the country without a Plant Import Permit (PIP).
Electricity
Electrical current is 240 volts, 50Hz. UK-style square three-pin plugs are used.
Climate Info
The climate of Kenya ranges from tropical on the coast, where the weather is hot and humid, to temperate inland, cool and wet in the highlands, and dry in the northern areas. The capital, Nairobi, experiences cool winters and mild, pleasant summer temperatures. The best time to visit Kenya is probably during the dry season from January to March, and July to October. The rainy seasons in Kenya are April to June and October to early December.
The dry season is the best time for safaris in Kenya as it is easier to see the animals when the grass is shorter and they congregate around the water holes. The annual migration in the Masai Mara is best seen from July to October although the precise timing of this natural phenomenon varies each year.
The weather on the coast is pleasant year round but generally hot and humid conditions prevail, tempered by strong onshore breezes. The best time to holiday on the coast is from December to March, while April to May are the wettest months; there is also a short rainy season from October to November.
The lowlands are hot and dry and the highlands (including Nairobi) are more temperate and cool at night.
Passport
All foreign passengers to Kenya must hold proof of sufficient funds (at least USD 500) to cover their stay in the country, return/onward tickets, and the necessary travel documentation for their next destination. Most foreign nationals require a visa, and some foreign nationals can obtain visas on arrival in Kenya, provided that (i) their passport is in good condition, and (ii) they have at least one blank page in their passport for the visa endorsement. The visa fee is payable in USD, GBP or EUR, cash only. On-arrival visas are valid for three months. It is also possible to obtain an e-visa prior to departure for Kenya. A valid, 90 day, multiple entry/re-entry "East African Tourist Visa" issued by Rwanda or Uganda will suffice, provided the passanger in posession of the document has previously entered the country that first issued the visa. Note that a yellow fever vaccination certificate is required to enter Kenya, if arriving within six days of leaving or transiting through an infected area. NOTE: It is highly recommended that your passport has at least six months validity remaining after your intended date of departure from your travel destination. Immigration officials often apply different rules to those stated by travel agents and official sources.
Entry Requirements
US citizens must have a passport that is valid for at least six months beyond the date of their arrival in Kenya. A visa is required, and can be obtained on arrival for up to a maximum of 3 months.
British citizens must have a passport that is valid for at least six months beyond the date of their arrival in Kenya. A visa is required, and can be obtained on arrival for up to a maximum of 3 months.
Canadian citizens must have a passport that is valid for at least six months beyond the date of their arrival in Kenya. A visa is required, and can be obtained on arrival for up to a maximum of 3 months.
Australian citizens must have a passport that is valid for at least six months beyond the date of their arrival in Kenya. A visa is required, and can be obtained on arrival for up to a maximum of 3 months.
South African citizens must have a passport that is valid for at least six months beyond the date of their arrival in Kenya. A visa is not required for stays of up to 30 days.
Irish citizens must have a passport that is valid for at least six months beyond the date of their arrival in Kenya. A visa is required, and can be obtained on arrival for up to a maximum of 3 months.
New Zealand citizens must have a passport that is valid for at least six months beyond the date of their arrival in Kenya. A visa is required, and can be obtained on arrival for up to a maximum of 3 months.
Health
Travellers should get the latest medical advice on inoculations and malaria prevention at least three weeks prior to departure. A malaria risk exists all year round in Kenya, but more around Mombasa and the lower coastal areas than in Nairobi and on the high central plateau. Immunisation against yellow fever, polio and typhoid are usually recommended. A yellow fever certificate is required by anyone arriving from an infected area. Other risks include diarrheal diseases. Protection against bites from sandflies, mosquitoes and tsetse flies is the best prevention against malaria and dengue fever, as well as other insect-borne diseases, including Rift Valley fever, sleeping sickness, leishmaniasis and Chikungunya fever. Two cases of African trypanosomiasis (sleeping sickness) were reported in early 2012 in travellers who had visited the Masai Mara National Reserve. Water is of variable quality and visitors are advised to drink bottled water. Cholera outbreaks occur frequently, and travellers should take care not to drink contaminated water and be cautious of food prepared by unlicensed roadside vendors. There are good medical facilities in Nairobi and Mombasa but health insurance is always advised.
Safety
There is a threat from Somali terrorist groups in Kenya and visitors should be vigilant in public places and tourist sites; several bombings have targeted Mombasa, Nairobi and other cities in recent years, most blamed on the Al Qaeda-linked Al-Shabaab group. Several governments have instituted travel warnings and alerts for parts of Kenya and travellers are advised to read up on the situation and which areas should be avoided before visiting the country.
Nairobi is notorious for robberies and muggings and visitors should be alert at all times, but particularly at night. Visitors should also be vigilant in Mombasa, especially in the main south coast tourist areas of Diani and Ukunda.
There is a serious threat of banditry in the northern areas and travel is only advisable with an armed escort; recent armed attacks in resort areas of northern Kenya near the border of Somalia (especially Lamu Island) have occurred, including the kidnapping of foreign tourists, and several governments have advised against all but essential travel to coastal areas within 150km of the Somalian border, and inland areas within 60km of the border.
Piracy has also been a concern off the coast of Kenya. As late as early 2012 there were incidents of attacks and hijackings of private vessels, though there have been no recent reports. Visitors should also take sensible precautions when driving; in particular, landmines have been used in attacks around Moyale, close to the main A2 road south. Vehicles crossing the border at this point should stay on the A2.
Emergency Phone Number
999 (General Emergencies)
* For current safety alerts, please visit
Foreign travel advice - GOV.UK
or
Travel.State.Gov
Money
The unit of currency is the Kenyan Shilling (KES), which is divided into 100 cents. It is not advisable to take Kenyan Shillings out of the country, as they are difficult to exchange elsewhere. Foreign currency can be changed at banks, bureaux de change and hotels; it's easiest to exchange US Dollars, Pounds Sterling or Euros. Street exchange merchants should be avoided as they are operating illegally. Opening hours vary according to bank, but generally banks in Kenya are open Monday to Friday from 9am to 3pm and on the first and last Saturday of the month. Banks and bureaux de change at the international airport stay open 24 hours. International credit cards are accepted in the larger hotels and stores, and some camps and lodges. ATMs are widely available in Nairobi and other major towns.
Exchange Rate
Not available.
Embassies of Kenya
Kenyan Embassy, Washington DC, United States: +1 202 387 6101.
Kenyan High Commission, London, United Kingdom (also responsible for Ireland): +44 (0)20 7636 2371.
Kenyan High Commission, Ottawa, Canada: +1 613 563 1773.
Kenyan High Commission, Canberra, Australia (also responsible for New Zealand): +61 (0)2 6247 4788.
Kenyan High Commission, Pretoria, South Africa: +27 (0)12 362 2249.
Foreign Embassies in Kenya
United States Embassy, Nairobi: +254 (0)20 712 3304.
British High Commission, Nairobi: +254 (0)20 284 4000.
Canadian High Commission, Nairobi: +254 (0)20 366 3000.
Australian High Commission, Nairobi: +254 (0)20 427 7100.
South African High Commission, Nairobi: +254 (0)20 282 7236.
Honorary Consul of Ireland, Nairobi: +254 (0)20 235 7242.
New Zealand Consulate, Nairobi: +254 0(20) 804 5100.
Customers
The taking of photographs of official buildings and embassies is not advised and could lead to detention. It is illegal to destroy Kenyan currency. The coastal towns are predominantly Muslim and religious customs and sensitivities should be respected, particularly during Ramadan; dress should be conservative away from the beaches and resorts, particularly for women. Homosexuality is against the law. Smoking in public places is illegal, other than in designated smoking areas, and violators will be fined or imprisoned.
Business
Business in Kenya tends to be conducted formally and conservatively, with the appropriate formal attire of a jacket and tie. Patience, cultural sensitivity, tolerance for uncertainty, and the ability to build personal relationships with business associates are all central to successfully doing business in Kenya. Ethnic division and corruption undermine the Kenyan economy, but they are realities in the business world of Kenya. Despite red tape and numerous pitfalls, Kenya is a land of business opportunity and the IT and telecoms sectors are rapidly expanding. The concept of 'harambee' is important in business culture in Kenya: it involves a sense of community, responsibility and mutual assistance. Deference to seniority is important, as is social standing. Use of official titles is key during introductions and greetings.
Terse statements should be avoided and controlling one's emotions is vitally important. While punctuality is key and meetings should begin on time, they often don't end on time. When introducing a new deal, it is important to illustrate respect for tradition and history. Deals generally only close when it is clear that all the possible information has been considered and deliberated upon. Interpersonal relationships add to business success and understanding Kenyan culture and history is a great way of building business contacts. Building a solid business relationship is prioritised over meeting deadlines and closing deals.
English is the language of business. Business hours run from 9am to 5pm on weekdays and dress style should be formal with suits or smart-casual wear. Gifts are important and generally expected. Taking time to greet everyone and enquire about the health of their family will ensure a smooth business meeting. Respect for elders is important and if you are invited to dinner, never begin eating until the eldest member has started. Also, refrain from leaving food on your plate. In introductions, clasping an elder or key business associate's wrist with your other hand while shaking hands conveys respect.
Tipping
Tipping is not customary in Kenya, however a 10 percent service charge may be added to the bill in more upmarket restaurants. Otherwise, small change in local currency may be offered to taxi drivers, porters and waiters. Note that on safari the drivers, guides and cooks often rely heavily on tips to get by, but these are discretionary.
Public Holidays in Kenya
| | | |
| --- | --- | --- |
| | 2017 | 2018 |
| New Years Day | 1 Jan | 1 Jan |
| Good Friday | 14 Apr | 30 Mar |
| Easter Monday | 17 Apr | 2 Apr |
| Labour Day | 1 May | 1 May |
| Madaraka Day | 1 Jun | 1 Jun |
| Eid al-Fitr (end of Ramadan) | 27 Jun | 16 Jun |
| Mashujaa Day or Heroes Day | 20 Oct | 20 Oct |
| Independence Day | 12 Dec | 12 Dec |
| Christmas Day | 25 Dec | 25 Dec |
| Boxing Day | 26 Dec | 26 Dec |
Overview
There is an abundance of things to see and do in Kenya, a country which boasts some of the African continent's most famous and sought-after tourist attractions. Kenya is essentially a dream destination for African wildlife safaris and most of its attractions revolve around the incredible game reserves and the famous naturalists and wildlife professionals who have worked in the country. Game viewing in the 'Land of the Lion King' is a must, with quintessential destinations near Nairobi, like the Masai Mara National Reserve (where Out of Africa was filmed), while Hell's Gate National Park is located in the Great Rift Valley. Visit Elsamere Conservation Centre, where Joy Adamson of lived, and take in the natural splendour of Lake Naivasha. Visit the Karen Blixen Museum and enjoy the Giraffe Centre and the Sheldrick Elephant Orphanage.
Another draw card for Kenyan tourism is the wonderful coastline and paradise beaches. The warm waters of the Indian Ocean are ideal for swimming and watersports and there are some well-preserved coral reefs to explore beneath the surface. There are a number of popular resorts along the Kenyan coast and Mombasa is an interesting port city. Kenya has pleasant weather throughout the year, making this a great beach holiday destination.
Map of Kenya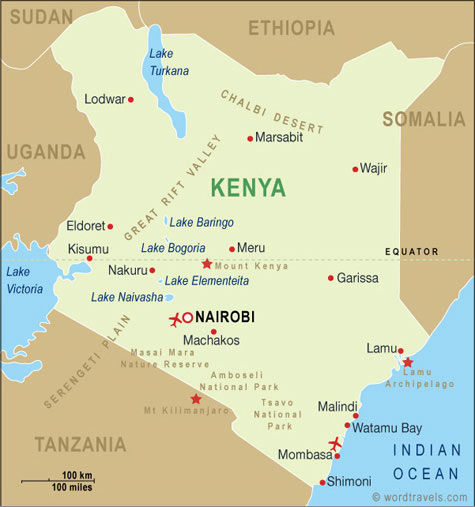 Travel Guide powered by www.wordtravels.com, copyright © Globe Media Ltd. All rights reserved. By its very nature much of the information in this guide is subject to change at short notice and travellers are urged to verify information on which they're relying with the relevant authorities. Globe Media and UNIGLOBE Travel does not accept any responsibility for any loss or inconvenience to any person as a result of information contained above.