General
Money
Entry Requirements
Health & safety
Weather
Embassies
Etiquette
Public Holidays
Attractions
Map
---
Introduction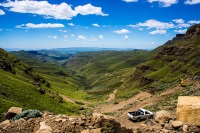 Sani Pass, Lesotho ©Vaiz Ha
Enclosed by South Africa on all sides, but separated from it by the huge Drakensberg and Maluti mountain ranges, the mountainous kingdom of Lesotho is small and rounded in shape, situated on a plateau of over 3,281ft (1,000m) with peaks reaching heights of more than 10,000ft (3,000m). Sani Pass is a breathtaking entry-point into Lesotho from South Africa's Drakensberg National Park and is the gateway to the 'Roof of Africa' scenic route, linking the magnificent scenery of the two mountain ranges.
Popularly described as the 'Kingdom in the Sky', the lofty highlands of Lesotho are characterised by majestic mountain scenery, crisp mountain air and the simple serenity of the traditional lifestyles of its people. Pony trekking is one of the finest ways to experience the Lesotho highlands, with time spent in remote Basotho villages scattered among the grassy hills, where waterfalls saturate the surrounding rocks with rainbow-coloured mist and crystal clear streams criss-cross the landscape. The region is also perfect for those who prefer to test the sure-footedness of their own two feet, with miles of solitary scenery to appreciate, an abundance of trout in the rivers and dams and the assurance of a warm and friendly welcome in the rugged mountain hamlets. The central highlands is home to the highest waterfall in southern Africa, the Maletsunyane Falls near Semonkong (meaning 'Place of Smoke'), which thunders from a height of 624ft (190m) and is at its most spectacular during the summer rainy season.
From the heights of the Maluti Mountains, the land descends to the western lowlands where all the major towns are to be found and where two thirds of the population live. Maseru, the capital, is a fascinating city of contrasting modern and traditional lifestyles. Blanket-clad horsemen sidestep the traffic jams on their way to market, and woven handicrafts are displayed on the busy pavements outside new glass buildings filled with self-important office workers.
Time spent in Lesotho will allow visitors to observe an African country that has extraordinary appeal, a kingdom of rugged beauty and unchanging culture that remains natural and largely unaffected by tourism.
Communications
The international dialling code for Lesotho is +266. The outgoing code is 00 followed by the relevant country code (e.g. 0027 for South Africa). There are no city/area codes required. Telephone and fax services are available in all main towns and at major hotels. Internet cafes are available in Maseru. A GSM 900 mobile network is limited to the main urban areas and has limited active roaming agreements with other mobile phone operators; visitors should check with their local networks to see if they have roaming agreements with the operators in Lesotho.
Emergencies
Emergencies: 123/124 (Police); 121 (Ambulance), 122 (Fire).
Languages Spoken
Sesotho and English are the official languages, but Xhosa and Zulu are widely spoken.
Duty Free
Travellers to Lesotho do not have to pay duty on 400 cigarettes, 50 cigars or 250g tobacco; 2 litres wine and 1 litre of alcohol; 250ml eau de toilette and 50ml perfume; other gifts to the value of LSL 500. No liquor may be imported by South African nationals.
Electricity
Electrical current is 220 volts, 50Hz. The three-prong, round pin South African plug is used.
Climate Info
Weather conditions in Lesotho vary greatly depending on the altitude. Summer (October to April) is the hot, rainy season, with the hottest days in January and February, and the most rain falling between March and May and October and November. Days are sunny with electric afternoon thunderstorms, and temperatures range from around 86ºF (30°C) in the lowlands with cooler temperatures as the altitude increases, averaging about 64°F (18°C) in the mountains. Snow falls mainly in winter from May to September, but can occur in the mountains at any time of year. Winter can be bitterly cold, particularly in the highlands, but days are usually clear and sunny. Temperatures can fall to 20°F (-7°C) in the lowlands and 0°F (-18°C) in the highlands. At any time of year the weather can change very rapidly in the highlands, from warm sunshine to mist, rain and freezing temperatures.
Passport
All foreign passengers to Lesotho must hold return/onward tickets, the necessary travel documentation for their next destination, and sufficient funds to cover their expenses while in the country. Visa-exempt visitors who wish to stay in Lesotho for longer than their allotted 14 days, should apply for extensions at the Lesotho Immigration Authorities within the initial 14-day period. Note that a yellow fever vaccination certificate is required to enter Lesotho, if arriving within six days of leaving or transiting through an infected area. NOTE: It is highly recommended that your passport has at least six months validity remaining after your intended date of departure from your travel destination. Immigration officials often apply different rules to those stated by travel agents and official sources.
Entry Requirements
US citizens must have a passport that is valid upon their arrival in Lesotho. No visa is required, for stays of up to 14 days.
British citizens must have a passport that is valid upon their arrival in Lesotho. No visa is required for British passport holders, irrespective of the endorsement regarding their national status contained therein, for stays of up to 14 days.
Canadian citizens must have a passport that is valid upon their arrival in Lesotho. No visa is required, for stays of up to 14 days.
Australian citizens must have a passport that is valid upon their arrival in Lesotho. No visa is required, for stays of up to 14 days.
South African citizens must have a passport that is valid upon their arrival in Lesotho. No visa is required for stays of up to 90 days.
Irish citizens must have a passport that is valid upon their arrival in Lesotho. No visa is required, for stays of up to 90 days.
New Zealand citizens must have a passport that is valid upon their arrival in Lesotho. No visa is required, for stays of up to 14 days.
Health
Lesotho's high altitude and crisp mountain air does not present many health problems for travellers, although its high elevation does make altitude sickness a possibility for recently arrived visitors. A yellow fever certificate is required from travellers coming from an infected area. HIV/AIDS is prevalent. Water should not be drunk unless it is boiled or filtered. There is a lack of good medical facilities, and medical attention is often sought in neighbouring South Africa. Visitors should carry a personal supply of medicine as supplies are limited. Lesotho's Flying Doctor service provides emergency medical services to remote parts of the country. Medical insurance is essential and should include emergency air evacuation coverage, especially if planning to spend time in remote mountainous regions.
Safety
Safety in Lesotho is not generally a serious issue but there has been an increase in opportunistic crime and gun-related crimes, due to a high unemployment rate in the cities. Most incidents occur in Maseru, but visitors should also be alert elsewhere to theft, car hijackings and muggings. Muggers often target foreigners and foreign vehicles have been involved in hijackings in the past, near Malealea Lodge south of Maseru. Avoid walking around with valuables or else keep them out of sight, and do not walk alone in isolated areas or in Maseru after dark. Driving through rural areas after dark is also not recommended. Sporadic demonstrations are possible and should be avoided if possible.
Emergency Phone Number
Emergencies: 123/124 (Police); 121 (Ambulance), 122 (Fire).
* For current safety alerts, please visit
Foreign travel advice - GOV.UK
or
Travel.State.Gov
Money
The official currency is the Loti (LSL) or plural Maloti, which is divided into 100 lisente. It has the same value as the South African Rand, and rands are accepted as legal currency. Banks and exchange bureaus are found in Maseru and in most main towns. Most major hotels, shops, restaurants and travel agencies accept credit cards; though it is best to check with credit and debit card companies as to their acceptance before leaving home. Travellers cheques can be cashed at banks in Maseru. Local ATMs in Lesotho have the facility to accept international ATM cards but are unreliable.
Exchange Rate
Not available.
Embassies of Lesotho
Kingdom of Lesotho Embassy, Washington DC, United States: +1 202 797 5533.
Kingdom of Lesotho High Commission, London, United Kingdom: +44 (0)20 7235 5686.
Kingdom of Lesotho Consulate, Vancouver, Canada: +1 604 681 9887.
Kingdom of Lesotho Embassy, Tokyo, Japan (also responsible for Australia): +81 (0)3 3584 7455.
Kingdom of Lesotho High Commission, Pretoria, South Africa: +27 (0)12 460 7648.
Kingdom of Lesotho Embassy, Dublin, Ireland: +353 (0)1 676 2233.
Kingdom of Lesotho Embassy, Beijing, China (also responsible for New Zealand): +86 (0)10 6532 6843.
Foreign Embassies in Lesotho
United States Embassy, Maseru: +266 2231 2666.
British Honourary Consul, Maseru: +266 223 13929.
Canadian Consulate to Lesotho, Maseru: +266 223 15365.
Australian High Commission, Pretoria, South Africa (also responsible for Lesotho): +27 12 423 6000.
South African Consulate, Maseru: +266 223 15758.
Irish Embassy, Maseru: +266 2231 4068.
New Zealand High Commission, Pretoria, South Africa (also responsible for Lesotho): + 27 (0)12 435 9000.
Customers
Photographs of government buildings, the airport or the palace should not be taken: it is always best to ask if unsure. It is customary to ask permission from the local village Headman or Chief before camping, and to inform the Headman or Chief if spending any time within his village. Homosexuality is illegal.
Business
Business in Lesotho tends to follow usual business practices: be punctual, exchange business cards and show respect for your hosts, but anticipate a generally relaxed atmosphere. Suits and ties are the norm, though a lightweight material is best. Business hours are usually from 8.30am to 12.30pm and 2pm to 4.30pm Mondays to Fridays, and 8am to 1pm on Saturdays.
Tipping
All service staff, including tour guides and game rangers, are customarily tipped between 10 and 15 percent, which they rely on to boost their low wages.
Public Holidays in Lesotho
Overview
Lesotho, also known as 'The Mountain Kingdom', boasts some of the most scenic mountain peaks in Southern Africa, making it an ideal destination for travellers who love the outdoors, the fresh air and wide open spaces. The lush and beautiful landscape allows for many things to see and do in Lesotho. Bird watching and wildlife safaris are sought after activities at the likes of Sehlabathebe National Park; a national nature reserve made up of 6,500 hectares and positioned at an elevation of 7,874 feet (2,400m). This protected wilderness area is the ideal spot for hiking, pony-trekking and scenic explorations. While game sightings are limited to antelope, the scenery is more than enough to excite lovers of the outdoors.
Another tourist favourite in Lesotho is Thaba-Bosiu, a national monument considered the birthplace of the Basotho nation and worth a visit for its history and spectacular views. From Thaba-Bosiu travellers can see the Qiloane pinnacle which was the inspiration for Lesotho's celebrated hat, the Mokorotlo. While water sports are aplenty at the great Katse Dam in the summer months, skiing in the Maloti Mountains during the winter months is a big drawcard for tourists the world over. Skiing in Lesotho offers travellers a unique winter experience not usually found in Africa, making for a once-in-a-lifetime kind of holiday.
For the culturally inclined, other tourist attractions in Lesotho include a chance to delve into history at the Lesotho National Museum in Maseru and the Morija Museum and Archives, offering collections on archaeology, ethnography and geology. Visitors to The Mountain Kingdom can also explore the Kome Cave Dwellings; now a National Heritage Site where the rich culture of Lesotho's people can be explored. Rock art is also a popular find in Lesotho, as are the famed Dinosaur Footprints found at Morija, Subeng Stream and Tsikoane, to name a few.
With many lodging options, as well as many first class resorts to choose from, Lesotho can guarantee its visitors a chance to relax after a day of adventuring in the great Kingdom.
Map of Lesotho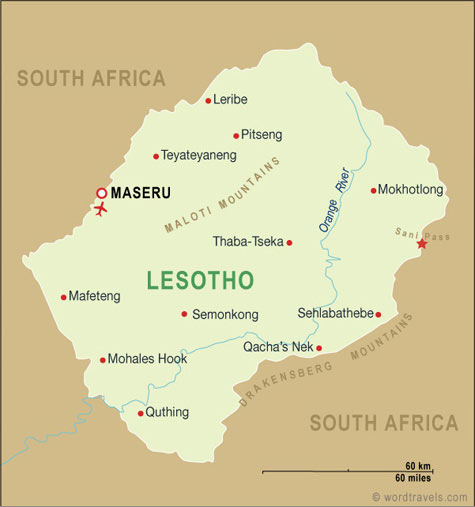 Travel Guide powered by www.wordtravels.com, copyright © Globe Media Ltd. All rights reserved. By its very nature much of the information in this guide is subject to change at short notice and travellers are urged to verify information on which they're relying with the relevant authorities. Globe Media and UNIGLOBE Travel does not accept any responsibility for any loss or inconvenience to any person as a result of information contained above.