General
Money
Entry Requirements
Health & safety
Weather
Embassies
Etiquette
Public Holidays
Attractions
Map
---
Introduction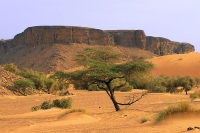 Mauritania ©Manu25
Arab and African influences mesh and collide in the northwestern African country of Mauritania. Northern Moors are the majority while Tukulor Africans mostly populate the southern regions. The tug of war between power centres results in unstable politics, but Mauritania is blessed with breath-taking natural beauty and some fascinating historical sites, for those willing to risk visiting. A number of influential governments advise against travel to large swathes of Mauritania, including the British FCO, which warns that none of the country is considered safe due to the general threat of terrorism. Tourists willing to overlook these dangers are often richly rewarded, but caution should be exercised.
Mauritania is a land of rare natural beauty and dramatic open landscapes. The desert scenery of endless undulating sand dunes is quite a sight; in fact, something like 90 percent of Mauritania is within the boundaries of the Sahara. The north's nomadic people traverse the sea of sand in much the same way they have for centuries. The central land is covered by two vast plateaus only broken by occasional cliffs. Flat plains and desert dunes stretch uninterrupted across most of the west. These are some of the least populated regions in West Africa. The stunning, unspoilt coastline of Mauritania is the most alluring attraction for many travellers; the country's 468 miles (754km) of seashore is characterised by sandy beaches with hardly any development.
Tourism dries up in the summer months when the heat can become unbearable. Throughout the rest of the year travellers can arrive over the sand dunes from Morocco or across the river from Senegal. Larger cities such as Chinguetti, Nouakchott, Nouadhibou and Atar have some small guesthouses and hotels, but the general lack of tourist infrastructure makes Mauritania a country for the adventurous. Visitors are advised to travel with reputable guides and tour operators, or in large convoys. Various forms of four wheeled transport from old cars to sturdier jeeps can get travellers about.
Communications
The international dialling code for Mauritania is +222. Landline infrastructure is limited, but mobile phone usage is fairly high and roaming agreements exist with some international mobile phone operators; however, coverage is limited to urban areas. There are some internet cafes in Nouakchott and other big cities and some hotels provide internet access.
Emergencies
Emergencies: 117 (Police); 101 (medical)
Languages Spoken
Arabic is the official language of Mauritania and Hassaniyya is the local form of Arabic spoken by the majority of the population. French is also widely spoken.
Duty Free
Those travelling to Mauritania over the age of 18 may import the following goods duty-free: 200 cigarettes/25 cigars/450g of tobacco, 50ml of perfume and 250ml eau de toilette. Alcohol is prohibited, and firearms require an import and gun license prior to arrival.
Electricity
Electrical outlets in Mauritania usually supply electricity at between 220 and 240 volts, 50Hz. European two-pin plugs with round pins are standard.
Climate Info
Mauritania is dry, hot and dusty year-round but there is some variation in climate according to region: southern Mauritania has a Sahelian climate, with a short rainy season between July and September; the coastal region, including the capital city, Nouakchott, is semi-arid with oceanic trade winds; and the vast Sahara Desert dominates the northern two-thirds of the country. The year can be roughly divided into summer, between May and October, and winter, between November and April. The average temperature in Nouadhibou, a coastal city, ranges between 55°F and 79°F (13°C and 26°C) in January, and between 66°F and 90°F (19°C and 32°C) in October. The rainy season, between July and September, is the most humid period in the south, which can be uncomfortable. Most of Mauritania north of Atar has a Saharan climate. In this desert region daytime temperatures frequently exceed 100°F (38°C) for the hottest six months of the year, but the nights are cool year-round. The north receives very little rain, and the few downpours that do occur can come at any time of year.
The best time to visit Mauritania is between November and March, in the winter, when daytime temperatures are comfortably warm but not too hot and there is little chance of rain.
Passport
Most travellers can be issued with a visa on arrival if they are entering Mauritania by air via Nouakchott and meet all the requirements, but it is worth confirming this in advance. All foreign passengers to Mauritania must hold return/onward tickets, and the necessary travel documentation for their next destination. Note that a yellow fever vaccination certificate is required, if arriving within six days of leaving or transiting through an infected area, OR if staying in Mauritania for longer than two weeks. NOTE: It is highly recommended that your passport has at least six months validity remaining after your intended date of departure from your travel destination. Immigration officials often apply different rules to those stated by travel agents and official sources.
Entry Requirements
US citizens must have a passport that is valid upon their arrival in Mauritania. A visa is required.
British citizens must have a passport that is valid upon their arrival in Mauritania. A visa is required for British passport holders, irrespective of the endorsement regarding their national status contained therein.
Canadian citizens must have a passport that is valid upon their arrival in Mauritania. A visa is required.
Australian citizens must have a passport that is valid upon their arrival in Mauritania. A visa is required.
South African citizens must have a passport that is valid upon their arrival in Mauritania. A visa is required.
Irish citizens must have a passport that is valid upon their arrival in Mauritania. A visa is required.
New Zealand citizens must have a passport that is valid upon their arrival in Mauritania. A visa is required.
Health
Malaria is a problem in the southern provinces and some form of prophylaxis is recommended for all travellers in the south; however, there is no malaria risk in the provinces of Adrar, Dakhlet-Nouadhibou, Inchiri and Tiris Zemmour. A yellow fever vaccination is required for travellers arriving from countries with a risk of yellow fever transmission, and is recommended for all travellers visiting regions south of the Sahara in Mauritania. A vaccination for meningococcus is recommended for all travellers during the dry season, between November and June. Vaccinations are also recommended for hepatitis A, hepatitis B and typhoid, and travellers are generally advised to be up to date on vaccinations for polio, MMR (measles, mumps, rubella) and tetanus-diphtheria. Travellers who will be coming into contact with bats, or may be at risk of animal bites, should consider a rabies vaccination.
Travellers should not drink tap water in Mauritania unless it has been boiled, filtered or chemically disinfected, and should avoid ice in beverages. Don't eat fruit and vegetables unless they have been cooked or peeled, and eat all cooked meals while still hot.
Medical facilities in Mauritania are limited and visitors should ensure that they have comprehensive travel and health insurance. Basic medical care is available in the capital. Most doctors and hospitals will expect payment in cash, regardless of whether you have travel health insurance. Visitors should take along any medication they may need, in its original packaging and accompanied by a signed and dated letter from a doctor detailing what the medicine is and why it is needed.
Safety
Although crime levels are not too high in Mauritania, terrorism is an ongoing concern. The UK Foreign Office advises against all travel to the provinces of Tiris Zemmour, Adrar, Tagant, Hodh el Chargui, Dakhlet-Nouadhibou and Inchiri due to a high threat from terrorism. They advise against all but essential travel to the rest of the country, including the capital, Nouakchott. Since 2008 more than 25 foreigners have been kidnapped by terrorist groups in the Sahel region, which includes Mauritania. The US Department of State also warns its citizens of the risk from terrorism in Mauritania, advising against travel to large swathes of the country because of the security risk. They advise foreigners travelling outside of urban areas to move only in a convoy with an experienced guide and reliable vehicles. No travel should be undertaken after dark.
In urban areas crime levels are moderate but steadily increasing. There have been incidents of carjacking, robbery, rape and assault involving foreigners. Travellers should keep a low profile, stay vigilant, and take every precaution to ensure personal safety. Protests are fairly common in Nouakchott and violent clashes between police and protestors do occur. All street protests and political gatherings should be avoided. Military and police roadblocks are common in urban areas and identification should be carried at all times.
Emergency Phone Number
Emergencies: 117 (Police); 101 (medical)
* For current safety alerts, please visit
Foreign travel advice - GOV.UK
or
Travel.State.Gov
Money
The Mauritanian Ouguiya (MRO) is the official currency of Mauritania. Euros and US dollars are both fairly easy to exchange and it is necessary to carry wads of cash because credit cards are seldom accepted. It is difficult to find ATMs in Mauritania, even in the capital, and the country is not well connected to the international banking system, which means most credit cards won't work at ATMs. Special international ATMs are available at BNP and Societe Generale in both Nouakchott and Nouadhibou.
Exchange Rate
Not available.
Embassies of Mauritania
Foreign Embassies in Mauritania
Customers
Since Mauritania is an Islamic state, governed by Islamic law, visitors should at all times be respectful of the social mores that have been entrenched in the country by the teachings of the Koran. Visitors are encouraged particularly to be observant during the month of Ramadan, when eating, smoking or drinking in public is severely frowned upon. Conservative dress (covering the arms and legs) and reserved public behaviour are the norms, especially for women. Be sure to remove your shoes before entering people's homes and mosques. Note that Mauritania is a dry country, and although there are restaurants that will sell alcohol to foreigners, drinking with locals is strictly prohibited. Note also that it is considered taboo for women to lie on their backs, and for men to lie on their stomachs, in public places. Public displays of affection are totally out of the question: in Mauritania, not even married couples are allowed to hold hands in public. It is also worth bearing in mind that Mauritanians are extremely direct communicators, and may eschew normal pleasantries such as 'please' and 'thank-you'. Finally, it is considered extremely rude to ignore people who greet you in public places.
Business
Mauritania is a very poor country. Mining is the principal industry and some offshore drilling for oil and gas has begun. French is the language of business and very few executives speak English. Business etiquette is fairly formal and dress should be conservative, especially for women. Office hours are generally 8am to 3pm, Sunday to Thursday.
Tipping
A tip of 12 to 15 percent is expected in restaurants in Mauritania, if no service fee has been added to the bill. Hotel service staff and taxi drivers welcome small tips.
Public Holidays in Mauritania
| | | |
| --- | --- | --- |
| | 2017 | 2018 |
| New Years Day | 1 Jan | 1 Jan |
| Labour Day | 1 May | 1 May |
| Africa Day | 25 May | 25 May |
| Armed Forces Day | 10 Jul | 10 Jul |
| Korité (End of Ramadan) | 26 Jun | 15 Jun |
| Tabaski (Feast of the Sacrifice) | 2 Sep | 22 Aug |
| Islamic New Year | 22 Sep | 12 Sep |
| Independence Day | 28 Nov | 28 Nov |
| Birth of the Prophet | 1 Dec | 21 Nov |
Travel Guide powered by www.wordtravels.com, copyright © Globe Media Ltd. All rights reserved. By its very nature much of the information in this guide is subject to change at short notice and travellers are urged to verify information on which they're relying with the relevant authorities. Globe Media and UNIGLOBE Travel does not accept any responsibility for any loss or inconvenience to any person as a result of information contained above.