General
Money
Entry Requirements
Health & safety
Weather
Embassies
Etiquette
Public Holidays
Attractions
Map
---
Introduction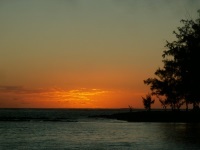 Mauritius sunrise ©Smpadte
Mark Twain is quoted as having said that 'Mauritius was made first, then heaven was copied from it', and anyone who has experienced the island would no doubt agree with him.
It is easy to run out of adjectives when attempting to describe the natural beauty of the small tropical Indian Ocean island paradise of Mauritius. The volcanic island, covered with lush forest, streams and waterfalls, and fringed with palms, dazzling white sands and teeming coral reefs, lies east of Madagascar just south of the Equator. Mauritius, covering just 720 square miles (1,864 sq km), is the archetypal dream destination for an idyllic beach holiday, equipped with modern resorts that have been carefully developed to preserve the island's beauty.
Along with its natural beauty, Mauritius has a valuable tourist resource in the warmth and friendliness of its multicultural population. Since being officially 'discovered' in 1505 by the Portuguese, the island has been occupied by the Dutch, the French and the British. All have added to the melting pot that constitutes the island's human heritage, along with injections of African slaves, Arab traders and Chinese indentured labourers over the centuries.
Most of the tourist resorts in Mauritius are situated along the 205 mile (330km) coastline, with the capital Port Louis, on the west coast, being the centre of operations for most visitors. The bulk of the population, however, reside on the central plateau around Curepipe, the island's other major town.
Although everybody who takes a holiday in Mauritius comes for the sandy beaches and blue lagoons, most are delighted to discover that the island has plenty of other attractions too, from some of the world's rarest stamps to the first ever race course to open in the southern hemisphere. Of course no holiday would be complete without good food and entertainment and Mauritius offers both, with some delicious local cuisine that makes use of tropical fruits and vegetables, and the chance to learn the island's indigenous wild dance, the Sega, which originated among the African slaves of yore.
Communications
The international access code for Mauritius is +230. The whole island is covered by the mobile network; the local mobile phone operators use GSM and 3G networks, which are compatible with most international operators. Handsets and SIM cards can be hired at the airport. Internet cafes are widely available.
Emergencies
Emergencies: 999 or 112
Languages Spoken
English is the official language of Mauritius, but the most widely used language is French and the local dialect, Creole. Hindi, Urdu and Chinese are also spoken.
Duty Free
Travellers to Mauritius over 18 years do not have to pay duty on 200 cigarettes or 50 cigars or 250g tobacco; 1 litre spirits and 2 litres of wine, ale or beer; perfume and eau de toilette for personal use. Prohibited items include sugarcane and fresh fruit from parts of Asia. Other prohibited items include dangerous drugs, obscene literature and pornographic materials.
Electricity
Electrical current is 230 volts, 50Hz. Square three-pin plugs and round two-pin plugs are commonly used.
Climate Info
Mauritius has only two seasons, with minimal differences between them, making it a perfect year round destination. Summer runs from November to April, with temperatures reaching as high as 93ºF (34ºC) on the coast. Humidity is highest from December to April but is never unbearable, particularly on the coast where there is an almost constant sea breeze. The northeast (around Grand Baie) is more protected from the southeast trade winds. Cyclones, with strong winds and heavy rain, can occur between January and March. Mauritius will normally experience about three or four cyclones a year during this period, each usually lasting a couple of days, and flooding can result. During winter the temperature drops a few degrees; however, there is still plenty of sunshine and it is a very pleasant time of year to visit. Sea temperatures vary between 75ºF (24ºC) in the winter and 82ºF (28ºC) in the summer. The peak holiday season runs from October to April, with hotel prices dropping over the winter months. If you plan to visit during peak season be sure to book accommodation far in advance to avoid disappointment. To avoid the rainy season, visit anytime between April and December.
Passport
All foreign passengers to Mauritius must hold (i) a confirmed booking for accommodation in Mauritius, (ii) return or onward tickets to their country of origin or residence, (iii) the necessary travel documentation for their next destination, and (iv) sufficient funds to cover their expenses while in the country (a minumum of USD 100 per day). Note that the final decision to admit any passenger into Mauritius rests solely with the Immigration Authorities, and that any visitor who remains in Mauritius after expiry of the period granted on their visa or entry permit, shall be deemed to have committed an offence, and shall be liable for prosecution by a Court of Law. A yellow fever vaccination certificate is required to enter Mauritius, if arriving within 10 days of leaving or transiting through an endemic area. NOTE: It is highly recommended that your passport has at least six months validity remaining after your intended date of departure from your travel destination. Immigration officials often apply different rules to those stated by travel agents and official sources.
Entry Requirements
US citizens must have a passport that is valid for the period of intended stay in Mauritius. No visa is required, for stays of up to 90 days.
British citizens must have a passport that is valid for the period of intended stay in Mauritius. No visa is required for holders of British passports (irrespective of the endorsement regarding their national stuatus contained therein), for stays of up to 90 days.
Canadian citizens must have a passport that is valid for the period of intended stay in Mauritius. No visa is required, for stays of up to 90 days.
Australian citizens must have a passport that is valid for the period of intended stay in Mauritius. No visa is required, for stays of up to 90 days.
South African citizens must have a passport that is valid for the period of intended stay in Mauritius. No visa is required, for stays of up to 90 days.
Irish citizens must have a passport that is valid for the period of intended stay in Mauritius. No visa is required, for stays of up to 90 days.
New Zealand citizens must have a passport that is valid for the period of intended stay in Mauritius. No visa is required, for stays of up to 90 days.
Health
No vaccination certificates are required for entry into Mauritius, unless travelling from a country infected by yellow fever or where yellow fever is classified as endemic. Vaccinations are usually recommended for hepatitis A and hepatitis B. It's also a good idea to pack shoes that can be worn in the sea to protect against sharp coral, sea urchins and stonefish. Stonefish stings are uncommon but can in some cases be fatal. You should obtain urgent medical attention if stung; many hotels stock anti-venom serum. Visitors should take precautions against mosquito bites, as there have been several cases of the Chikungunya virus, which is spread by mosquitoes, although this is more common from October to May. Malaria medication may also be necessary, if visiting rural areas. Travellers should stick to bottled water. Medical facilities are good and free in public hospitals, but private clinics are expensive and medical insurance is recommended.
Medications are usually easily available, but for peace of mind it is better to take any prescription medication with you, in its original packaging, with a signed and dated note from your doctor detailing what it is and why you need it. Note that visitors can bring common medicines for personal use but must carry a copy of the prescription and proof that the drugs have been obtained legally. Other drugs like tranquillisers, hypnotics, narcotics and other strong pain killers will require prior authorisation.
Safety
A holiday in Mauritius is usually trouble free; however, petty crime can be a problem and it is not wise to wander alone at night outside the grounds of hotels. Visitors should be aware of pick pocketing in the central market in Port Louis. Care should be taken of bags and valuables when visiting popular tourist areas such as Pereybere, Grand Baie, Flic en Flac and Tamarin. There has been an increase in break-ins in self-catering accommodation and visitors are advised to only rent accommodation from registered proprietors. Cyclone season is from November to May.
Emergency Phone Number
Emergencies: 999 or 112
* For current safety alerts, please visit
Foreign travel advice - GOV.UK
or
Travel.State.Gov
Money
The currency of Mauritius is the Mauritian Rupee (MUR), which is divided into 100 cents. Foreign currency can be exchanged at banks, bureaux de change and larger hotels. ATMs are widely available in most big towns and some hotels, and major restaurants and large retailers accept major credit cards.
Exchange Rate
Not available.
Embassies of Mauritius
Mauritius Embassy, Washington DC, United States: +1 202 244 1491.
Mauritius Embassy, London, United Kingdom: +44 (0)20 7581 0294.
Mauritius Honorary Consulate, Ottawa, Canada: +1 416 754 2747.
High Commission for the Republic of Mauritius, Melbourne, Australia: +(613) 9484 4242.
Mauritius High Commission, Pretoria, South Africa: +27 (0)12 342 1283.
Foreign Embassies in Mauritius
United States Embassy, Port Louis: +230 202 4400.
British High Commission, Port Louis: +230 202 9400.
Canadian High Commission, Pretoria, South Africa (also responsible for Mauritius): +27 (0)12 422 3000.
Australian High Commission, Port Louis: +230 202 0160.
South African High Commission, Port Louis: +230 212 6925.
New Zealand Consulate, Pretoria, South Africa (also responsible for Mauritius): +27 12 435 9000.
Customers
Homosexuality is not technically illegal in Mauritius, but sodomy is and it is best to exercise discretion as the locals are sometimes conservative. Penalties for drug trafficking and use are severe, and any personal medicinal drugs should be covered by a prescription. Scheduled drugs, such as tranquillisers, morphine and other strong painkillers require by law authorisation before import.
Business
Port Louis is the main business hub of Mauritius. Standard business practice applies to the island: punctuality and politeness is important, handshakes and the exchanging of business cards takes place at meetings, and business attire is worn. It is, however, possible to be somewhat more casual in terms of dress and visitors can take the cue from their hosts. Lightweight materials are recommended due to the tropical climate. Business hours vary, but most businesses are open at least from 9am to 4pm Monday to Friday, with some businesses open for a half-day on Saturdays.
Tipping
Tipping in Mauritius is discretionary. However, some extra money paid for services, such as a taxi ride, waitering or cleaning, is appreciated. In the hotels travellers can add around five percent of their incidental expenses when paying the bill on departure, if service has been good. Government tax is added to all hotel and restaurant bills and this is included in the basic price. However, all incidental hotel expenses will incur tax, which is generally included in the price quoted.
Public Holidays in Mauritius
| | | |
| --- | --- | --- |
| | 2017 | 2018 |
| Chinese New Year | 19 Feb | 19 Feb |
| New Years Day | 1 Jan | 1 Jan |
| Thaipoosam Cavadee | 3 Feb | 3 Feb |
| Independence Day | 12 Mar | 12 Mar |
| Labour Day | 1 May | 1 May |
| Abolition of Slavery Day | 1 Feb | 1 Feb |
| Ganesh Charturthi | 25 Aug | 12 Sep |
| Eid al Fitr (End of Ramadan) | 26 Jun | 15 Jun |
| All Saints Day | 1 Nov | 1 Nov |
| Christmas Day | 25 Dec | 25 Dec |
| Diwali | 19 Oct | 7 Nov |
| Maha Shivaratri | 24 Feb | 13 Feb |
Overview
Of course, most travellers in Mauritius have been lured by the beautiful stretches of coastline, the warm ocean, plentiful sunshine, numerous watersports, and high-quality resorts. However, things to see and do in Mauritius extend far beyond its white sand beaches and clear turquoise waters.
See a replica of the legendary Dodo at Port Louis' Natural History Museum, and explore the Central Market, a bustling hub of culture, colour and bargains. Visitors also enjoy the impressive and historic manor houses in Moka and take in Chamarel's rainbow of coloured sands, the 'Seven Coloured Earth'. Black River Gorges National Park is great for picnics, hiking and scenic drives and is home to wonderful waterfalls and wildlife, while La Vanille Reserve des Mascareigne is home to thousands of crocodiles and giant tortoises. It is well worth taking excursions inland to learn about the island's interesting history and culture, and to see how local Mauritians live outside of the fancy beach resorts. Learning the local Sega dance is a delight for visitors, and it is particularly special to seek out night spots frequented by locals rather than just sticking to the resort entertainment. Its lovely weather makes Mauritius a perfect year-round holiday destination.
Map of Mauritius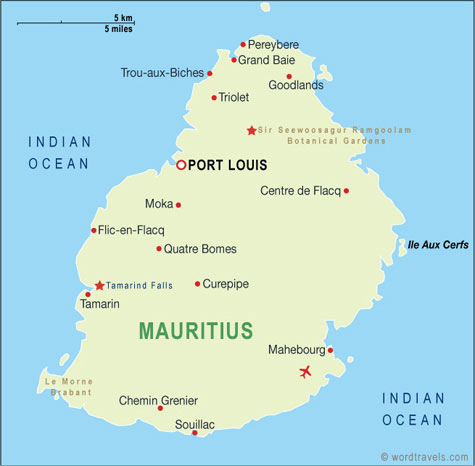 Travel Guide powered by www.wordtravels.com, copyright © Globe Media Ltd. All rights reserved. By its very nature much of the information in this guide is subject to change at short notice and travellers are urged to verify information on which they're relying with the relevant authorities. Globe Media and UNIGLOBE Travel does not accept any responsibility for any loss or inconvenience to any person as a result of information contained above.