General
Money
Entry Requirements
Health & safety
Weather
Embassies
Etiquette
Public Holidays
Attractions
Map
---
Introduction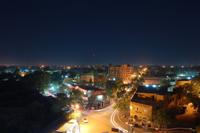 Niamey at night ©Jake73
Niger is a landlocked country in the heart of Africa known for its diverse cultures, oases of wildlife and beautiful desert landscapes. Unfortunately, most people also associate Niger with drought and famine, and, more recently, violent conflict and terrorism, due to media coverage of these tragic occurrences.
It is a very poor country, and due to the high threat of terrorism many travel authorities advise against touristic travel, but Niger is not without charm.
The capital city is Niamey, a pleasant, fairly modern settlement with great open-air markets and a picturesque setting on the banks of the Niger River. The National Museum is worth a visit, mostly for the impressive artisans collective which produces high-quality goods for fair but surprisingly non-negotiable prices. The country's top attraction is W National Park, a UNESCO World Heritage Site home to abundant wildlife. Koure, southeast of Niamey, is famous for its herd of giraffe, supposedly the last wild herd in West Africa. Other sites worth visiting are the old trading centres of Agadez, with its vibrant Touareg culture, and Zinder, with its maze-like old town and interesting Sultan's Palace.
Niger was a former French colony, achieving independence in 1960. It suffers from periodic droughts, widespread corruption and poorly developed human capital, all of which combine to make it one of the poorest countries in the world. Niger also has the distinction of having one of the highest fertility rates in the world (7.2 births per woman) as well as one of the highest infant mortality rates. Travel can be arduous as the roads are mostly unpaved and potholed, and banditry is common enough for a nighttime curfew to be imposed for cars. It is also astoundingly hot. Apart from aid workers and businessmen the only visitors Niger usually sees are intrepid backpackers and adventurers. Those that do take the trouble to visit report meeting some of Africa's most friendly and interesting people.
Communications
The international dialling code for Niger is 227. Due to poor line quality and limited access, landlines in Niger are unreliable and service is generally better with one of the mobile phone operators; there are multiple cellular service providers in urban areas. Internet use is gradually increasing and internet cafes can be found in Niamey and other large cities; some hotels also provide internet access.
Emergencies
17 (Police)
Languages Spoken
French is the official language of Niger and is widely spoken.
Duty Free
Visitors to Niger aged 18 and older may import the following goods duty-free: 200 cigarettes/100 cigarillos/25 cigars/250g tobacco, one bottle of wine and one bottle of spirits, 0.5 litres eau de toilette and 0.25 litres perfume.
Electricity
Electrical current is 220 and 240 volts, 50Hz. Two-pinned plugs with round pins are standard.
Climate Info
Niger is sometimes called the 'frying pan of the world' and the extreme heat and aridity is discouraging for many travellers. Between March and June temperatures can rise above 113°F (45°C). This kind of heat makes desert travel unbearable for much of the year. The average maximum temperatures in Niger range between 87°F and 105°F (31°C and 41°C). However, the nights are generally cool or even cold, with temperatures dropping below 68°F (20°C) in summer and in winter, temperatures can drop below 10°C (50°F) in central and north-eastern parts of the country. Niger's terrain is predominantly desert plains and sand dunes, but the extreme south of the country, on the edge of the Niger River Basin, is more lush with a tropical climate. Rain is very rare in the desert region but rainfall increases in the south, which has a brief rainy season between late May and September (with most rain falling in July and August).
The best time to visit Niger is between December and February, which is the coolest and driest period in the country. Travellers should be sure to take appropriate measures to protect themselves from the heat and sun, and must stay well-hydrated at all times.
Passport
All visitors must have a valid passport. It is highly recommended that passports have at least six months validity remaining after your intended date of departure from your travel destination. Immigration officials often apply different rules to those stated by travel agents and official sources.
Entry Requirements
Valid passport with visa required for all US citizens.
Valid passport with visa required for all UK nationals.
Valid passport with visa required for all Canadian citizens.
Valid passport with visa required for all Australian citizens.
Valid passport with visa required for all South African citizens.
Valid passport with visa required for all Irish nationals.
Valid passport with visa required for all New Zealand nationals.
Health
Malaria prophylaxis is recommended for all travellers in all areas of Niger and a yellow fever vaccination is required for all travellers arriving from countries with a risk of yellow fever transmission, and is recommended for all travel to Niger. A meningococcus vaccination is recommended for travel during the dry season, between November and June. Routine vaccinations and updates for hepatitis A, hepatitis B, varicella, polio, MMR (measles, mumps, rubella), tetanus-diphtheria and typhoid are recommended. Those travellers who may be at risk of animal bites or may be coming into contact with bats should consider a rabies vaccination.
Medical facilities are extremely limited in Niger and travellers should ensure that they have comprehensive travel and health insurance. Bring medications in its original packaging, accompanied by a signed and dated letter from a doctor detailing what each medicine is and why it is required; carry a bag of essential medical supplies as well.
Never drink tap water in Niger unless it has been boiled, filtered or chemically disinfected. Travellers should be wary of food from street vendors, and should only eat cooked meals while they are still hot. Raw or undercooked meat and fish should not be eaten and fruit and vegetables should be cooked or peeled.
Safety
Niger is not currently considered safe for touristic travel and most travel authorities warn against travel to the country due to the high threat of terrorism, including kidnapping, and the high crime rate. The UK Foreign Office advises against all travel outside of the capital, Niamey and, even then, that's only for essential travel. The US Department of State similarly warns that travel in Niger is risky. Terrorist groups in the region have grown increasingly bold and there have been large-scale attacks on civilian and government targets, as well as recent kidnappings of foreigners. Official roadblocks are common, especially in and around Niamey, and must be respected. Local authorities may not permit foreigners to travel to certain areas.
The crime rate is high, particularly in Niamey, with robbery and residential break-ins the most common criminal activity. Petty, opportunistic crimes like bag-snatching are common day and night in urban areas and armed attacks are not unusual. Banditry is a problem and road travel in remote areas should never be undertaken at night. When driving in urban areas cars should be kept locked, with windows wound up. Precautions must be taken to ensure personal safety and to protect possessions like passports, jewellery and mobile phones. Foreigners may also experience bribery attempts and extortion by law enforcement authorities in Niger, and should be aware of scams.
Emergency Phone Number
17 (Police)
* For current safety alerts, please visit
Foreign travel advice - GOV.UK
or
Travel.State.Gov
Money
The West African CFA Franc (XOF) is the currency of Niger. Cash is king as credit cards are very seldom accepted and there are very few ATMs. Euros are the best foreign currency to carry, but US dollars are also easy to exchange.
Exchange Rate
Not available.
Embassies of Niger
Niger Embassy, Washington DC: (+202) 483 4224
Niger Embassy, London: (+44) 0207 328 8180
Niger Embassy, Pretoria: (+27) 012 430 2402; (+27) 012 430 2337
Foreign Embassies in Niger
US Embassy, Niamey: (+227) 20 73 31 69; (+227) 20 72 39 41
British Embassy, Bamako, Mali (consular assistance for Niger): (+223) 2021 3412
Canadian Embassy in Bamako, Mali (consular assistance for Niger): (+223) 44 98 04 50
Australian High Commission, Abuja, Nigeria (consular assistance for Niger): (+234 9) 461 2780
South African Embassy, Niamey: (+227) 2072 6083
Irish Embassy, Abuja, Nigeria (consular assistance for Niger): (+234) 9 4620611
Customers
Social etiquette and customs in Niger are, perhaps, a little two-sided - in the cities, the country's French influence predominates; while in the more rural areas, Muslim values prevail. However, even in the city, modesty in dress is essential and there have been assaults on women (mistaken for locals) who were deemed to be inappropriately dressed; make sure to be neat and to always cover the elbows and knees, and refrain from boisterous public behaviour, or overt public affection (especially for same-sex couples; LGBTI rights are not protected). Greetings are important in Niger: be friendly, inquire after the person's health and refrain from contact with the opposite sex unless it is initiated from the local party. Note that people do drink in Niger, even Muslims, but exercise caution and sensitivity in this regard. In some areas, it is frowned upon for a woman to smoke in public. Always ask permission before taking someone's picture, and do not photograph military personnel or installations, airports, embassies or any government institutions. Always use your right hand when greeting, eating, or accepting gifts, as the left hand is considered unclean.
Business
Niger's economy is predominantly agricultural, with about 90 percent of the country's workforce engaged in farming, largely of a subsistence type; but there is also a growing interest in mineral resources in the region. Doing business in Niger is complicated by the lack of security and infrastructure, as well as by poverty and crime. Business etiquette is formal and dress is conservative and often traditional. Women in particular should ensure that they dress conservatively and should consider a head covering. Most offices operate from 8am to 4.30pm from Monday to Friday, and 8am to 12pm on Saturday.
Tipping
Tipping is appreciated in Niger and, while a service charge is generally added to restaurant bills, extra tips are still appreciated. Taxi drivers, tour guides, barmen and porters all take tips; a 10 percent tip is customary.
Public Holidays in Niger
| | | |
| --- | --- | --- |
| | 2017 | 2018 |
| Birth of the Prophet | 1 Dec | 21 Nov |
| Muharram (Islamic New Year) | 22 Sep | 12 Sep |
| Lailatoul-Quadr (Night of Power) | 21 Jun | 10 Jun |
| New Years Day | 1 Jan | 1 Jan |
| Easter Monday | 17 Apr | 2 Apr |
| Concord Day | 24 Apr | 24 Apr |
| Labour Day | 1 May | 1 May |
| Eid al-Fitr (End of Ramadan) | 26 Jun | 15 Jun |
| Independence Day | 3 Aug | 3 Aug |
| Tabaski (Feast of the Sacrifice) | 2 Sep | 22 Aug |
| Republic Day | 18 Dec | 18 Dec |
| Christmas Day | 25 Dec | 25 Dec |
Travel Guide powered by www.wordtravels.com, copyright © Globe Media Ltd. All rights reserved. By its very nature much of the information in this guide is subject to change at short notice and travellers are urged to verify information on which they're relying with the relevant authorities. Globe Media and UNIGLOBE Travel does not accept any responsibility for any loss or inconvenience to any person as a result of information contained above.