General
Money
Entry Requirements
Health & safety
Weather
Embassies
Etiquette
Public Holidays
Attractions
Map
---
Introduction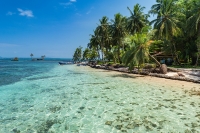 Insel Zapatilla, Panama ©dronepicr
Covering a land-bridge which links North and South America, the Republic of Panama is best known for its 40-mile (65km) shipping canal, which is cut along a gap between mountains, linking the Caribbean Sea to the Pacific Ocean. The country is largely unexplored by tourists; only a few hardy adventurers, researchers, and spirited travellers have had the joy of discovering its amazing diversity of flora and fauna, secluded beaches, tropical beauty and historic treasures. The name Panama means 'abundance of fish and butterflies', in an indigenous language, which gives a good indication of the wild wonders to be found here beyond the fascinating capital, Panama City.
Panama has a significant history stretching back thousands of years, from its eight indigenous peoples (including the colourful Kunas of the San Blas Islands) to its turbulent colonial occupation. Spanish forts still stand guard on the coastline, overlooking the blue waters once patrolled by famous pirates like Henry Morgan. Despite some cultural interest, however, it is the natural beauty of the isthmus that offers the most for visitors. Around 30 percent of Panama is made up of 15 national parks and forest reserves, and 10 wildlife sanctuaries, like the incredible Parque Nacional Darién, just a short drive from Panama City, which is arguably the most magnificent wilderness area in Central America. Archipelagos of about 1,500 offshore islands, their white soft beaches lapped by crystal clear waters, sport virgin rainforest and are an untouched paradise for diving, snorkelling, deep-sea fishing, water sports and sunbathing.
Those 'in the know' can be forgiven for keeping the delights of Panama a secret from the flood of modern tourism, because this has preserved the beauty and atmosphere of this overlooked part of the world where the sun nearly always shines and it is possible to swim in two oceans in a single morning.
Communications
The international access code for Panama is +507. Coin and card-operated public telephones are available, cards being sold at stores and vending machines. Cell phone providers offer GSM and 3G networks, and there are roaming agreements with most international mobile operaters. There are several internet service providers in Panama and internet cafes are widely available in Panama City.
Emergencies
104 (Police); 103 (Ambulance).
Languages Spoken
The official language is Spanish. However, many Panamanians speak both Spanish and English.
Duty Free
The following items may be brought into Panama duty free: 250 cigarettes (10 packs) or 250g of tobacco, five bottles of alcohol, and goods up to the value of PAB 2,000. Fruit, vegetables and animal products are prohibited.
Electricity
Electrical current is 120 volts, 60Hz. Flat two-pin plugs are the norm.
Climate Info
Panama has a tropical climate, with temperatures staying constant all year round, ranging from averages of around 90°F (32°C) during the daytime to averages of about 70°F (21°C) after the sun sets. Humidity is generally high, especially during the rainy season, which is between mid-March and November. During the wet season rain comes almost daily, usually in the form of heavy but brief afternoon downpours. The best time to travel to Panama is in the dry season between December and mid-March.
Passport
Travellers to Panama require a passport valid for at least three months after arrival, return or onward tickets, all necessary documents for next destination and sufficient funds. Tourist Cards can be purchased on arrival for a fee of USD 5, they are valid for 30 days but extensions are possible. Be aware that it can take as long as 30 days to obtain a visa, if it is required. Panamanian entry requirements change frequently so it is wise to check with your nearest embassy or consulate before travelling to Panama. It is highly recommended that passports have at least six months validity remaining after your intended date of departure from your travel destination. Immigration officials often apply different rules to those stated by travel agents and official sources.
Entry Requirements
United States citizens require a passport valid for three months beyond arrival date. A visa is not required for touristic stays of up to 180 days.
A passport valid for three months beyond arrival date is required. United Kingdom nationals do not require a visa for touristic stays of up to 180 days.
Canadian citizens require a passport valid for three months beyond arrival date. A visa is not required for touristic stays of up to 180 days.
Australian citizens require a passport valid for three months beyond arrival date. A visa is not required for touristic stays of up to 180 days.
A passport valid for three months beyond arrival date is required. South African citizens do not require a visa for touristic stays of up to 180 days.
Irish citizens require a passport valid for three months beyond arrival date. A visa is not required for touristic stays of up to 180 days.
New Zealand citizens require a passport valid for three months beyond arrival date. A visa is not required for touristic stays of up to 180 days.
Health
Malaria is a concern in parts of Panama and travellers are advised to take malaria medication if visiting provinces east of the Panama Canal. Vaccinations are recommended for hepatitis A, hepatitis B and typhoid and travellers should be up to date on vaccinations for MMR (measles, mumps, rubella) and tetanus-diphtheria. Yellow fever vaccinations are required for travellers arriving from infected areas and are recommended for visits to areas of mainland Panama east of the Canal Zone.
Tap water should not be drunk in Panama unless it has been boiled, filtered or chemically disinfected, and caution should be exercised with street food.
Medical facilities are good in Panama City, but very limited outside of the capital. Comprehensive medical insurance is recommended and all required medication should be taken along, in its original packaging, accompanied by a signed and dated letter from a doctor detailing what it is and why it is needed.
Safety
Most visits to Panama are trouble-free. Visitors should, however, be aware that there is a risk of street crime in Panama City and it is unwise to carry large sums of cash or valuables in public. Visitors should be vigilant using ATM cash machines in public places and beware of pickpockets and muggers in the main city shopping and tourist areas. There have been incidents of assault involving taxi drivers and armed hold-ups in restaurants. Use only registered taxi companies and phone for a cab rather than hailing one in the street. Do not allow the taxi to pick up additional passengers and do not share a taxi with unknown passengers. Burglaries have recently been committed by organised gangs who use ruses to gain entry to properties, so be cautious. Travel to Darien province only by air with an organized group to recognised tourist destinations protected by the Panamanian police. Travellers are advised to avoid the border area with Colombia, as this is particularly dangerous. Avoid political demonstrations in Panama City, usually centred on Panama University and the main road known as the Transisthmica.
Emergency Phone Number
104 (Police); 103 (Ambulance).
* For current safety alerts, please visit
Foreign travel advice - GOV.UK
or
Travel.State.Gov
Money
The official currency is the Panamanian Balboa (PAB), equal to 100 centesimos, but the US Dollar is accepted everywhere. Balboa are available only in coin denominations. The only paper currency used is US dollars. It is easy to exchange currency in Panama at banks, exchange shops, hotels and the airport. Avoid the black market. The best rates are offered at the larger banks. Old, creased and dirty foreign notes may be refused for exchange. Most major credit cards, American Express, Visa, MasterCard and Diners club, are widely accepted. There are numerous ATMs in Panama City.
Exchange Rate
Not available.
Embassies of Panama
Embassy of Panama, Washington DC, United States: +1 202 483 1407.
Consulate General of Panama, London, United Kingdom: +44 (0) 207 409 2255.
Embassy of Panama, Ottawa, Canada: +1 613 236 7177.
Consulate General of Panama, Sydney +61 (02) 9150 8409.
Embassy of Panama, Pretoria, South Africa: +27 (0)12 346 7034.
Consulate of Panama, Auckland, New Zealand: +64 (0)9 379 8550.
Foreign Embassies in Panama
United States Embassy, Panama City: +507 317 5000.
British Embassy, Panama City: +507 297 6550.
Canadian Embassy, Panama City: +507 294 2500.
Australian Embassy, Mexico City, Mexico (also responsible for Panama): +52 (01)55 1101 2200.
South African Honorary Consulate, Panama City: +507 302 2750.
Honorary Consul of Ireland, Panama City: +507 264 6633.
Customers
A midday siesta is practised in many South American countries, including Panama, due to the heat. Tourists in Panama will find that shops and businesses are often closed during these lunchtime hours and should conduct their daily business either before or after siesta. The penaties for using of dealing drugs in Panama are strict, with possession of even very small quantities punishable by up to 15 years of imprisonment.
Business
Business in Panama is formal. Handshakes are appropriate with men on meeting and departing, but not usually with women. Use of titles is very important to Panamanians, as is punctuality. Many Panamanians take an afternoon siesta, therefore business entertaining often takes place over dinner instead of lunch. Many Panamanian business people prefer to host visitors to dinner at home, where they will be treated as VIPs and given a gift. The appropriate reciprocation is to invite the host to dinner in return. Dress for business is fairly formal despite the climate; men wear lightweight suits and ties and women wear lightweight dresses and suits. Office opening hours vary but generally businesses are open from 8am to 12pm, then 2pm to 5pm or 6pm on weekdays, and 9am to 12pm on Saturdays.
Tipping
Although a 10 percent service charge is added to most hotel bills, individual staff appreciate a gratuity appropriate to services rendered. Restaurant waiters expect a tip of 10 to 15 percent if a service charge is not included. Taxi drivers do not expect tips but fares are often rounded up.
Public Holidays in Panama
| | | |
| --- | --- | --- |
| | 2017 | 2018 |
| New Years Day | 1 Jan | 1 Jan |
| Martyrs Day | 9 Jan | 9 Jan |
| Carnival Tuesday | 28 Feb | 13 Feb |
| Good Friday | 14 Apr | 30 Mar |
| Labour Day | 1 May | 1 May |
| Independence from Columbia Day | 3 Nov | 3 Nov |
| Colón Day | 5 Nov | 5 Nov |
| The Uprising of Los Santos | 10 Nov | 10 Nov |
| Independence Day | 28 Nov | 28 Nov |
| Mothers Day | 8 Dec | 8 Dec |
| Christmas Day | 25 Dec | 25 Dec |
Travel Guide powered by www.wordtravels.com, copyright © Globe Media Ltd. All rights reserved. By its very nature much of the information in this guide is subject to change at short notice and travellers are urged to verify information on which they're relying with the relevant authorities. Globe Media and UNIGLOBE Travel does not accept any responsibility for any loss or inconvenience to any person as a result of information contained above.