General
Money
Entry Requirements
Health & safety
Weather
Embassies
Etiquette
Public Holidays
Attractions
Map
---
Introduction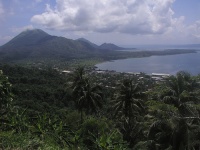 Papua New Guinea landscape ©Nickaroundtheworld
To say Papua New Guinea (PNG) is remote would understate its degree of isolation. The country stretches across half of the mountainous island of New Guinea, which it shares with Indonesia, incorporating jungle lowlands and dozens of smaller islands. Papua New Guinea is a challenging travel destination due to the almost complete lack of transport infrastructure, but of course the difficulty of exploring the territory has ensured the country remains one of the most mysterious and culturally authentic in the world, making it irresistible to adventurous travellers.
Hundreds of different cultures are evident in a relatively small amount of land in PNG. Due to the drastic isolation some mountain communities have only recently discovered neighbouring tribes, despite living in close proximity for thousands of years. Some communities may still have had no contact with the outside world. Even Port Moresby, PNG's capital and largest city, has no major roads connecting it to other towns. Inaccessibility has allowed tribal culture to thrive undisturbed by the modern world; Papua New Guinea is home to more than 800 languages and a multitude of diverse customs and cultures. The best region to experience tribal culture in Papua New Guinea is in the Highlands, but these mountainous areas can only be explored on foot, remaining inaccessible to all but the most intrepid of visitors.
With almost no connecting paved roads, air travel is mandatory for getting around the country, even though there are also only a handful of paved runways. Planes flying over the jungle were once worshiped by 'cargo cults' in Papua New Guinea, especially during World War II, when locals would watch mesmerised at new airport runways as 'spirits' descended from the heavens. The safety record of airlines in PNG is patchy and travellers wanting to avoid prematurely turning into spirits themselves should review recent airline safety information.
It makes sense that the main attraction of the country for tourists is a hiking trail, the famous Kokoda Track, a 60-mile (96km) trek especially popular with Australian tourists. The region it covers saw intense fighting between Japanese and Australian forces during World War II, giving the trail historic relevance, but it also traverses through beautiful, pristine jungle and allows travellers to experience some of the country's famous biodiversity.
For those up for the challenge, July through August is the best time to visit Papua New Guinea for hiking. Surfers wanting to experience the uncrowded breaks of Papua New Guinea should visit the northern beaches between November and April, and the southern beaches between June and September.
Languages Spoken
More than 800 languages are recognised in PNG. The official languages are Tok Pisin (the most widely spoken), English, Hiri Motu and Papua New Guinean Sign Language.
Duty Free
Visitors to Papua New Guinea age 18 and older may import 260 cigarettes/250g cigars or tobacco, one litre of alcohol, and a reasonable quantity of perfume for personal use. Uncanned foodstuffs and animal products from countries other than Australia and New Zealand, and pig meat from New Zealand are prohibited.
Electricity
Electrical current is 220 - 240 volts, 50Hz. Plug points are the same as in Australia, with three rectangular pins.
Passport
All visitors require a passport and/or passport replacing document valid for six months past date of arrival. Visitors must hold sufficient funds to cover their stay, and return or onward tickets.
Entry Requirements
US nationals require a passport valid for six months beyond arrival date. Visa required - issued on arrival for a maximum stay of 60 days. Visas can only be issued on arrival at the international airports in Port Moresby and Rabaul. Passengers must hold return or onward tickets to qualify for visas. It is recommended to obtain a visa prior to arrival.
Australians require a passport valid for six months beyond arrival date, and a visa. Those carrying APEC Business Travel Cards endorsed for travel to Papua New Guinea do not require a visa for a max stay of 60 days.
A passport valid for six months beyond arrival date is required. Visa required.
Health
Protection from insect bites is essential, with malaria prophylaxis recommended in all areas of Papua New Guinea below 5,906 feet (1,800m). A yellow fever vaccination is required for travellers arriving from infected areas. Vaccinations are recommended for all travellers for hepatitis A, hepatitis B and typhoid. Travellers spending time in rural areas should also consider a vaccination for Japanese encephalitis.
Medical facilities in Papua New Guinea are limited. Travellers should ensure they have comprehensive travel and health insurance and bring along all required medication.
* For current safety alerts, please visit
Foreign travel advice - GOV.UK
or
Travel.State.Gov
Exchange Rate
Not available.
Embassies of Papua New Guinea
Foreign Embassies in Papua New Guinea
Customers
Both male and female visitors to Papua New Guinea should avoid revealing clothing, and make sure to save their bathing costumes for the beach. Women should try to make sure that their thighs are covered at all times, and couples should bear in mind that public displays of affection are frowned upon. Papua New Guineans are friendly and usually keen to engage with foreigners; in fact, it is considered rude not to stop and chat to people that greet you on the street. Don't step over food, if it is being prepared or served on the ground. Note that homosexual acts are illegal in Papua New Guinea.
Public Holidays in Papua New Guinea
Travel Guide powered by www.wordtravels.com, copyright © Globe Media Ltd. All rights reserved. By its very nature much of the information in this guide is subject to change at short notice and travellers are urged to verify information on which they're relying with the relevant authorities. Globe Media and UNIGLOBE Travel does not accept any responsibility for any loss or inconvenience to any person as a result of information contained above.