General
Money
Entry Requirements
Health & safety
Weather
Embassies
Etiquette
Public Holidays
Attractions
Map
---
Introduction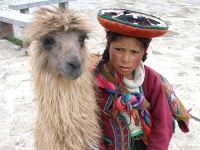 A girl and her llama in Peru ©Thomas Quine
Peru is a large country on the Pacific coast of South America, encompassing a desert coastline, tropical rainforest, and soaring mountains, each with distinct environments. These dramatic landscapes offer an exceptional opportunity for travellers to experience a variety of adventures, an abundance of wildlife, a rich history and archaeological heritage, and the vivacious character of durable native cultures, all within one nation.
Fishing villages, fine beaches, agricultural lands, and Peru's major towns and cities, including the capital of Lima, are interspersed along the narrow belt of desert coastline that stretches the length of the country. The lush Amazon Basin takes up half of Peru and is an ecologically rich area of tropical rainforest that encompasses some of the world's most remote and least explored areas, sparsely populated and for the most part, inaccessible. Separating the coastal desert from the jungle is the splendid Andes mountain range, an endless chain of soaring peaks over 22,000 feet (7,000m) high, and home to millions of indigenous highland people, speaking the ancient Inca language of Quechua, and living in traditional villages with steeply terraced agricultural fields, with their wandering herds of llamas and alpacas.
An interesting history of ancient civilisations, tales of lost cities, undiscovered treasures, and unsolved mysteries make Peru one of the most exciting countries in the world. Travellers can marvel at the sophistication of pre-Colombian cultures and explore the many legacies left by the Inca Empire, particularly the ancient Inca capital of Cuzco. Hiking along the legendary royal Inca highway brings visitors to the awesome, majestic 'Lost City of the Incas', Machu Picchu. Boats transport tourists to the unique floating islands and the traditional world of the island people on Lake Titicaca. Travellers can wander around splendid colonial cities that have preserved their Spanish architecture, look into the depths of the world's deepest canyon, and contemplate the intriguing mystery of the Nazca Lines.
Peru, 'Land of the Incas', offers a stimulating and rewarding travel experience and is one of the most diverse and exhilarating of the South American destinations.
Communications
The international access code for Peru is +51. Mobile phone operators offer GSM and 3G networks with coverage limited to major towns and cities; there are roaming agreements with most international operaters. Peru is well connected to the internet with a proliferation of inexpensive internet kiosks (cabinas públicas) available in most towns and cities.
Emergencies
Emergencies: 105 (Police); 117 (Ambulance).
Languages Spoken
Spanish is official language. In areas where they are predominant, Quechua, Aymara and other aboriginal languages also have official status. English is spoken only in major tourist centres and hotels.
Duty Free
Travellers to Peru over 18 years old do not have to pay duty on 400 cigarettes, 50 cigars or 250g of tobacco; 3 litres of alcoholic beverages; and gifts to the value of US$500. Items such as sausages, salami, ham and cheese may only be brought in if accompanied by an original sanitary certificate. The import of ham from Italy and Portugal is prohibited. The export of cultural or artistic items from the country is not permitted.
Electricity
Electrical current is 220 volts, 60Hz (Arequipa 50Hz). Two-pronged plugs with flat blades as well as plugs with two round prongs are in use.
Climate Info
The climate of Peru is very diverse, with three climate zones.
The coast of Peru has a peculiar climate. It is a desert landscape, caused by the cold Humboldt current, which prevents cloud formation over the land. In Lima, it is generally sunny and humid with next to no rainfall, but from April to November there is a heavy sea mist. The northern coast has hot, sunny summers, with very occasional rain showers; the coast gets less arid further north as the effect of the Humboldt current decreases.
The Andes region is cool, with a wet season running from October to April, and a dry season from May to September. During the dry season the days in the highlands are clear and sunny but it's very cold at night, especially at altitude.
The forested region of the Amzon Basin has an equatorial climate with hot weather and frequent rain throughout the year.
The peak tourist season in Peru is from May to October, and particularly July and August. Winter, from June to September, is the best time for the Inca Trail due to the wonderful visibility of the clear, sunny days; and this is also a good time to visit the jungle basin, as there are fewer mosquitoes.
Passport
All travellers require return or onward tickets, all documents required for onward travel and proof of funds. If travelling for business purposes, a visa is required. Visas cannot be obtained on arrival. It is highly recommended that passports have at least six months validity remaining after your intended date of departure from your travel destination. Immigration officials often apply different rules to those stated by travel agents and official sources.
Entry Requirements
US nationals do not require a visa for touristic stays of up to 183 days. A valid passport is needed.
British nationals do not require a visa for touristic stays of up to 183 days. A valid passport is needed.
Canadian nationals do not require a visa for touristic stays of up to 183 days. A valid passport is needed.
Australian nationals do not require a visa for touristic stays of up to 183 days. Holders of APEC Business Travel Cards validated for travel to Peru do not require visas for stays of up to three months. A valid passport is required.
South African nationals do not require a visa for touristic stays of up to 183 days. A valid passport is required.
Irish nationals do not require a visa for touristic stays of up to 183 days. A valid passport is needed.
New Zealand nationals do not require a visa for touristic stays of up to 183 days. Holders of APEC Business Travel Cards validated for travel to Peru do not require visas for stays of up to three months. A valid passport is required.
Health
There are several health issues to consider for travel to Peru. Those entering the country from an infected area require a yellow fever certificate, and outbreaks of yellow fever do occur; vaccination is recommended for some regions but is not necessary for Lima, Cuzco, or Machu Picchu. No other vaccinations are officially required but visitors are advised to take precautions, especially if planning to travel to jungle regions. Immunisation against typhoid is sensible. Malaria is a risk all year round in the lowland areas, except for Lima and the coastal regions to the south, and dengue fever is on the increase. Vaccinations for hepatitis A and hepatitis B are recommended. There have been a number of incidents of rabies transmitted by bites from bats in the Madre de Dios and Puno provinces, and near the border with Ecuador; visitors are advised to have a course of rabies injections and not to sleep in the open if spending time in this area. The most common ailments for travellers are diarrhoea and altitude sickness. Drink only bottled water, avoid drinks with ice, and be wary of food bought from street vendors. Health care is good in the major cities (better at private clinics than at public hospitals) but is expensive; health insurance is essential. Screening for HIV is inadequate and visitors should avoid blood transfusions.
Zika is a risk in Peru. Infection in a pregnant woman can cause serious birth defects, and women who are pregnant should not travel to Peru.
Safety
Safety in Peru is improving. Thieves are the biggest problem: be especially cautious in crowded areas, on public transport, in bus and train stations, and in the centre of Lima at night. Special care should be taken in the cities of Lima and Cuzco against street crime and violent crime. There have been attacks on foreigners trekking in the Huayhuash region near Huaraz and trekkers should be cautious and seek advice before setting out. Thieves and muggers also operate in Huaraz and Arequipa.
Women should take particular care to only take taxis that have been pre-booked by a hotel or official company, and travellers arriving at Lima International Airport should be wary of thieves posing as taxi drivers or tour operators. There has been an increase in the number of crimes associated with taxis in the main cities.
Visitors should avoid all political gatherings and demonstrations as these have the potential for violence. Most visits to Peru are trouble-free and the usual sensible precautions should be enough to keep travellers safe.
Emergency Phone Number
Emergencies: 105 (Police); 117 (Ambulance).
* For current safety alerts, please visit
Foreign travel advice - GOV.UK
or
Travel.State.Gov
Money
The official currency is Nuevo Sol (PEN), divided into 100 céntimos. Visa is the most widely accepted credit card, but all major international credit cards are accepted in many, but not all, establishments. Outside of big cities facilities may be more limited. US Dollars are the easiest currency to exchange and plenty of restaurants, hotels, and shops in the main cities accept dollars for payment. Casas de cambio (exchange bureaux) often give better rates than hotels and banks and can be found in any town on the tourist circuit. ATMs are available in the main cities.
Exchange Rate
Not available.
Embassies of Peru
Peruvian Embassy, Washington DC, United States: +1 202 833 9860.
Peruvian Embassy, London, United Kingdom (also responsible for Ireland): +44 (0)20 7235 1917.
Peruvian Embassy, Ottawa, Canada: +1 613 238 1777.
Peruvian Embassy, Canberra, Australia: +61 2 6273 7351.
Peruvian Embassy, Pretoria, South Africa: +27 12 440 1030.
Peruvian Consulate, Dublin, Ireland: +353 86 241 7649.
Peruvian Embassy, Wellington, New Zealand: +64 4 499 8087.
Foreign Embassies in Peru
United States Embassy, Lima: +51 1 618 2000.
British Embassy, Lima: +51 1 617 3000.
Canadian Embassy, Lima: +51 1 319 3200.
Australian Embassy, Lima: +51 1 630 0500.
South African Embassy, Lima: +51 1 612 4848.
Irish Honorary Consulate, Lima, Peru: +51 1 222 5252.
New Zealand Embassy in Chile (also responsible for Peru): +56 2 2616 3000.
Customers
Do not take photographs of anything to do with the military. Many locals will ask for a tip in return for being the subject of a photograph: in some places, this is people's primary source of income. Homosexuality, although legal, is frowned upon: outside gay clubs, it is advisable to keep a low profile. Visitors should avoid wearing any native Indian clothing as this will be seen as insulting, regardless of intention.
Business
Business in Peru centres on the capital, Lima. Business is usually conducted in a formal and somewhat conservative manner, and it is worth noting that a business visa is needed from a local Peruvian Consulate. Dress should be formal, with suits and ties the norm. Titles and surnames are usually used upon greeting, and handshakes are standard for men and women. Business cards are usually exchanged and it is useful to have them printed in Spanish on one side. Although English is fairly common, it will be an advantage to have business materials translated into Spanish; an effort to speak Spanish will be well received. Women may encounter sexism. Punctuality is important, although meetings are not likely to begin on time. Business hours can vary but are usually from 9am to 6pm Monday to Friday. Some businesses close for siesta from 1pm to 3pm.
Tipping
Most restaurants add a service charge of 10 percent, which will be indicated by the words or near the bottom of the bill. Even if a service charge has been added the waiter can be offered an additional 10 percent for exceptional service; this is also the going rate for tipping where a service charge has not been added. In hotels porters expect about US$1 per bag. Taxi drivers are not tipped (the fare should be set before departure). Tour guides are customarily tipped.
Public Holidays in Peru
| | | |
| --- | --- | --- |
| | 2017 | 2018 |
| New Years Day | 1 Jan | 1 Jan |
| Good Friday | 14 Apr | 30 Mar |
| Maundy Thursday | 13 Apr | 29 Mar |
| Labour Day | 1 May | 1 May |
| St Peter & St Pauls Day | 29 Jun | 29 Jun |
| Independence Day | 28 Jul | 28 Jul |
| Santa Rosa Day | 30 Aug | 30 Aug |
| Battle of Angamos Day | 8 Oct | 8 Oct |
| All Saints Day | 1 Nov | 1 Nov |
| Immaculate Conception | 8 Dec | 8 Dec |
| Christmas Day | 25 Dec | 25 Dec |
Overview
If there's one place in South America brimming with fascinating and awe-inspiring attractions, it's Peru. With wonders such as Macchu Pichu, the Colca Canyon, the mysterious Nazca lines, the Coricancha Inca Ruins and Pisco, it's no wonder Peru is one of South America's most popular tourist destinations. The country is a favourite with backpackers and budget travellers and it is possible to travel cheaply if necessary. However, Peru's most famous tourist activity, hiking the Inca Trail, is expensive and must be organised in advance as permits are required and very limited.
Cities like Lima, Cusco, and Arequipa are charming and atmospheric, if a little shabby, with lots of colour and run-down colonial buildings. Peru has an interesting and refreshingly unique cuisine and the restaurant scene in places like Lima is fun to investigate. Lima also has a vibrant nightlife and some decent museums.
Getting around Peru is fairly cheap and easy with plenty of internal flights operating on an almost daily basis and an affordable and reasonably reliable public transport system. It's advisable to fly between cities when possible or rent a car and explore all this mystical country has to offer, although long-haul bus trips are also an option. Travellers should ensure that they use reputable bus and taxi companies as the road safety record is not good in Peru and there have been incidents of robbery by fake taxi drivers.
Map of Peru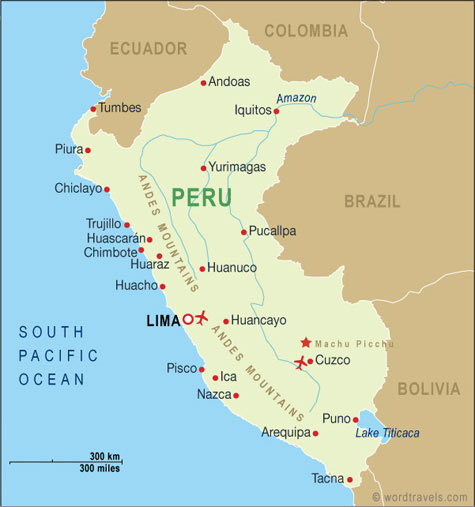 Travel Guide powered by www.wordtravels.com, copyright © Globe Media Ltd. All rights reserved. By its very nature much of the information in this guide is subject to change at short notice and travellers are urged to verify information on which they're relying with the relevant authorities. Globe Media and UNIGLOBE Travel does not accept any responsibility for any loss or inconvenience to any person as a result of information contained above.