General
Money
Entry Requirements
Health & safety
Weather
Embassies
Etiquette
Public Holidays
Attractions
Map
---
Introduction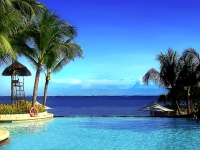 Shangri-la, Mactan ©bingbing
The Philippines archipelago, consisting of more than 7,000 islands, is sandwiched between Malaysia, Indonesia, Vietnam and Thailand, and flanked by the South China Sea. All her neighbours have well-known tourist appeal, but the Philippines, even though the sea is just as blue and clear and the myriad coral islands just as alluring, seems to have missed the boat when it comes to fully marketing its attractions. The Philippines is a magical travel destination which remains relatively undiscovered.
Bad press in recent years, after some high-profile terrorism and kidnapping incidents, has not helped matters. The country has also laboured under a turbulent political reputation and is still overcoming the effects of martial law. Its poor infrastructure, dilapidated roads and unsafe ferries, have also all played a role in deterring potential travellers and the country has been overlooked as an eco-tourist destination because of local disregard for its natural resources (such as fishermen dynamiting coral reefs). While resources are being channelled into education to prevent such practices a great deal of damage has already been done to the environment.
The good news is that Filipinos themselves are warm and welcoming, as underscored in the country's tagline 'where Asia wears a smile'. Apart from some beautiful, remote tropical islands and legendary scuba diving spots, the archipelago's best resource is the friendliness and laid-back attitude of the Filipino people. Their hospitable and embracing attitude is enough to put a smile on any visitor's face; and this is even more the case in the country's rural areas. The Philippines has some superb all-inclusive luxury resorts spread around the islands which cushion visitors from the general degradation and safety risks of the cities and towns, and a major plus is that the country is amazingly cheap for foreign tourists who have dollars, pounds or euros to spend. Also, the food is delicious, and English is widely spoken.
Independent travellers who like to wander off the beaten track, and do not mind doing without the conveniences of running water and the like, will find plenty to fascinate them in the countryside and coastal parts of the Philippines; albeit without the assistance of guide books. The Philippines is one of the few places left in the world where adventurers can wander through tribal lands, unfettered by modern interferences. Travellers are, however, advised to follow the current safety advice on areas to avoid.
Communications
The international access code for the Philippines is +63. Major towns, cities and popular tourist spots are covered by GSM 900 and 1800 mobile phone networks with limited 3G coverage; however, different networks have better coverage on certain islands so visitors are advised to choose a network best suited to their destinations. Internet cafés are available in major cities and tourist resorts. Wifi access is increasingly common, even on the islands, but travellers should be warned that it is mostly painfully slow.
Emergencies
Emergencies: 911 is the new national emergency number, along with 8888 for public complaints.
Languages Spoken
The official language of the Philippines is Filipino (a standard variant of the Tagalog language), but English is widely spoken. Tagalog is the most predominant of the many dialects or local languages spoken throughout the islands.
Duty Free
Travellers to the Philippines over 18 years of age do not have to pay duty on 400 cigarettes or 50 cigars or 250g tobacco; and 2 litres of alcoholic beverages.
Prohibited items include firearms or parts thereof, explosives and ammunition; printed material that contains subversive, obscene or pornographic content; drugs, gambling machines, lottery sweepstake tickets, or coin-operated video machines; gold, silver and other precious metals that do not have authentication of quality; non-identifiable brands of medicines or foodstuffs; coca leaves and any prohibited drugs, plants or parts thereof; as well as fruits and vegetables.
Electricity
Electrical current is 220 volts, 60Hz. Two-pin flat blade attachments and two-pin round plugs are used, with round two-pins being the most common.
Climate Info
The Philippines has a tropical climate which can be clearly divided into a rainy season and a dry season. The summer monsoon brings heavy rains to most of the country from May to October, and the winter monsoon brings cooler and drier air from December to February. The hottest time of year is April and May, although there is little variation in temperature all year round. Manila and most of the lowland areas are hot and dusty from March to May, when temperatures can rise to around 99°F (37°C).
However, there are variations in climate according to region; for instance, along the eastern seaboard the rainy season generally runs from December to March, and it is generally dry when the rest of the country is at its wettest. Average sea-level temperatures rarely drop below 80°F (27°C) so swimming is possible year-round providing the ocean is calm. Tropical storms and typhoons are possible between July and October.
The best time to visit the Philippines is between November and April; however, be warned that this is also the peak tourist season, and so accommodation and flight prices will be higher. The country is also particularly crowded during Easter. Travellers should also note that weather has become less predictable in the Philippines in recent years.
Passport
Everyone entering the Philippines must have a passport valid for at least six months beyond the date of arrival in the country. All visitors must have return or onward tickets, documents necessary for further travel, as well as sufficient funds. A visa is not required for a stay of up to 30 days provided these criterion are met. Extensions for visas are possible and should be made with the Bureau of Immigration. Visas may be issued on arrival for stays of up to 59 days for a fee of USD 50, and multiple extensions up to one year total are possible.
Entry Requirements
United States citizens must have a passport valid for six months after date of arrival. No visa is required for a stay of up to 30 days. Visas can be obtained on arrival for stays of up to 59 days.
British citizens must have a passport valid for six months after date of arrival. No visa is required for a stay of up to 30 days, unless passport is endorsed British National (Overseas) issued in Hong Kong, in which case no visa is required for a maximum stay of seven days. On arrival, a visa can be issued for up to 59 days.
Canadians must have a passport valid for six months after date of arrival. No visa is required for a stay of up to 30 days. On arrival, a visa can be issued for a stay of up to 59 days.
Australians must have a passport valid for six months after date of arrival. No visa is required for a stay of up to 30 days. On arrival, a visa can be issued for up to 59 days.
South Africans must have a passport valid for six months after date of arrival. No visa is required for a stay of up to 30 days. Visas can be obtained on arrival for stays of up to 59 days.
Irish citizens must have a passport valid for six months after date of arrival. No visa is required for a stay of up to 30 days. On arrival, a visa can be issued for up to 59 days.
New Zealand nationals must have a passport valid for six months after date of arrival. No visa is required for a stay of up to 30 days. On arrival, a visa can be issued for up to 59 days.
Health
No special vaccination certificates are required for the Philippines, except by travellers arriving from an area infected with yellow fever. Vaccinations are recommended for typhoid, hepatitis A, and hepatitis B. Those who will be spending more than a month in rural areas should consider a vaccination for Japanese encephalitis, and those who may be at risk of animal bites should consider a rabies vaccination.
There is a malaria risk in parts of the Philippines and visitors should seek medical advice before travelling; urban areas are generally considered risk-free. Dengue fever is a risk throughout the country; the best prevention is to avoid mosquito bites. Tap water is not safe to drink and ice in drinks should be avoided; cholera is a risk in the country and precautions are advised. Sea snakes can be highly venomous; travellers should be cautious in remote coastal waters, lakes and rivers, as anti-venom may not be readily available.
The Philippines is now also a risk area for contracting the Zika virus. As a result, pregnant women should avoid travel to the Philippines and travellers should take steps to avoide contact with the virus through sexual interaction and mosquito bites.
Medical care is good in Manila, although very expensive, while outside of the capital it can be difficult to receive adequate care. Comprehensive medical insurance is advised. Travellers should take along any prescription medication they require, in its original packaging, along with a signed and dated letter from a doctor detailing what the medication is and why it is needed.
Safety
Safety and security should be of paramount concern to any visitor to the Philippines. It is vital to be fully informed of threats and developments regarding crime, terrorism and kidnapping before and during visits to the islands. Vigilance is vital throughout the islands, particularly in Manila, as opportunistic crimes are motivated by circumstances of poverty. Extremist groups have a history of kidnapping foreign tourists, and terrorist bombings have occurred in Manila and Mindanao, targeting transport and public places.
The sourthern Philippines, constituting the Mindanao area, is now under martial law following clashes between armed forces and local terrorist groups affiliated with ISIS. Tourists should avoid all travel to the south and take care in the rest of the country by monitoring alerts and news, while keeping their country's embassy abreast of their whereabouts. There is also a high incidence of piracy and armed robbery against ships in and around Filipino waters (specifically in the southern islands), and risk of kidnappings at sea.
The area is prone to typhoons between July and November, when flooding and landslides can occur: Typhoon Fengshen in June 2008 resulted in flash floods, landslides and rough seas that caused hundreds of deaths.
Emergency Phone Number
Emergencies: 911 is the new national emergency number, along with 8888 for public complaints.
* For current safety alerts, please visit
Foreign travel advice - GOV.UK
or
Travel.State.Gov
Money
The currency of the Philippines is the Peso (PHP), which is divided into 100 centavos. Major credit cards are widely accepted in cities and tourist destinations. ATMs are available in the major cities and in main centres on some islands. US dollars are widely accepted in Manila and other tourist areas and are the easiest currency to exchange; otherwise euros and pounds sterling can also be exchanged in banks and hotels. Most bank in the Philippines are open from 9am to 5pm, Monday to Friday, but their ATMs are open 24 hours. It is best to carry pesos when travelling outside of major centres.
Exchange Rate
Not available.
Embassies of Philippines
Philippines Embassy, Washington DC, United States: +1 202 467 9300.
Philippines Embassy, London, United Kingdom (also responsible for Ireland): +44 20 7451 1780.
Philippines Embassy, Ottawa, Canada: +1 613 233 1121.
Philippines Embassy, Canberra, Australia: +61 2 6273 2535.
Philippines Embassy, Pretoria, South Africa: +27 12 460 6597.
Philippines Embassy, Wellington, New Zealand: +64 4 890 3741.
Foreign Embassies in Philippines
United States Embassy, Manila: +63 2 301 2000.
British Embassy, Manila: +63 2 858 2200.
Canadian Embassy, Manila: +63 2 857 9000.
Australian Embassy, Manila: +63 2 757 8100.
South African Embassy, Manila: + 63 2 889 9383.
Honorary Consul of Ireland, Manila: +63 2 896 4668.
New Zealand Embassy, Manila: +63 2 234 3800.
Customers
The concept of 'shame' is very important in Filipino culture and visitors should avoid offending or embarrassing anyone in public while visiting the Philippines. Failure to live up to accepted standards of behaviour brings shame not only on themselves, but also on their family. Any food or drink offered should be accepted, as this is a sign of hospitality.
Business
Third party introductions are useful when conducting business in the Philippines and face-to-face communication is key. Emphasis is placed on building good working relations and getting to know each other. Business is conducted formally, and although punctuality is important, meetings may not begin on time. Dress should be conservative: suits and ties are the norm, although many Filipino men wear a shirt known as a barong tagalog, which is a far cooler option in the humid environment. English is widely spoken in business circles and business hours are usually from 8am to 5pm, Monday to Friday.
Tipping
Tipping is expected for most services in the Philippines. The standard practice is 10 percent of the total bill, although in some cases it can be only PHP 20-50 . Tipping is optional on bills that already include a 10 percent service charge.
Public Holidays in Philippines
| | | |
| --- | --- | --- |
| | 2017 | 2018 |
| New Years Day | 1 Jan | 1 Jan |
| Day of Valour | 9 Apr | 9 Apr |
| Good Friday | 14 Apr | 30 Mar |
| Labour Day | 1 May | 1 May |
| Independence Day | 12 Jun | 12 Jun |
| Heroes Day | 28 Aug | 27 Aug |
| Bonifacio Day | 30 Nov | 30 Nov |
| Christmas Day | 25 Dec | 25 Dec |
| Rizal Day | 30 Dec | 30 Dec |
| Maundy Thursday | 13 Apr | 29 Mar |
| All Saints Day | 1 Nov | 1 Nov |
| New Years Eve | 31 Dec | 31 Dec |
| People Power Revolution | 25 Feb | 25 Feb |
Overview
The main attractions of the Philippines are its 7,107 beautiful islands, and for most travellers the remoteness of these destinations is part of the appeal. The capital city, Manila, is an easy place to start and the main entry-point for tourists. There are marvellous buildings and cathedrals such as Intramuros and San Augustin Church which stand as testament to the history of Spanish colonialism. The Nations Museum and the Malacanang Palace are great places to learn about the country's history. Manila is also the gateway to the famous Puerto Princesa Subterranean River National Park, and there are many delightful islands and regions to explore nearby, including the islands of Palawan and Corregidor, as well as the unspoilt Banue region.
From Cebu, another popular starting point, island attractions and beaches in the Visayas are a chartered flight or ferry away, but the city itself also offers plenty to see and do, including the important religious site of Basilica Minore de Santo Nino, or Fort San Pedro. For easily accessible island paradise, try Boracay and its beautiful, white sand beaches, while still enjoying international comforts.
The Philippines has much to offer tourists, but all travellers should ensure that they are well-informed about the current dangers of a holiday in the country including areas to avoid and safety precautions advised by travel experts.
Map of Philippines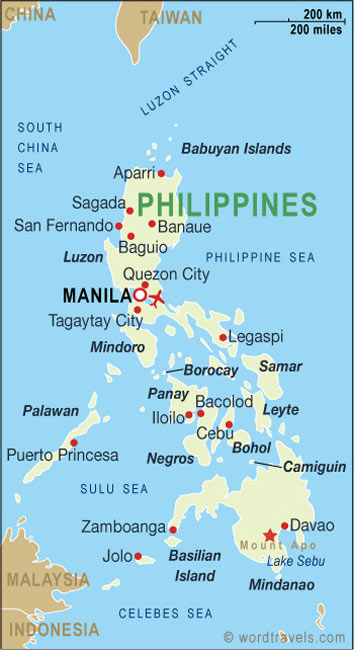 Travel Guide powered by www.wordtravels.com, copyright © Globe Media Ltd. All rights reserved. By its very nature much of the information in this guide is subject to change at short notice and travellers are urged to verify information on which they're relying with the relevant authorities. Globe Media and UNIGLOBE Travel does not accept any responsibility for any loss or inconvenience to any person as a result of information contained above.