General
Money
Entry Requirements
Health & safety
Weather
Embassies
Etiquette
Public Holidays
Attractions
Map
---
Introduction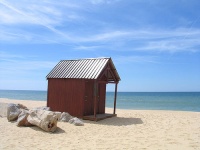 Beach House ©Osvaldo Gago
A sun-soaked land on the Iberian Peninsula with plenty to offer to both short- and long-term visitors, Portugal's greatest attraction is its gorgeous coastline. The southern region of the Algarve is a firm favourite, where an array of top-class beach resorts, once sleepy fishing villages, provide luxurious oceanside accommodation.
The region's fine, year-round climate and ease of access mean that it is a hugely popular winter sun vacation destination. Additionally, there are several low-cost European carriers that provide direct cheap flights to the Algarve. It also serves well as the perfect place for a weekend getaway when the daily grind of city life becomes too much. Seaside towns like Albufeira and Lagos are home to some of the best beach resorts in the Algarve, providing a heady mixture of sheltered beaches, outstanding natural scenery and high-quality lodgings.
There is far more to Portugal than its beaches, however. As anyone who has ever set foot in Lisbon's historic Alfama district, or travelled to the medieval town of Évora will tell you, the country is home to some breathtaking architecture and cultural treasures. Notable tourist sights in Lisbon include the Jerónimos Monastery and its Manueline architecture, the iconic Monument to the Discoveries, and the most-photographed building in all of Portugal, the Tower of Belém.
This geographically varied country also offers skiing opportunities at the Vodafone Ski Resort in the Serra Estrela Mountains. This craggy, forested mountain range is also a great area for walking and hiking trails, and is the place to go for those craving the pampering of a spa resort holiday in Portugal.
Communications
The international access code for Portugal is +351. The country is well-covered by local GSM mobile phone networks, with roaming agreements in place with most international operaters. Internet cafes are available in most towns and resorts.
Emergencies
Emergencies: 112
Languages Spoken
Portuguese is the official language, but English is widely spoken and understood.
Duty Free
Travellers over 17 years arriving from non-EU countries do not have to pay duty on 200 cigarettes, 100 cigarrilos, 50 cigars or 250g of tobacco; 4 litres of wine, 16 litres of beer and 1 litre of spirits over 22% or 2 litres of liquor less than 22% volume; 50g of perfume and 250ml of eau de toilette; other goods up to the value of €430 for air and sea travellers.
Electricity
Electrical current is 230 volts, 50Hz. Round two-pin plugs are used.
Climate Info
The weather in Portugal is among the warmest in Europe, with an average temperature of around 55°F (15°C) in the north, and 64°F (18°C) in the south. The average annual rainfall is as high as 118 inches (300cm) in the northern mountains, but countrywide is closer to 43 inches (110cm).
Southern Portugal has a Mediterranean climate with hot, dry summers and mild winters. There is very little rain and summers are warm, but refreshing sea breezes make for pleasant conditions. Summer temperatures in the Algarve can pass 86°F (30°C), and reach as high as 116°F (47°C) in the Alentejo.
In the north, the weather is wetter, particularly in winter, and cooler, with temperatures influenced by Atlantic currents and the Spanish Meseta.
The climate of the Azores and Madeira is subtropical with some variation from island to island. Much of the Azores experiences dry summer months with warm temperatures year-round.
The best time to travel to Portugal is during spring (April and May) and autumn (September and October) when days are pleasantly sunny and warm but tourist areas are relatively quiet. These seasons also offer cheaper rates at hotels and less crowded beaches, restaurants and golf courses.
Passport
All visitors, except EEA member states, must hold tickets and documents for their return or onward journey, and proof of paid accommodation (equivalent in convertible currency accepted). The borderless region known as the Schengen area includes the following countries: Austria, Belgium, Czech Republic, Denmark, Estonia, Finland, France, Germany, Greece, Hungary, Iceland, Italy, Latvia, Lichtenstein, Lithuania, Luxembourg, Malta, The Netherlands, Norway, Poland, Portugal, Slovakia, Slovenia, Spain, Sweden and Switzerland. All these countries issue a standard Schengen visa that has a multiple entry option that allows the holder to travel freely within the borders of all. It is highly recommended that passports have at least six months validity remaining after your intended date of departure from your travel destination. Immigration officials often apply different rules to those stated by travel agents and official sources.
Entry Requirements
US nationals do not require a visa for a stay of up to 90 days. A passport valid for at least three months beyond period of intended stay is required.
British passports endorsed 'British Citizen', 'British Subject', 'British Overseas Territories Citizen', and Identity Cards issued by Gibraltar must be valid for the duration of intended stay. British passports with any other endorsement must be valid for three months beyond period of intended stay. Visas are not required for British Citizens, British Overseas Territories Citizens, British Subjects, and those with Identity Cards issued by Gibraltar. Those with any other endorsement in their passports can stay in the country visa-free for up to 90 days.
Canadians do not require a visa for a stay of up to 90 days. A passport valid for three months beyond period of intended stay is required.
Australian nationals do not require a visa for a stay of up to 90 days. A passport valid for three months beyond period of intended stay is required.
South African nationals require a passport valid for at least three months beyond period of intended stay, and a Schengen visa.
Irish nationals do not require a visa to visit Portugal. A passport valid on arrival is required.
New Zealand nationals do not require a visa for a stay of up to 90 days. A passport valid for three months beyond period of intended stay is required.
Health
There are no health risks attached to travel to Portugal. A yellow fever vaccination certificate is necessary for entry for anyone travelling from an infected area and destined for the Azores or Madeira. Health facilities are good and reciprocal health agreements exist with most European countries, including the UK, whose citizens can receive low-cost emergency care at state hospitals. It is advisable that travellers obtain a European Health Insurance Card (EHIC) before travel. Dental care and repatriation costs are not covered under this agreement, and medical insurance is therefore advised.
Safety
Generally, safety is not a problem for travel in Portugal but there is a rising incidence of petty theft and pick pocketing in tourist areas, so reasonable care should be taken. Portugal has a very poor road safety record so exercise caution and drive defensively when exploring in a rented car.
Emergency Phone Number
Emergencies: 112
* For current safety alerts, please visit
Foreign travel advice - GOV.UK
or
Travel.State.Gov
Money
The official currency is the Euro (EUR), which is divided into 100 cents. There are numerous banks, bureaux de change and ATMs available in main cities and tourist destinations. Foreign currency can be exchanged at banks, bureaux de change and automatic currency exchange machines. Banking hours are generally 8.30am to 3pm Monday to Friday. Major credit cards are widely accepted.
Exchange Rate
Not available.
Embassies of Portugal
Portuguese Embassy, Washington, United States: +1 202 328 8610
Portuguese Embassy, London, United Kingdom: +44 207 235 5331
Portuguese Embassy, Ottawa, Canada: +1 613 729 0883
Portuguese Embassy, Canberra, Australia: +61 26 260 4970
Portuguese Embassy, Pretoria, South Africa: +27 12 341 2340
Portuguese Embassy, Dublin, Ireland: +353 1 412 7040
Portuguese Consulate, Auckland, New Zealand: +64 9 255 2569
Foreign Embassies in Portugal
United States Embassy, Lisbon: +351 21 727 3300
British Embassy, Lisbon: +351 21 392 4000
Canadian Embassy, Lisbon: +351 21 316 4600
Australian Embassy, Lisbon: +351 21 310 1500
South African Embassy, Lisbon: +351 21 319 2200
Irish Embassy, Lisbon: +351 21 330 8200
New Zealand Consulate, Lisbon: +351 21 314 0780
Customers
It is a legal requirement for foreigners to show some form of identification on request.
Business
The Portuguese economy has undergone a major transformation since the Revolution of 1974, from a primarily agricultural infrastructure, to a modern, service-based economy, of a piece with the rest of the European Union. As a result, although the situation is changing every day, business culture in Portugal retains vestiges of paternalism, and of strict hierarchical, 'top-down' approaches to management and leadership. In Portugal, the strongest business relationships are those built on trust of individuals - and as a result, nepotism has (in the past) been seen as an advantageous hiring policy. Be sure to allow time for personal connections to develop between yourself and your Portuguese business associates - familiarity can go a long way toward ensuring success.
Teamwork and collaboration on important decisions is not the norm in Portugal: the accepted management style is more directive, and subordinate employees are more often than not expected to 'do as they're told', rather than to contribute to decision-making processes. Business etiquette in Portugal also displays an interesting mix of formality and easygoingness - with conduct being at once mannered and conservative, yet also warm and relaxed. Use titles ('Señhor' and 'Señhora') until strictly instructed not to do so, and show deference to those in obvious positions of authority. Business meetings in Portugal must be made by appointment - and should not ordinarily be scheduled for times when they might conflict with important family or religious holidays (Christmas, Easter, etc.).
Since the official language of business in the country is Portuguese, it is a good idea to provide translations of all important documents, and/or to engage the services of a translator, to ensure that everyone is on the same page at business meetings. The dress code in Portugal is strictly smart and formal - with a strong emphasis placed on 'looking good'. It is not an unfair statement to say that your status in the business world will be gauged by the way in which you present yourself - go for dark colours, with stylish cuts. Business hours in Portugal vary, but are generally from 8.30am to 1pm, and 3pm to 6pm, from Monday to Friday.
Tipping
Service charges are not usually added to hotel and restaurant bills but it is customary to leave a 10 percent tip. Bar staff and taxi drivers also expect tips, which usually entails rounding up of the bill to the nearest Euro.
Public Holidays in Portugal
| | | |
| --- | --- | --- |
| | 2017 | 2018 |
| New Years Day | 1 Jan | 1 Jan |
| Liberation Day | 25 Apr | 25 Apr |
| Good Friday | 14 Apr | 30 Mar |
| Labour Day | 1 May | 1 May |
| National Day | 10 Jun | 10 Jun |
| Assumption of the Virgin Mary | 15 Aug | 15 Aug |
| Feast of the Immaculate Conception | 8 Dec | 8 Dec |
| Christmas Day | 25 Dec | 25 Dec |
| Easter Day | 16 Apr | 1 Apr |
Overview
Sightseeing in Portugal is a privilege and joy to those who've sampled the country's warm climate, charming ports and friendly people.
Portugal's prodigious sailors have historically chartered course for every foreign shore on the planet. But today, the country has an altogether new focus - drawing the world to her shores. Marketing itself as 'Europe's West Coast', everything from the hot springs of the Azore Islands to the cultural sights of Lisbon to the haven of Madeira has been revamped. Portugal is the 7th most peaceful nation in the world, according to the Global Peace Index, making its many marvellous sights safe to explore and discover.
Portugal is known for its seafaring history and continued legacy as a coastal paradise: jet skiing, diving, swimming and sailing all await new visitors. The Estoril Coast is comprised of a set of pristine blue-flag beaches ready, ideal to rest some aching limbs after a gorgeous hike through the country's natural beauty. While the sea will always be Portugal's first love, the country does also boast great sites such as the Sintra-Casais Natural Park, a World Heritage Site, and Lisbon, a cosmopolitan and metropolitan capital city to rival the likes of Madrid and Paris.
Map of Portugal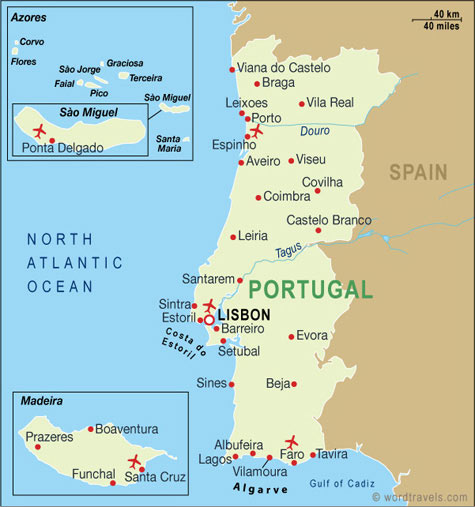 Travel Guide powered by www.wordtravels.com, copyright © Globe Media Ltd. All rights reserved. By its very nature much of the information in this guide is subject to change at short notice and travellers are urged to verify information on which they're relying with the relevant authorities. Globe Media and UNIGLOBE Travel does not accept any responsibility for any loss or inconvenience to any person as a result of information contained above.