General
Money
Entry Requirements
Health & safety
Weather
Embassies
Etiquette
Public Holidays
Attractions
Map
---
Introduction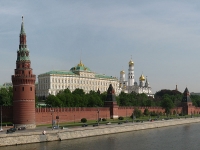 The Moscow Kremlin, Russia ©Julmin
As Russia moves forward into the 21st century, it leaves behind a turbulent history of tyranny and a crippled economy - from Ivan the Terrible to Peter the Great, from the fall of the Tsars to the dictatorship of the Soviet government. Today, Russia is a nation embracing its newfound freedom and future potential, whilst enjoying a renewal of the rich cultural heritage of its past.
Despite the visible effects of hardship and economic disparity, and its previous isolation from the rest of the world, travellers in Russia will encounter a country of enormous diversity and vitality, with cultural treasures and historical monuments, great imperial cities and glittering cathedrals. Visitors will experience the enchantment of Tchaikovsky, the Kirov and Bolshoi Ballet, and marvel at priceless Russian icons and the unique style of decorative, onion-domed architecture.
Most westerners associate Russia with the great imperial centres of Moscow and St Petersburg, and although these two cities, the capital and the beautiful 'Venice of the North' are a must-see, they are a mere scratch on the surface of this vast and varied land. Straddling two continents and 11 time zones, the Russian Federation is the largest country on earth, nearly twice the size of the United States of America. Within this impressive expanse lie natural wonders such as Lake Baikal, the deepest lake in the world, and beautiful mountains, rivers and forests abundant with wildlife, as well as traditional villages scattered across the Siberian landscape.
Visitors taking the opportunity to explore Russia will not be disappointed: its impressive museums, overwhelming sense of history, culture and unspoilt wilderness will leave one with a desire to see more, and its relative isolation has ensured that Russia retains its sense of mystery.
Communications
The international access code for Russia is +7. Public phones are good for local and international calls; they take phonecards, which can be bought at newspaper kiosks and post offices. Phone booths in airports and major hotels usually take Amex or Visa cards but are generally much more expensive than street phones. Mobile phone coverage is extensive in towns and cities, but can be limited in some remote areas. Internet access is available at internet cafes in major towns and cities.
Emergencies
Emergencies: 112.
Languages Spoken
Russian is the official language. Some people speak English, French or German.
Duty Free
The following may be imported into Russia without customs duty: 200 cigarettes, 100 cigarillos, 50 cigars or 250g of tobacco products (over 18 years), 2 litres of alcohol (over 21 years), perfume for personal use, gifts up to the value of US$10,000. Tourists must complete a customs declaration form, to be retained until departure, allowing for the import of articles intended for personal use (including currency and valuables) which must be registered on the declaration form.
Additionally, 250g of caviar per person may be exported, with a receipt proving it was purchased at a store licensed to sell it to foreigners and a licence from the Ministry of Economical Development. Any items or artwork that might have historical value, like icons, maps, coins or paintings, have to be registerd with the Ministry of Culture before departure, which usually involves a 100% customs duty fee.
Electricity
Electrical current is 230 volts, 50Hz. Round two-pin plugs are standard.
Climate Info
The main holiday season for Russians and foreigners is during the warmest months of July and August, but it also rains a lot at this time. The best times to visit are May and June or September and October, avoiding most of the crowds and the rain. Winters are very cold and bitter, especially in Siberia, but are also beautiful. February usually has the worst weather: windy and extremely cold with very little snow.
Passport
Valid visas in expired passports or other expired travel documents are not accepted. Visitors must carry ID at all times whilst in Russia. An Immigrant Card will be issued on board the aircraft or on arrival. All visitors staying for longer than seven working days must register with the Federal Migration Service upon arrival; if staying in a hotel, the hotel will arrange this, otherwise you can find the forms to fill out at a post office and post the forms to the Federal Migration Service. Anyone travelling on a tourist visa must hold vouchers from the hotel or travel agency. Passengers are required to hold return/onward tickets and documents required for the next destination. Exit permits are required on departure. These are usually issued with the visa, or can be obtained at hotels not less than two days before departure. Passports must be valid for period of intended stay. It is highly recommended that passports have at least six months validity remaining after your intended date of departure from your travel destination. Immigration officials often apply different rules to those stated by travel agents and official sources.
Entry Requirements
United States citizens must have a valid passport. A visa is required.
British citizens must have a valid passport. A visa is required.
Canadian citizens must have a valid passport. A visa is required.
Australian citizens must have a valid passport. A visa is required.
South Africans must have a valid passport, but can travel without a visa for a maximum of 90 days.
Irish nationals require a valid passport. A visa is required.
New Zealand nationals require a valid passport. A visa is required.
Health
Travellers to Russia are advised to get vaccinations for hepatitis A and hepatitis B, to be up to date on vaccinations for tetanus-diphtheria and MMR (measles, mumps, rubella), and to consider vaccinations for typhoid, rabies and Japanese encephalitis if they are long-term travellers and/or spending time in rural areas.
Drinking water should be treated; bottled water is readily available. There is a reciprocal health care agreement with the UK entitling citizens to free health treatment in hospital. Local state medical facilities are of a low standard, however, and visitors are strongly advised to have full insurance for medical treatment and accidents should they require private care. Blood transfusions should not be performed in Russia, due to uncertainties concerning the blood supply. Essential medications and supplies may be limited.
Safety
Visitors are advised to be vigilant and to watch out for pickpockets and street crime, and should be particularly cautious on the metro and buses. Moreover, travellers must insist on seeing official identification from police officers. Political protests often end in violence and detention and visitors are advised to avoid all street demonstrations and political gatherings.
Emergency Phone Number
Emergencies: 112.
* For current safety alerts, please visit
Foreign travel advice - GOV.UK
or
Travel.State.Gov
Money
The official currency is the Rouble (RUB), which is divided into 100 kopeks. Most major international credit cards are accepted in larger establishements. Currency can be changed at banks, bureaux de change, and hotels. ATMs are widely available in major cities. It is hard to get roubles outside Russia and travellers are advised to take good condition US Dollars or Euro notes to change once there.
Exchange Rate
Not available.
Embassies of Russia
Russian Embassy, Washington DC, United States: +1 202 298 5700.
Russian Embassy, London, United Kingdom: +44 20 7229 6412.
Russian Embassy, Ottawa, Canada: +1 613 235 4341.
Russian Embassy, Canberra, Australia: +61 2 6295 9033.
Russian Embassy, Pretoria, South Africa: +27 12 362 1337.
Russian Embassy, Dublin, Ireland: +353 1 492 2048.
Russian Embassy, Wellington, New Zealand: +64 4 476 6113.
Foreign Embassies in Russia
United States Embassy, Moscow: +7 495 728 5000.
British Embassy, Moscow: +7 495 956 7200.
Canadian Embassy, Moscow: +7 495 105 6000.
Australian Embassy, Moscow: +7 495 956 6070.
South African Embassy, Moscow: +7 495 540 1177.
Irish Embassy, Moscow: +7 495 937 5911.
New Zealand Embassy, Moscow: +7 495 956 3579.
Customers
Photography of anything to do with the military, strategic sites, or the airport, is prohibited. In Russian Orthodox churches, women are advised to wear skirts and cover their heads with a scarf. It is a legal requirement for visitors to carry passports for identification; copies are not sufficient. Russia has a poor LGBT rights record, and same-sex couples should exercise caution.
Business
Russian business is conducted in a fashion similar to Western countries but with some subtle differences. Russians are business-minded so it is not generally necessary to form personal relations with business colleagues; however, developing a good network of resident associates is a good idea. Dress is formal and conservative and on greeting a good firm handshake and direct eye contact indicates strength. Business cards are exchanged and it is advisable to print a Cyrillic translation of your details on the alternate side. Business hours are generally from 9am to 6pm from Monday to Friday.
Tipping
Hotel bills in the large Russian cities usually include a 10 to 15 percent service charge. If no service charge has been added a tip of at least 10 percent is expected. City Guides and their drivers also expect a small tip and tipping in bars and nightclubs is common.
Public Holidays in Russia
| | | |
| --- | --- | --- |
| | 2017 | 2018 |
| Orthodox Christmas Day | 7 Jan | 7 Jan |
| New Year's Holidays | 1 Jan | 1 Jan |
| Defender of the Fatherland Day | 23 Feb | 23 Feb |
| International Women's Day | 8 Mar | 8 Mar |
| Labour Day | 1 May | 1 May |
| Victory Day | 9 May | 9 May |
| Russia Day | 12 Jun | 12 Jun |
| Unity Day | 4 Nov | 4 Nov |
Overview
Russia holds a wealth of sightseeing opportunities across all nine of its time zones, incorporating the largest forestland and freshwater supply in the world. It's little wonder that Russians refer to their country as the Motherland - it is, undeniably, a bountiful place. Seeing Russia in all her glory would be a mighty, and time-consuming, feat.
In St Petersburg, the State Hermitage Museum captures ancient to modern Russian history in the six buildings which make up the Winter Palace - the former residence of the tsars. The Moscow Kremlin is a wonder to behold; alongside it is Red Square, Moscow's broad and bustling city square flanked by the famous Basil Cathedral. The Bolshoi Ballet Theatre, in neighbouring Theatre Square, is one of the most ornate theatres in the world and is home to the world's oldest and most successful ballet company.
There is, however, more to see by way of both history and natural splendour. Russia is jokingly referred to as the 'lungs of Europe' due to the expansive forestland, which is said to absorb about 15 percent of the world's carbon dioxide. As you progress east, the forest becomes more dense and overwhelming. The best way to take in the Russian countryside is by train, as the Trans-Siberian Railway winds southeast from Moscow on the same route that once transported prisoners of Stalin's purges to gulag labour camps. Those in search of natural beauty should also consider travelling down to Lake Baikal, the deepest and largest lake (by volume) in the world and a UNESCO World Heritage Site.
Map of Russia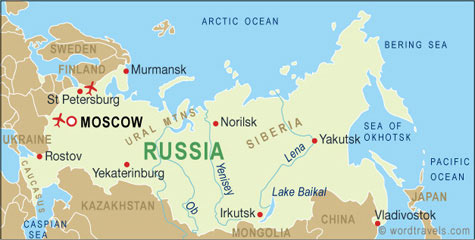 Travel Guide powered by www.wordtravels.com, copyright © Globe Media Ltd. All rights reserved. By its very nature much of the information in this guide is subject to change at short notice and travellers are urged to verify information on which they're relying with the relevant authorities. Globe Media and UNIGLOBE Travel does not accept any responsibility for any loss or inconvenience to any person as a result of information contained above.