General
Money
Entry Requirements
Health & safety
Weather
Embassies
Etiquette
Public Holidays
Attractions
Map
---
Introduction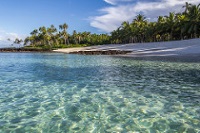 Samoa ©Andrew Moore
The island paradise of Western Samoa is an independent Pacific state situated half way between New Zealand and Hawaii. It is comprised of 10 islands, surprisingly varied in their terrain and character, with terrain ranging from rainforests and lush valleys to volcanic mountain peaks and miles of perfect sandy beaches. Immediately off-shore crystal-clear azure water teeming with aquatic life and pristine coral entices snorkelers and scuba divers. Samoa is effortlessly a place apart from the busy, populated world outside its borders.
Amid the beautiful scenery of the islands, Samoans live with their ancient traditions and culture largely intact despite the influx of more modern influences. Family, religion and hospitality are values central to Samoan identity, as is the laid-back approach to life and the legendary warm welcome extended to visitors.
Upolu is the main island and home to the capital Apia, which is a fun and vibrant city, and the ideal gateway to Samoa's other islands. Upolu was where Robinson Crusoe lived and his time here is commemorated in the eponymous botanical gardens and museum. Other highlights on Upolu include Lalomanu Beach which adjoins a protected pristine lagoon that is perfect for snorkelling; the famous Malua Turtle feeding site; and numerous splendid waterfalls.
Of the other islands, Savai'i offers unparalleled raw beauty, volcanic craters, towering waterfalls, mysterious archaeological sites and incredible natural blowholes. Manono Island, on the other hand, is a slice of old Samoa with just a handful of fishing villages and little in the way of vehicles and electricity to disturb the peaceful way of life.
A holiday in Samoa presents a dilemma of whether to proactively explore the many attractions and activities of the islands, or just embrace the easy-going lifestyle by relaxing on the perfect beaches - joy is guaranteed either way!
Languages Spoken
Samoan and English are the official languages. English is widely spoken in cities and tourist areas, but is far less common outside of major centres.
Duty Free
Foreign currency can be imported and exported without restriction but travellers should note that it is illegal to export Samoan currency. Passengers over the age of 21 are entitled to import duty-free 200 cigarettes or 250g of other tobacco products; 2.25 litres of alcohol; and other goods up to the value of WST 500.
Electricity
Electrical current is 220 - 240 volts, 50Hz. Power-points are designed for plugs with three flat pins as commonly used in Australia and New Zealand.
Passport
All visitors must have a passport valid for at least six months beyond the period of intended stay in Samoa. Passport exemptions include children under 16 years, if accompanied by a parent and the name of the child is included in the passport of that parent. It is highly recommended that passports have at least six months validity remaining after your intended date of departure from your travel destination. Immigration officials often apply different rules to those stated by travel agents and official sources.
Entry Requirements
A visa is required and will be issued on arrival for a maximum of 60 days.
A visa is required and can be issued on arrival for a maximum of 60 days.
A visa is required and can be issued on arrival for a maximum of 60 days.
A visa is required and can be issued on arrival for a maximum of 60 days.
A visa is required and can be issued on arrival for a maximum of 60 days.
A visa is required and can be issued on arrival for a maximum of 60 days.
A visa is required and can be issued on arrival for a maximum of 60 days.
Health
Proof of a yellow fever vaccination is required for all travellers arriving from infected areas. Vaccinations are also recommended for hepatitis A, hepatitis B and typhoid. The most significant health risk in Samoa is over-exposure to the sun so precautions should be taken to protect the skin.
Medical care in Samoa is limited but generally adequate for routine health problems. Comprehensive travel health insurance is recommended but visitors should note that most doctors will expect payment in cash upfront regardless of insurance coverage.
* For current safety alerts, please visit
Foreign travel advice - GOV.UK
or
Travel.State.Gov
Exchange Rate
Not available.
Embassies of Samoa
Foreign Embassies in Samoa
Customers
Christianity plays an important role in the life of many Samoans with Sunday church services and Sabbath observances. Samoan men traditionally undergo tattooing as a rite of passage and the resultant patterns and images can be seen on many faces and upper bodies around the islands. Homosexual acts are illegal in Samoa.
Travel Guide powered by www.wordtravels.com, copyright © Globe Media Ltd. All rights reserved. By its very nature much of the information in this guide is subject to change at short notice and travellers are urged to verify information on which they're relying with the relevant authorities. Globe Media and UNIGLOBE Travel does not accept any responsibility for any loss or inconvenience to any person as a result of information contained above.