General
Money
Entry Requirements
Health & safety
Weather
Embassies
Etiquette
Public Holidays
Attractions
Map
---
Introduction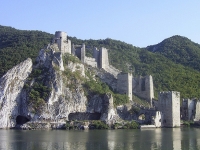 Golubac Fortress ©Denis Barthel
Those who are looking for an 'off-the-beaten track' holiday will find Serbia extremely welcoming. Formerly part of Yugoslavia, Serbia has been plagued by civil war and ethnic violence, and was once one of the more turbulent countries in Europe. Today, lively locals welcome visitors to their proud country, where historical and cultural influences have merged to create a unique Serbian charm.
The capital city of Belgrade, still scarred by the devastation of a long civil war, is lauded mainly for its vibrant nightlife. Although, being one of Europe's most ancient capitals that has seen Roman, Byzantine and Ottoman empires rise and fall, it boasts plenty of interesting sites.
Serbia encompasses beautiful national parks, spa resorts and some of the best skiing in Europe. The landscape of this verdant country includes alpine meadows, impenetrable forests, mountain lakes, glittering limestone caves, hot springs, and remote monasteries. The magnificent Djerdap National Park, stretching along the right bank of the Danube River between Golubackigrad and the Sip Dam, is definitely not to be missed, and the Djerdap Gorge is one of Europe's most spectacular geographic features.
During the winter months, those in the know head for the mountains along the Ibar Highway, to the snow-blanketed peaks around the village of Kopaonik. Developing a reputation as one of Europe's cheapest and cosiest ski resorts, it is ideal for beginners and intermediates, and also features the Josanicka Banja spa.
Once defined by its dark history, this gritty Slavic enclave is waiting to be re-discovered and explored by adventurous and fun-loving travellers.
Communications
The international direct dialling code for Serbia is +381. The international code for dialling out of Serbia is 00 followed by the relevant country code (0044 for the United Kingdom). There are local area codes in use e.g. (0)11 for Belgrade. There are GSM 900/1800 mobile networks available with good coverage in the cities, weaker in the southern areas of the country. Internet cafes are available in the main cities and towns.
Emergencies
112 (General Emergencies)
Languages Spoken
Serbian is the official language.
Duty Free
Visitors entering Serbia may bring the following goods without paying customs duty: personal baggage, clothing and jewellery; 200 cigarettes, 100 cigarillos, 50 cigars or 250g tobacco; 1 litre of alcohol and 1 litre of wine; medicine and perfume or eau de toilette for personal use.
Electricity
Electrical current is 220-230 volts, 50Hz. Two-prong round pin attachment plugs as well as Schuko plugs are in use.
Climate Info
Serbia has a mostly continental climate with cold winters, long warm summers and rainfall distributed evenly throughout the year. Snow can be expected in the northern and upland regions between November and March. The southern part of the country has a more Mediterranean influence with hot, dry summers.
Passport
All visitors require a valid passport. Visitors may be requested to show a return or onward ticket, documents for the next destination and sufficient funds in hard currency to finance their stay. Visitors entering with tourist visas must also have hotel vouchers. Anyone staying longer than three days must register via a hotel or sponsor. Note: Entry to Serbia via Pristina Airport, Kosovo, may carry a different set of requirements, which visitors to Kosovo must check before travelling. It is highly recommended that passports have at least six months validity remaining after your intended date of departure from your travel destination. Immigration officials often apply different rules to those stated by travel agents and official sources.
Entry Requirements
US citizens do not require a visa for a stay of up to 90 days in Serbia.
British visitors do not require a visa for a stay of up to 90 days in Serbia.
Canadians do not require a visa to stay in Serbia for up to 90 days.
Australians do not require a visa to stay in Serbia for up to 90 days.
South Africans require a valid passport and visa to travel to Serbia.
Irish nationals do not require a visa to visit Serbia for a stay of up to 90 days.
New Zealand nationals do not require a visa to visit Serbia for a stay of up to 90 days.
Health
Recommended vaccinations for visitors to Serbia are Hepatitis A and typhoid (except for very short-term visitors who restrict their meals to major restaurants and hotels). A reciprocal healthcare agreement entitles British nationals to free emergency treatment in Serbia, but due to the very basic standard of medical facilities, comprehensive travel health insurance is strongly recommended for all visitors. Tap water and unbottled beverages should not be consumed, and food should be well prepared and well cooked. Cases of rabid foxes and dogs have been reported in parks and the outskirts of major cities. In the countryside, visitors should take the necessary precautions to prevent tick bites.
Safety
Most visits to Serbia are trouble free, but it is wise to take sensible precautions with valuables, as pick-pocketing, car theft, purse snatchings and burglaries do occur in the larger cities. Protests occasionally occur in cities such as Belgrade, and travellers are advised to keep informed of current events and avoid large gatherings, as demonstrations can quickly turn violent. Those travelling to the south and UN-administered Kosovo are advised to check the local situation before departing. Kosovo declared independence from Serbia in February 2008, a move that has been recognised by almost 40 countries including the US and most of the EU, but has been opposed by Serbia as an 'illegal act'.
Emergency Phone Number
112 (General Emergencies)
* For current safety alerts, please visit
Foreign travel advice - GOV.UK
or
Travel.State.Gov
Money
The currency of Serbia is the Serbian Dinar (RSD), which is divided into 100 para. Dinars are not accepted in Kosovo, where the Euro is the official currency. Credit cards are accepted by most of the larger hotels and shops in Serbia. Pounds Sterling, US Dollars and Euros are the most widely accepted currencies for exchange. ATMs in the cities usually accept international bank cards, but can be hard to find in the more rural areas.
Exchange Rate
Not available.
Embassies of Serbia
Embassy of the Republic of Serbia, Washington DC, United States: +1 202 332 0333.
Embassy of the Republic of Serbia, London, United Kingdom (also responsible for Ireland): +44 20 7235 9049.
Embassy of the Republic of Serbia, Ottawa, Canada: +1 613 233 6289.
Embassy of the Republic of Serbia, Canberra, Australia (also responsible for New Zealand): +61 2 6290 2630.
Embassy of the Republic of Serbia, Pretoria, South Africa: +27 12 460 5626.
Foreign Embassies in Serbia
United States Embassy, Belgrade: +381 11 706 4000.
British Embassy, Belgrade: +381 11 3060 900.
Embassy of Canada, Belgrade: +381 11 306 3000.
Australian Embassy, Belgrade: +381 11 330 3400.
South African Embassy, Athens, Greece (also responsible for Serbia): + 30 210 617 8020.
Honorary Consul of Ireland, Belgrade: +381 11 263 5911.
Customers
It is inadvisable to take photographs of any military or police buildings, personnel or operations in Serbia or Kosovo. Homosexuality is tolerated, but open displays of affection between same-sex couples are frowned upon. Visitors should carry their passports at all times for identification purposes.
Business
Serbian business people and entrepreneurs are westernised in their approach to business dealings with foreigners. Keep in mind that operations can go slowly due to cumbersome bureaucracy. Most Serbian professionals speak English, so it is not always necessary to hire a translator or translate business cards. July and August are summer holidays and it is difficult to reach senior management during this period. Business hours are 8am to 4pm Monday to Friday.
Tipping
Tipping is not obligatory in Serbian restaurants, but if you are satisfied with the service then leave a 10 to 15% tip. At bars and with taxis leave a tip by rounding off the amount.
Public Holidays in Serbia
| | | |
| --- | --- | --- |
| | 2017 | 2018 |
| New Years Day | 1 Jan | 1 Jan |
| Sretenje (Serbia State Day) | 15 Feb | 15 Feb |
| Orthodox Easter | 14 Apr | 6 Apr |
| Workers Day | 1 May | 1 May |
| Armistice Day | 11 Nov | 11 Nov |
| Christmas Day | 7 Jan | 7 Jan |
Travel Guide powered by www.wordtravels.com, copyright © Globe Media Ltd. All rights reserved. By its very nature much of the information in this guide is subject to change at short notice and travellers are urged to verify information on which they're relying with the relevant authorities. Globe Media and UNIGLOBE Travel does not accept any responsibility for any loss or inconvenience to any person as a result of information contained above.