General
Money
Entry Requirements
Health & safety
Weather
Embassies
Etiquette
Public Holidays
Attractions
Map
---
Introduction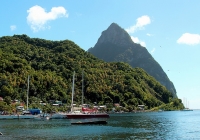 St Lucia is indeed a Caribbean dream: a small, lush tropical gem of an island that is still relatively unknown and undeveloped, although it does offer a good variety of accommodation for tourists, including a few discreet resorts. St Lucia is one of the Windward isles of the Lesser Antilles, situated midway down the Eastern Caribbean chain between Martinique and St Vincent, just north of Barbados. It is tiny - only 27 miles (43km) long and 14 miles (23km) wide - and shaped a bit like an avocado.
The island has been left with a distinct French flavour, although its earliest colonists in the 17th century were British. The colonial history of the island, first settled by Arawak Indians around 200 AD, is a long saga of battles for control between the French and British. Britain eventually won the war in 1814, and granted independence under the Commonwealth to St Lucia in 1979.
The volcanic island's main landmarks are the Pitons, two soaring peaks on its southern coast that rise up from the sea and shelter a magnificently dense rain forest, where wild orchids grow and brilliantly-plumed tropical birds abound. The Creole people of the island are as warm as the tropical climate, and visitors are treated to plenty of smiles as they make the most of the island's natural beauty and secluded golden beaches, where coral reefs beckon snorkellers and scuba divers.
Communications
The international access code for St Lucia is +1 758. The outgoing code is 011 followed by the relevant country code (e.g. 01144 for the United Kingdom); the outgoing code is not needed for calls to Canada and the US. City/area codes are not in use. Pay phones accept coins and pre-paid cards, available at shops throughout the island. AT&T calling cards can be used for cheaper international calls. Mobile phone operators provide good GSM 850, 900, 1800 and 1900 network coverage of the island. Email and Internet access is available at Internet cafes throughout the island.
Emergencies
Emergencies: 999 (police); 911 (ambulance).
Languages Spoken
English is the official language, but St Lucian Creole is widely spoken.
Duty Free
Travellers to St Lucia may bring in 200 cigarettes, 50 cigars or 225g tobacco, and 1.2 litre wine or spirits without paying customs duty.
Electricity
240 volts, 50Hz. Three square-pin plugs are standard.
Climate Info
Like all Caribbean islands, St Lucia enjoys a hot, tropical climate throughout the year. The average daily temperatures of 80°F (27°C) tend to be tempered by trade winds. The driest time on the island is between January and March but showers can occur throughout the year, however they are usually over quickly. Hurricane season is generally from June to November.
Passport
Visitors must hold documents for the next destination, return or onward tickets and sufficient funds. As part of the Western Hemisphere Travel Initiative (WHTI), all travellers travelling between the United States and Canada, Mexico, Bermuda, and the Caribbean region are required to present a passport or other valid travel document to enter or re-enter the United States. The wearing of camouflage clothing, or to be in possession of camouflage bags is illegal in St. Lucia for anyone not in the military services. Travellers with such items will be asked to change or remove the camouflage articles, which will then be confiscated. It is highly recommended that passports have at least six months validity remaining after your intended date of departure from your travel destination. Immigration officials often apply different rules to those stated by travel agents and official sources.
Entry Requirements
US citizens require a passport valid for six months beyond period of intended stay in St Lucia. US citizens don't require a visa for stays of up to six weeks.
UK citizens must hold a passport valid for six months beyond period of intended stay. UK citizens don't require a visa for stays of up to six weeks.
South African citizens must hold a passport valid for six months beyond period of intended stay. South African citizens don't require a visa for stays of up to six weeks.
Health
There are few health risks associated with travel to St Lucia, although the mosquito-carried dengue fever is a risk throughout the island. HIV/AIDS is prevalent and precautions are always advised. Bilharzia is endemic. No vaccinations are required, however a yellow fever certificate is necessary for travellers arriving from infected areas. Health care costs are high on the island and health insurance is recommended, which should cover medical evacuation. EHIC card holders are entitled to emergency medical treatment in the case of evacuation to Martinique, on the same terms as Martinique nationals, of which 70 percent of the costs can be reclaimed.
Safety
Most visits to St Lucia are trouble-free, but visitors should take common-sense precautions against robbery and theft. Isolated areas, such as beaches, should be avoided after dark. Hurricane season is generally from June to November.
Emergency Phone Number
Emergencies: 999 (police); 911 (ambulance).
* For current safety alerts, please visit
Foreign travel advice - GOV.UK
or
Travel.State.Gov
Money
The unit of currency in Saint Lucia is the East Caribbean Dollar (XCD), which is tied to the US Dollar. The EC$ is divided into 100 cents. US dollars are also accepted at most tourist establishments and ensure a better exchange rate. ATMs are available in Castries, Rodney Bay, Soufriere and Vieux Fort. Banks are open Monday to Friday from 8am to 2pm, some are open till 5pm. Major credit cards are accepted at all large hotels, shops and restaurants. Most hotels will exchange foreign currency, and there are change bureaux in Castries.
Exchange Rate
Not available.
Embassies of St Lucia
St Lucia Embassy, Washington, United States: +1 202 364 6792.
St Lucia High Commission, London, United Kingdom: +44 (0)20 7370 7123.
Organisation of Eastern Caribbean States High Commission, Ottawa, Canada: +1 613 236 8952.
Foreign Embassies in St Lucia
United States Embassy, Bridgetown, Barbados (also responsible for St Lucia): +1 246 227 4000.
British High Commission, Castries, St Lucia: +1 758 452 2484.
Canadian High Commission. Bridgetown, Barbados (also responsible for St. Lucia): +1 246 429 3550.
Australian High Commission, Port of Spain, Trinidad and Tobago (also responsible for St Lucia): +1 (868) 822 5450.
South African High Commission, Kingston, Jamaica (also responsible for St. Lucia): +1 876 620 4840.
Customers
It is an offence for anyone to dress in camouflage clothing. Homosexuality is illegal.
Business
Due to its popularity as an offshore banking location, business dress in St Lucia requires a level of formality. Handshakes for both men and women are the common form of greeting at the beginning and end of meetings, and business cards are usually exchanged. Business hours are generally 8am to 4.30pm throughout the week and 8.30am to 12.30pm on Saturdays.
Tipping
A service charge is not automatically added to bills and about 10% of the bill is expected. Taxi drivers, porters and chambermaids also expect small tips.
Public Holidays in St Lucia
Overview
St Lucia is a wonderful destination for tourists with a tropical and sun-soaked holiday in mind. Its many beaches, emerald waters and incredible resorts draw in hordes of visitors every year, and understandably so.
Most guests arrive on cruise liners at the island's main port, Castries, and generally do little more than shop for souvenirs at the likes of the Castries Central Market and enjoy the beach; however, holidaymakers looking for something more won't be disappointed. Those who have time to explore are enchanted by the jungle walks and biking trails, as well as natural attractions like the fascinating Soufriere Volcano with its bubbling sulphur springs.
Visitors also enjoy the botanical gardens and the UNESCO-listed twin peaks which are known as 'The Pitons'. The Pigeon Island National Park is also popular among tourists for its white sandy beaches, as is seeing the best panoramic views of the island from the old town of Vieux Fort.
Those with a taste for sun and relaxation will not be disappointed in St Lucia, but neither will those looking for a more diverse tourist offering.
Map of St Lucia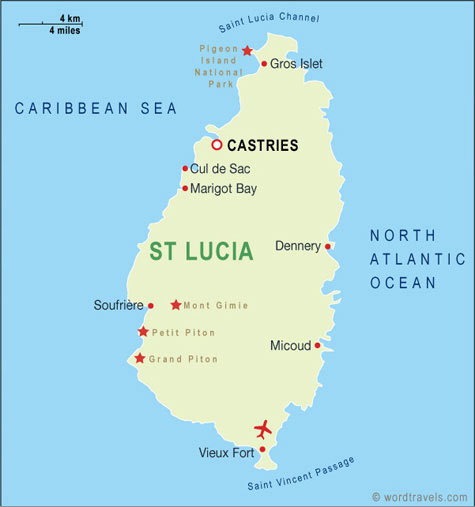 Travel Guide powered by www.wordtravels.com, copyright © Globe Media Ltd. All rights reserved. By its very nature much of the information in this guide is subject to change at short notice and travellers are urged to verify information on which they're relying with the relevant authorities. Globe Media and UNIGLOBE Travel does not accept any responsibility for any loss or inconvenience to any person as a result of information contained above.