General
Money
Entry Requirements
Health & safety
Weather
Embassies
Etiquette
Public Holidays
Attractions
Map
---
Introduction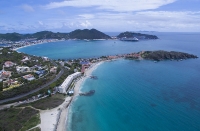 Visiting St Maarten and St Martin is a unique experience: an eastern Caribbean island divided between two sovereign states (France and the Netherlands) with an unpoliced border cutting through its southern portion, visitors can sunbathe in French St Martin in the afternoon, and stroll over to dine in Dutch St Maarten in the evening.
The French and the Dutch have peacefully shared this Caribbean gem for more than 350 years, ever since (as legend has it) a gin-drinking Dutchman and wine-imbibing Frenchman walked around the island to see how much territory they could claim for their country in a day. The Frenchman gained two-thirds of the island, but the Dutch maintain that their representative claimed the most prized part of the territory.
The Dutch portion is in the south, with the capital Philipsburg known to be a duty-free shopping paradise that draws thousands of tourists every day of the year. Dutch St Maarten arguably has the best (certainly the most developed) beach resorts, clustered along the southwest coast near the island's international airport. French St Martin is less developed, but more scenic and just as popular as a holiday destination.
The island is renowned for being the gourmet capital of the Caribbean and for its energetic nightlife, mostly centred on the island's 35 enticing white sand beaches. The small island's main attractions are shopping, relaxing on the beach or swimming in the clear turquoise waters; there is little of historic, cultural or architectural interest, but a few impressive old forts can be explored.
Communications
The country code for St Maarten is +1 721. The code for French St Martin is +590. Phoning from one side of the island to the other is considered to be an international call. The outgoing code for both sectors is 00 followed by the relevant country code (e.g. 0044 for the United Kingdom). City/area codes are not in use. GSM 900 and 1800 mobile network coverage extends across both parts of the island. Internet access is available at internet cafes, and in most resorts.
Emergencies
Emergencies: 911.
Languages Spoken
Dutch and French are the official languages, but English is widely spoken. Locals commonly use a language known as Papiamento, a mixture of Portuguese, African, Spanish, Dutch and English.
Duty Free
Arrivals in St Maarten/St Martin don't have to pay duty on any goods. Products like tobacco, alcohol, cameras and perfume should be limited to an amount needed for personal use.
Electricity
110/220 volts, 60Hz. Standard, flat, two- and three-pronged plugs, as found in the United States, are used.
Climate Info
The island is sunny and warm all year round, with average monthly temperatures varying little throughout the year. Temperatures in coastal areas range from 72ºF (22ºC) to 86ºF (30ºC) and inland areas range between 66ºF (19ºC) and 81ºF (27ºC). Cooling winds buffet the island throughout the year. Showers can be expected at any time of year but rainstorms generally pass quickly. Hurricane season in the Caribbean lasts from June to November, with the most storms occurring in September. December to May is considered the dry season (though rain can occur at any time of year), and is considered the best time to visit St Maarten and St Martin. Winter and the Christmas/New Year holidays are traditionally the most popular time to visit the island, but summer can also be a good time to visit because lodging rates are much lower and the beaches, roads and restaurants are not crowded.
Passport
Travellers should note that for some nationalities visa and passport requirements might vary between St Maarten and St Martin - specific requirements should be checked for desired destination. All tourists, regardless of which side of the island is being visited, must have return or onward tickets, all documents needed for next destination and proof of sufficient funds. Passports must be valid for at least the length of intended stay, but six months of passport validity is recommended. As part of the Western Hemisphere Travel Initiative (WHTI), all travellers travelling between the United States and Canada, Mexico, Bermuda, and the Caribbean region are required to present a passport or other valid travel document to enter or re-enter the United States. If departing from the USA a valid passport will be required by immigration authorities. It is highly recommended that passports have at least six months validity remaining after your intended date of departure from your travel destination. Immigration officials often apply different rules to those stated by travel agents and official sources.
Entry Requirements
United States citizens require a valid passport. No visa is needed for a stay of up to three months.
British citizens require a valid passport, but do not require a visa for a stay of up to three months.
Canadians must have a valid passport. No visa is needed for a stay of up to three months.
Australians must have a valid passport. No visa is needed for a stay of up to three months.
South Africans must have a passport valid for three months, and a visa for entry.
Irish nationals must have a valid passport. No visa is needed for a stay of up to three months.
New Zealand citizens must have a valid passport. No visa is needed for a stay of up to three months.
Health
No vaccination certificates are required for entry into either St Maarten or St Martin, however a yellow fever certificate is required for travellers arriving within six days from infected areas. A vaccination for hepatitis A may be recommended by your doctor. The Manchionneel tree that grows all over the island, mainly along the beaches, is extremely poisonous: the sap and fruit, which look like small green apples are caustic and burn the skin. The water is safe to drink. Medical care on the island is good, but patients are likely to be transferred to the US for anything serious. Comprehensive medical insurance is strongly advised.
Safety
Most visits to the island are trouble-free, however petty crime has been increasing in recent years and visitors should refrain from leaving valuables unattended on beaches, in cars and hotel lobbies. Care should be taken to keep rooms and cars locked, and visitors should refrain from carrying large amounts of cash on them. Burglaries and break-ins occur sometimes at resorts, beach houses and hotels and there have been incidents of armed robbery. Precautions should also be taken against car theft and insurance cover is advisable.
Emergency Phone Number
Emergencies: 911.
* For current safety alerts, please visit
Foreign travel advice - GOV.UK
or
Travel.State.Gov
Money
On the Dutch side the currency is the Netherlands Antilles Guilder or Florin (ANG), where one guilder is divided into 100 cents, but US Dollars are also widely accepted and prices are usually quoted in Dollars as well as Guilders. On the French side of the island the Euro (EUR) is the local currency, although establishments will also accept US Dollars. There are numerous bureaux de change and banks throughout the island and ATMs in the main towns in both national sectors; major credit cards are widely accepted.
Exchange Rate
Not available.
Embassies of St Maarten and St Martin
Royal Netherlands Embassy, Washington DC, United States: +1 202 244 5300.
Royal Netherlands Embassy, London, United Kingdom: +44 (0)20 7590 3200.
Royal Netherlands Embassy, Ottawa, Canada: +1 613 237 5031.
Royal Netherlands Embassy, Canberra, Australia: +61 (0)2 6220 9400.
Royal Netherlands Embassy, Pretoria, South Africa: +27 (0)12 425 4500.
Royal Netherlands Embassy, Dublin, Ireland: +353 (0)1 269 3444
Royal Netherlands Embassy, Wellington, New Zealand: +64 (0)4 471 6390.
Foreign Embassies in St Maarten and St Martin
American Consulate-General, Willemstad, Curacao (also responsible for St Maarten/St Martin): +599 9 461 3066.
British Consulate,Willemstad, Curacao (also responsible for St Maarten/St Martin): +599 9 461 3900.
Canadian Consulate, Port of Spain, Trinidad and Tobago (also responsible for St Maarten): +868 622 6232.
Customers
Island culture on St Maarten and St Martin is very relaxed, and there are few dress codes aside from high-end restaurants and clubs. Dressing provocatively may attract unwanted attention, however, and wearing beachwear off the beach is considered disrespectful by some. Though many residents speak English, visitors should not assume this and a little effort to speak French or Dutch is greatly appreciated.
Business
On St Maarten/St Martin things are fairly informal, but jackets and ties should be worn by men for meetings. English is spoken widely throughout both the French and Dutch parts of the island and is often the language used in meetings. Business hours are generally 9am to 6pm Monday to Friday, with a break from 12pm-1.30pm.
Tipping
On the Dutch side of the island hotel bills include a tax of five percent, and often a service charge of 15 percent. Waiters and bar staff should be tipped 10-15 percent if a gratuity is not included in the bill. On French St Martin hotels usually add five percent occupancy tax per person, but a small gratuity is appreciated for good service. Restaurants and hotels usually add a service charge of 10-15 percent to the bill, and it is always best to check for this before adding a tip. Taxi drivers and porters expect to be tipped, particularly if they have handled luggage.
Public Holidays in St Maarten and St Martin
| | | |
| --- | --- | --- |
| | 2017 | 2018 |
| New Years Day | 1 Jan | 1 Jan |
| Good Friday | 14 Apr | 30 Mar |
| Easter Monday | 17 Apr | 2 Apr |
| Kings Day | 27 Apr | 27 Apr |
| Labour Day | 1 May | 1 May |
| Ascension Day | 25 May | 10 May |
| Whit Sunday | 4 Jun | 20 May |
| St Maarten Day | 11 Nov | 11 Nov |
| Christmas Day | 25 Dec | 25 Dec |
| Boxing Day | 26 Dec | 26 Dec |
| Emancipation Day | 1 Jul | 1 Jul |
Overview
A popular port of call and travel destination in the Caribbean, there are many attractions in St Maarten and St Martin that visitors can enjoy.
The beaches of St Maarten and St Martin are undoubtedly the island's main attraction, and there are plenty to choose from. The sandy southwest coast stretches all the way from Philipsburg to Simpson Bay, and includes popular beaches like Cay Bay, Mullet Bay, the nudist beach at Cupecoy, and the beach resorts at Maho Bay. There are also some good beaches around Marigot, including Orient Beach, Prune Beach, and Rouge Beach. Each beach on St Maarten and St Martin has its own distinctive characteristics, and caters for different activities like swimming, snorkelling, scuba diving, surfing, and other water sports.
The towns of St Maarten and St Martin also offer unique charms: French capital Marigot is the shopping heart of the island, while many of the most interesting historical attractions are found in the Dutch capital of Philipsburg. Grand Case, in the north, is the culinary capital of the island, and has some of the best restaurants.
Those looking for active pursuits will enjoy numerous hiking trails and scenic vistas, on both the French and Dutch sides, including the stunning Paradise Peak, which offers views all the way to Anguilla.
There are plenty of attractions for children in St Maarten and St Martin as well. Kids will love visiting the exotic animals at the St Maarten Zoo, and playing on the pirate ship-themed playground there. Loterie Farm offers exciting zipline canopy tours, with several gentle routes designed especially for children. And even the youngest child will love interacting with thousands of brightly-coloured butterflies at the Butterfly Farm.
Map of St Maarten and St Martin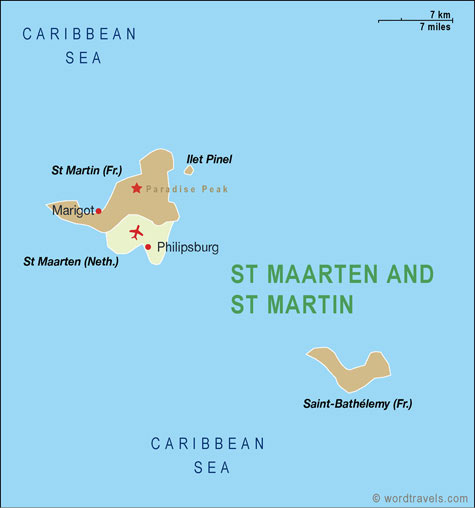 Travel Guide powered by www.wordtravels.com, copyright © Globe Media Ltd. All rights reserved. By its very nature much of the information in this guide is subject to change at short notice and travellers are urged to verify information on which they're relying with the relevant authorities. Globe Media and UNIGLOBE Travel does not accept any responsibility for any loss or inconvenience to any person as a result of information contained above.