General
Money
Entry Requirements
Health & safety
Weather
Embassies
Etiquette
Public Holidays
Attractions
Map
---
Introduction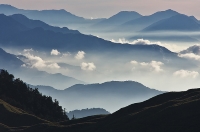 Taroko Gorge National Park ©Mark Kao
Situated off the coast of mainland China, the mountainous island of Taiwan teems with people in massive urban developments, but at the same time hides some picture-perfect, breathtaking vistas and natural attractions. Jet into the airport at the capital, Taipei, and the island below greets you with majestic peaks, rolling hills and plains, basins and inlets, tropical beaches and green forests.
At the foot of the mountains cluster the crowded industrial cities and towns. Modern, high-rise buildings play backdrop to numerous traditional folk festivals, and ancient temples sit alongside glass-fronted boutiques in the bustling streets. Old and new live in harmony in Taiwan, and visitors will be enthralled as much by the bustling metropolis of Taipei as with the array of natural attractions throughout this relatively small island.
In the six national parks there are thousands of species of wildlife, 20 percent of which are rare or endangered, including the Mikado pheasant, the Hsuehshan grass lizard and the Formosan rock monkey. Unique experiences include taking a ride on the Alishan train, one of only three mountain railways in the world, and hiking up northeast Asia's highest mountain, Jade Mountain, and taking in the spectacular sunsets above a sea of clouds. With its volcanic origins, tropical climate and Polynesian flavour, Taiwan has deservedly been dubbed the 'Hawaii of Asia'.
Taiwan has long had an uneasy relationship with its larger neighbour, China. In 1684 the island became the refuge for the remnants of the deposed Ming Dynasty and when Mao's Communists forces took control of China in 1949 the nationalist leaders, and over one million supporters, fled to Taiwan. Economically, the island quickly became an Asian success story but its independence from China was never recognised by many governments - primarily due to the Republic's greater political and military firepower.
Communications
Taiwan's international access dialling code is +886. Local network operators provide mobile telephone services in various regions using either GSM 900 or 1800 networks. Internet cafes can be found in Taiwan's cities and towns, and most hotels in Taipei have internet access in their guestrooms.
Emergencies
110 (Police); 119 (Ambulance)
Languages Spoken
Mandarin is the official language of Taiwan, but Taiwanese is often spoken and English is generally understood.
Duty Free
Travellers aged over 20 may enter Taiwan without paying customs duty on 200 cigarettes or 25 cigars or 454g tobacco, 1 bottle of alcohol (maximum 1 litre), and a reasonable amount of perfume. Travellers are also permitted to bring personal goods valued up to NT$20,000 duty free (or NT$10,000 for those under 20 years). Guns, narcotics, fresh meat and fruit are prohibited.
Electricity
Electrical current is 110 volts, 60Hz. Two-pin flat blade plugs are standard.
Climate Info
Taiwan is sub-tropical but the climate varies from hot and humid in the south tempering to cooler in the north and inland mountainous region. All over the country sudden rain showers frequently occur, making rainwear an essential part of a visitor's luggage. The driest time of year is autumn (September and October), which is followed by a short generally damp and chilly winter with snow on the island's mountain peaks. Summer temperatures can reach 90ºF (35ºC) at the coast. Summer is also typhoon season.
Passport
All travellers entering Taiwan require confirmed return air tickets or proof of onward travel. It is highly recommended that passports have at least six months validity remaining after your intended date of departure from your travel destination. Immigration officials often apply different rules to those stated by travel agents and official sources.
Entry Requirements
US citizens do not require a visa for stays of up to 90 days, provided they hold a passport valid for the period of intended stay. Visas cannot be extended or converted. Visitors not holding return/onward tickets could be refused entry.
Passports must be valid for six months from date of arrival. Visas are not required for stays of up to 90 days for holders of British passports endorsed 'British Citizen'. Those with temporary or emergency passports endorsed 'British Citizen' can obtain a visa on arrival, for stays of up to 30 days. Holders of British passports with other endorsements should confirm official requirements.
Canadian nationals do not require a visa for stays of up to 90 days, provided they hold a passport valid six months from their date of arrival.
Australian nationals may stay in Taiwan for up to 90 days without a visa, provided they hold a passport valid six months from their date of arrival.
South African nationals require a visa for travel to Taiwan and a passport valid for six months after intended travel.
Irish nationals may stay in Taiwan for up to 90 days without a visa and require a passport valid for at least six months from entry.
New Zealand nationals require a passport valid for at least six months from entry. No visa is required for a stay of up to 90 days.
Health
Taiwan health regulations require that travellers arriving from infected areas carry vaccination certificates for yellow fever. Travellers are advised to have up-to-date jabs for hepatitis A and typhoid, and it is advisable for most long-term travellers to be inoculated against Japanese encephalitis. Due to recent outbreaks of dengue fever, insect repellents and other measures to prevent mosquito bites are recommended for those travelling to the southern part of the island. Visitors should only drink bottled water and should be wary of potential food poisoning. Taiwan's medical facilities are first-class, but health insurance is recommended for travellers.
Safety
Most visits to Taiwan are trouble-free. The country has only a low incidence of petty crime, and is considered safe. The only threats are natural ones, because the island is prone to typhoons and tropical storms, usually between May and November, as well as earthquakes and tremors. These are seldom severe.
Emergency Phone Number
110 (Police); 119 (Ambulance)
* For current safety alerts, please visit
Foreign travel advice - GOV.UK
or
Travel.State.Gov
Money
Taiwan's currency is the New Taiwan Dollar (TWD). Foreign currencies can be exchanged at government-designated banks and hotels. Receipts are given when currency is exchanged, and must be presented in order to exchange unused dollars before departure. Major credit cards are accepted and ATMs are plentiful. Banks are open Monday to Friday.
Exchange Rate
Not available.
Embassies of Taiwan
Embassy of the Republic of China (Taiwan), Washington DC, United States: +1 202 895 1800.
Taipei Representative Office, London, United Kingdom: +44 (0)20 7881 2650.
Taipei Economic and Cultural Office, Ottawa, Canada: +1 613 231 5080.
Taipei Economic and Cultural Office, Barton, ACT, Australia: +61 (0)2 6120 1022.
Taipei Liaison Office, Pretoria, South Africa: +27 (0)12 430 6071/2/3.
Taipei Representative Office, Dublin, Ireland: +353 (0)1 678 5413.
Taipei Economic and Cultural Office, Auckland, New Zealand: +64 (0)9 303 3903.
Foreign Embassies in Taiwan
British Trade and Cultural Office, Taiwan: +886 2 8758 2088.
Canadian Trade Office, Taipei: +886 2 2544 3000.
Australian Commerce and Industry Office, Taipei: +886 2 8725 4100.
Liaison Office of South Africa, Taipei: +886 2 2715 3251/4.
Ireland Institute for Trade and Investment in Taiwan, Taipei: +886 2 2725 1691.
New Zealand Commerce and Industry Office, Taipei: +886 2 2757 9514.
Customers
The concept of 'saving face' is very important in Taiwanese culture, and tourists should try to avoid embarrassing locals. Self-control is another key aspect to Taiwanese culture, and losing your temper or creating a public spectacle is highly frowned upon. Relationships in Taiwan are built around mutual benefit, and the exchange of small gifts is common. Taiwanese customs include a number of superstitions, including prohibitions of writing a person's name in red, pointing at cemeteries or graves, whistling at night, or giving a gift of shoes, umbrellas, clocks or knives. Remove your shoes before entering a person's home. Physical contact with strangers is considered impolite.
Business
Doing business in Taiwan is a pleasure for those who value high work ethics and technologically-savvy business partners. Taiwan has traded heavily with the West for many years and business formalities have melded over time. However it is important to observe and respect the cultural heritage to which many firmly cling. Confucian values tend to dictate business etiquette and common practice in Taiwan. The majority of businesses in Taiwan are medium-sized and family-owned, meaning that the paternal head of the family is always consulted - this can result in business decisions taking longer than expected.
Two important aspects of business culture in Taiwan are face and 'Gianni' (relationships). Face relates to dignity - that of a person or a company - and informs all social and business interactions. It is important to keep, or save, face at all times. Never correct a colleague and if someone makes a mistake don't expect them to correct themselves. Relationships are an integral part of most business cultures and Taiwan is no exception. Gift-giving and taking business deals slowly are central aspects to building and maintaining good business relationships in Taiwan. When giving gifts, it's general practice to give a simple gift to all members involved in a meeting, and a better gift for the most important member of the party. When receiving a gift, it is polite not to open it in front of your hosts.
Always accept invitations to events outside of normal business hours, as this is when relationships are built. Don't make direct or prolonged eye-contact with someone who is in a very senior position. However, be sure to always direct the conversation to the most senior person in the meeting. Punctuality is expected in all meetings. Shaking hands, for men and women is common nowadays, but a bow goes a long way as a sign of respect. Business hours are from 9am to 5.30pm from Monday to Friday. Business cards are exchanged often and should be printed in both English and Taiwanese. Work clothes tend to be formal and conservative. Men wear dark suits; women wear modest dresses and skirts rather than pants. Taiwanese is the language of business and hiring a translator is often a necessity.
Tipping
Tipping is not customary, although if offered it will be accepted. Baggage handlers at hotels and the airport will be pleased with some loose change. Hotels and restaurants will usually add a 10 percent service charge to the bill.
Public Holidays in Taiwan
| | | |
| --- | --- | --- |
| | 2017 | 2018 |
| Childrens Day | 4 Apr | 4 Apr |
| Peace Memorial Day | 28 Feb | 28 Feb |
| Chinese New Year | 27 Jan | 15 Feb |
| New Years Day | 1 Jan | 1 Jan |
| Tomb Sweeping Day | 5 Apr | 5 Apr |
| Labour Day | 1 May | 1 May |
| Ng Tuen Festival | 30 May | 18 Jun |
| Mid-Autumn Festival | 4 Oct | 24 Sep |
| National Day | 10 Oct | 10 Oct |
Map of Taiwan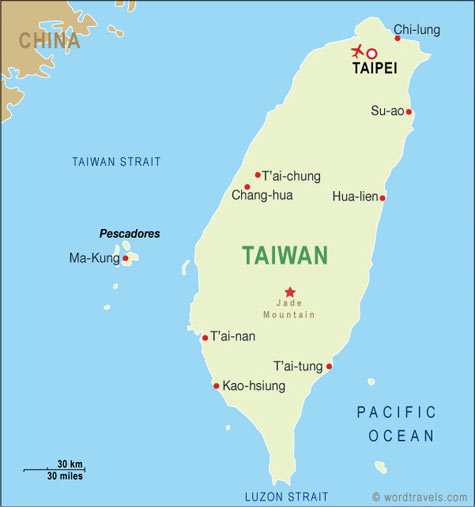 Travel Guide powered by www.wordtravels.com, copyright © Globe Media Ltd. All rights reserved. By its very nature much of the information in this guide is subject to change at short notice and travellers are urged to verify information on which they're relying with the relevant authorities. Globe Media and UNIGLOBE Travel does not accept any responsibility for any loss or inconvenience to any person as a result of information contained above.