General
Money
Entry Requirements
Health & safety
Weather
Embassies
Etiquette
Public Holidays
Attractions
Map
---
Introduction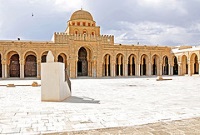 Tunisia ©Dennis Jarvis
Old and new, exotic and traditional, the captivating North African country of Tunisia sits at the heart of the Mediterranean, caught in a cleft between Algeria and Libya, offering the world's travellers some sumptuous modern seaside resorts set side by side with a treasure trove of ancient Roman, Arab, Berber and Phoenician sites.
Just a few miles north of the capital, Tunis, lie the remains of the legendary ancient city of Carthage, founded in the 8th century BC. By contrast Tunis is a hustling, bustling modern metropolis where steel, glass and palm trees form the backdrop to streets filled with fast-moving yellow taxis. In the heart of this surprisingly pristine city, however, the centuries slip away in the medieval Medina, a haven for souvenir hunters with hundreds of narrow streets crammed with vendors of antiques, jewellery, pottery, carpets, perfumes, dried fruit, books, spices and many other delights. Also, no tourist to the city should miss a visit to the Bardo Museum, for the joy of viewing one of the world's greatest collections of Roman mosaics.
Tunisia has a thousand miles of coastline to the north, where luxurious resorts like Hammamet and Nabeul nestle amid citrus orchards. Vacationers relish the sandy beaches and crystalline waters along the waterfront, where the only alternative to lazy bronzing is to indulge in a round of golf or take the plunge with some watersports.
Those intrepid enough to venture into the south, on the threshold of the Sahara desert, will be rewarded with some interesting geographical features like the 'forest in the desert' at Ramada, the dry salt lake at Chott el Jerid, or the remote 'end of the road' oasis at Ksar Ghilane.
The cherry on the top for visitors to this affordable and exotic holiday destination is the warmth and genuine friendliness of the Tunisian people. This is evident in even the smallest of villages, where if you happen to pass through during one of the numerous summer festivals you will be welcomed, urged to join in and find yourself dancing and sharing a cup of tea.
Although recent political upheaval has kept Tunisia on the front page rather than in the travel section, the country has made the transition to democracy smoothly and is once again welcoming tourists and cruise ships to its shores.
Communications
The international dialling code for Tunisia is +216. The outgoing international code is 00, followed by the relevant country code (for example 0027 for South Africa). City/area codes are in use, e.g. (0)1 for Tunis. The country is covered by two GSM 900/1800 mobile networks. There is widespread internet coverage with internet cafes in the main cities and towns.
Emergencies
190 (Medical Emergency); 197 (Police); 198 (Fire).
Languages Spoken
The overwhelming majority of people in Tunisia speak Arabic and French. English is taught in all schools and is increasingly spoken especially by younger people. Some German and Italian is also spoken.
Duty Free
Travellers to Tunisia do not have to pay duty on the following items: 200 cigarettes, or 50 cigars, or 400g tobacco; 1 bottle of alcohol; a reasonable amount of perfume; and gifts to the value of 10 Tunisian dinars.
Electricity
Electrical current in Tunisia is 230 volts, 50Hz. Round European-style, two-pin plugs are used.
Climate Info
Tunisia is a land of constant sunshine and warm water. The height of summer is a popular time to visit Tunisia, but many people prefer to visit between October and May when the temperature is more comfortable, or in the spring (March to May) when visitors may find displays of wild flowers throughout the countryside.
Passport
All visitors must hold documents and tickets for return or onward travel. Some nationals can obtain visas on arrival. It is highly recommended that passports have at least six months validity remaining after your intended date of departure from your travel destination. If the minor's father is a national of Tunisia, irrespective of minor's nationality: when departing Tunisia as an unaccompanied minor or accompanied only by mother, a Paternal Authorization is required. For divorced couples, an official copy of the court decision awarding custody to the mother is required.
Immigration officials often apply different rules to those stated by travel agents and official sources.
Entry Requirements
US nationals must have a passport that is valid for the duration of their intended stay. They may stay for up to four months without a visa.
UK passport holders, irrespective of passport endorsement or national status, may enter Tunisia and stay for up to three months without a visa. A passport that is valid for the duration of the stay is required.
Canadians do not require a visa for stays of up to four months. A passport that is valid for the duration of the stay is required.
South African nationals must have a passport that is valid for the duration of their intended stay. They may stay for up to three months without a visa.
Irish nationals do not require a visa for stays of up to three months. A passport that is valid for the duration of the stay is required.
New Zealand nationals require a passport that is valid for the duration of their stay. A visa is required and may be issued upon arrival for a stay of three months.
Health
No vaccinations are recommended for Tunisia and no serious health risks exist, but all travellers are required to show a yellow fever certificate if coming from an infected area. Travellers' diarrhoea and other parasitic infections may be contracted, but is unlikely in the modern seaside resorts. Visitors travelling outside these resorts should ensure they drink only boiled, purified water and eat well-cooked food. All medical expenses must be paid for immediately after treatment in Tunisia, and costs can be quite high. The availability of medication is limited. Visitors should bring adequate supplies of their own medication. Health insurance is a necessity.
Safety
As a rule, travellers are advised to avoid the border areas with Algeria, and be extra cautious if travelling alone in the southern and eastern border areas. In general, the northeastern coast region from Tunis all the way down to Gabes, remains safe and tourist friendly, although in recent years, there have been isolated incidences in the safer resort areas, such as Sousse and Port El Kantaoui on the east coast, where violent terrorist attacks have been especially aimed at large groups of foreign tourists.
As a result, many resorts have dramatically increased security to protect their visitors. For this reason, foreign travellers are advised to pay close attention to travel warnings and recommendations from official government sources before travel to Tunisia and to cooperate with security officials and carry a copy of their passport at all times, while in the country.
And although violent crimes are unlikely in larger tourist cities and resorts, petty theft and pick pocketing does occur. An increase in bag snatching has been noted in tourist areas and visitors are advised to keep bags close at all times.
Emergency Phone Number
190 (Medical Emergency); 197 (Police); 198 (Fire).
* For current safety alerts, please visit
Foreign travel advice - GOV.UK
or
Travel.State.Gov
Money
The unit of currency is the Tunisian Dinar (TND), divided into 1,000 millimes. Banks and some hotels provide foreign exchange. ATMs are found in most towns and at all the tourist resorts; almost all will accept Visa cards and many will also accept Maestro (Switch) cards. Visa, Maestro and MasterCard are accepted for payment in many souvenir shops, upmarket hotels and restaurants, although Visa encounters the least problems. All Tunisian currency must be exchanged before departure.
Exchange Rate
Not available.
Embassies of Tunisia
Embassy of Tunisia, Washington DC, United States: +1 202 862 1850.
Embassy of Tunisia, London, United Kingdom (also responsible for Ireland): +44 (0)20 7584 8117.
Embassy of Tunisia, Ottawa, Canada: +1 613 237 0330.
Embassy of Tunisia, Tokyo, Japan (also responsible for Australia): +81 3 3511 6622.
Embassy of Tunisia, Pretoria, South Africa: +27 (012 342 6282.
Foreign Embassies in Tunisia
United States Embassy, Tunis: +216 (0)71 107 000.
British Embassy, Tunis: +216 (0)71 108 700.
Canadian Embassy, Tunis (also responsible for Australia): +216 (0)70 010 200.
South African Embassy, Tunis: +216 (0)71 798 449.
Honorary Consul of Ireland, Tunis: +216 71 426 730.
Customers
Tunisia is a Muslim country and visitors should respect the local sensibilities, especially during the month of Ramadan. Visitors, and women in particular, should dress modestly outside of the beach resorts. Women should note that coffee houses are mainly populated by men and women are often ushered into the 'family section' in restaurants as this is for the comfort. Homosexuality is illegal and although it is common to see Arab men greet each other with a kiss on the cheek and even hold hands in public, this is unacceptable for tourists. Despite being a Muslim country, alcohol is widely available.
Business
Tunisians like to get to know the person with whom they will be doing business and negotiations tend to be prolonged and very sociable occasions. As with other Arab countries, one is expected to dress conservatively and formally in Tunisia. French is the common language of business and interpreters will be necessary otherwise. A firm handshake is the accepted form of greeting and the Arabic 'Salaam Aleikum' works better than a simple 'Hello.' Business hours are generally 8am to 12pm and 3pm to 6pm Monday to Friday.
Tipping
Tipping is not a requirement in Tunisia but appreciated for good service in local establishments. Most people performing a useful service will wait to be tipped. Waiters in resort and hotel restaurants expect a tip of around 10 percent.
Public Holidays in Tunisia
| | | |
| --- | --- | --- |
| | 2017 | 2018 |
| New Years Day | 1 Jan | 1 Jan |
| Independence Day | 20 Mar | 20 Mar |
| Revolution and Youth Day | 14 Jan | 14 Jan |
| Martyrs Day | 9 Apr | 9 Apr |
| Labour Day | 1 May | 1 May |
| Republic Day | 25 Jul | 25 Jul |
| Womens Day | 13 Aug | 13 Aug |
| Eid al-Fitr (End of Ramadan) | 26 Jun | 15 Jun |
| Eid Al-Adha (Feast of Sacrifice) | 2 Sep | 22 Aug |
| Commemoration Day | 7 Nov | 7 Nov |
| Islamic New Year | 22 Sep | 12 Sep |
| Birth of the Prophet | 1 Dec | 21 Nov |
Overview
A popular holiday resort destination for tourists, Tunisia has more to see and do than just beautiful beaches scattered along its Mediterranean coastline, and luxurious resorts like Hammamet and Nabeul; there are countless attractions to meet just about every sightseer's needs.
Start off in the capital of Tunis, a fast-paced modern metropolis of a city juxtaposed by a medieval Medina. Spend a few hours here taking in the history and hunting for bargains and souvenirs in the countless tiny streets lined with vendors touting antiques, pottery, jewellery and other delights. Head to the Bardo Museum to marvel at some of the world's greatest Roman mosaics, while just a few miles north of Tunis lie the remains of the legendary ancient city of Carthage, which dates back to the 8th century BC.
Heading south towards the Sahara affords visitors plenty of fascinating geographical features like the 'forest in the desert' at Ramada, as well as the dry salt lake at Chott el Jerid and the remote 'end of the road' oasis at Ksar Ghilane.
Map of Tunisia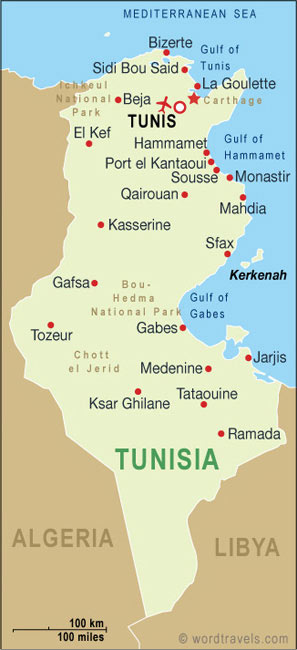 Travel Guide powered by www.wordtravels.com, copyright © Globe Media Ltd. All rights reserved. By its very nature much of the information in this guide is subject to change at short notice and travellers are urged to verify information on which they're relying with the relevant authorities. Globe Media and UNIGLOBE Travel does not accept any responsibility for any loss or inconvenience to any person as a result of information contained above.