General
Money
Entry Requirements
Health & safety
Weather
Embassies
Etiquette
Public Holidays
Attractions
Map
---
Introduction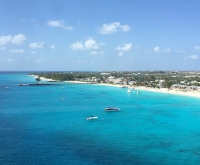 The friendly Turks and Caicos islanders, known as the 'belongers', rely almost solely on tourism for their livelihood and therefore welcome visitors to this Caribbean British Overseas Territory with open arms.
The 'TCI', as the archipelago is known colloquially, is situated at the end of the Bahamas chain, around 575 miles (925km) southeast of Miami, Florida. The Turks, with their dry, scrubby landscape, are divided from the more lush Caicos Islands by the Christopher Columbus Passage.
The pristine white beaches, vast coral reefs and crystal clear warm waters that surround this set of eight inhabited islands and numerous deserted cays draw honeymooners, scuba divers and vacationers in droves, with many visitors arriving by cruise ship. Everyone leaves smiling and de-stressed, and most return again and again to enjoy the tranquillity of this unspoiled tropical island paradise.
The Turks and Caicos Islands are famous for the reef system that surrounds them, the third most extensive coral reef in the world, making it a prime destination for divers and snorkelers. Visibility and an abundance of marine life, as well as excellent dive facilities, ensure that diving is the number one activity on the islands. The channel that separates the Turks Islands from the Caicos Islands is a deep passage that is a major route for humpback whales, dolphins, and eagle and manta rays. The reef wall around the southern edge of South Caicos Island is said to provide the finest diving in the archipelago. The shallow reefs close to the shore are excellent for snorkelers and with visibility up to 200ft (61m) there is no need to be underwater to appreciate all the sights.
The most popular islands for holidaymakers are Grand Turk, the site of the quaint capital, Cockburn Town, and Providenciales ('Provo' for short), both well equipped with modern hotel, condominium and spa complexes that offer every tourist amenity. The other islands offer more rustic accommodation suited to romantics and nature-lovers who want to unplug from the real world for a while. Clocks, televisions and radios are hard to find on the laid-back cays, and the nightlife mostly consists of sundowners and stargazing.
Communications
Cable & Wireless Ltd. provides the islands, and most of the Caribbean, with a digital network of telecommunications, including GSM cellular coverage and internet connections. The country direct dialling code is +1 followed by 649. The outgoing code is 011 followed by the relevant country code (e.g. 01144 for the United Kingdom). Public phones operate with phone cards.
Emergencies
Emergencies: 911
Languages Spoken
The national language is English, but some words are pronounced in a way unique to the islands.
Duty Free
Travellers may enter the Turks and Caicos Islands with the following goods without paying customs duty: 200 cigarettes or 50 cigars or 220g of tobacco products; and 1 litre spirits or 2 litres wine. Spearguns are strictly prohibited.
Electricity
Electricity is the same as in the US: 120/240 volts, 60 Hz.
Climate Info
The Turks and Caicos Islands enjoy a tropical marine climate, with trade winds ensuring that the islands maintain a comfortable warm temperature, which varies little between winter and summer. Between June and October the temperature hovers between 85°F and 90°F (29°C to 32°C), dropping only a few degrees in the winter months. The water is almost as warm as the air. The westerly islands enjoy high annual rainfall, and hurricanes are possible between June and October, but on average the islands have 350 days of sunshine a year.
Passport
All visitors must hold a return or onward ticket, all documents required for their next destination and sufficient funds. As part of the Western Hemisphere Travel Initiative (WHTI), all travellers travelling between the United States and Canada, Mexico, Bermuda, and the Caribbean region are required to present a passport or other valid travel document to enter or re-enter the United States. If departing from the USA a valid passport will be required by immigration authorities. It is highly recommended that passports have at least six months validity remaining after your intended date of departure from your travel destination. Immigration officials often apply different rules to those stated by travel agents and official sources.
Entry Requirements
US citizens do not require a visa for stays of up to 90 days, provided they hold a passport valid for the period of intended stay.
British nationals require a valid passport, but no visa is required to enter the islands for a stay of up to 90 days.
Canadian citizens do not require a visa for stays of up to 90 days, provided they hold a passport valid for the period of intended stay.
Australian citizens do not require a visa for stays of up to 90 days, provided they hold a passport valid for the period of intended stay.
South African citizens do not require a visa for stays of up to 90 days, provided they hold a passport valid for the period of intended stay.
Irish nationals do not require a visa for stays of up to 90 days, provided they hold a passport valid for the period of intended stay.
New Zealanders do not require a visa for stays of up to 90 days, provided they hold a passport valid for the period of intended stay.
Health
No vaccinations are required for entry to the islands, except for those coming from a yellow fever area that must hold proof of vaccination. A vaccination for hepatitis A should be considered.
Medical facilities are limited and comprehensive health insurance, including coverage for transfer by helicopter, is recommended for all travellers. Serious cases are usually evacuated to Miami or Nassau. There is a small hospital on Grand Turk and some private general practitioners on Providenciales.
Safety
Visits to the Turks and Caicos Islands are usually trouble-free, and crime is generally of a petty, opportunistic kind. The crime rate is low, but on the favourite tourist island of Providenciales there have been incidents of burglary and theft, so visitors should take precautions with valuables. Robberies have occurred on Grace Bay Beach. Hurricane season generally runs from June to November.
Emergency Phone Number
Emergencies: 911
* For current safety alerts, please visit
Foreign travel advice - GOV.UK
or
Travel.State.Gov
Money
The US dollar (USD) is the official currency, which is divided into 100 cents. Local banks and most big hotels, restaurants and taxi services accept travellers cheques and credit cards. Banks offer ATMs as well as cash advances on credit cards.
Exchange Rate
Not available.
Embassies of Turks and Caicos Islands
Turks and Caicos Island Foreign Representation, London, United Kingdom: +44 (0) 20 7034 7845
Foreign Embassies in Turks and Caicos Islands
US Embassy Nassau, The Bahamas (also responsible for Turks and Caicos): +(242) 322-1181 ext. 4406.
UK Governor's Office, Grand Turk: +1 649 946 2309.
Canadian High Commission, Kingston, Jamaica (also responsible for Turks and Caicos Islands): +1 876 926 1500
Australian High Commission, Port of Spain, Trinidad and Tobago (also responsible for Turks and Caicos Islands): +1 868 822 5450.
Customers
Culture in the Turks and Caicos Islands is relaxed and hospitable if not overly friendly, and islanders are known for their good manners. Address strangers with respect and note that the use of titles is considered normal and appropriate. Things happen slowly on the islands and attempting to rush service will only annoy. You should cover beachwear when off the beach, and men need to wear long pants at smarter restaurants. Topless and nude sunbathing is illegal. Gay and lesbian relationships are legal, but tend to be discreet and public displays of affection may be frowned upon.
Business
The Turks and Caicos Islands are subject to English Common Law and business is conducted in a similar manner to the United Kingdom; however, suits are only necessary for the most formal of occasions. Business hours are generally 8.30am to 4.30pm, Monday to Friday.
Tipping
Tips of around 15 percent of the bill are the norm for waiters, taxi drivers and bar tenders. Hotels usually include a service charge of 10 to 15 percent.
Public Holidays in Turks and Caicos Islands
Map of Turks and Caicos Islands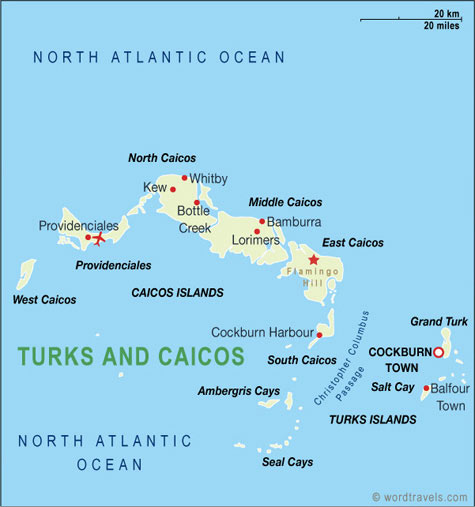 Travel Guide powered by www.wordtravels.com, copyright © Globe Media Ltd. All rights reserved. By its very nature much of the information in this guide is subject to change at short notice and travellers are urged to verify information on which they're relying with the relevant authorities. Globe Media and UNIGLOBE Travel does not accept any responsibility for any loss or inconvenience to any person as a result of information contained above.