General
Money
Entry Requirements
Health & safety
Weather
Embassies
Etiquette
Public Holidays
Attractions
Map
---
Introduction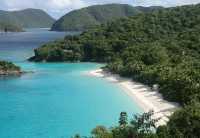 Hawknest Bay ©Reinhard Link
Of the 60 mostly uninhabited islands that make up the US Virgin Islands, the biggest and most visited are St Thomas, St John and St Croix. Their appeal lies in the amalgamation of the exotic and the recognisable, an island paradise with modern comforts, and a balance between Caribbean culture and American practicality.
The energetic capital of Charlotte Amalie, with its attractive harbour, lies on St Thomas. This island is the most Americanised of the chain, famous for its world-class duty-free shopping. Nearby St John is an unspoilt nature lover's paradise, with most of its forests, pristine beaches and reefs part of a protected national park. The largest of the islands is St Croix and its remoteness from the others, the historic remnants scattered about the landscape, the pretty Danish-influenced towns of Frederiksted and Christiansted, and the snorkelling at nearby Buck Island are the attractions here.
Surrounded by the crystal-clear waters of the Caribbean, these islands boast some of the most splendid coastline in the world, with white sandy beaches, astonishing coral reefs, plentiful marine life, secluded coves, and untouched rainforests rising up above the sea-swept landscape. Caribbean colour touches every aspect of the islands, blending with the strong Danish influence in the towns. White sails glide effortlessly across the emerald waters; local craftsmen display their unique island art along cobblestone alleyways; tiled villa roofs provide a splash of red against the verdant hillside; busy markets supply the essentials for a delicious cuisine; and the sounds of folk songs and calypso bands fill the air.
The Virgin Islands are among the most popular cruise ship destinations in the Caribbean and the port towns of Charlotte Amalie, Christiansted and Frederiksted are often swamped with newly arrived passengers in a frenzy of shopping and dining. The most popular beaches are seldom deserted, and the key reef areas are often a flurry of flippers and snorkels. Luxury resorts and fine hotels share the streets with old colonial architecture. Yet it is still possible to escape the crowds and find that bit of elusive paradise, to relax away from the divers and sailors, the sightseers, the ecological tour groups, and the shoppers.
Communications
The international country code for the US Virgin Islands is +1 340 and the code for dialling out internationally is 011 (followed by the relevant country code, for example 01144 for the United Kingdom). City/area codes are not required. The AT & T Wireless GSM mobile network covers the islands. Internet cafes are available in the main resorts.
Emergencies
Emergencies: 911
Languages Spoken
English is the official language. Spanish, Creole and some French are also spoken.
Duty Free
Travellers to the Virgin Islands who are residents of the USA and are over 21 years are allowed to return the the US with 4 litres of alcoholic beverages; 100 cigars or 1,000 cigarettes, tax free, granted they have been purchased in the Virgin Islands.
Electricity
120 volts, 60Hz. Two-flat-pin plugs are standard.
Climate Info
The islands are hot and humid throughout the year, with most rain falling between August and October. The busiest tourist season is from December to May, during the northern hemisphere winter, and outside of these months rooms are cheaper and the islands less crowded. Between April and August the waters are calmer and underwater visibility is best for diving and snorkelling. Most travellers prefer to avoid the rainy season in the US Virgin Islands, but this Caribbean gem can be enjoyed at any time of year.
Passport
Entry requirements are the same as for the United States of America. There is no immigration control for visitors arriving from mainland USA. Visitors from countries that qualify for the Visa Waiver Programme (VWP) must have a machine-readable passport (MRP) that has a bar code on the photo page. Eligible travellers under the VWP must include biometrics in their machine-readable passports if they wish to enter the country without a visa; this means that unique personal data, such as fingerprints or iris details, must be included in passports. All passports must contain a digital photo image in order to travel visa-free. Those travelling under the VWP must also register on the US government ESTA website three days before departure, which allows the US to screen visitors before travel. All visitors to the USA will have a photograph and two fingerprints taken by an inkless scanner on arrival, including those travelling visa-free under the Visa Waiver Programme. All travellers arriving or departing by air, land or sea between the USA and Mexico, Canada, the Caribbean, Bermuda, and Central and South America are required to present a valid passport. It is highly recommended that passports have at least six months validity remaining after your intended date of departure from your travel destination. Immigration officials often apply different rules to those stated by travel agents and official sources.
Entry Requirements
A valid US passport is required. A visa is not required.
UK passport holders require a valid passport for travel to the US Virgin Islands: British Citizens require a passport valid for duration of stay; passports with other endorsements must be valid for six months beyond period of intended stay. Under the Visa Waiver Programme (VWP), most British citizens do not require a visa for holiday, transit or business purposes provided that their passports are machine-readable, the stay does not exceed 90 days, a return or onward ticket is held, and they check into the US government ESTA website prior to departure to register.
Canadians require a passport valid for duration of stay but a visa is not required. Visitors should hold tickets and documents required for return or onward destination.
Australian nationals require a passport valid for duration of stay but do not require a visa for touristic stays of up to 90 days. Passports need to be machine-readable, a return or onward ticket is required, and Australians must check into the US government ESTA website prior to departure.
South Africans must hold a passport valid for duration of stay, and a visa is required. Visitors must have return or onward tickets and the necessary documents for further travel.
Irish nationals require a passport valid for duration of stay, but as Ireland qualifies for the US Visa Waiver Programme visas are not required for touristic or business stays of up to 90 days. Visitors must have machine-readable passports, return or onward tickets, and they must register on the ESTA site before departure.
New Zealand nationals require a passport valid for duration of stay but do not need visas for stays of up to 90 days. New Zealanders require machine-readable passports and return or onward tickets, and must register on the US government ESTA website before departure.
Health
Health risks include hepatitis A and dengue fever. Only bottled water should be drunk outside the major towns. Medical facilities are of a high standard, but health insurance is vital as medical care is very expensive.
Safety
The US Virgin Islands are generally safe for travellers and the vast majority of visits are trouble-free; however, normal precautions against petty crime should be taken, especially in the back streets of towns at night. Don't leave valuables lying on the beach when snorkelling or swimming.
Emergency Phone Number
Emergencies: 911
* For current safety alerts, please visit
Foreign travel advice - GOV.UK
or
Travel.State.Gov
Money
The official currency is the US Dollar (USD) divided into 100 cents. Most credit cards are accepted, including American Express, Diners Club, Mastercard and Visa, and are useful for withdrawing cash at ATMs. Foreign exchange bureaux are available to exchange other currencies, but it is best to arrive with US Dollars as many banks and hotels will not exchange foreign currency.
Exchange Rate
Not available.
Embassies of US Virgin Islands
United States Embassy, London, United Kingdom: +44 (0)20 7499 9000.
United States Embassy, Ottawa, Canada: +1 613 238 5335.
United States Embassy, Canberra, Australia: +61 (0)2 6214 5600.
United States Embassy, Pretoria, South Africa: +27 (0)12 431 4000.
United States Embassy, Dublin, Ireland: +354 (0)1 668 8777.
United States Embassy, Wellington, New Zealand: +64 (0)4 462 6000.
Foreign Embassies in US Virgin Islands
British Embassy, Washington DC, USA: +1 202 588 6500.
Canadian Embassy, Washington DC, USA: +1 202 682 1740.
Australian Embassy, Washington DC, USA: +1 202 797 3000.
South African Embassy, Washington DC, USA: +1 202 232 4400.
Irish Embassy, Washington DC, United States: +1 202 462 3939
New Zealand Embassy, Washington DC, United States: +1 202 328 4800.
Customers
In the US Virgin Islands, politeness is important. Greet people before asking questions or requesting assistance. Greetings depend on the time of day, with good morning, good afternoon, and good evening being common. You may hear locals thanking 'jumbi' (spirits) for good luck, or blaming them for misfortune.
Business
The economy in the US Virgin Islands revolves primarily around tourism, though petroleum refining takes place off St. Croix. Like many other Caribbean countries things are pretty relaxed, and formal business attire is generally not considered necessary as the climate makes this quite uncomfortable. The people are friendly and polite and shaking hands is common upon introductions for men and women; business cards are handed out upon introduction. Business hours are typically 8am to 5pm Monday to Friday, with lunch breaks around 12pm.
Tipping
Tipping of 15 to 20 percent is customary for good service. Some hotels and restaurants automatically add a service charge and room tax.
Public Holidays in US Virgin Islands
Map of US Virgin Islands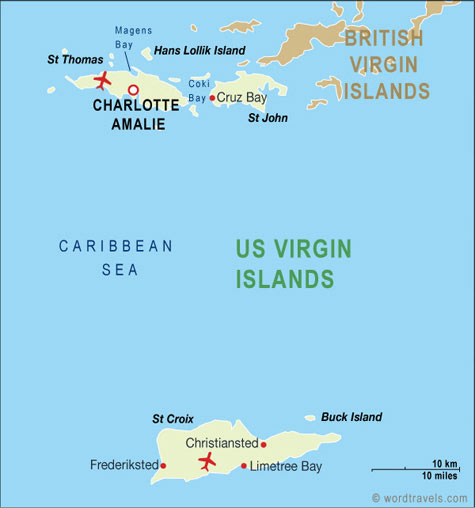 Travel Guide powered by www.wordtravels.com, copyright © Globe Media Ltd. All rights reserved. By its very nature much of the information in this guide is subject to change at short notice and travellers are urged to verify information on which they're relying with the relevant authorities. Globe Media and UNIGLOBE Travel does not accept any responsibility for any loss or inconvenience to any person as a result of information contained above.