General
Money
Entry Requirements
Health & safety
Weather
Embassies
Etiquette
Public Holidays
Attractions
Map
---
Introduction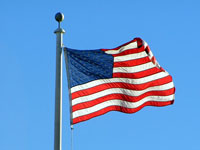 The Star-Spangled Banner ©Free Digital Photos
Billed for centuries as the 'land of opportunity', for more than 500 years people have travelled to the United States of America seeking a better life. The territory was fought over by colonial powers for 300 hundred years, and finally won its independence from Britain in 1783.
Despite the near-annihilation of the Native American population, a bloody civil war, and centuries of ingrained racism (Native Americans were not granted citizenship until 1924 and racial segregation was the norm until as late as the 1950s), the American people have succeeded in forging one of the worlds most united, democratic and tolerant nations, a fascinating melting-pot of cultures, and the undisputed military and economic heavyweight of the world.
A country of this size, with a history this colourful, truly does present endless opportunity for travellers heading Stateside. World-famous attractions like the Statue of Liberty in New York City, Mount Rushmore in South Dakota, and the Grand Canyon in Arizona don't even begin to scratch the surface of what the US has to offer visitors.
Depending where and when you travel, a holiday in the United States can offer sizzling desert mesas, labyrinthine cities, chilly snow-covered forests, steaming tropical jungles, or rolling flower-covered prairies. With an area of roughly 3,794,083 square miles (9,826,630 sq km), the US is the perfect place to take weeks-long roadtrips along the Blue Ridge Parkway, the Pacific Coast Highway, or Route 66, discovering hidden gems along the way.
Whether you want to see the celebrity stars on the Hollywood Walk of Fame, the majestic summit of Pike's Peak, or the world's largest ball of twine in Darwin, Minnesota, the United States has something for everyone.
Communications
The international country dialling code for the United States is +1. Mobile networks cover most of the country, including all urban areas, however unless you have a tri-band phone it is likely your cellular phone from home will not work in the United States. Internet cafes are prevalent in most towns and cities.
Emergencies
911 (General)
Languages Spoken
English is the most common language spoken but Spanish is often heard in the south-western states.
Duty Free
Travellers to the United States who are returning residents of the country do not have to pay duty on articles purchased abroad to the value of $800 provided their stay was longer than 48 hours and their duty-free allowance was not used in the 30-day period prior. For passengers arriving from Samoa, Guam and the U.S. Virgin Islands, a duty-free allowance of $1,200 is allowed. The following items are included in this: 50 cigarettes and 10 cigars and 150 milliliters (5 fl. oz.) of alcoholic beverages or 150 milliliters (5 fl. oz.) of perfume containing alcohol. Restrictions may apply to goods from Cuba, Iran, North Korea, Burma (Myanmar), Angola, Liberia and Sudan. It is prohibited to import Cuban cigars from any country. Travellers to the United States who are non-residents do not have to pay duty on the following items: 50 cigars or 200 cigarettes and gifts to the value of $100 provided their stay in the USA is not less than 72 hours and that the allowance has not been used in the preceding six-month period. Prohibited items for residents and non-residents include: meat or meat products, poultry, narcotics, absinthe, plants, seeds, vegetables, fruits, soil, live insects and other living plants or animal pests. Fish is prohibited unless it carries disease-free certification. Wildlife and animals or their by-products carry restrictions. Dairy products and eggs from specified countries are not allowed. Firearms and ammunition are not allowed without the necessary license and permit.
Electricity
Electrical current is 120 volts, 60Hz. Plugs are mainly the type with two flat pins, though three-pin plugs are also widely used. European appliances without dual-voltage capabilities will require an adapter.
Climate Info
The United States of America covers a large region, stretching from east to west across nine time zones and therefore it is no surprise that the country has a varied climate, ranging from arctic regions to deserts. California, on the west coast of the US, has a pleasant, Mediterranean climate, and the Pacific Northwest Coast has more of a maritime climate, with cooler summers and mild winters, influenced by westerly winds. The central part of the US has extreme temperature variations and a continental climate - with cold winters and hot summers (with tornadoes). The eastern central US tends to be more humid, while the western central US is semiarid. The east side of the country has a continental climate caused by air masses moving from west to east, with hot summers and a prevalence of tornadoes in the Mississippi River area. Florida has the warmest winters on the eastern seaboard. It is recommended that travellers research the climate in the specific state they wish to visit when choosing when to travel.
Passport
Visitors entering the country under the Visa Waiver Programme (VWP) must have a machine-readable passport (MRP) that has a bar code on the photo page. Travellers under the VWP must have passports that include biometrics if they wish to enter the country without a visa, which means that passports must contain unique personal data such as fingerprints or iris details. All passports must contain a digital photo image in order to travel visa-free. All visitors to the USA have a photograph and two fingerprints taken by an inkless scanner on arrival, including those travelling visa-free under the Visa Waiver Programme. As part of the Western Hemisphere Travel Initiative (WHTI), all travellers travelling between the United States and Canada, Mexico, Bermuda, and the Caribbean region are required to present a passport or other valid travel document to enter or re-enter the United States. If departing from the USA, a valid passport is required by immigration authorities. All visitors who do not need a visa, under the US Visa Waiver Programme, need to register online three days before travel. This allows the US government to screen all visitors before travel. It is highly recommended that passports have at least six months validity remaining after your intended date of departure from your travel destination. Immigration officials often apply different rules to those stated by travel agents and official sources.
Entry Requirements
Under the Visa Waiver Programme (VWP), British passport holders do not require a visa for holiday, transit or business purposes providing they check into the US government ESTA website at least 72 hours prior to departure, the stay does not exceed 90 days and a return or onward ticket is held. UK passport holders require a valid passport for entry into the United States. Passports endorsed 'British Citizen' must be valid for duration of stay; passports with any other endorsement must be valid for six months beyond period of intended stay. Those holding passports with endorsements other than 'British Citizen' should confirm visa requirements.
Canadians do not require a visa, only a valid passport. Visitors should hold tickets and documents required for return or onward destination.
Australian nationals require a passport valid for duration of stay, but do not require a visa for touristic stays of up to 90 days. A valid machine-readable passport and a return or onward ticket is required, and Australians must check into the US government ESTA website prior to departure.
South Africans must hold a passport valid for duration of stay, and a visa is required. Visitors must have return or onward tickets and the necessary documents for further travel.
Irish nationals require a passport valid for duration of stay, but do not require a visa for stays of up to 90 days. A machine-readable passport and return or onward tickets are required, and Irish nationals must check into the US government ESTA website prior to departure.
New Zealand nationals require a passport valid for duration of stay, but do not require a visa for stays of up to 90 days. A machine-readable passport and a return or onward ticket is required, and New Zealanders must check into the US government ESTA website prior to departure.
Health
There are no specific health risks associated with travel within the USA. Medical facilities are excellent, but expensive. Only emergencies are treated without prior payment and treatment can be refused without evidence of insurance or proof of funds. Good medical insurance is essential.
Safety
Travel within the United States is generally trouble-free, however travellers should be aware that the US shares with the rest of the world an increased threat from terrorist incidents. Security has been heightened particularly at airports. Restrictions on hand luggage apply and travellers are advised to check on the latest situation with airlines in advance. Travellers should also be alert to the dangers of car and street crime in cities and should use common sense and take basic precautions. Hurricanes are common between June and November, putting the southern USA, including the Gulf Coast and the eastern US, at risk. There is a risk of wildfires in many dry areas in the US, particularly on the West Coast from March to November.
Emergency Phone Number
911 (General)
* For current safety alerts, please visit
Foreign travel advice - GOV.UK
or
Travel.State.Gov
Money
The official currency is the US Dollar (USD), which is divided into 100 cents. Only major banks exchange foreign currency. ATMs are widespread and credit cards are widely accepted. Banking hours are Monday to Friday 9am to 3pm.
Exchange Rate
Not available.
Embassies of United States of America
United States Embassy, London, United Kingdom: +44 (0)20 7499 9000.
United States Embassy, Canberra, Australia: +61 (0)2 6214 5600.
United States Embassy, Pretoria, South Africa: +27 (0)12 431 4000.
United States Embassy, Dublin, Ireland: +353 (0)1 668 8777.
United States Embassy, Wellington, New Zealand: +64 (0)4 462 6000.
Foreign Embassies in United States of America
British Embassy, Washington DC: +1 202 588 6500.
Canadian Embassy, Washington DC: +1 202 682 1740.
Australian Embassy, Washington DC: +1 202 797 3000.
South African Embassy, Washington DC: +1 202 232 4400.
Irish Embassy, Washington DC: +1 202 462 3939.
New Zealand Embassy, Washington DC: +1 202 328 4800.
Customers
Laws vary from state to state, including speed limit, fines and punishment. The age at which you may legally buy and consume alcohol is 21 years.
Business
In such a large country, filled with so many diverse groups, business practices may differ according to each state, however rarely to any large degree. The East Coast is traditionally more formal than the West Coast, however in states such as California dress code and conservative appearance are as common as they would be in New York. Punctuality is important throughout the country and it is considered rude to be late for a meeting. Gift-giving is uncommon as it may be construed as bribery. Appropriate titles (Mr, Mrs, Ms) are used upon introduction and until otherwise stated. Americans favour politeness and greetings of 'Hello' and 'How are you?' are often expressed with sincerity. Business hours may vary in each state, but an 8am start and 5pm finish Monday to Friday is the most common with an hour over lunch.
Status and age are not necessarily indicative of seniority, nor do they carry much weight in themselves. Those doing business in the States should be mindful of this fact; never make assumptions about someone's position or rank. Best practice is to be respectful to all parties. That said, the States upholds a hierarchal business structure, in which "the boss" is the ultimate decision-maker. Senior leaders have the power of the last word, and can go against the grain just as easily as they can follow popular opinion. Concentrate on winning over this individual, even if the greater group seems unsupportive. Americans value a direct style of communication. In this fast-paced, consumer culture "time is money", and small-talk is viewed as unnecessary and wasteful. Get to the point quickly, speak about issues in a frank and open manner, and don't take offence if someone questions or challenges you outright.
Tipping
A 15 percent tip is expected by taxi drivers, bartenders, hairdressers and waiters, but don't tip in fast-food or self-service restaurants. In expensive restaurants or for large parties tip 20 percent of the bill. It is normal to tip staff staff such as valets and porters in hotels; this is discretionary although a minimum of $5 is expected. Most services are customarily tipped if the service is good.
Public Holidays in United States of America
| | | |
| --- | --- | --- |
| | 2017 | 2018 |
| New Years Day | 1 Jan | 1 Jan |
| Martin Luther King Day | 16 Jan | 15 Jan |
| Presidents Day | 20 Feb | 19 Feb |
| Memorial Day | 29 May | 28 May |
| Independence Day | 4 Jul | 4 Jul |
| Labour Day | 4 Sep | 3 Sep |
| Columbus Day | 9 Oct | 8 Oct |
| Veterans Day | 11 Nov | 11 Nov |
| Thanksgiving Day | 23 Nov | 22 Nov |
| Christmas Day | 25 Dec | 25 Dec |
Overview
Sightseeing in the USA is a lifelong pursuit, such is the vast scale and variety of the attractions on offer. Indeed the USA is far more than a single country, as each state and region has its own character, geography and unique, world-class sights.
Three-quarters of all foreign tourists spend time in California, Florida and New York, while the country's five most visited cities by foreign tourists are in these three states. In between east coast California's beaches, movie glitz and sunny weather and west coast New York's urban thrills and iconic sights, the USA is a country of stunning diversity: the Creole culture of Louisiana, the wide-open plains of the great mid-West, epic skiing around the Rocky Mountains, the magnificence of the Grand Canyon and astounding lights of nearby Las Vegas. Off shore Hawaii is a place of irresistible beauty too, and Alaska offers a unique wilderness to explore.
Given all there is to see and do, and the vast distances between them, you'll need to plan your trip carefully and concentrate on a few areas. Be aware that winters (November to February) in the east coast get very cold with plenty of snow, while beaches can get uncomfortably hot over peak summer months of July and August. Also look out for big national events like Spring Break (March), Fourth of July, and Thanksgiving (fourth Thursday in November) when transport and accommodation get very busy.
Map of United States of America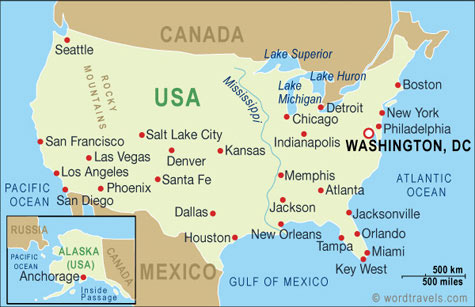 Travel Guide powered by www.wordtravels.com, copyright © Globe Media Ltd. All rights reserved. By its very nature much of the information in this guide is subject to change at short notice and travellers are urged to verify information on which they're relying with the relevant authorities. Globe Media and UNIGLOBE Travel does not accept any responsibility for any loss or inconvenience to any person as a result of information contained above.