General
Money
Entry Requirements
Health & safety
Weather
Embassies
Etiquette
Public Holidays
Attractions
Map
---
Introduction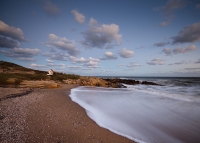 Punta del Este, Uruguay ©Jimmy Baikovicius
Being one of the smallest South American countries, the Republic of Uruguay is largely overshadowed on the tourism map by its more popular and bigger neighbours, Brazil and Argentina. However, this largely flat country of rolling plains, hilly meadows and rivers, bordered by hundreds of miles of fine sandy Atlantic beaches, sports some fascinating towns (including its atmospheric capital, Montevideo), unspoilt seaside resorts, and some of the cheapest and most delectable steaks you will find anywhere.
Highlights of Uruguay for travellers include the charming cobbled old town of Colonia del Sacramento, a UNESCO World Heritage Site hung all over with flowering jasmine; the country's cattle ranches, populated with daring (cowboys); and the bright, brash international beach resort of Punta del Este. Uruguay is a playground versatile enough to delight any traveller.
Uruguay was first colonised by Spain during the 16th and 17th centuries, having been spared the worst of the conquest of the Americas by the fact that the country has no gold or silver. The Spanish introduced cattle farming, and beef exports today remain the mainstay of the economy, along with a fast-growing tourism industry.
Politically the country is stable, economically it is fairly prosperous, and it has one of the lowest crime rates in South America. Add to this its friendly and welcoming people, and the wonderful, sultry summer sunshine, and most people will find that Uruguay is one of the world's most accommodating destinations.
Communications
The international direct dialling code for Uruguay is +598. The government-operated telephone service is efficient. Area codes are in use for cities, e.g. (0)2 for Montevideo. ANTEL is the major mobile phone operator and a GSM 1800 network is available with good coverage in urban areas. Internet cafes are available in Montevideo and the main towns.
Emergencies
911 (General Emergency Hotline)
Languages Spoken
The official language is Spanish.
Duty Free
Visitors to Uruguay do not need to pay customs duty on 400 cigarettes or 50 cigars or 500g of tobacco; two litres of alcohol and two items of electrical or optical equipment (including cameras). Certain food stuffs, plants, narcotics, poronographic material and explosives are strictly prohibited. Live animals, endangered species, medication and large sums of money are restricted; please check with official government sources before bringing such items in to the country.
Electricity
Electrical current is 220 volts, 50Hz. There are various types of plugs in use, including 'Schuko' plugs and receptacles with side grounding contacts, and the plugs commonly used in Australia.
Climate Info
Uruguay enjoys a subtropical climate, and temperatures can soar during the summer months (December to February), particularly along the Rio de la Plata, which separates the country from Argentina. The interior and Atlantic coast is slightly cooler. Strong winds and rainstorms can occur between late April and November.
Passport
All visitors to Uruguay must hold an onward or return ticket and documents for next destination. It is highly recommended that passports have at least six months validity remaining after your intended date of departure from your travel destination. Immigration officials often apply different rules to those stated by travel agents and official sources.
Entry Requirements
US citizens require a valid passport, but a visa is not required for a stay of up to three months.
All British nationals require a valid passport for travel to Uruguay. A visa is not required for a stay of up to three months for all British passport holders.
Canadians require a valid passport, but no visa is required for a stay of up to three months.
Australians require a valid passport, but a visa is not required for a stay of up to three months.
South Africans require a valid passport, but a visa is not required for a stay of up to three months.
Irish nationals require a valid passport, but a visa is not required for a stay of up to three months.
New Zealand nationals require a valid passport, but no visa is required for a stay of up to three months.
Health
A hepatitis A vaccination is recommended for visitors to Uruguay, and a yellow fever vaccination is required for those arriving from infected areas. Travellers are advised to take precautions against mosquito bites because of a high risk of dengue fever.
Medical facilities in Uruguay are adequate for general problems, with 24-hour emergency care available at the British Hospital in Montevideo. Most doctors and hospitals expect payment in cash. Serious medical problems require air evacuation to a country with better medical facilities, therefore comprehensive travel health insurance is strongly recommended. Pharmacies supply most drugs and medications imported from the USA or Europe, many of which are available without a prescription. Visitors are advised to take sensible precautions regarding the consumption of food and water; bottled or purified water should be used, and food should be eaten washed, peeled and/or well cooked.
Safety
Visits to Uruguay are generally trouble free, with a a low risk of terrorism and no political instability to speak of. There are occurrences of street crime in Montevideo, but police patrols are active and act as a good deterrent. Uruguay, in fact, is renowned for having very low crime by South American standards. Visitors should, however, take sensible precautions with their valuables and when using ATMs, and be attentive particularily while driving at night.
Emergency Phone Number
911 (General Emergency Hotline)
* For current safety alerts, please visit
Foreign travel advice - GOV.UK
or
Travel.State.Gov
Money
The official currency of Uruguay is the Uruguayan Peso (UYU), but some tourist businesses, retailers and taxi drivers also accept US Dollars. The peso is divided into 100 centésimos. Currency can be exchanged at banks and Money Exchange Shops, which offer similar exchange rates. It is important to always keep some change. Exchange rates tend to fluctuate frequently. There are plenty of ATMs available in shopping centres and attached to banks in commercial areas, but not all cards are accepted. Credit cards, including Visa and MasterCard, are widely accepted by shops and restaurants.
Exchange Rate
Not available.
Embassies of Uruguay
Embassy of Uruguay, Washington DC, United States: +1 202 331 1313.
Embassy of Uruguay, London, United Kingdom (also responsible for Ireland): +44 (0)20 7584 4200.
Embassy of Uruguay, Ottawa, Canada: +1 613 234 2727.
Embassy of Uruguay, ACT, Australia (also responsible for New Zealand): +61 (0)2 6273 9100.
Embassy of Uruguay, Pretoria, South Africa: +27 (0)12 362 6522.
Foreign Embassies in Uruguay
United States Embassy, Montevideo: (+598) (2) 1770 2000.
British Embassy, Montevideo: +598 (0)2 622 3630/3650.
Canadian Embassy, Montevideo: +598 (0)2 902 2030.
Honorary Consul of Australia, Montevideo: +598 (0)2 901 0743.
South African Embassy, Montevideo: +598 (0)2 601 7591.
New Zealand Consulate, Montevideo: +598 (0)2 916 0900.
Customers
Uruguay is a secular and progressive state, and is welcoming to gay and lesbian visitors. Avoid making critical comments about the country, or comparing it to Argentina, Chile and Paraguay. In conversation, Uruguayans are direct and stand close together, and it is considered rude to back away. Close acquaintances may greet with a kiss on the cheek, but a handshake will suffice for introductions. While gender equality is progressive in Uruguay, women may experience a fair amount of attention, including staring and comments, that can at times border on harassment but is largely ignored.
Business
Uruguayans enjoy discussing politics and answering questions about their country. Meetings tend to be highly formal but seldom start on time. Most businessmen speak English, but it is good to suggest the hiring of an interpreter as a sign of consideration.
Tipping
Tipping is discretionary in Uruguay, but a gratuity of between five percent and 10 percent of the bill is usually offered in restaurants. Rounding up the bill is sufficient for taxi drivers, and hotel porters receive about US$1 per bag.
Public Holidays in Uruguay
| | | |
| --- | --- | --- |
| | 2017 | 2018 |
| Epiphany | 6 Jan | 6 Jan |
| Carnival | 27 Feb | 12 Feb |
| Maundy Thursday | 13 Apr | 29 Mar |
| Good Friday | 14 Apr | 30 Mar |
| Landing of the 33 Patriots Day | 19 Apr | 19 Apr |
| Labour Day | 1 May | 1 May |
| Battle of Las Piedras | 18 May | 18 May |
| José Gervasio Artigas Birthday | 19 Jun | 19 Jun |
| Constitution Day | 18 Jul | 18 Jul |
| New Years Day | 1 Jan | 1 Jan |
| Independence Day | 25 Aug | 25 Aug |
| Día de la Raza | 12 Oct | 12 Oct |
| All Souls Day | 2 Nov | 2 Nov |
| Christmas Day | 25 Dec | 25 Dec |
Overview
Despite being South America's second smallest country, Uruguay has a lot to offer tourists.
Montevideo's old town, Ciudad Vieja, which is centred on the Plaza Independencia, is a must for a taste of the historical architecture of Uruguay. For historic attractions and old-world charm, Colonia del Sacramento is arguably the best city to explore in Uruguay. Colonia is only a two-hour drive from Montevideo and therefore a good day trip destination for visitors in the capital.
Two important things for travellers to enjoy while in Uruguay's cities are the excellent beef and the excellent soccer, both of which the locals embrace wholeheartedly.
Culture and history aside, the place to experience the hedonistic side of Uruguay is Punta del Este, a coastal resort town which is all about sun, sand and a good party. Another option for a beach holiday in Uruguay is the less developed Punta del Diablo, which is becoming increasingly popular with backpackers and other young travellers looking to get off the beaten track.
Travel Guide powered by www.wordtravels.com, copyright © Globe Media Ltd. All rights reserved. By its very nature much of the information in this guide is subject to change at short notice and travellers are urged to verify information on which they're relying with the relevant authorities. Globe Media and UNIGLOBE Travel does not accept any responsibility for any loss or inconvenience to any person as a result of information contained above.