General
Money
Entry Requirements
Health & safety
Weather
Embassies
Etiquette
Public Holidays
Attractions
Map
---
Introduction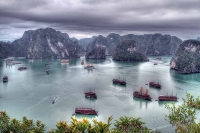 Vietnam, Ha Long Bay ©guido da rozze
Verdant patchworks of rice paddies, pointed lampshade-style hats, a country ravaged by war, and economic repression - these are the international images of Vietnam, seen on worldwide television and read about in the newspapers. But there are other scenes to be found, ones of natural beauty, ethnic culture, and imperial history, of timeless traditional villages, idyllic sea resorts and dynamic cities.
Shaped like an elongated 'S', Vietnam stretches along the east coast of the Indochinese Peninsula and is likened by its people to a long bamboo pole hung with two baskets of rice, represented by the two fertile regions at either end of the country. Between the lush Red River Delta and the highlands in the north, known for their magnificent scenery and colourful hill tribes, and the agricultural plains and floating markets of the Mekong Delta in the south, lie miles of white sandy beaches, towering mountains, rivers and dense forests, and the thousands of bizarre rock and cave formations on the islands of Halong Bay.
The impact of Japanese and Chinese trade, French occupation and American intervention has left its stain on Vietnam, smeared over a period of more than two thousand years of recorded history. However, the country has also been left with a vivid legacy from different cultures evident in the character of its towns, as well as in the architecture and food. The quaint town of Hoi An, once a major trading port, boasts the perfectly preserved architectural influences of the Asian merchants from the north, while the broad leafy boulevards of the capital Hanoi and Ho Chi Minh City are reminiscent of France. Menus offer Chinese variations of spring rolls, steamed dumplings and noodles. Hué is the old imperial capital of Vietnam with its royal palaces and palatial mausoleums, and nearby the battle sites of the Demilitarised Zone (DMZ) are reminders of the brutality of war.
Ancient temples and colourful pagodas are scattered throughout the urban centres, while among them stand hotels of modern luxury, and the development of tourism infrastructure is a booming business. Vietnam is a perfect balance between ancient times and the here and now, a country that reveres its past heroes, a nation that has collectively put the woes of war behind it, and people who welcome visitors to their country with open arms and friendly smiles.
Communications
The international country code for Vietnam is +84. The outgoing code is 00, followed by the relevant country code (e.g. 001 for the United States or Canada). City/area codes are in use, e.g. Hanoi is (0)4 and Ho Chi Minh City is (0)8. GSM 900 mobile networks cover the major urban areas. Internet cafes are available in Hanoi, Ho Chi Minh City and other major centres.
Emergencies
113 (Police); 115 (Ambulance); 114 (Fire)
Languages Spoken
The official language in Vietnam is Vietnamese. Some Chinese, English and French are spoken. Tour guides can also speak Russian and Japanese. Numerous ethnic languages are also spoken in parts.
Duty Free
Travellers to Vietnam over 18 years do not have to pay duty on the following items: 400 cigarettes, 100 cigars or 500g tobacco; 1.5 litres alcohol with alcohol content higher than 22 percent and 2 litres below 22 percent; up to 5kg tea and 3kg coffee; perfume and items for personal consumption within reasonable amounts; other goods to the value of five million Vietnamese dong.
Electricity
Electrical current in Vietnam is 220 volts, 50Hz. Plugs are either the two flat-pin or the two round-pin type. Three rectangular blade plugs can be found in some of the newer hotels.
Climate Info
The climate in Vietnam varies greatly from north to south. The north has a cool and dry season from November to April and a hot rainy season from May to October. The central coast north of Nha Trang has a similar climate with the winter monsoon bringing cool, wet weather between December and February. The south is hot and humid all year round, especially from February to May. The rainy season lasts from May to November. The central highlands have a similar climate to the south, but it is cooler and temperatures can be freezing in winter. The official peak season in Vietnam is from September to April.
Passport
Although officially Vietnam demands six months of validity on passports, passports valid for at least one month after expiry date of visa will be accepted. Nationals of a handful of countries only require three months of passport validity. All visitors must have sufficient funds for the duration of their stay, onward or return tickets, and all documents needed for next destination. Visitors should hold a spare passport photograph on arrival in Vietnam for use on the immigration form that must be filled out. You should retain the yellow portion of your immigration Arrival-Departure card on entry to Vietnam, as this is required for exit. Visitors coming from countries with no Vietnamese diplomatic representation will be issued a visa on arrival, provided the visitor is holding a letter from Vietnamese Immigration confirming this. It is highly recommended that passports have at least six months validity remaining after your intended date of departure from your travel destination. Immigration officials often apply different rules to those stated by travel agents and official sources.
Entry Requirements
US passport holders must have a passport valid for 30 days beyond intended stay, and a visa is required. Visas are not required for stays of up to 30 days for US nationals arriving at Phu Quoc (PQC).
UK passport holders must have a passport valid for six months beyond arrival date, and a visa is required. Visas are not required for stays of up to 15 days for UK nationals.
Canadians must have a passport valid for 30 days beyond the period of intended stay, and a visa is required. Visas are not required for stays of up to 30 days for Canadian nationals arriving at Phu Quoc (PQC).
Australians must have a passport valid for 30 days beyond the period of intended stay, and a visa is required. Visas are not required for stays of up to 30 days for Australian nationals arriving at Phu Quoc (PQC).
South Africans must have a passport valid for 30 days beyond the period of intended stay, and a visa is required. Visas are not required for stays of up to 30 days for South African nationals arriving at Phu Quoc (PQC).
Irish nationals must have a visa and a passport valid for 30 days beyond the period of intended stay. Visas are not required for stays of up to 30 days for Irish nationals arriving at Phu Quoc (PQC).
New Zealanders must have a passport valid for 30 months beyond period of intended stay, and a visa is required. Visas are not required for stays of up to 30 days for nationals of New Zealand arriving at Phu Quoc (PQC).
Health
Health risks in Vietnam include Hepatitis A and E, typhoid, Japanese encephalitis, bilharzia, plague, cholera, diarrhoea and HIV/AIDS. Malaria prophylaxis is recommended for travel outside the main cities and towns, the Red River delta and north of Nha Trang.
There has been an increase in the amount of reported cases of dengue fever in recent years, and visitors should take care to protect themselves from mosquito bites during the day, especially just after dawn and just before dusk, particularly in the southern Mekong Delta region. Travellers should seek medical advice about vaccinations at least three weeks before leaving for Vietnam and ensure they have adequate insect protection. Typhoid can be a problem in the Mekong Delta. Those arriving from an infected area require a yellow fever vaccination certificate. Water is potable, but visitors usually prefer to drink bottled water.
Decent health care is available in Hanoi and Ho Chi Minh City (Saigon) with English-speaking doctors, and there is a surgical clinic in Da Nang, but more complicated treatment may require medical evacuation. Pharmacies throughout the country are adequate, but check expiry dates of medicines carefully, and be aware that some medicines are counterfeit. Health insurance is essential.
Safety
Travel in Vietnam is generally safe and violent crime is uncommon. Pick-pocketing is rife, and in Ho Chi Minh City (Saigon) drive-by purse snatching is a common trick. When transferring from airports only use pre-arranged hotel pickups or licensed taxis to avoid theft from opportunists. It is best to leave valuables in a secure hotel safe and avoid obvious displays of wealth. During the monsoon season (usually between June and October) the country is prone to serious flooding and typhoons (until December), particularly the Mekong Delta and Central Region. In August and September 2008, Northern and Central Vietnam experienced torrential rain resulting in severe flooding, causing considerable damage to local infrastructure, including road and rail links.
Emergency Phone Number
113 (Police); 115 (Ambulance); 114 (Fire)
* For current safety alerts, please visit
Foreign travel advice - GOV.UK
or
Travel.State.Gov
Money
The official currency is the Vietnamese Dông (VND). Currency can be exchanged at banks, bureaux de change and larger hotels, though only US dollars are easily exchanged outside of major cities. Visa and MasterCard are becoming more widely acceptable, particularly in Hanoi and Ho Chi Minh City and all major tourist centres. US currency is accepted by many hotels in tourist centres and is useful as a back-up, but notes must be relatively new and unmarked. Up to two million Dông can be withdrawn from ATMs at a time, and most banks will have useful leaflets listing ATM locations throughout the country.
Exchange Rate
Not available.
Embassies of Vietnam
Embassy of Vietnam, Washington DC, United States: +1 202 861 0737.
Embassy of Vietnam, London, United Kingdom (also responsible for Ireland): +44 (0)20 7937 1912.
Embassy of Vietnam, Ottawa, Canada: +1 613 236 0772.
Embassy of Vietnam, Canberra, Australia: +61 (0)2 6290 1549.
Embassy of Vietnam, Pretoria, South Africa: +27 (0)12 362 8119.
Embassy of Vietnam, Wellington, New Zealand: +64 (0)4 473 5912.
Foreign Embassies in Vietnam
United States Embassy, Hanoi: +84 (0)4 3850 5000.
British Embassy, Hanoi: +84 (0)4 936 0500.
Canadian Embassy, Hanoi: +84 (0)4 734 5000.
Australian Embassy, Hanoi: +84 (0)4 831 7755.
South African Embassy, Hanoi: +84 (0)4 936 2000.
Irish Embassy, Hanoi: +84 (0)4 974 3291.
New Zealand Embassy, Hanoi: +84 (0)4 824 1481.
Customers
The wearing of shorts in Vietnam should be avoided away from the beaches if possible. Shoes must be removed on entering religious sites and a donation is expected when visiting a temple or pagoda. Photography is restricted at ports, harbours and airports, and it is polite to ask permission before taking photographs of people, especially of ethnic minorities. Never leave chopsticks sticking upright in a bowl of rice as it has strong death connotations.
Business
Business practices in Vietnam are conducted in a similar fashion to those of China, Japan and Korea rather than their Southeast Asian counterparts. Pride and tact are important to bear in mind, as practices tend to be formalised more so than in Western countries. Often it is best to be introduced rather than approach the person with whom business is intended for fear of suspicion. Negotiations and settlements may take longer as the Vietnamese like to examine contracts thoroughly. Formal dress is common but in summer months the dress tends to be more casual. It is important to be on time for business appointments as the Vietnamese consider lateness rude.
The person is always addressed as Mr., Mrs., and Ms., followed by their personal name (not family name), unless otherwise referred; it is worth finding out in advance. Shaking hands with both hands is the most respectful greeting although bowing is still popular among the older population, and meetings always begin with the exchange of business cards, which should be given and received with both hands; each person expects to receive one, so be sure to bring a vast supply. Business hours are typically 8am to 5pm Monday to Friday with an hour taken at lunch, and 8am to 11.30am on Saturdays.
Tipping
Most restaurants and hotels in Vietnam now add a five to ten percent service charge to their bills. In top hotels porters expect a small tip. Hired drivers and guides are usually tipped, and it is customary to round up the bill for taxi drivers in the cities. Tipping is not generally expected, but some small change for most services is appreciated.
Public Holidays in Vietnam
| | | |
| --- | --- | --- |
| | 2017 | 2018 |
| New Years Day | 1 Jan | 1 Jan |
| Têt (Lunar New Year) | 26 Jan | 15 Feb |
| Reunification Day | 1 May | 30 Apr |
| Labour Day | 1 May | 1 May |
| National Day | 2 Sep | 2 Sep |
| Kings Commemoration Day | 6 Apr | 27 Mar |
Overview
Choosing things to do in Vietnam is almost as confusing as navigating the attractions themselves. Vietnamese attractions in the south take visitors along twisty Mekong river delta cruises and through a maze of underground military tunnels. A web of narrow streets in Ho Chi Minh lead to the War Remnants Museum, and the jumping backpacker district Pham Ngu Lau. Farther north, boat cruises wind through hundreds of majestic islands in Halong Bay and through narrow streams below impressive cliffs in Ninh Binh.
Hanoi's elaborate road system is most fun to explore in the Old Quarter and to follow to Ho Chi Minh's Mausoleum. A winding train ride up the mountains in Sapa lets visitors overlook it all. All of this spills out to the relaxing beaches of Mui Ne or Cat Ba Island or to the historic and unchanging calm of Hoi An. Vietnam's monsoon season is heavy with rain and humidity May through August and northern Vietnam cools down in January.
Map of Vietnam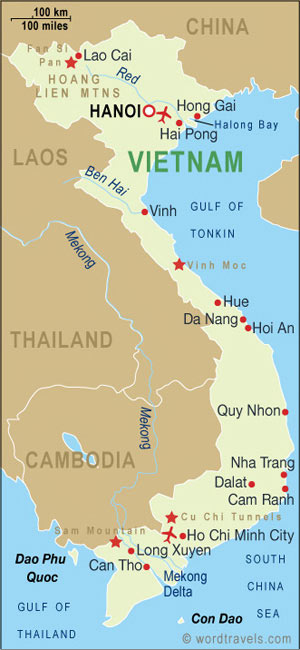 Travel Guide powered by www.wordtravels.com, copyright © Globe Media Ltd. All rights reserved. By its very nature much of the information in this guide is subject to change at short notice and travellers are urged to verify information on which they're relying with the relevant authorities. Globe Media and UNIGLOBE Travel does not accept any responsibility for any loss or inconvenience to any person as a result of information contained above.