General
Weather
Airports
Attractions
Activities
---
Introduction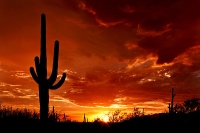 Saguaro National Park ©Saguaro Pictures
Visits to Arizona are generally limited to the northwestern corner of the state that encompasses one of the great natural wonders of the world, the awe-inspiring Grand Canyon. Although a major tourist attraction, it need not be the only reason to visit this ruggedly beautiful state.
Arizona has 27 State Parks and numerous natural wonders that provide access to a wide variety of activities, fauna and flora, and landscapes. The Sonoran Desert and Sagauro National Park feature typical desert scenery, with canyons, red cliffs and sandstone pinnacles, coyotes and rattlesnakes, and the giant multi-armed cacti that typify the Arizonian landscape. The Painted Desert and the magnificent sandstone spires of Monument Valley in the northeast, the spectacular Red Rock Country of Sedona, and the mountains and forests of Flagstaff, are just some of Arizona's special natural attractions.
The desert is also home of the Wild West, the land of cowboys and Indians, prospectors, gamblers and dusty towns. The character of the Old West is epitomised in the old mining town of Tombstone, the site of the famous shootout at the OK Corral, where today staged gunfights, swinging saloon doors and old wooden buildings still bring to life the harsh cowboy past for visitors.
But Arizona is not only about deserts, cowboys and natural wonders. Two of the state's biggest metropolises are in the desert: the cities of Phoenix and Tucson, offering 21st-century comforts such as luxurious resorts, shopping plazas and golf courses. And air-con, which can be a big draw! The region's continuous sunshine and dry desert air have attracted thousands of people with its restorative properties and expensive health spas, and made it one of the most popular places to retire in the US.
Outside the cities, the Native Americans who have lived in Arizona for centuries make up the majority of the population, and more than a third of the land is encompassed within Indian Reservations. Northeast Arizona is known as Indian country, where the Navajo and the traditional Hopi tribal groups reside, and is where the beautiful Canyon de Chelly, and numerous Ancestral Puebloan sites are to be found in the cliff walls and valleys. The Apache live in the southeastern mountains and were the last tribal group to concede to the US government. For those interested in Native American heritage Arizona is the ideal travel destination.
Climate Info
Arizona has mild winters and hot summers, with thunderstorms during the summer months between July and September. Great extremes in temperatures occur between day and night throughout the state, particularly in the desert areas where daytime temperatures over 125°F (52°C) have been recorded. During winter temperatures average about 70°F (21°C), dropping to below freezing in the desert valleys at night; and summer temperatures can vary from 80°F (27°C) during the day to 40°F (4°C) at night. Snow falls in the mountains, but not in the desert areas, and the mild temperatures in the southern desert attract many tourists in winter.
Getting Around
Phoenix is spread out, and distances between places of interest to visitors tend to be significant; therefore, outside of the downtown area, a rental car is ideal. However, the Valley Metro light rail in Phoenix is one of the busiest light rail systems in the country, and has made getting around much easier for visitors. Valley Metro buses access areas the light rail doesn't reach and the rail and bus routes have the same basic fares: adult fares start at $2 and tickets can be purchased from vending machines at all stations. There is also a free central city shuttle bus service, called DASH (Downtown Area Shuttle), which is useful for accessing attractions like the state capitol and major shopping malls. Taxis are freely available from local companies but tend to be expensive and are not recommended for travelling long distances.
Phoenix Sky Harbor International Airport (PHX)
| | |
| --- | --- |
| Location | The airport is situated three miles (5km) southeast of Phoenix. |
| Time Difference | Local time is GMT -7. |
| Contacts | Tel: +1 602 273 3300. |
| Transfer terminals | The three terminals (Terminals 2, 3 and 4) are connected by a free inter-terminal train system, the PHX Sky Train. |
| Getting to city | The PHX SkyTrain transports passengers between terminals, parking lots, and the 44th Street METRO Light Rail, from where it is possible to connect to the city centre, all free of charge. The Valley Metro system, consisting of the Metro Light Rail and a fleet of buses, charges a standard fare of $2 for an adult. The Valley Metro bus Route 13 stops directly at Terminal 2. Airport-to-door shuttle vans can also be arranged. Many hotels and resorts provide a free pick-up service for their guests, and taxis and limousines are also available for hire at the airport. |
| Car Rental | Car rental companies include Advantage, Alamo, Avis, Budget, Dollar, Enterprise, Fox, National, Hertz, Payless and Thrifty, among others. |
| Airpor Taxis | Metered taxis are available outside each terminal. The minimum charge for an airport pick-up is $15. |
| Airport Facilities | Facilities include shops, restaurants, pet parks, ATMs, currency exchange facilities, free wifi, mailboxes, and ground transportation facilities. All terminals are fully wheelchair accessible. |
| Car Parking | Parking at Phoenix Sky Harbor International Airport offers a range of daily maximums depending upon proximity of the car park to the terminals. Parking lots are open 24 hours a day, 7 days a week. A free cell phone waiting lot is also provided. |
| Website | www.phxskyharbor.com |
Tucson International Airport (TUS)
| | |
| --- | --- |
| Location | The airport is situated eight miles (13km) south of downtown Tucson. |
| Time Difference | GMT -7 |
| Contacts | Tel: +1 520 573-8100; Fax: +1 609 771-0732; Email: flyttn@mercercounty.org |
| Getting to city | The Sun Tran bus company operates service into Tucson from the airport on two routes. A standard Sun Tran bus fare is $1.50. Airport shuttles, taxis and rental cars are also available. |
| Car Rental | Car rental agencies based at Tucson Airport include Alamo, Avis, Budget, Enterprise, Dollar, Hertz and National. Counters are located in the Rental Car Facility east of the Terminal. |
| Airpor Taxis | There are taxis located on the commercial roadway in front of the baggage claim area. Rates are about $2.25 per mile, with the meter starting at $4.50. |
| Airport Facilities | There are various dining and shopping options located within the terminal, as well as ATMs, mailboxes, smoking areas, a pet relief area, meeting rooms, massage chairs, shoeshine services and a lost and found. |
| Car Parking | In the garage parking costs $3 per hour, up to a daily maximum of $10. In the Hourly parking it costs $1 per half hour up to a daily maximum of $13. In the Economy Lot, rates are $4.50 per day. A shuttle services the Economy Lot, but all other parking options are within walking distance of the terminal. |
| Website | www.flytucson.com |
Tombstone




Tombstone is probably the most famous town in the Wild West, and attracts thousands of tourists with its old wooden, Western-style buildings, swinging saloon doors, stagecoach rides, gunslingers, dusty streets and shootout re-enactments. Many Hollywood movies have been shot here against
▼ see more




Allen Street ©Gromb
---
The Grand Canyon




A mile deep, 277 miles (446km) long, and up to 18 miles (29km) wide, the breath-taking grandeur of the Grand Canyon is so impressive that words simply cannot do it justice. One of the great natural wonders of the world, it was formed by the cutting action of the Colorado River over milli
▼ see more




Grand Canyon ©John Kees
---
Taliesin West




Taliesin West was legendary architect Frank Lloyd Wright's winter home and school from 1937 until he died in 1959, aged 91. Today the facility can be visited as the Frank Lloyd Wright Foundation with tours providing a general introduction to Wright and his hugely influential theories of
▼ see more




Taliesin West ©Lar
---
Desert Botanical Garden




If you don't particularly like cacti before your visit, there is a good chance you'll fall in love with them by the time you leave. These Desert Botanical Gardens get high ratings not only for the size and range of the botanical collection - about 21,000 plants, representing 139 species
▼ see more




Desert Botanical Garden ©Dave Pape
---
Heard Museum




The Heard Museum is home to America's finest collection of Native American art, making this an essential attraction for visitors looking to gain an understanding of the West's original inhabitants. In total there are more than 39,000 works of cultural and fine art ranging across textiles
▼ see more




The Heard Museum ©Kirs10
---
University of Arizona Art Museum




As part of the Edward J. Gallagher Memorial Collection, the University of Arizona Art Museum, situated on campus, is home to an impressive permanent collection including works by Jackson Pollock, Franz Kline and Mark Rothko. The museum houses the C. Leonard Pfeiffer Collection of America
▼ see more




University of Arizona ©Huperphuff
---
Tucson Rodeo Parade Museum




At the Tucson Rodeo Parade Museum, pioneer artefacts and a re-created Western Main Street represent what Tucson looked like, and what it had to offer in the way of businesses and services, back in the old days of the Wild West. The museum also has an inventory of about 150 vehicles, with
▼ see more




Tucson Rodeo ©Woody Hibbard
---
The Mission San Xavier del Bac




This historic Spanish mission in the Tohono O'odham Nation Reservation is located 10 miles (16km) south of the city (a 20-minute drive) and was founded by Father Kino in the 1660s. The present church, a remarkable building, dates back to the 18th century and remains the oldest intact Eur
▼ see more




Mission San Xavier del Bac ©Frank Kovalchek
---
DeGrazia Gallery in the Sun




The DeGrazia Gallery in the Sun is an iconic Tucson landmark located at the base of the Santa Catalina Mountains. Established by the famous artist, Ettore DeGrazia, the property is listed on the National Register of Historic Places and features a museum of DeGrazia's work and an adobe ch
▼ see more




DeGrazia Gallery in the Sun ©Sonoflightning
---
Trail Dust Town




Trail Dust Town is built on the site of a 1950s Western movie set and is home to a vintage 1920s carousel and a museum dedicated to Western cavalry and dragoon military units. Designed as a replica of a 19th-century Western town, it has Old West souvenir shops, galleries and restaurants
▼ see more




Trail Dust Town ©MadMaxMarchHare
---
Colossal Cave Mountain Park




In 1923, the first proper tours of Colossal Cave were conducted using ropes and lanterns; today more advanced options are offered. The cave is considered dry or dormant as it is no longer 'growing' crystal formations, due to a lack of water. The preserved stalagmites, stalactites and flo
▼ see more




Colossal Cave ©Bill Morrow
---
Kartchner Caverns State Park




Kartchner Caverns State Park is home to one of the great natural wonders of the American west. There is no known record of the huge living cave being seen before the 1970s and the pristine conditions within have been carefully preserved. A remarkable feature of this cave is that it's a '
▼ see more




Kartchner Caverns State Park ©Mike Lewis
---
Arizona-Sonora Desert Museum




This world-renowned museum is more like a zoo, showcasing the surrounding desert's creatures in their natural habitats. Exhibits include mountain lions, otters, coyotes, bighorn sheep and lizards, and there's a walk-in aviary. Located in the Sonoran Desert, the setting of the museum also
▼ see more




Mountain Lion ©Stephen Lea
---
Sabino Canyon




Of the many natural attractions in the Tucson vicinity, Sabino Canyon is one of the most popular. This gaping divide in the Santa Catalina Mountains is the site where ancient Hohokam people constructed irrigation dams while mammoths still roamed the area. After a six-mile (9.6km) hike, e
▼ see more




Bear Canyon Trail ©Jon Abbott
---
Tucson Botanical Gardens




The Tucson Botanical Gardens is a major attraction, and not just for the rich collection of cacti and desert wildflowers. An educational walk highlights the history of the native Tohono O'odham Indians and the work local scientists have done to preserve native seeds. Be sure to visit the
▼ see more




Cactus Bloom ©Kathy Kimpel
---
Philabaum Glass




Tom Philabaum is well known as one of America's foremost glass artists, with exhibits throughout the Western world. His gallery showcases and justifies this reputation with examples of his own work, also exhibiting over 100 other nationally and internationally celebrated glass artists. A
▼ see more




Glass Blowing ©Daniel D'Auria
---
Valley of the Moon




The Valley of the Moon was designed to stimulate the imagination of children and to awaken creativity and spirituality in all visitors. Delve into a fantasy land in the desert, with historic Western sites in a magical setting, created by George Phar Legler in the 1920s. Mineralised rock
▼ see more




Valley of the Moon ©LocalWiki Contributors
---
Lake Mead and Hoover Dam




The 1.5-million acre Lake Mead Recreation Area was created in 1936 as part of Roosevelt's New Deal programme. A popular excursion from Las Vegas or even Phoenix, Lake Mead is a haven for outdoor recreation like boating, swimming, canoeing, fishing, waterskiing, and even scuba diving. Lak
▼ see more




Hoover Dam ©Raquel Baranow
---
Petrified Forest National Park




Located in the northeastern corner of Arizona, Petrified Forest National Park was designated a national monument in 1906. The trees within the park are over 225 million years old, and have over that period transformed into brilliantly-coloured minerals, the world's largest concentration
▼ see more




Petrified Forest National Park ©Finetooth
---
Kingman




Kingman is a nostalgic tourist destination in Arizona. Located in the northeastern corner of the state, between the Grand Canyon and Las Vegas, the city is a popular fuelling stop between the two destinations; however, Kingman is most famous for having been a major stop along the celebra
▼ see more




Kingman, Arizona ©JlsElsewhere
---
Pueblo Grande Museum and Archaeological Park




Located surprisingly close to downtown Phoenix, the Pueblo Grande Museum and Archaeological Park is the site of the remains of a 1,500-year-old Hohokam village. The site is a National Historic Landmark and the largest preserved archaeological site in the region. Mysteriously abandoned ar
▼ see more




Pueblo Grande ©Offworlder
---
Travel Guide powered by www.wordtravels.com, copyright © Globe Media Ltd. All rights reserved. By its very nature much of the information in this guide is subject to change at short notice and travellers are urged to verify information on which they're relying with the relevant authorities. Globe Media and UNIGLOBE Travel does not accept any responsibility for any loss or inconvenience to any person as a result of information contained above.