General
Weather
Airports
Attractions
Activities
---
Introduction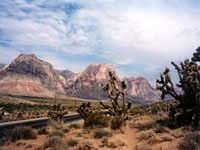 Joshua Trees, Nevada landscape ©Judith Duk
For the millions passing through on their way to California, their image of Nevada is of long, empty roads and dusty desert towns, often little more than a gas station and 24-hour store with a few slot machines in the corner. For those not enthralled by the alluring desolation of the desert landscapes, it is fortunate that 'Lady Luck' descended on this state to give hundreds of thousands of people a great man-made reason for visiting. This is casino country, centred on the capital of kitsch, Las Vegas, and the other smaller towns where the main income earner is gambling.
Carson, the sleepy state capital, has tree-lined streets and some handsome old buildings and hosts the Nevada State Museum, which covers the geology and natural history of the Great Basin desert: enough distraction for a few hours, but not much more. Reno is a smaller and less glitzy version of Las Vegas, packed with casinos and pawnshops, and provides easy access to Lake Tahoe, over the border in California.
Situated east of California, Nevada is split up into territories such as Cowboy Country, Pioneer Territory and Pony Express Territory; these adventurous names aside, the majority of the state is a fairly desolate desert, sometimes beautiful, but also harsh and inhospitable. The better land is used for grazing hardy cattle, while the least forgiving is used by the military for weapons testing and other mysterious pastimes.
Nevada does have a few scenic attractions of great interest to visitors. Around Las Vegas, Lake Mead is popular with fishermen and water sports enthusiasts, while both the Red Rock Canyon and the Valley of Fire State Park have magnificent desert scenery, which has been used as the backdrop for many famous movies including Star Trek - The Next Generation. The sandstone has been eroded into wonderful shapes over millions of years and at sunset these great natural monuments turn every shade of red.
Climate Info
Nevada is the driest state in the US and is divided into semi-arid and arid climatic regions. The summers in Las Vegas get uncomfortably hot and the winters very cold, making the more mild spring and autumn months the best and most popular times to visit. In summer, between June and September the temperatures can climb up to extremes like 125°F (52°C), and in winter, from December to February, temperatures at night can drop as low as -50°F (-46°C), but these are the record temperature extremes and averages are substantially milder in most of Nevada. The weather is fiercely dry most of the year, but thunderstorms are likely in the summer months.
Getting Around
Most visits to Las Vegas are confined to the Strip and downtown, so it is not necessary to hire a car as both are easily navigable by foot and there are several forms of transport that can be used. Local buses run the length of the Strip and into downtown and operate 24 hours a day with a flat fare including transfers. The old-fashioned Las Vegas Strip Trolley also runs the length of the Strip from 8.30am to midnight, and the Downtown Trolley circles between the Stratosphere and downtown at the same time. A state-of-the-art monorail runs above the streets, operating (depending on the day) from 7am to 3am between the Sahara Hotel and the MGM Grand. Taxis are plentiful and can be found lined up outside every hotel and casino and at taxi stands. Cars are the most practical way to explore outside Las Vegas, although there are bus tours offered to Hoover Dam.
Las Vegas McCarran International Airport (LAS)
| | |
| --- | --- |
| Location | McCarran airport is located five miles (8km) south of the Las Vegas Strip. |
| Time Difference | GMT -8 (GMT -7 from March to November). |
| Contacts | Tel: +1 702 261 5211. |
| Transfer terminals | Terminals 1 and 3 are connected by free shuttle buses. |
| Getting to city | There are regular buses going to and from the airport, downtown Las Vegas and The Strip, dropping off at most hotels; buses 108 and 109 connect to the Downtown Transportation Center and the South Strip Transfer Terminal. Shuttle services are available on the west side of the baggage claim area of Terminal 1, outside exits 7-13. |
| Car Rental | Car hire companies represented at the airport include Avis, Budget, Dollar and Hertz. Rental agencies provide free transportation between their parking lots and the terminal buildings. |
| Airpor Taxis | There are taxis available outside Arrivals at Las Vegas McCarran Airport, on the east side of baggage claim outside door exits 1-4. The meter starts at $2 when departing the airport. Taxis do not generally accept credit cards. |
| Airport Facilities | Las Vegas airport has a number of shops, bars and restaurants, and of course lots of slot machines. There are ATMs, a full-service bank, and currency exchange facilities in Arrivals and Departures. There is also a children's play area, shoe-shiners and information booths. |
| Car Parking | Short-term parking at Las Vegas McCarran International Airport starts at $2 per hour for the first three hours, then increases to $3 per hour up to a daily limit of $36. Long-term parking is $3 for the first hour and $1 per hour thereafter up to $16 per day. A free shuttle bus links the remote car park with the terminals. |
| Website | www.mccarran.com |
Reno-Tahoe International Airport (RNO)
| | |
| --- | --- |
| Location | The airport is just four miles (6km) south of downtown Reno. |
| Time Difference | GMT -8 (GMT -7 from mid-March to the first Sunday in November). |
| Contacts | Tel: +1 (775) 328 6499. |
| Getting to city | The RTC Ride runs between the airport and downtown Reno. The pick-up zone is at the north end near the baggage claim area. Route 19 operates to and from the airport on weekdays. Taxis are also available from the same area and the ride into town takes just ten minutes. |
| Car Rental | On-site car rental operators include Alamo, Avis, Budget, Dollar, Enterprise, Hertz, National, Payless and Thrifty. |
| Airpor Taxis | Airport taxis can be found just outside the baggage claim area. The trip into town takes 10 minutes. |
| Airport Facilities | Facilities at Reno-Tahoe International Airport include ATMs, mail-drop boxes, luggage trolleys, massage chairs, a pet relief area, souvenir shops, newsstands, as well as a range of restaurants and snack bars. |
| Car Parking | Short-term parking is charged at $1 for the first 30 minutes, $2 for the first hour and $1 per hour thereafter, up to $24 per day. Long-term rates are similar, but the daily rate is $14. Parking is located opposite the terminal. |
| Website | www.renoairport.com |
Venetian Hotel and Casino




No expense was spared building the Venetian Hotel, which aimed to recreate the city of Venice in the Nevada Desert, and the result is fairly spectacular. Guests can travel around the hotel in a gondola - real canals run through the grounds - and a replica of St Mark's Square and the Basi
▼ see more




A mural at The Venetian ©Paulgokin
---
Bellagio Hotel and Casino




The Bellagio is one of Las Vegas's most opulent hotels and most popular casinos. With an Italian theme, the great bulk of the Bellagio sits in its own vast garden. It has more than 3,000 rooms and hundreds of slot machines and gaming tables; however, its best-known attraction is its amaz
▼ see more




Bellagio Fountains ©Photographersnature
---
The Mirage




Another MGM mega-casino, the showpiece at the Mirage is a volcano that shoots flames 100 feet (30m) into the night sky every 15 minutes (6pm to midnight), spewing smoke and transforming a tranquil waterfall into spectacular streams of molten lava. As you'd expect of Las Vegas, it's all q
▼ see more




Mirage Hotel ©Jim G
---
Valley of Fire State Park




The Valley of Fire State Park is Nevada's oldest park, and is so named because of its red sandstone formations which appear to be on fire when the sun reflects off them. The rocks were shaped over 150-milllion years ago, when dinosaurs roamed the area. Apart from the rugged beauty of the
▼ see more




Petroglyphs in the Valley of Fire State Park ©MrSilva
---
The Luxor




The Luxor Hotel is themed on ancient Egypt and is one of the most prominent sights on the Las Vegas Strip. It is a massive black-glass pyramid containing 36 floors of hotel rooms, and shining through it up into the night sky is one of the world's most powerful light beams, which they cla
▼ see more




The Luxor ©Miguel Hermoso Cuesta
---
MGM Grand




One of the most famous casinos in Las Vegas, the MGM Grand was the largest hotel in the world when it opened in 1993 with more than 5,000 rooms; the complex also houses about 19 restaurants, many shops and nightclubs, a convention centre, and a spa. The MGM Grand's most famous attraction
▼ see more




MGM Grand ©Nadavspi
---
Mandalay Bay




The 44-storey Mandalay Bay Resort and Casino is among the largest on the Las Vegas Strip with more than 3,000 hotel rooms and a 135,000 square foot (12,500 sq m) casino. The tropical-themed resort has a number of popular family attractions, including the Shark Reef saltwater aquarium and
▼ see more




Mandalay Bay ©Erin Khoo
---
Imperial Palace Auto Collection




With more than 250 classic antique cars on display (all available for purchase), the Imperial Palace Auto Collection is an absolute must for car enthusiasts. It is actually part of a larger collection and cars are rotated in and out of the showroom on a regular basis; once a car is sold
▼ see more




Imperial Palace Auto Collection ©Tom Ipri
---
Fremont Street Experience




The downtown area of Las Vegas is where it all began and the Fremont Street Experience aims to celebrate this heritage. The street is also known as 'Glitter Gulch' for the bright neon signs and thousands of flashing lights that line the streets - this is where you'll find Vegas Vic and S
▼ see more




Fremont Street ©Michael Pead
---
The Grand Canyon




A mile deep, 277 miles (446km) long and up to 18 miles (29km) wide, the breath-taking grandeur of the Grand Canyon is so impressive that pictures or words simply cannot do it justice. One of the great natural wonders of the world, it was formed by the cutting action of the Colorado River
▼ see more




Grand Canyon ©Judith Duk
---
Hoover Dam




Stretching 1,247 feet (380m) across the Colorado River, the Hoover Dam holds back the waters of Lake Mead and is a fine example of the engineering of its time. One of the world's most famous dams, the Hoover Dam was built during the Great Depression in the 1930s - one of many vast public
▼ see more




Hoover Dam ©Raquel Baranow
---
Red Rock Canyon




Red Rock Canyon is a dramatic valley 10 miles (16km) west of Las Vegas, and is a good excursion to escape the neon lights and jangle of the slot machines. Its defining feature is the steep Red Rock escarpment, which rises 3,000 feet (914m) on its western edge. Today the dramatic landscap
▼ see more




Calico Basin, Red Rock ©Fred Morledge
---
Adventuredome




The glass-encased theme park of Adventuredome is the perfect attraction for thrill-seeking kids on holiday in Las Vegas - its loop roller-coaster and other gut-wrenching rides are not to be missed! If this adrenalin rush is a bit too extreme, there are also shows by magicians and juggler
▼ see more




Canyon Blaster, Adventuredome ©Nast89
---
Buffalo Bills




The Buffalo Bill's amusement park is an excellent holiday attraction for children, offering everything from earth-plunging rides that defy gravity or end with a huge splash, to log rides on a fantasy lake. Kids also love the Frog Hopper experience, bouncing around the park on the back of
▼ see more




Buffalo Bill's Resort ©Shawn Jipp
---
Grand Canyon Helicopter and Ranch Adventure




Kids will revel in the exciting experience of flying through the Grand Canyon in a helicopter and landing at the Grand Canyon Western Ranch. Once at the ranch, children are thoroughly enthralled by horse-drawn wagon rides and the cowboys putting on a show. The western-style meal served a
▼ see more




Modern Cowboys ©Pschemp
---
Treasure Island




No longer the family-friendly pirate hangout it once was, Treasure Island has revamped itself as an adult-oriented contemporary resort. The free Sirens of TI show is a special effects-laden production that is a must-see on the Las Vegas Strip, with music, explosions and beautiful women.
▼ see more




Treasure Island ©Kris Ziel
---
Dig This




A dream come true for many, Dig This is a wildly popular attraction in Las Vegas that allows you to operate enormous vehicles like bulldozers and excavators under the supervision of trained instructors. While the price tag is high, the experience is unforgettable as you team up with othe
▼ see more




Digger! ©Terinea IT Support
---
Travel Guide powered by www.wordtravels.com, copyright © Globe Media Ltd. All rights reserved. By its very nature much of the information in this guide is subject to change at short notice and travellers are urged to verify information on which they're relying with the relevant authorities. Globe Media and UNIGLOBE Travel does not accept any responsibility for any loss or inconvenience to any person as a result of information contained above.