General
Weather
Airports
Attractions
Activities
---
Introduction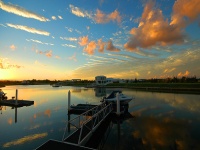 Pelican Waters, Queensland ©thinboyfatter
Queensland, situated in the northeast corner of Australia, is the country's holiday playground, attracting visitors all year round. It is known as the 'Sunshine State', and the major attraction is the incredible underwater world provided off its coastline along the Great Barrier Reef. The Reef is a UNESCO-listed marine park that stretches for more than 1,250 miles (2,000km) along the Queensland coast, home to one of the most diverse animal and plant ecosystems on earth, and is dotted with idyllic island resorts. Queensland is also home to four other UNESCO World Heritage Sites: the Australian Fossil Mammal Sites at Riversleigh, the Wet Tropics of Queensland, the Gondwana Rainforests of Australia, and Fraser Island.
Further south, beyond Brisbane, the coastline is known as the Gold Coast. Here visitors can swim and surf all year round at 35 patrolled beaches along the 45 miles (70km) of coastline. Brisbane is the capital city of Queensland, while Cairns, in the tropical north, is the gateway to the Great Barrier Reef. Brisbane boasts some world-class attractions too, such as the iconic Story Bridge and the oldest and largest koala sanctuary in the world, the Lone Pine Koala Sanctuary, where lucky visitors can feed, pet and hold the lovable koalas.
Travellers should be aware that especially during the summer months (usually between October and May) the shallow coastal waters of Queensland become infested with marine stingers, commonly known as box jellyfish, whose sting is highly dangerous and can be deadly. Many beaches offer protected swimming with stinger nets in place, or enclosed tidal pools, and surf lifesavers may warn people off infested beaches. A lycra 'stinger suit' may be worn by swimmers as protection.
Climate Info
Straddling the Tropic of Capricorn, Queensland's climate is subtropical. From November to March humidity is generally high throughout the state, but sea breezes bring some relief along the coast. Brisbane in the south has a hot and humid climate, particularly in summer, but winter is mild and sunny with cool nights (July and August). The best time to visit the northern part of the state is from September to November. Tropical cyclones can occur in the north from November to April, mostly during January to March.
Brisbane Airport (BNE)
| | |
| --- | --- |
| Location | The airport is situated eight miles (13km) northeast of Brisbane. |
| Time Difference | GMT +10. |
| Contacts | Tel: +61 (0)7 3406 3000. |
| Transfer terminals | The Airport Transfer Bus takes passengers between terminals and from both terminals to the Skygate shopping precinct for free. |
| Getting to city | The Airtrain Rail Link departs every 15 minutes to and from the Brisbane Central Business District between around 5.15am and 10pm, taking about 20 minutes. There is also a direct link to the Gold Coast. Taxis, limousines and airport buses are also available from both terminals. |
| Car Rental | Car hire companies represented at the airport include Avis, Budget, Hertz, Europcar, Redspot and Thrifty. |
| Airpor Taxis | Black & White Cabs and Yellow Cab Co can be hailed at the airport. A A$3.60 airport pick-up fee is charged in the airport taxi ranks, and the meter fee is added to this cost. |
| Airport Facilities | The airport includes cafes, bars, and restaurants; bureaux de change and ATMs; duty-free shopping facilities, and a huge variety of other shopping opportunities. Hotel reservation and visitor information services are also available. |
| Car Parking | Short-term parking is adjacent to the terminals, and costs A$3 for 15 minutes, A$8 for 30 minutes, A$16 for an hour, A$20 for two hours, A$25 for three hours and A$27 for four hours. Long-term parking is connected to the terminal via a covered walkway and costs A$53 for four to 24 hours, while the Airpark costs A$23 for one day and is farther from the terminals, accessible by the complimentary shuttle service. |
| Website | www.brisbaneairport.com.au |
Cairns International Airport (CNS)
| | |
| --- | --- |
| Location | The airport is situated five miles (8km) north of Cairns. |
| Time Difference | GMT +10. |
| Contacts | Tel: +61 (0)7 4080 6703. |
| Transfer terminals | A covered walkway connects the Domestic and International terminals (about a five minute walk). |
| Getting to city | There is an airport shuttle bus service to hotels and the city centre and taxi ranks are located directly outside the arrival halls. Most major hotels operate courtesy bus services to and from the airport. |
| Car Rental | Avis, Red Spot, Budget, Hertz, Europcar and Thrifty are represented at the airport and can be found in the international arrivals hall or in the central concourse of the domestic terminal. |
| Airport Facilities | Shops, restaurants, bars, currency exchange and ATMs, baby-changing facilities, showers and baggage storage are available in domestic and international terminals. Duty-free shops are also available, and mobile phone rental is available in the international terminal. Facilities for the disabled are good. |
| Car Parking | Short-term parking, located across from terminal, starts at A$5 for the first hour with a daily limit of A$15. Long-term parking is in a designated area of the Domestic Lot. All parking areas offer 10 minutes free parking. |
| Depature Tax | None. |
| Website | www.cairnsairport.com |
Coolangatta Airport (OOL)
| | |
| --- | --- |
| Location | Gold Coast Airport is located on the Gold Coast Highway, one mile (3km) from Coolangatta. |
| Time Difference | GMT +10. |
| Contacts | Tel: +61 (0)7 5589 1100. |
| Getting to city | A free Airport Link shuttle links to public transport outside the airport on the Gold Coast Highway. The Gold Coast Tourist Shuttle operates from the airport to most accommodation along the Gold Coast strip, but services must be pre-booked. Taxis are available outside the terminal building, and several limousine hire companies operate from the airport. A Transport and Information desk is located outside the International Arrivals hall. |
| Car Rental | Car rental companies, including Avis, Hertz, Budget, Thrifty and Europcar, are located opposite the check-in counters. |
| Airport Facilities | A Travelex currency exchange booth is located in the International terminal. Other facilities include cafes, bars and snack bars, Internet kiosks, various shops and duty-free stores. Facilities for the disabled are good. |
| Car Parking | Short and long-term parking is available adjacent to the terminal building. Disabled parking spaces are available in both lots with direct access to the walkway linking to the terminal building. |
| Depature Tax | None. |
| Website | www.goldcoastairport.com.au |
Fraser Island




This is the world's largest sand island, situated a two-hour drive north of Brisbane. Fraser Island has a unique ecological system of giant dunes, forests, streams and freshwater lakes, and in 1993 it was placed on the UNESCO World Heritage List. The island draws visitors wishing to expl
▼ see more




Fraser Island ©Judith Duk
---
Bowling Green Bay National Park




About a six-hour drive south of Cairns lies Bowling Green Bay National Park. Covering 55,300 hectares, this is the largest National Park in the region, an area once home to the Wulgurukaba Aboriginal people who have left their mark with beautiful rock paintings. Bowling Green Bay Nationa
▼ see more




Red Necked Wallaby, Bowling Green Bay National Park ©john skewes
---
Magnetic Island




Magnetic Island was named by Captain James Cook in 1770, when he believed that the landmass of the island affected the magnetic compass on his ship, 'Endeavour'. More than half of the island, which is about five miles (8km) from Townsville, is a National Park known for its rugged landsca
▼ see more




Magnetic Island ©loloieg
---
Tamborine Mountain




Tamborine Mountain is inland from the Gold Coast, about 21 miles (34km) northwest of Nerang and about 40 miles (62km) from Brisbane. It is a popular scenic drive destination, as the area includes seven national parks featuring a variety of subtropical rainforest. Mount Tamborine itself r
▼ see more




Mount Tamborine Rainforest ©Steve Garner
---
Wet n Wild Water World




This premier water theme park was recently voted Brisbane's best tourist attraction. Situated at Oxenford on the Pacific Highway, in 20 acres of tropical parkland, it incorporates a wave pool, children's pool, speed slide, toboggan ride and a variety of twisting slides, all supervised by
▼ see more




Wet n Wild Water World ©Phalinn Ooi
---
The Esplanade




The recently renovated Cairns Esplanade is the entertainment hub for visitors to the city, providing numerous recreational opportunities, and lined with a host of good restaurants, bars and cafes. Apart from a safe, sandy swimming lagoon and vast lawns used for all sorts of purposes from
▼ see more




Cairns Esplanade ©Claus Rind
---
Skyrail




The most popular tourist attraction in Cairns is the Skyrail rainforest cableway, which travels nearly five miles (7.5km) from the Caravonica Terminal, the gondolas gliding above the canopy of the rainforest over magnificent waterfalls and lush gorges, to the village of Kuranda. En route
▼ see more




Cairns Skyrail ©eosdude
---
Tjapukai Aboriginal Cultural Park




The name 'Tjapukai' means 'people of the rainforest' and refers to the indigenous people who have inhabited the tropical region between Cairns and Port Douglas, and inland to Kuranda, for eons. About 20 years ago a group of entertainers established Australia's first aboriginal dance thea
▼ see more




Tjapukai Aboriginal Cultural Park ©Jessica Sutton
---
Paronella Park




Magical Paronella Park was the imaginative brainchild of a young entrepreneur, Jose Paronella, who built his dream castle on this site near Mena Creek, about 75 miles (120km) south of Cairns, in 1929. Since then the castle has come to be regarded as an architectural marvel, and a top tou
▼ see more




Green Staircase at Paronella Park ©pbkwee
---
Daintree Rainforest Discovery Centre




The Wet Tropics of Queensland is said to be the oldest tropical rainforest still surviving on earth and a UNESCO-listed site containing the highest number of rare or threatened plant and animal species on the planet, as well as 13 different types of rainforest and 29 species of mangrove.
▼ see more




Daintree Rainforest ©Cory Doctorow
---
Great Barrier Reef




One of the great natural wonders of the world, the Great Barrier Reef is as big as the total combined area of the United Kingdom and Ireland, and contains more than 1,000 islands, from sandy mounds to rainforest isles. Divers, snorkellers and nature lovers can reach specific sites by air
▼ see more




Great Barrier Reef ©FarbenfroheWunderwelt
---
The Gabba




Named after the suburb of Woolloongabba in which it is located, and with a seating capacity of 42,000, the famous Gabba Cricket Ground is just a short bus ride from the city of Brisbane. Visitors can check out locals, the Queensland Bulls Cricket team or the Brisbane Lions Australian Rul
▼ see more




The Gabba ©Ryanlerch
---
Sanctuary Cove




Billed as 'Australia's first fully integrated tourism resort' the Sanctuary Cove holiday resort is situated on 474 hectares in picturesque surroundings around four man-made harbours on the Coomera River. Sanctuary Cove is a gated community, but is open daily and entry is free. The holida
▼ see more




Coomera River, near Sanctuary Cove ©Sanx
---
Surfers Paradise




Formerly a small coastal resort town, the Surfer's Paradise holiday resort has blossomed into the pulsating heart of the Queensland Gold Coast. Set on a peninsula, about 50 miles (78km) from Brisbane, with the warm Pacific Ocean on one side and the deep blue Nerang River on the other, Su
▼ see more




Surfer's Corner, Queensland ©Daniel Axelson
---
Cape Tribulation




Located within the Daintree National Park and the Wet Tropics area of Queensland, the pristine and picturesque destination of Cape Tribulation is well worth a visit while travelling through Queensland. With the Great Barrier Reef just a short boat ride away, the oldest tropical rainfores
▼ see more




Cape Tribulation ©Daintree Rainforest Observatory
---
The Strand




This 1.3-mile (2.2km) long tropical beach and palm tree-dotted promenade is one of Townsville's most popular attractions. Visitors can take a leisurely stroll, enjoy the scenery from their bicycles, take a dip at one of the safe swimming beaches, or enjoy a picnic overlooking the ocean a
▼ see more




The Strand, Townsville ©Fred von Lohmann
---
Riverway




This beautiful riverfront parkland stretches along nearly seven miles (11km) of the Ross River, with nodes at Pioneer Park, Loam Island, Apex Park and the Ross River Dam. The Riverway has fast become one of Townsville's most popular tourist attractions. Pioneer Park is the activity hub w
▼ see more




Riverway lagoons ©jojo
---
Riversleigh




Australia's most famous fossil site, Riversleigh, in northwest Queensland, is a UNESCO World Heritage Site and an extension of the Lawn Hill National Park. It contains the fossil remains of ancient mammals, birds and reptiles of Oligocene and Miocene age, which were found in limestone by
▼ see more




Riversleigh ©Tomas Maltby
---
Reef HQ Aquarium




One of the largest living coral reef aquarium in the world, the Reef HQ Aquarium was built as part of the Great Barrier Reef Marine Park Authority. Featuring 130 species of coral, 120 species of fish and plenty of star fish, sea urchins, sponges and sea cucumbers, Reef HQ also features a
▼ see more




Reef HQ Aquarium, Townsville ©loloieg
---
Wildlife Dome




This spectacular attraction is enclosed by a 65-foot (20m) high glass dome on top of Cairns' iconic Reef Hotel Casino and offers exhibits and shows featuring of some of Australia's most exotic and fascinating animals. Here visitors can learn more about these unique creatures and get a fa
▼ see more




Wildlife Dome, Cairns ©CucombreLibre
---
Lone Pine Koala Sanctuary




The world's oldest and largest koala sanctuary, the Lone Pine Koala Sanctuary is home to more than just the cute and cuddly koala, but also to kangaroos, Tasmanian devils, wombats, echidnas and various species of reptiles as well as Australian parrots, cockatoos, kookaburras and cassowar
▼ see more




Koala ©Rennett Stowe
---
South Bank




The South Bank is a central Brisbane district packed with world-class attractions and experiences for visitors. It attracts nearly 10 million people each year, mostly to the South Bank Parklands, which were established on the former site of World Expo 88. The Parklands contain Australia'
▼ see more




South Bank Streets Beach ©Kevin Gibbons
---
Story Bridge




One of the oldest bridges in Australia, the Story Bridge is a 3,517-foot (1,072m) long cantilevered bridge which spans the Brisbane River, connecting Fortitude Valley to Kangaroo Point. Brave visitors who are certain they don't suffer from vertigo can climb to the top of the bridge and b
▼ see more




Story Bridge ©Cyron
---
Gondwana Rainforests of Australia




Formerly known as the Central Eastern Rainforest Reserves, the Gondwana Rainforests are so-named as the fossil records show that when Gondwana existed it was covered by the same kind of rainforests. Gondwana was a southern supercontinent that existed approximately 550 million years ago,
▼ see more




Gondwana Rainforest ©Andrea Schaffer
---
Hamilton Island




The most developed of the Whitsundays, the privately owned Hamilton Island is also the most populated, boasting some of the most valuable real estate in Australia, and when you take a look at the breathtaking scenery and views, the value of the land is not surprising! With the Great Barr
▼ see more




Hamilton Island, Queensland ©Maarten Danial
---
Whitehaven Beach




Whitsunday Island is a popular tourist resort island for both day-trippers and overnight visitors and is the largest and most popular island of the Whitsundays. Most famous for its 2.8 mile (4.5km) stretch of pristine sugary white sandy beach known as Whitehaven Beach, Whitsunday Island'
▼ see more




Whitehaven Beach, Whitsundays ©IG inK
---
Airlie Beach




The gateway to the Great Barrier Reef and Whitsunday Islands, Airlie Beach is a small town in the Whitsunday region and is a fabulous place to soak up all there is in this idyllic part of Australia. With a great variety of activities to enjoy, such as snorkelling, fishing, crocodile safa
▼ see more




Airlie Beach, Queensland ©eGuide Travel
---
Sea World




One of Queensland's most popular attractions for visitors of all ages and an absolute must while on holiday with the kids in Brisbane, Sea World offers marine attractions, rides, shows and much more. Check out the ocean's most fearsome predator at Shark Bay, get up close and personal wit
▼ see more




Sea World, Queensland ©Kevin Gibbons
---
Travel Guide powered by www.wordtravels.com, copyright © Globe Media Ltd. All rights reserved. By its very nature much of the information in this guide is subject to change at short notice and travellers are urged to verify information on which they're relying with the relevant authorities. Globe Media and UNIGLOBE Travel does not accept any responsibility for any loss or inconvenience to any person as a result of information contained above.