General
Weather
Airports
Attractions
Activities
---
Introduction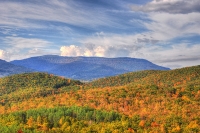 Dirt Road Hills, West Virginia ©Mike Norton
As the only state contained entirely within the Appalachian Mountain range, West Virginia is stunningly beautiful. Its solitary rivers, steep wooded mountains, hidden valleys, and tucked-away towns can transform a scenic drive into a balm for the soul. In the past, this rugged terrain tended to isolate West Virginians, who were forced to rely on small subsistence farms and cottage industries. Aspects of this lifestyle have been exaggerated in pop culture, and West Virginia is often the subject of jokes involving moonshine and backwoodsmen. In actuality, however, the West Virginian way of life has produced countless cultural gems, including a mastery of Appalachian folk music, particularly bluegrass; unparalleled craftsmanship in furniture making, quilting and glass-blowing; and inventive culinary treats like the famous West Virginia sausage roll. These features, combined with its slower pace of life and small-town hospitality, make the Mountain State a restorative getaway.
West Virginia's Hatfield-and-McCoy (two feuding clans intrinsic to American folklore) stereotype has not deterred wealthy urban professionals from buying up property in resort areas like Canaan Valley. But this ski destination, along with others like Snowshoe Mountain and Timberline, has not undergone a glitzy transformation with increased tourism. On the contrary, visitors to West Virginia tend to be those in search of escape and simplicity, who are content with evenings in front of fireplaces, performing arts in restored country playhouses and shopping at local farmers' markets. It is a haven for outdoorsmen, who often head straight for the Potomac Highlands in the east, which are covered by the Monongahela National Forest and popular with skiers, hikers, hunters and mountain bikers. In the south, the New and Gauley Rivers offer unmatched whitewater rafting, and the area's extensive cave system attracts the most intrepid spelunkers. Geocaching, an adventure sport in which GPS users hunt down hidden caches, has also taken off here.
In this region, the profound impact of the state's controversial coal mining industry, on both West Virginia's heritage as well as its environment, is evident. Visitors might tour coal mines with former miners, and witness the effects of mountaintop removal, a method of mining in which hundreds of vertical feet are literally blasted away. Fortunately, West Virginia's natural beauty seems incapable of being quashed, as illustrated by the serenity of the central mountain lakes region and the rolling country of the eastern panhandle.
For those visitors who might grow weary of one scenic vista after another, West Virginia does have its busier spots, including the state capital of Charleston in the south, a heavily industrialized city, which also hosts the West Virginia Symphony Orchestra. But the best of West Virginia's 'cosmopolitan' life lies in the many unique towns nestled throughout its mountains. There is Berkeley Springs, with its calming mineral baths and rows of antique shops; funky Shepherdstown, with its university scene and creative vibe; Hinton, a quintessential rail town with a collection of historic buildings; and Harpers Ferry, a must for history buffs. Situated along the Potomac and Shenandoah Rivers, Harpers Ferry, which played a pivotal role during the Civil War, is the most visited tourist destination in West Virginia.
Climate Info
The dramatic landscape of West Virginia makes for interesting weather. Officially classified as humid subtropical, West Virginia has four distinct seasons. In the low-lying areas and valleys, summers, between June and August, can be quite hot and humid, particularly in the southwestern and eastern panhandle areas; average summer temperatures are around 67°F (19°C) along the North Branch Potomac River and 76°F (24°C) in the western part of the state. These two areas often experience milder winters, though throughout the rest of the state, winters are cold. Average winter temperatures in West Virginia, between December and February, range from 26°F (−4°C) near the Cheat River, to 41°F (5°C) along sections of the border with Kentucky. In areas of higher elevation, snowfalls are significant, which makes this season popular with skiers and other winter sports enthusiasts. Autumn is a pleasant time of year, and West Virginia boasts spectacular fall foliage. West Virginia can be wet and rainy at any time of the year, with heavy fog in the valleys; however, severe weather like tornadoes is uncommon.
Getting Around
Kanawha Valley Regional Transport Authority operates around 24 fixed bus routes seven days a week, however some of these routes do not run on public holidays and Sundays. Schedules vary, but the system runs from about 5am to 1am. Flat fares are $1.50 and day, month and value passes are also available. Taxis are available in Charleston, however they must be booked by phone as they are difficult to find on the street. Hiring a car is the easiest way to get around Charleston, and a good idea for travellers planning to explore outside of the city centre.
Yeager Airport (CRW)
| | |
| --- | --- |
| Location | The airport is located three miles (6km) from downtown Charleston. |
| Time Difference | GMT -5 (GMT -4 from mid-March to the first Sunday in November). |
| Contacts | Tel: +1 304 345 0661. |
| Getting to city | There is no bus or train service to Yeager Airport. Many local hotels provide free shuttle services to and from the airport, and taxis and rental cars are available. |
| Car Rental | Car rental companies at the airport include Avis, Enterprise, Hertz, National/Alamo and Budget. Rental counters are located in the baggage claim area. |
| Airpor Taxis | C&H Taxis provides service to the airport; it is recommended to book a taxi in advance. |
| Airport Facilities | Facilities at the airport include a gift shop, ATMs (next to the gift shop and baggage claim area), restaurants, a bar, a cafe, lounge areas, shoeshine service and a games room. |
| Car Parking | Short-term parking is $1 for the first hour, and $2 per hour thereafter up to a daily maximum of $10. Long-term parking is $4 for the first two hours, $5 for two to six hours, $6 for six to 10 hours, and $9 per day. There is a free lot with a 20-minute time limit located across the street from the main terminal. |
| Website | www.yeagerairport.com |
Travel Guide powered by www.wordtravels.com, copyright © Globe Media Ltd. All rights reserved. By its very nature much of the information in this guide is subject to change at short notice and travellers are urged to verify information on which they're relying with the relevant authorities. Globe Media and UNIGLOBE Travel does not accept any responsibility for any loss or inconvenience to any person as a result of information contained above.